Health info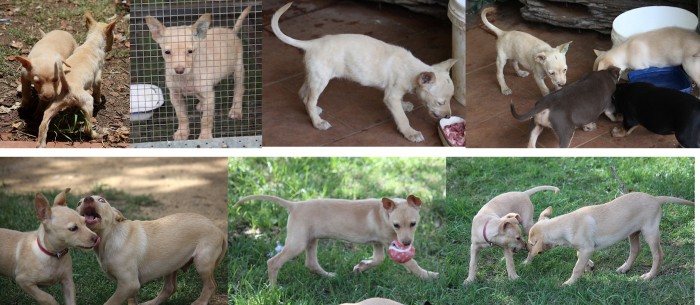 What a difference a month makes!
This little pup came to me at 5 1/2 wks in lieu of a service fee. She very nearly died…insufficient milk from the bitch, chemical wormer, canned puppy food….She developed an allergy to grass, got a huge rash and lost most of her hair.
Shown in the first photo with a half brother the same age from my Quizz litter, and again below (with pink collar) with the same pup. I gave her pet mince and some freeze dried tripe to get her going.
I am mixing my own raw diet and it's so easy to start the pups on solids, they just get a bit of the adults' mix: a good quality pet mince from the Allora butcher with DE (diatomaceous earth is fresh water fossil powder) and Pets' Natural Health Booster( helps replace vits and mins that have been depleted from our soils). Adult dogs get a soup spoon of DE daily, pups a teaspoon….I mix the two powders with warm water and add to the mince. It's a bit approximate because the amount of mince fed varies according to the weight of the adults, but to establish a ratio of DE to mince: work out how many dogs a kilo of mince usually feeds and then measure the appropriate amount of DE into a jam tin, mark the tin with a waterproof texta  and keep it permanently in the DE container….then you can easily make up multiple amounts. I add a good handful of the Health Booster to 4 kg of pet mince but it probably should be more.The dogs also get lamb bones every day, the pups bits of lamb flaps or boned out chicken frames.
Everyone who has seen my dogs here asks what I feed them, so I'll share a few things I've learned through referring all my questions on nutrition to Marina Angel Smith who has studied it in detail. Vet students study animal nutrition but it isn't broken up into herbivores, carnivores and omnivores but treated as one subject; there is a huge difference in the digestion and diet of these groups of animals. Of course most vets are promoting dry foods in their practices(to their financial benefit, treating the resultant health problems). Pet food companies have so infiltrated the vet scene that in the States a text book on nutrition used in Vet. science courses is printed by one of them.
I know feeding raw food on farm can be time consuming and sometimes impossible, and that working dogs are considered ' better' fed these days because of the convenience of dry food….BUT…..the working lifetime of dogs has been considerably reduced by grain based diets which cause arthritis etc from about 8 years. Marina's dogs that have been on raw all their lives have consistently lived to 20 and she has an 18 year old bitch today who is still working well. Try to give your dogs at least a few raw feeds a week and use a good quality dry food if you have to, most are bulked out with grains and use processed offal for protein. The high heat in processing destroys much of the good.
Many 'old timers' remember dogs who regularly lived to 15 and over, fed mainly on rabbits, 'killer sheep' and roos. These dogs often looked pretty lean but lived long and useful lives. The calcium in dry foods can't be absorbed by dogs and their body puts out its own stores until it runs out. The only calcium with correct magnesium and potassium balance so dogs can absorb it is in bones…not surprising really! And yet I've had people tell me their vet told them not to feed bones…hard to believe, but the same vet recommended an expensive  dry food which has been proven to contain euthanised animals
Be careful feeding roo meat and dry food, it's not a good mix. Roo meat is OK for fat dogs, or with fat mixed, but takes a lot of digesting because of the high nitrogen fixation and takes as much energy to digest as it contains…in pregnant/whelping bitches this can result in milk fever and fitting, because of calcium being leached from their systems. The only way to remedy this is with bone meal or bones, not calcium syrup which can't be absorbed by dogs. Often people add the syrup to pup food but they should be feeding them bones; small pups can eat chicken frames from about 6 weeks.
I am also vaccinating with nosodes available from HAMPL online. This homeopathic procedure gives immunity equal to vaccines with no side effects; tests have proven titers of the same level and it is now accepted by domestic airlines. My puppy buyers are offered the choice of continuing with nosodes or having a C3 at 14 weeks, which should be good for some years. Vaccinating early is often negated by the immunity the bitch passes on to her pups, and figures in some studies have shown more pups vaccinated early die of parvo than unvaccinated pups.  A better option than having frequent boosters is to get a blood test done to check titers as often the cost is comparable. In any case, a pup/dog fed a raw diet develops a strong immune system and is better placed to fight infection.  HAMPL sells an excellent herbal antibiotic called Infection Fighter which can be used internally and externally, I use it myself!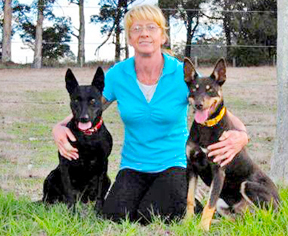 Many thanks to Marina for all her help and advice, here with Jesse and Cash.