Benalee Mocha
BENALEE MOCHA WKC Reg. 61565  DOB 2014
Brock x Lyndy(Mocha) click for pedigree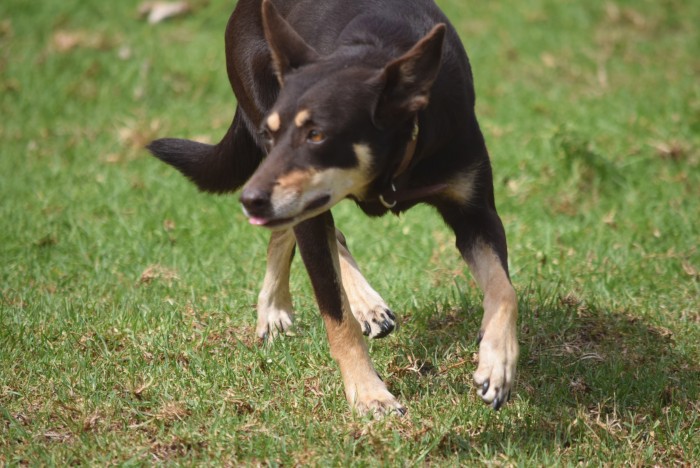 MOCHA IS NOW AT ANNTRE KELPIE STUD WITH ANNETTE AND TREVOR PAIGE. April 2020
Mocha was bred by Lisha Bennett and came to me when she exceeded the Longreach Council's number of dogs allowed. She went back to Lisha in 2018 in pup to Brock and had 7 dog pups!
A lovely dark red, Mocha is an ideal build, leggy and quite tall. She is a very correct, classy worker and is capable of firing up in the yards with plenty of bark and push. She hasn't done much real work but had a few weeks with Jeff Ritchie for training and assessment. Jeff said she was one of the nicest Kelpie bitches he'd seen in fifteen years, and that she could easily trial for him. See short video below with Jeff. The full one is available on Youtube.
Mocha works and looks a lot like her dam Lyndy, but shows promise of being a bit stronger. They both have very engaging personalities and are real jokers. In the slides above this page there are two of Lyndy(front) and Mocha working together with about a year between the photos.
Mocha has a litter to Karmala Polo(Nov. '16) but unfortunately only one bitch pup out of seven! Polo is a young sire showing heaps of potential. Although cream, he hasn't left a cream pup in the twelve born by him to date. 
I kept a pup from her litter to K.Changi in 2018, Brigit, who has since gone to Jim Morris who says she's working extra well and also backing and loading trucks. She had a litter to his big cream dog Riverdale Turbo in early 2019.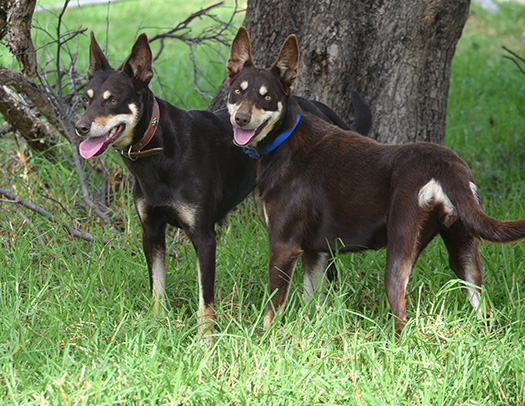 Mocha(right) with her dam K.Lyndy at Karmala March 2016.