Karmala Treat
KARMALA TREAT WKC Reg. 55521
15/02/2011
Whitehead's Tracker x Karmala Tilly
Black/Tan
Treat belongs to Arthur Crumblin and I have mated her for him and am raising the litter due 21/9/14 which will be registered under his prefix, Koomalah's. It is some years since Arthur has owned a bitch with his own prefix, but a number of good dogs from matings of his Riana Ace and Riana Spider are evident in pedigrees of some of my dogs and also in some Riana pedigrees.
Arthur regards Treat as one of the best bitches he has owned. She has done a power of work for him contract mustering in the Traprock, and has excelled in getting wethers out of this difficult country. She is also a very handy bitch in the yards, has done a lot of penning up, and never takes No for an answer from the tough wethers she's been handling.
Treat has her mother's excellent temperament, she is very loyal and a pleasure to handle.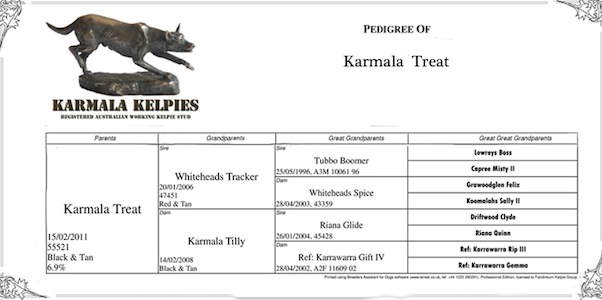 Treat as a pup visiting Oakwood.