Puppies for sale
 LITTERS AND MATINGS 2018
SEPTEMBER 2018……..pedigrees in pdf files, just click on "Wills x Gemma" (below, for example)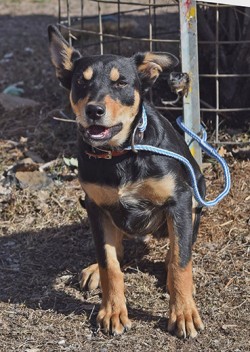 Karmala Brady(Brock x Vie)                                              
OLDER PUPS FOR SALE: Brady is the last Brock x Vie pup left. Nice young boy. Brock is breeding on very well, nice calm, stylish workers. Brady doesn't bark in his kennel! Just starting.
Clothier's Viva(Kirkcaldy GeraldxKarmala Vonny), about 8 mths. Nice young bitch, very easy to train.
Calm and correct.
Also a  young bitch Karmala Quin(Karmala BobbyxKarmala Quiz) 6m. Would suit female handler, she's too used to me! Nice quiet bitch with some strength, will bark/force. Have some video if interested.
YOUNGER PUPS FOR SALE:   WillsxPoppy litter, 2 red/tan dogs on the right
Wills x Wings litter, 2 dog pups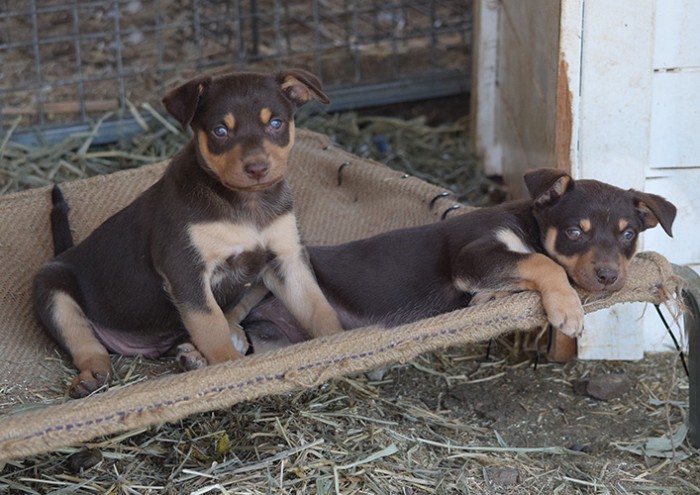 ---
LATEST LITTERS
Wills to Heli(Chopper x Lily)
Heli whelped on 16/6 and has 5 boys, 2 girls. Litter sold
Wills has branded a couple on the nose!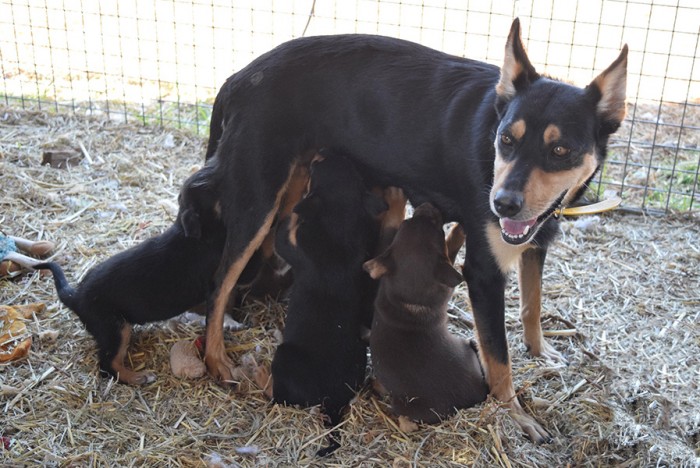 Wills x Heli pups 6 weeks.  Previous litters of this mating are working well.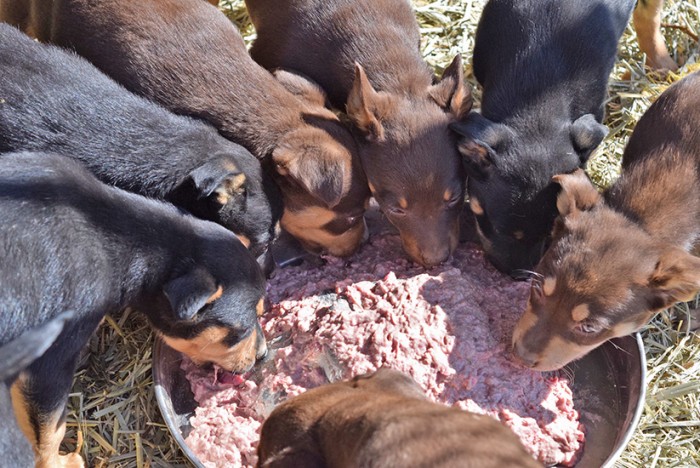 ---
Wills to Karmala Poppy(ChopperxPeggysue) 
The previous two Wills x Heli matings have been very good. Hoping the Poppy pups will also be great. Not often you get a pedigree with Glenville Swannee on the top of the Homoz. table!
 Whelped July 10    Pops has 7 pups with 5 girls! This is Poppy's first litter. She's been away up north working cattle and I don't have many photos of her.
This is a glimpse of how Pops works, apologies for the quality.
These two litters have a lot in common genetically. Peggysue's x K.Glen who is the same breeding as Lily.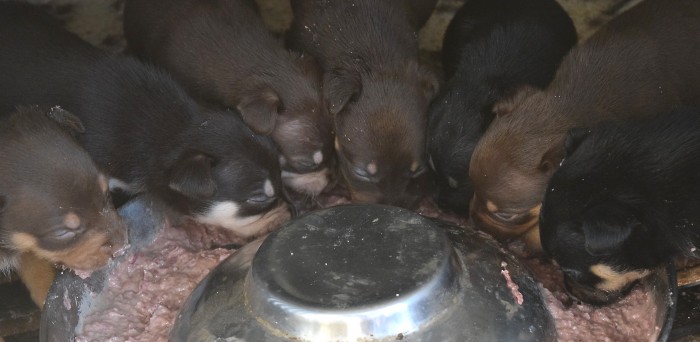 Three weeks…good little eaters! One little black/tan bitch is a lot smaller and needs special attention. Free to a very good home. I don't like selling pups like this. She could turn out fine.
---
AT LAST! Due August 19.   Wings has been really hard to get in pup and Wills is the only dog she's tolerated. With a double cross of Wilson these pups will be very interesting.
Wings has 5 pups b.Aug.14th   2 dogs, 3 bitches
 
NEXT LITTERS: Wills x Remy due mid Oct.
                                      Wills x Bimber due Nov.
ALL PUPS BELOW HAVE BEEN SOLD OR RETAINED
Photos for your interest only
---
---
Karmala Wills x Karmala Gemma mated Jan. 20. Gemma has 7 pups, 2 bitches. All sold
This should be a very good litter and I plan to keep a couple to run on. Gemma is a strong bitch on cattle and Wills is breeding some very nice pups. He's proving to be a good sire over a number of bitches; pedigrees like his are becoming increasingly rare. I heard some trial blokes had remarked recently that in 10 years the Kelpie wouldn't be able to cast….well, not while I'm around! I'm happy to take outside bitches to him while he's home.
Litter sold.
---
Karmala Neon to Karmala Gin Fizz, mated Jan. 14-15  This should be a good mating too, Neon has left some very strong progeny. Very nice dog, he can work 3 sheep with finesse and cattle with plenty of power.
Fizz has 7 pups, only 2 girls.  2 Boys available.

This litter should be great on cattle. Neon is Grant Hutching's tried and proven old boy, a no nonsense dog that will have a crack at anything and do a good job. Fizz is a proven member of Em and Derek's team, a good bitch on cattle.
---
Karmala Brock(Akubra x Brandy) to Karmala Bimber(Polo x Fizz) mated Jan. 25.  Bim is a very handy bitch on cattle and stylish on sheep. Brock is a lovely type, great temperament, works sheep and cattle. Brock is leaving some very nice pups.
Bim has 4 pups b.March 28  3 bitches, one dog    SOLD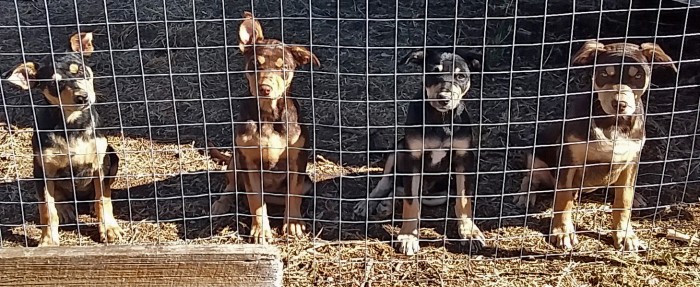 Litter sold
---
Karmala Brock to Karmala Vie mated Jan.26  Vie has 8 pups, 2 bitches, 5 dogs(3 red/tan) 
A really nice litter of friendly, calm pups. Brady for sale.
---
 Karmala Landy to Karmala Whitney mated Feb.5
 Whit has a nice first litter of 6, 3 of each. She's doing a great job with them.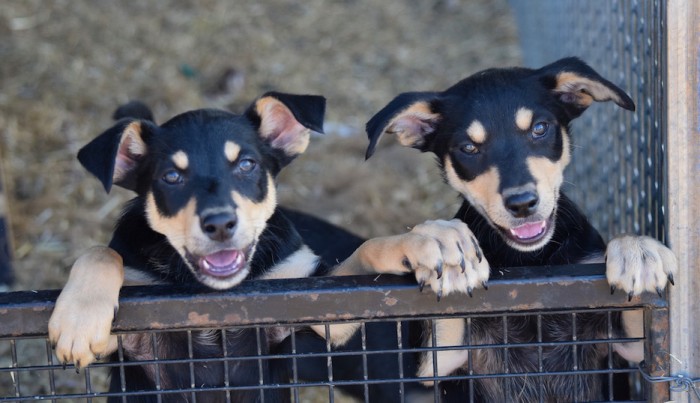 1 BITCH PUP AVAILABLE
---
---
Karmala Billy(Larkings' Wilsonx Karmala Lily) x Pushemup Bing/Lindy(Karrawarra Ben Hall  x Riana Rinnie)   3 bitch pups, 3 dogs .SOLD
Billy is a young dog showing heaps of natural ability, typical of Wilson's progeny. Bindi belonged to Vane Walker who says she was a very good bitch on cattle. Her sire is out of the outstanding brood bitch Paddy's Pearl.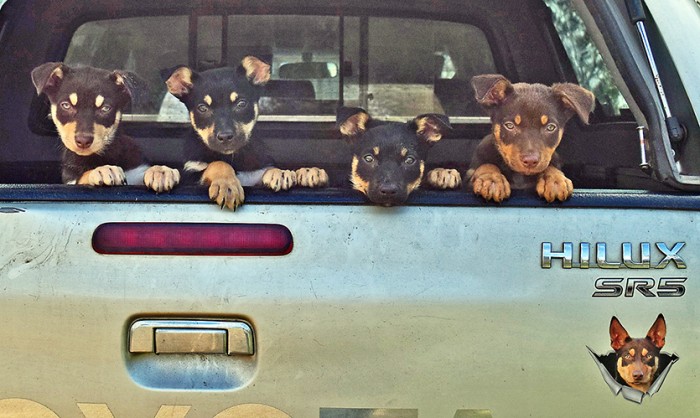 ---
Karmala Hardy x Karmala Tash  5 bitch pups, 2 dogs born May 24
This is a mating back to old Brandy who was a very good brood bitch. Tash is a beautiful worker on sheep while Hardy has plenty of nice natural work; expecting a nice litter of keen, stylish pups.
1 Bitch pup for sale
Tash pups 7 weeks enjoying some attention
 Karmala Heli(Baldwin's Chopper x Karmala Lily) was mated to Karmala Wills, Aug. 31, whelped Oct 31, 3f 3m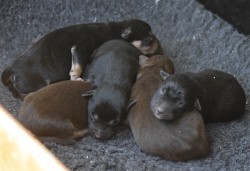 K.Whip(Milo) WillsxHeli…..working for Sarah Murphy
K.Whitney(Wills x Heli) 9 mths, working for Andrew Martin,both from Heli's previous litter.
Karmala Vie has been mated to Karmala Wills, due Aug 23, born 21 Aug
Vie has excelled herself with SIX bitch pups and a blue/tan boy! This litter will be mostly filling past orders but there are some black/tan bitches available because most of the orders are for red/tans.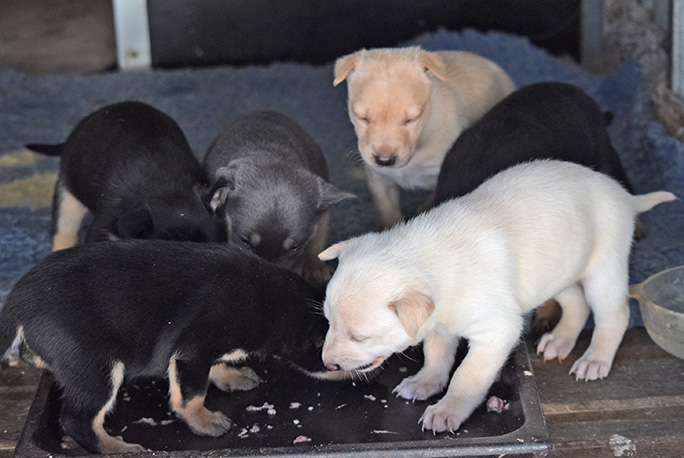 3 weeks
    4 wks
The two cream girls, Isa and Ita, are flying to Dallas, Texas later this month(Nov)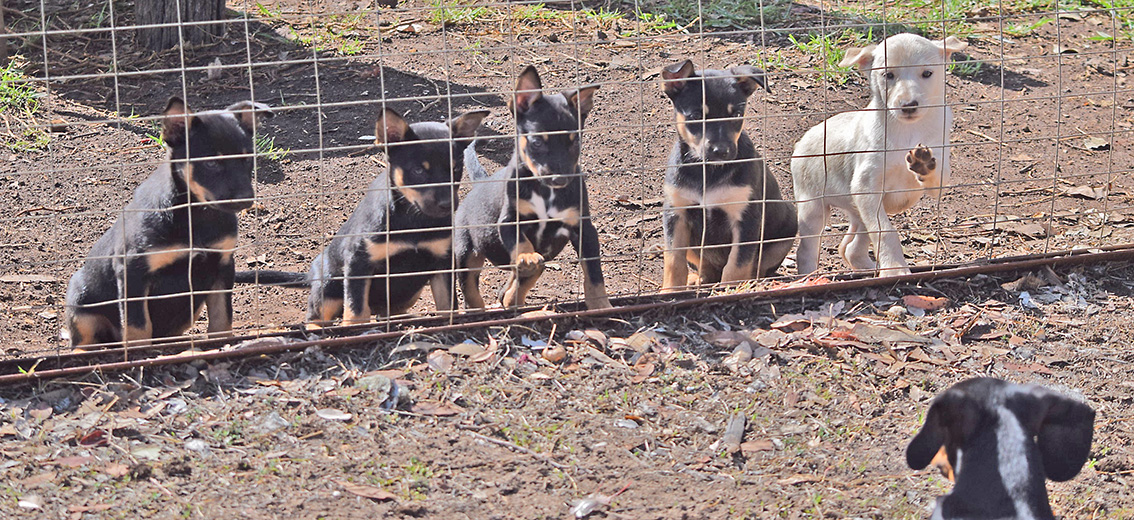 6 weeks
---
Karmala Tash(Riana Cash II x Karmala Brandy) was mated to Karmala Skipper(Motley's Russell x Karmala Remy) July 16.
Tash whelped 6 pups to Skip on 20/9/17  3 M 3F  
Skip is a saddleback marked dog like his sire, the pups don't show this until they get older. 4 pups in this litter will probably be marked like Skip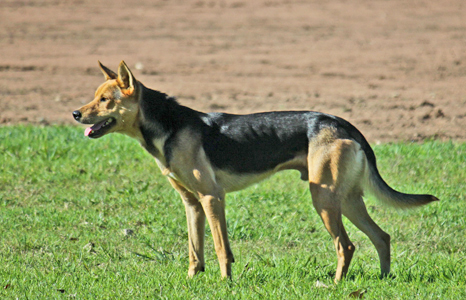 Skip's sire Motley's Russell
Tash is a nice young bitch showing a lot of promise and class. Skip is a very handy young dog working for Ron Robb with plenty of strength on cattle. Video of Karmala Tash on Youtube (Karmkelpies). 
Tash is a wonderful mother, the pups are growing quickly and always asleep! 2 1/2 weeks here 
The Skip x Tash litter at 5 weeks        All sold
---
---
---
Jessarene Cara(Riana Cash II x Karmala Lily) was mated to Karmala Landy late March…..   Cara had 4 pups, one b/t bitch, 2 cream dogs, 1 blue/tan dog. 
This is a repeat mating; Landy is breeding very well and Marina is delighted with his work on goats and cattle  in difficult country. All sold
Karmala Lily  was mated to Karmala Wills, April 16   Whelped June 23.
Very disappointing. Orders for five bitch pups and she has one male!
Benalee Mocha(K.Brock x K.Lyndy) was mated to Karmala Changi, April 25  due June 26
Mocha had 6 pups, June 26, 4 dogs, 2 bitches
Changi is a very natural worker, very few commands needed, good nose bite on cattle; Mocha is a stylish young bitch, her first litter is working well. Mocha's a very useful bitch, correct and stylish in the paddock with good bark and push in the yards. All sold
Karmala Gin Fizz was mated to Karmala Wills, April 27  due June 28
Fizz had 4 pups on July 2, 2 dogs 2 bitches, all placed
A few surprises here! Dr. Deb Maxwell explained the white as follows:
"The irish spotting gene that causes the white neck and points in border collies needs to be homozygous to get that pattern – that is both parents have contributed a Si gene each (pup is SiSi). But these pups show a very typical reduced white pattern caused by only having one gene for irish spotting (Si-). Over 50 years I'm sure you've seen plenty of first cross collie x kelpies and many of them have these limited white markings, rather than a full white collar and points.  According to statistics 2 pups will carry the Si gene for irish spotting and 2 won't (inherited, I assume from Wills based on your other comments). Since Wills and Fizz clearly were not reading the stats books there are 3 pups carrying the Si and one probably isn't. If so, she won't pass it on. But I did have some collie x Kelpies and some had very minimal white, so may not be easy to know for sure whether she is a carrier, but odds are that with 3 clearly marked, she is not a carrier."
The correctly marked bitch pup will be run on, the other three are sold, the male with the white muzzle will be castrated.
Little Gossip, rhs, at just under 4 mths is working cattle very nicely.
---
Karmala Gemma has been mated to Wills and is in pup, due July 15.
Gemma has 3 pups, only one bitch, nicely marked black/tans.
---
2016 pups
 K. Vonny( K.Hardy x K.Vie) was mated to K. Calvin Klein, aka Jag on Dec. 21 
   Karmala Vonny has whelped to Karmala K.Klein(Jag) below  
This should be an interesting litter with a 10.4% I.B. index. Jag and Hardy are very similar in type and working ability, calm and strong.
Vonny has 3 pups, 2 dogs(for sale) and 1 bitch that will be run on.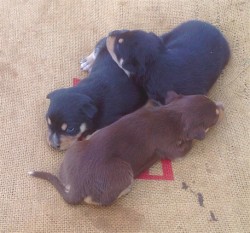 Karmala Heli(B.ChopperxK.Lily) was mated to Karmala Wills(WilsonxBrandy) Jan.30 Due April 2
Heli has 5 pups, all placed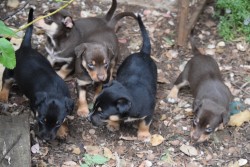 Karmala Harvey(Riana FinchxTianne Hussey) x Karmala Remy(Riana GlidexKarmala Brandy) mated late Feb. Due May
Remy has a good litter of 7 pups born 1/5/17
This is also a repeat mating. Both dogs have been working sheep out at Nyngan doing the hard yards, indispensable with ewes and lambs…very quick footed, good holding dogs.
---
---
Larkings' Wilson x Karmala Lily  
Born Oct 21,'16, 5 pups 3 bitches, 2 dogs
This should be a very good litter combining Lily's classy work and Wilson's tremendous ability and common sense. Lil has proven herself a wonderful stud bitch producing good workers from many different sires.
 Billy
---
Karmala Polo x Karmala Gin Fizz  Born Oct 23, 5 pups, 1 bitch, 4 boys
Karmala Gin Fizz(Riana Glide x Karmala Kahlua), the dam of this litter, is a very good young bitch working cattle for Emma Costigan at Bracewell, Q. Karmala Polo(Baldwin's Chopper x Karmala Peggysue), the sire, is a young dog with a great attitude and showing a lot of promise.
The dog pup bellow is Bobby. He's a nice natured boy and was Emma's favourite, easy going and a bit more thoughtful! He's staying with Em and Derek for awhile.
---
Karmala Landy x Jessarene Cara Born Oct 18, 5F, 2M. Black/tan except for a creamy of each sex.
This is a lovely litter reared by Marina Angel-Smith who owns both parents. Landy is proving a very good sire over a number of bitches, a big, tall dog like his sire Tracker Gibbs, and these are big pups. Cara is a nice utility bitch and proven breeder, her litters by Halsted's Beezneez and Wilson were very good.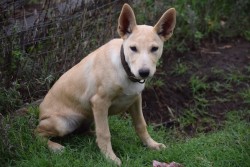 SOLD
  Sold
---
Karmala Polo x Benalee Mocha(K.BrockxK.Lyndy)  due early Dec. Mocha has a nice litter of 6 but only ONE red/tan bitch, 3 black/tan boys, 2 red/tan boys  These pups should be stylish workers with a more cooperative attitude than some of my pups!
Dog pups available
Beautiful pups, I got a bit carried away with the photos!
Here at 6 weeks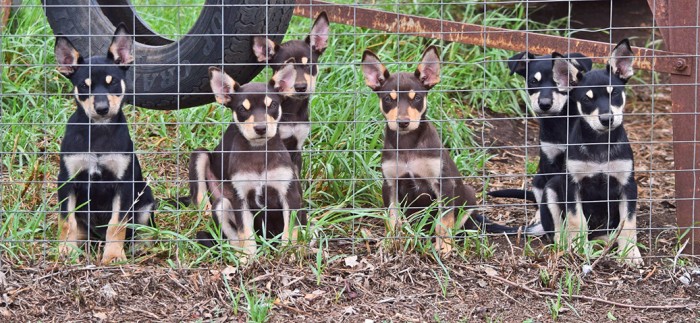 ---
Larkings' Wilson x K.Cherry( ChancexBrandy) due Dec 9 ….Cherry has seven pups, 4 girls, 3 boys
I'm really looking forward to seeing this litter start working, it's very satisfying seeing the fruit of a lot of thoughtful matings.
Cherry is working for Andrew Ardis at Deepwater Station and he and Cherry are doing a great job with the pups! This will likely be Wilson's last litter.
The three boys!
---
Karmala Wills x Karmala Quiz(K.Clyde x Riana Quill II) due Dec.23 
Quiz had 3 dog pups, one survived, a tough little battler.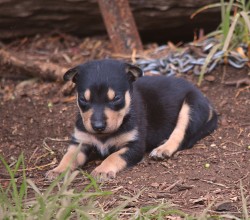 Karmala Mundine, 2 1/2 wks
---
Larkings' Wilson x Karmala Heli(B.ChopperxK.Lily) litter due Aug. 5-6
There has been a lot of interest in this litter as it is doubling up on the Scanlon blood available here.
Heli whelped on Aug.6, 1 red/tan bitch. 1 black/tan bitch, 2 black/tan dogs, 1 blue/tan dog, 1 cream dog. Aged 3 weeks in photo below and doing extra well.
This is a special litter and pups will be run on or placed near at hand. None for sale.
The two bitches are on the left and right in this photo.
---
Baldwin's Chopper  x Karmala Lily, pup born early March 2016
This is a repeat mating. John Clothier had this to say about Karmala Heli (from the first mating) after working her on his cattle:
"and by the way you have got to do the Chopper x Lily thing again, this girls a freak cheers john"
Sadly only one surviving pup, a male with very odd coloured hair, he was called Trump but has since turned black so I think it's better not to label him with such a loose cannon for a namesake! Could be Chopper's last one, now known as Ace. Last photo at 5 weeks.
---
Larkings' Wilson x Jessarene Cara(Riana CashII x Karmala Lara), pups born mid March
Cara is a lovely young bitch who produced a very good litter to Halsted's Beezneez with some outstanding pups. She is working goats for Marina Angel Smith at present; Wilson should add a little more natural cast to the mix.
Cara had a nice litter of 8, only one bitch pup a black/tan. 4 red/tan dogs, 1 cream dog, 1 blue/tan dog, 1 black/tan dog.
  
 These two are the boldest and came out first….aged 8wks
Every picture tells a story…"he who hesitates is lost"! Photos taken the morning after they came back from Texas.
  At 3 mths, below

---
Riana Cash II(Riana Banker x Riana Spin) x Karmala Gemma(Riana Glide x Karrawarra GiftIV) pups born April 16.
This will be my second litter by Cash. His pups from Cadelle were great, very friendly and now working well. I'm looking forward to this litter, Gemma is a sweet bitch to handle but she has a strong nose bite on cattle.
Gemma whelped a day early, April 16, 7 nice healthy pups. 6 black/tans, 1 blue/ tan. 4 girls, 3 boys. Pups are 2 days old in pic on left.
Gemma pups almost 3 wks.
Out of the nursery and into the big wide world!
Cash x Gemma pups 4 wks old. All sold
---
Larkings' Wilson x Koomalah's Dash(Riana Finch x Whitehead's BindyII)pup born April 18.
Dash is a very natural worker with a happy disposition; she hasn't done a great deal of work but her previous litter by Tynndyl Hank included some very good workers. This litter should be very handy on either sheep or cattle, goats etc.
Only one dog pup, sold. 
---
Riana Cash II x Karmala Brandy pups due May 5.
This litter will be interesting! Marina and I hesitated to do the mating as both dogs are very intelligent and the pups will likely be far too smart! Finally decided to try it once, curiosity got the better of us.
BORN MAY 10…Brandy up to her usual tricky self, 5 days late. FIVE bitch pups!
Brandy girls, 3 weeks old

6 weeks, all sold or retained
---
Karmala Clyde(Driftwood ClydexWoorivale Spice) x Karmala Win(Riana Glide x Karrawarra Gift IV) pups born May 17.
This should be a very interesting litter. Brad Cavanagh's been working Win for about 8 years and has bred some good pups from her. He has owned Clyde since the tragic death of Peter Whiteman and has mated him to Win with very good results. Win is now 9 and reaching the end of her working life; Brad offered to return her to me in pup to Clyde on a pup swap basis, which I jumped at. This litter will possibly be the last to carry so much Driftwood Clyde influence with a homoz.% of 6.3 to Clyde and an IB % of 15.6. Both K.Clyde and Riana Glide are/were by Driftwood Clyde, a great old sire.
Win whelped on May 15 and has 4 pups, 2 creams, 2 black/tans. Only one girl, a cream.
Karmala Win and her pups by Karmala Clyde, here about 3 weeks old. Very sadly the two cream pups didn't make it through the transition onto solids. Something lacking in their gut development; an older bitch who's had a lot of pups…a real shame. 
---
Larkings' Wilson x Karmala Quiz pups due June 18.
Wilson is leaving very nice pups with good natural work. Quiz is in much better shape than when she whelped her last litter so I'm hoping for some nice bitch pups. She should provide a wee bit more push to the mix but is a nice classy worker too.
It's now the start of June and Quiz is looking very slim…sadly! She's lost a lot of weight and had a CS last time, so a rest will do her good.
Quiz surprised me with ONE dog pup, b. 18th! Known as Red Fred and now owned by Brenton Allport, this pup is turning into quite a character.
---
---
PUPS BORN IN 2015:
****ALL PUPS BELOW ARE SOLD or retained****
Tracker the Chief x Karmala Kahlua, pups born Aug.4, 6 bitches, 1 dog, all back/tan
This should be a good litter, Chief is well known as an exceptional dog on cattle and Lu just keeps on learning and improving, she has been working cattle exclusively.
The pups are an extremely even lot, very nice pups and should breed on well as this is a double cross of Chief.   No pups available.
Karmala Brock x Karmala Lily, Born Aug. 8 all black/tan, 5 girls, 2 boys
Lily is proving herself an outstanding brood bitch and bitch pups from this litter are in demand. Pups should be classy calm workers with great natures and work ethic. 1 dog pup available…Brick is a very nice boy and will grow into a big dog. Loyal and sensible.
 Karmala Brick(Brock x Lily) 4 mths, for sale…is working: shows a lot of potential   SOLD
Riana Cash II x Karmala Cadelle(Tracker Gibbs x Riana Delta) due August 15th.
Deli whelped on Aug. 8. 8 pups, 2 fawn bitches, 4 black/tan bitches, 1 blue/tan dog, 1 black/tan dog
Cash has been breeding consistent workers from Riana and Karmala bitches, his last litter from Karmala Lara(Tracker GibbsxKarmala Lily) was outstanding, the pups are now working in WA. Both Deli and Cash are very loyal and stick to you through thick and thin. These pups are the same, they have great focus as can be seen from the photos…which equates to a great will to please in their work as they mature.
Cash is an exceptional dog and a proven sire, he has way-above-average intelligence.
No pups available.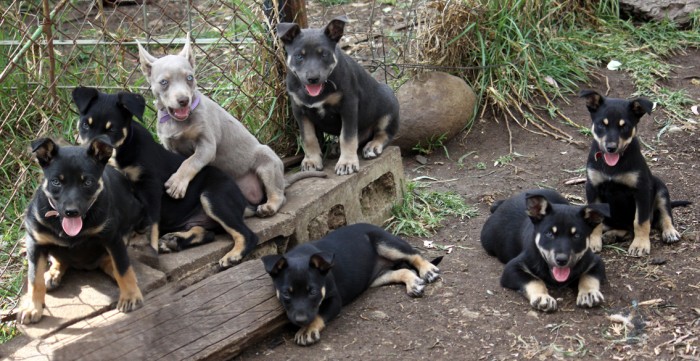 The two bitch pups for sale…SOLD
Larkings' Wilson x Karmala Brandy due August 17. Brandy whelped Aug. 17, 3 boys, 1 girl
Wilson left some outstanding pups from Peg, and I am really looking forward to this litter. Brandy passes on her high IQ to her pups! These pups should be classy paddock dogs with enough strength for cattle.
As these pups mature I'm finding they all have very individual traits which I'm sure will affect their working styles; they are almost old enough now to be shown stock, so we'll see. Winnie is an extremely active, switched on little girl, maybe a bit too hyped up, but with a lot of class and cover. Bilson is super friendly and would do anything for you. Wills is a lot like Wilson, strong, independent, sensible; I'll keep him and run him on. Wilco is the typical big casting type, he's working the others in the run with distance and style and isn't too worried about getting any attention from me except at feed time. An independent thinker with the potential to work without commands. Interesting pups.
Bilson, Wills, Winnie and Wilco aged 6 weeks. 
Bilson (L)sold and Wilco(sold) at 5 months. 
PUPS BORN SEPT/OCT 2015
Baldwin's Chopper x Karmala Peggysue due Sept.30th
Peg has a nice litter of six but only one bitch pup, a black/tan I'll keep. There are 3 black/tan dogs, a cream dog and a blue/tan dog. A good opportunity to pick up a potential sire! These pups should be very effective workers on sheep and cattle. I have just posted a short video on Chopper's sire page showing K.Heli(Chopper x Lily) working cattle at 10 mths. She is an outstanding pup. Her litter brother Timber has been working cattle on his own since 5 mths of age. It seems unlikely that Chopper will sire any more pups, so this litter will be watched carefully.I am going to run on the bitch pup Poppy and the cream boy, Polo. 
                                 Karmala Polo, 3 mths, will be run on.                                                                                                       
Karmala Harvey(Riana Finch x Tianne Hussey) x Karmala Remy(Riana Glide x Karmala Brandy), pups born Oct.10
Remy had 6 pups to Harvey, 5 bitches 1 dog. There are 3 red/tans, 3 blues/fawns
Both parents have been working for Ron Robb at Nyngan and are well recognised for their outstanding ability on large mobs of sheep. They are natural workers with great cover and footwork. I have been looking forward to this litter which was planned some years ago. Harvey has a very good cast and also works cattle. These pups should be outstanding sheepdogs….Ron says it's just magic watching them yard big mobs of ewes and lambs. 
I drove down to Warren and collected these 5 girls, Nov.20. Lovely friendly pups, well socialised.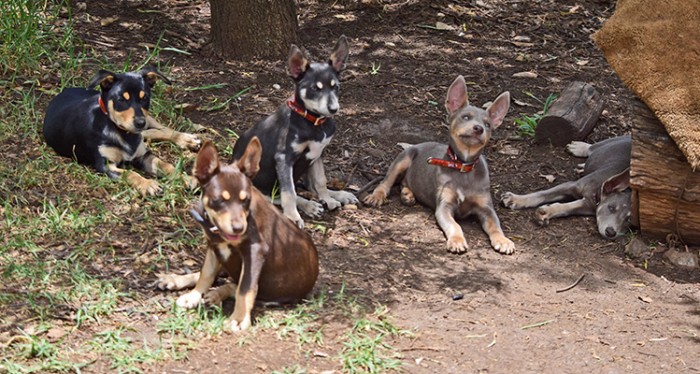 The Harvey x Remy pups at 3 mths. The black/tan bitch is K.Poppy(Chopper x Peg). The two fawn bitches are sold. The blue pup Rev has been retained.
Larkings' Wilson(Scanlon's Dom x Baldwin's Polly) x Karmala Lara(Tracker Gibbs x Karmala Lily) pups born Oct.16th
 Lara has 2 pups to Wilson, 1 black/tan dog, 1 black/tan bitch.
                                                                        Wilga and Winkle, 8 wks
Lara bred very well to Riana CashII when she was with Marina Angel-Smith in WA but seemed to be upset by the big move over to Q'land and only raised two to Wilson. Winkle, the bitch pup, is for sale Feb. photo.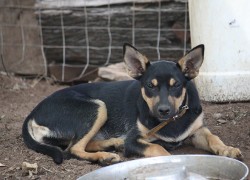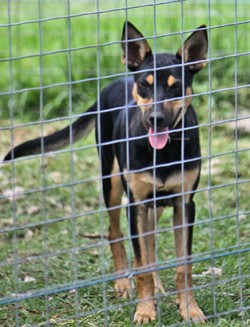 Winkle in mid. April '16 sold.
Larkings' Wilson x Karmala Quizz pups born (C/S) Nov. 1st, 3 dog pups survived
I am very grateful to Tony Parsons for allowing me to breed a litter from Karmala Quizz(Karmala Clyde x Riana Quill II) the dam of Karrawarra Shadow III. She had six pups by Caesarean and sadly lost the two bitch pups and a cream dog. The three dog pups are doing very well and are super friendly, great characters. The cream pup K.Zorro is sold. He's a very strong, bossy boy. I'll run on Buzz(red/tan) and Squizz until they start working.