Puppies for sale and coming litters.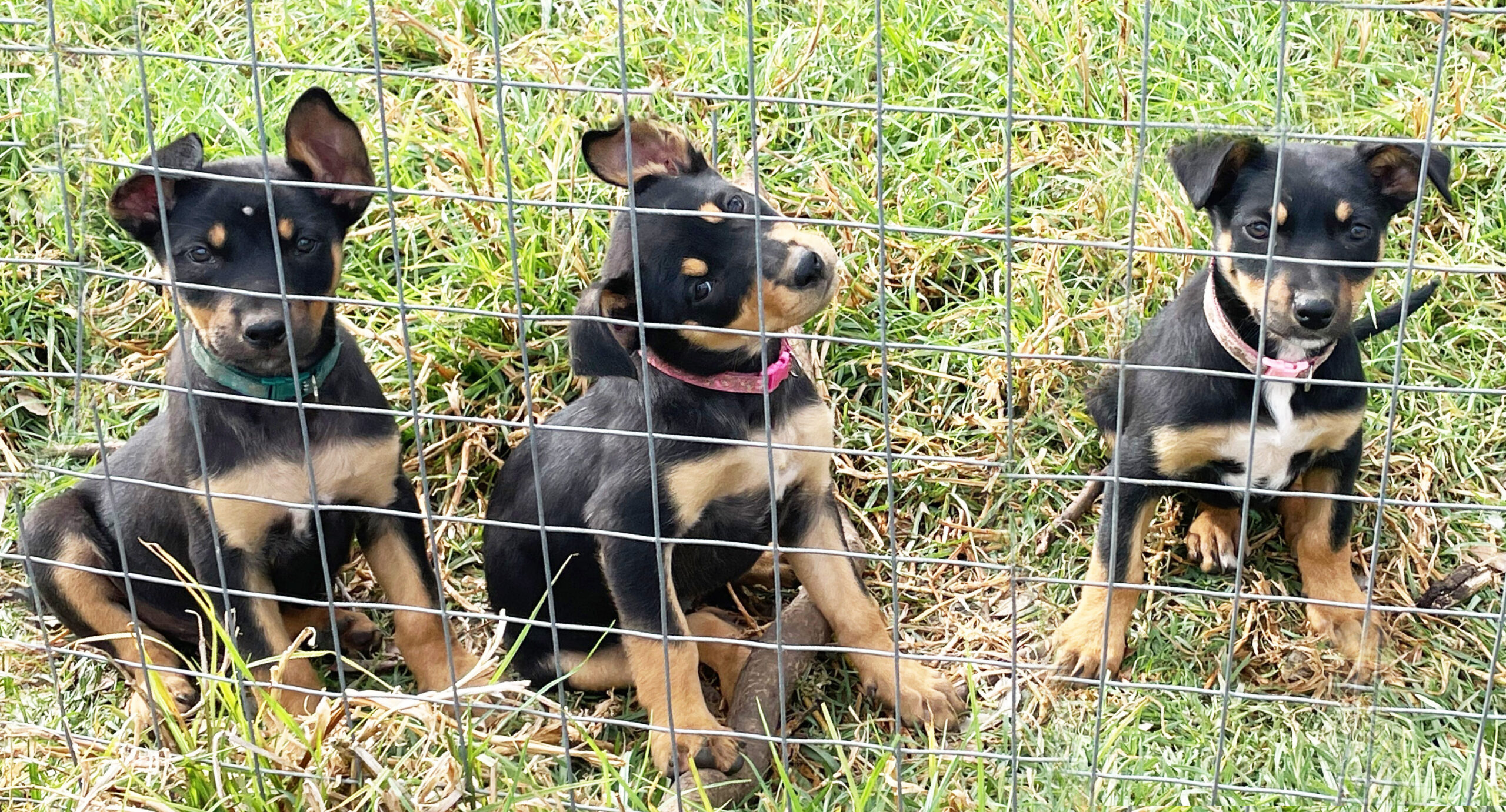 BITCH FOR SALE  Karmala Queenie(Apex Ace x Karmala MinaWylie)
Queenie is 2 years old and has been doing light sheep work/training with Greg Kings at Tenterfield. A nice stylish bitch with a good attitude. Video of her working available from Greg 0411 641 214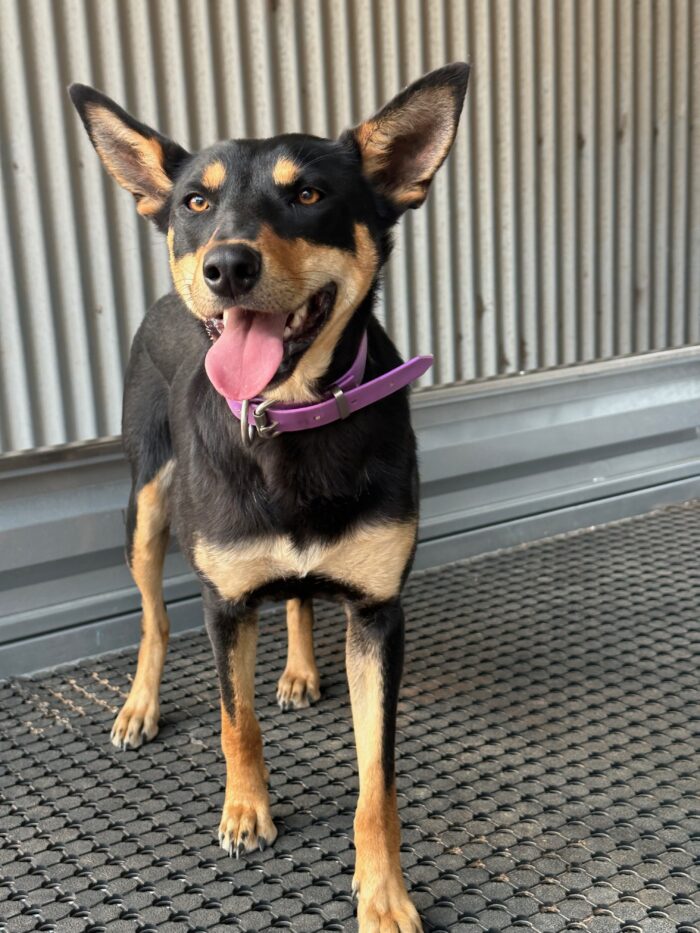 To all people interested in buying a pup as a pet….if you have no experience of kelpies please do some research; they are wonderful dogs but don't suit some situations. There is a very good explanation in my Feb. 2022 News written by a trainer who also owns kelpies, an excellent summary. Here is her intro….
𝗪𝗼𝗿𝗸𝗶𝗻𝗴 𝗞𝗲𝗹𝗽𝗶𝗲𝘀 𝗮𝘀 𝗣𝗲𝘁𝘀 ~ 𝑊ℎ𝑎𝑡 𝑦𝑜𝑢 𝑟𝑒𝑎𝑙𝑙𝑦 𝑛𝑒𝑒𝑑 𝑡𝑜 𝑘𝑛𝑜𝑤
She goes on to explain that…. "Australian Kelpies(bred for showing and as pets) and Working Kelpies are different breeds."       (AND CERTAINLY BEHAVE DIFFERENTLY!)
I recently posted a video of Mystic's first look at sheep aged 4 mths on my Facebook page. It has been shared a lot and a couple of weeks later has had 91.4k views! I'll post it below for those who missed it.
 Litters/Matings 2023
AUGUST MATINGS…. PUPS ARE AVAILABLE FROM ALL LITTERS, but…only 25% are girls. Price has been adjusted, boys $1k, girls $1.5k no GST. A bit of encouragement to try a lovely little dog pup.
We always run on a girl from each litter and this reduces the number even further, so the price will affect very few clients. Recently had a cattle breeder suggest we sex the semen and AI!
Karmala Gibson(Karmala Wills x Karmala Gin Fizz) x Karmala Livvy( Karmala Landy x Karmala Whitney) Pups born Sept. 27. 3f 5m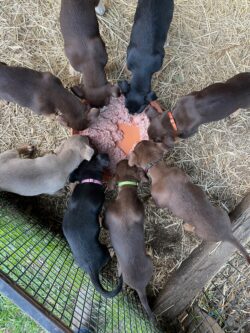 Karmala Gibson x Sheps Sandy  m.Aug.17  due Oct.19… Sandy's had mastitis and an op. 6 pups are doing well, 1f 5m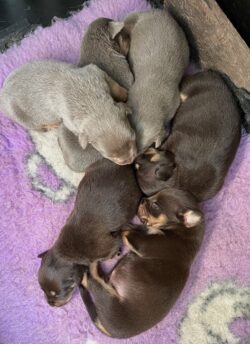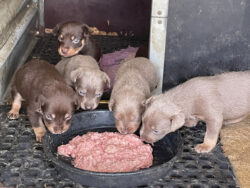 Karmala Wills x  Karmala Midnight  m.Aug.17 due Oct. 19…Midnight had far too many, nearly all boys. She has 1f 3m doing well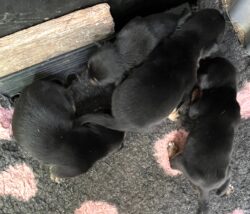 Karmala Vlad/Barney x Karmala MinaWylie  m.Aug.22  due Oct 24… Mina's an absolute star! 6 big strong pups already opening their eyes at 7 days!Click on the "13" below for pups at 2 1/2 wks.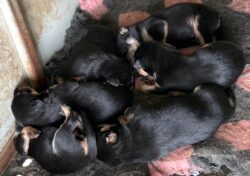 Karmala Vlad/Barney x Koonamara Nakara  m.Sept.1 due Nov.4… Naka had eight pups, 4f 4m. She lost a dog pup.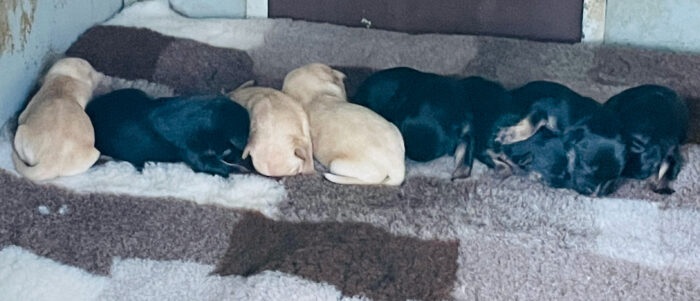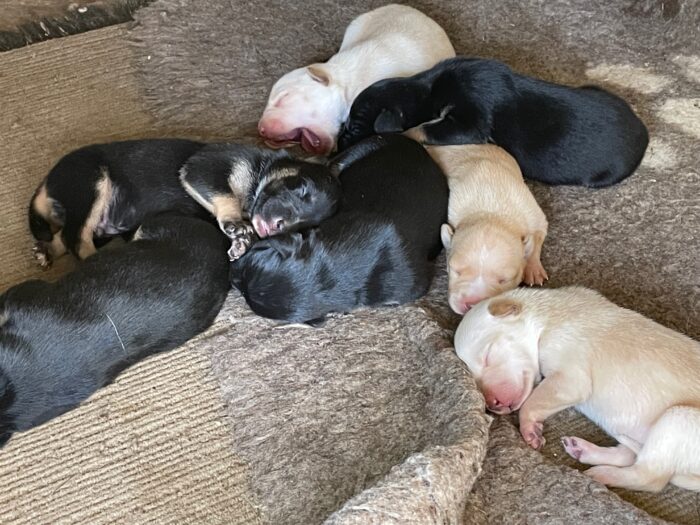 ALL PUPS BELOW ARE SOLD
---
APRIL MATINGS…. 
---
Karmala Gibson(Wills x Gin Fizz) x Karmala Pax/Polly(Brock x Poppy)  pups due June 16
Polly had 4 pups, 3 males, 1 female who will be going to Japan!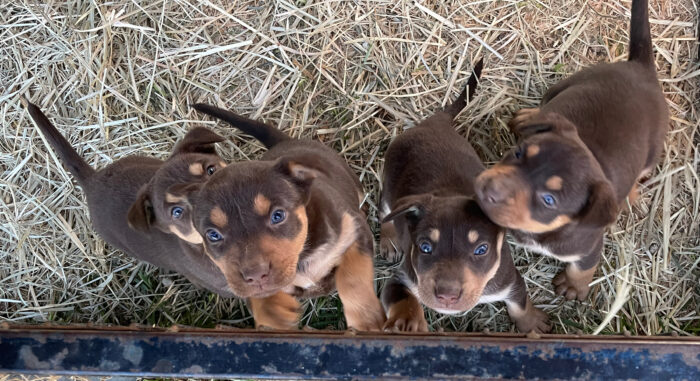 Two red/tans so pups will all be that colour…the only sure bet in Kelpies. Polly is a nice bitch working for Wayne Lucas, sheep and cattle. 
---
Karmala Landy x Karmala MinMin(Wills x Mindy)  pups due June 26 
Min had 4 pups by Caesarean, 3 boys, 1 black/tan girl   All doing extra well!
I gave Min to Marina with this mating in mind. Min has lovely work, not quite strong enough on some cranky goats but Landy should sort that.
---
Karmala Remix/Mick(Halsted's Wally x Remy) x Karmala Wiggle(Wills x Gemma)   pups due June 30
Wiggle had 6 pups, 4 males, 2 female. One of the dogs is cream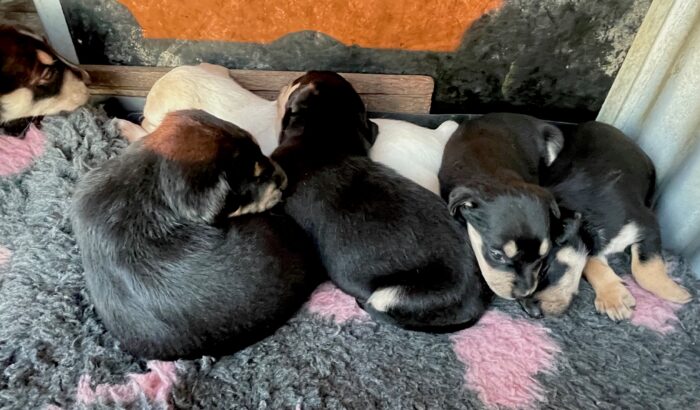 A repeat mating, very happy with the first litter of pups.
---
Karmala Brock x Jessarene Cara( Riana Cash II x Karmala Lara) pups due July 10
Cara has done a great job and produced 5 pups. 1 male, 2 red/tan females, 2 black/tan females.
This will be Cara's last litter. A very good bitch who's been working goats near Texas, her previous litters have been to Landy who is bred closer to her. Expect this litter to be a bit calmer.
There is a black/tan boy available.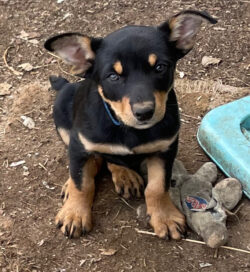 ---
JANUARY MATINGS      ALL PUPS BELOW ARE SOLD OR RETAINED
Shep's Joaker(Blackdog Thunder x Capree Reba) x Karmala SassII(Karmala Brock x Karmala Gossip)
DUE March 16.  
   Sass whelped March 19 
SHEPS JOAKER  Great photo Cody sent me. Beautiful, faithful old dog.
Joaker is a grand old boy who has bred on very well, he's been loaned to us by Cody Glendinning who's worked him for years. Joaker is now in retirement but still fertile.
Well, here's a surprise! Sass whelped last night, 18/3, nine DOG pups and 62 days after she was backed up with Joaker….. after a very early mating to Blye. It's pretty obvious by the colours that the pups are by him. So that's a nice surprise as we missed getting Mina in pup to him. Funny how things work out. Sass mated Blye very early in her heat and when her progesterone levels were way high 5 days later Em ran her with Joaker. Thrilled to get a litter by this old legend. Of course the pups will be DNA tested to be 100% sure.  PUPS SOLD
---
---
Eventine Comet(Blackdog Thunder x Tracker Gillette) x Karmala Midnight(Tracker The Chief x Karmala Kahlua)  Mated Jan 28   Due March 31
Midnight  excelled herself with four lovely bitch pups.
Comet is a very good dog bred by Grant Hutchings, his work has been much admired by all who have seen him. He worked cattle with David Hart at Riverside and then returned to Grant at Tenterfield. Pups likely to be super smart natural workers with a tendency to be a bit deaf at times! Midnight has the runs on the board, one of our best bitches.  No pups available.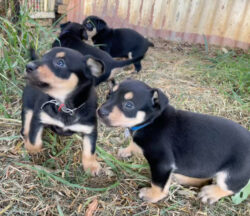 ---
---
Karmala Gibson(Karmala Wills x Karmala GinFizz) x Elwanvale Sunny(E'vale Cash x E'vale Bella) Mated   Jan.28               Due early April.
14/4   Sunny recovered from Hypoglycemia thanks to a lot of TLC from Emma and had 7 pups 4 days early. They are doing well. PUPS SOLD
This is the first mating of Gibson and we bought Sunny specifically for it. Pups should be very nice natural workers. I have kept two pups from Sunny's last litter to Wills. I think of Gibson as "Wills with frills"so hoping for something a bit special. Sunny has pleased and surprised with her transfer back to 'real' work from 3 sheep trials, proving herself a clever mustering dog capable of finding cattle that are "hiding".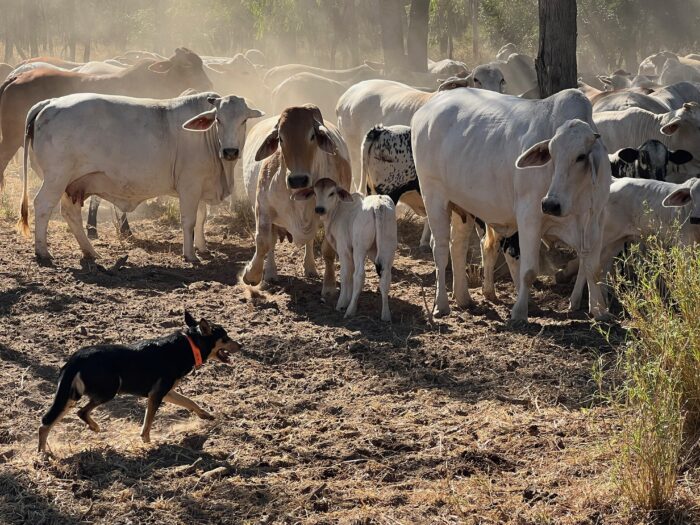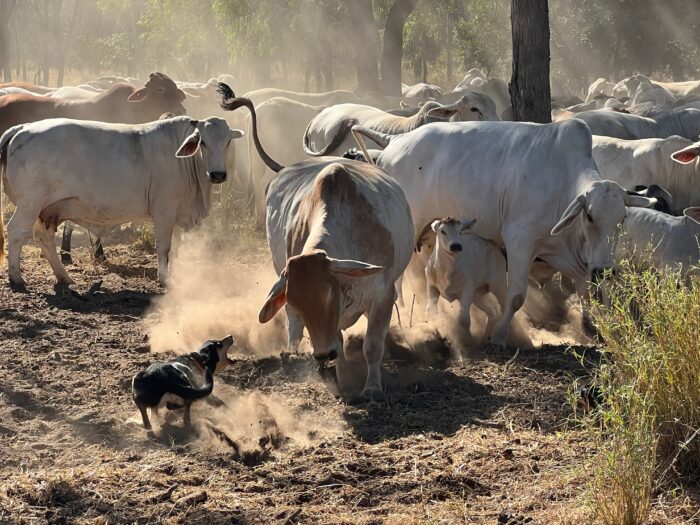 The previous two photos sent by Bright's owner. Bright is from Sunny's litter to Wills. He was bossed around a lot by his litter brother and sold as a "mate" but has turned out to be a very useful one!
---
---
DECEMBER
Karmala Brock x Karmala Livvy
Livvy was mated to Brock on Dec.12. This should be a nice litter; I've tended to use Brock over bitches that needed steadying up a bit and over the years it's become clear that he's breeding quite a few dogs better than himself….so this time he has one of the best bitches. He's getting older and it would be nice to get a couple of good bitch pups to run on.  PUPS SOLD
Livvy whelped on Valentine's Day, 9 pups! 
So over 20 years on I'm circling back to old Karrawarra Rip III, it seems…. Thunder's g'sire on both sides and Joaker is also by Thunder. It's funny that Sheps Sandy also has common g'sires in Campbell's Reg and Elwanvale Sunny in Wickham's Tex. Carrying that back to the Sandy pup we bought, her sire has common g'dams in Karra.Lisa II who was by Coster( x Akubra). Tony Parsons took me to see Coster one day and he wouldn't come out of his kennel. This is the sort of thing I had no idea about when I started breeding kelpies, but as you get older and maybe a little wiser, you learn a lot about the dogs in your pedigrees. As I look back with the benefit of hindsight all I can do is wonder why some matings were done, some of mine included.
---
Maybe this close breeding  will cut out the in-between step when outcrossing; generally speaking the best results are from the next generation of 25% introduced blood but this sort of thing can have unexpected results. For example, a "double up" mating would be done to get twice as much of the good points in the dog/bitch used, but of course you're also doubling up on undesirable traits that might not be obvious but will possibly surface…..
Interesting! Well, maybe only to those interested in bloodlines and they seem to getting pretty thin on the ground these days. 
I've got into a lot of trouble for questioning a pedigree but you'd have to be pretty naive to believe every single registered dog was as stated, especially after breeding Merino stud sheep. That stud book used to be called "The Purple Book of Lies"! The registrar can only print the given information.
---
The kelpie has a relatively small genetic base and  this mating of '1/2 siblings' is  not good for the breed long term because it reduces the variation even more. At least the WKC has an open stud book and unregistered dogs can be introduced through the Appendix system. This was a great idea, and has saved the contribution that a lot of good dogs have made which would not have been possible otherwise. The main problem these days is the proliferation of studs and preference for WKC registered dogs which has reduced the size of the genetic base considerably.
---
There are many disadvantages in breeding close, as can be seen by taking a look at the "pure" breeds registered with the KCC and the reduction of breed numbers. They are reaping the result of closed stud books and over- use of "superior" sires both within the breeds and also within studs….the restrictions coming in to regulate the number of litters a bitch can have are also extremely detrimental to the ongoing quality of pups being produced(especially as I believe the bitch has more influence on a litter through the mitochondria.) I prefer not to do closer matings myself.
---
I've been told that poor feeding over generations can affect the health of pups born, and went hunting through available information to find out why. Dogs(and people) depend on healthy mitochondria, "they are the power houses of the cell providing the body with over 90% of the energy it needs to sustain life." Every cell has masses of mitochondria.
---
Mitochondria take in sugars and proteins from the food we eat and produce energy called ATP that our bodies use to function properly. Mitochondrial disease is a debilitating and potentially fatal disease that reduces the ability of the mitochondria to produce this energy. When the mitochondria are not working properly, cells begin to die until eventually whole organ systems fail and life itself is compromised. They require the right amount of protein, fats, carbohydrates, vitamins and minerals to function properly. Imbalances can cause the build up of potentially dangerous by products which eventually compromise DNA function. When a cell is filled with defective mitochondria, not only does it become deprived of ATP, it also can accumulate a backlog of unused fuel molecules and oxygen, with potentially disastrous effects. ATP derived from mitochondria provides the main source of power for muscle cell contraction and nerve cell firing. So, muscle cells and nerve cells are especially sensitive to mitochondrial defects/mutations.
Mutations in either nuclear(cell) DNA (nDNA) or mitochondrial DNA (mtDNA) can cause mitochondrial disease.
Most nDNA (along with any mutations it has) is inherited in a Mendelian pattern, loosely meaning that one copy of each gene comes from each parent and it takes mutations in both copies of a gene to cause disease.
Unlike nDNA, mtDNA passes only from mother to child. That is because during conception, when the sperm fuses with the egg, the sperm's mitochondria — and its mtDNA — are destroyed. Thus, mitochondrial diseases caused by mtDNA mutations are unique because they are inherited only from the mother.
---
 Another unique feature of mtDNA diseases arises from the fact that a typical human cell — including the egg cell — contains only one nucleus but hundreds of mitochondria. A single cell can contain both mutant mitochondria and normal mitochondria, and the balance between the two will determine the cell's health. This helps explain why the symptoms of mitochondrial disease can vary so much from person to person, even within the same family.
What are the symptoms of mitochondrial myopathies?
Muscular and neurological problems — such as muscle weakness, exercise intolerance, hearing loss, trouble with balance and coordination, seizures, and learning deficits — are common features of mitochondrial disease because muscle cells and nerve cells have especially high energy needs. Other frequent complications include impaired vision, heart defects, diabetes, stunted growth, allergies and systemic inflammation.
Do any of these ring a bell with symptoms related to very close inbreeding of dogs? Or to many common ailments dogs are presenting with? Or, indeed, with many of the huge avalanche of human illnesses presenting in recent decades led by obesity? The proliferation of fast food, sugary drinks, refined flour products, other carbs, etc. might just have something to do with it. 
So it's really obvious how vital a good diet is for healthy mitochondria, right? Not surprisingly, foods to be avoided include ones known to fuel cancer….. the perpetual pandemic, and the other ones, dementia/Alzheimers and diabetes have been linked also. I could possibly add autism, as nobody seems to know what causes it.
It's only a short jump to the poor quality dry foods being marketed to feed dogs. I've written elsewhere about the benefits of a raw diet. Once again I mention Dr Conor Brady's book "Feeding Dogs".
And if you're wondering what led me down this particular rabbit hole? If you feed a bitch a poor diet over many years it's possible to compromise her mitochondria. If you then double up on the weakness and mate two of her pups by different sires? To my simple mind you're doubling the possibility that those pups could also have 'weakened' mitochondria which could lead to muscle and nerve problems. The shortened life spans and multiple illnesses dogs are suffering more frequently…….? 
And often the vets are recommending special dry foods to treat them, when more than likely the food is at least part of the problem. 
---
---
ALL PUPS BELOW ARE SOLD OR RETAINED
SEPTEMBER MATINGS
Wills to Gin Fizz   due Nov.12
This will be the fourth time for this mating, they just keep on getting better! Last mating gave us Gibson, below, working with Fizz.
Some pups usually have white markings but the ones without don't carry the gene… two old Glenville dogs, Prince and Swannee, can appear multiple times in a pedigree of these old bloodlines and when they pop up near the top of the Homozygosity table….look out! Of course they work just as well as the others. So why repeat the mating, you might ask? Because the work has been so good and that's what it's all about.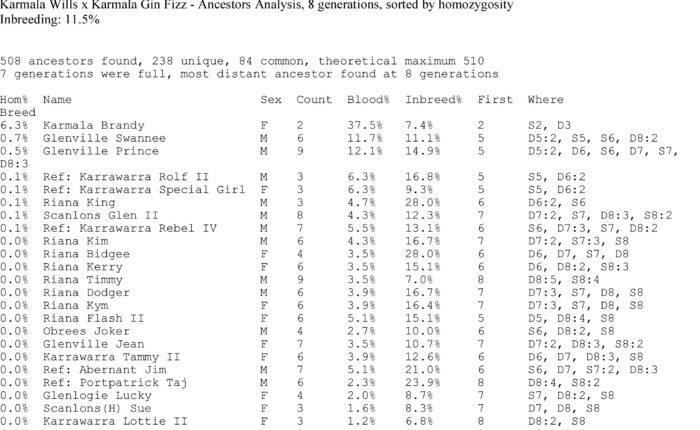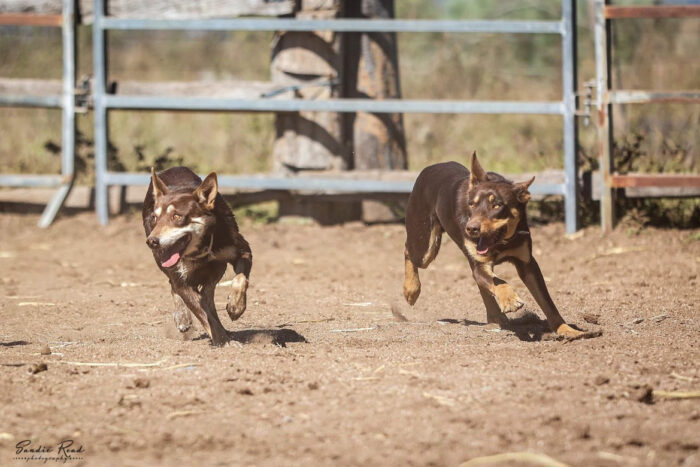 Fizz had 7 pups and I fostered 2 onto Wiggle who whelped on the same day. Nice litter with a few white markings.  PUPS SOLD
Karmala Remix/Mick x Karmala Wiggle  due Nov.13
Mick is a young dog working for Jack Kings and creating a lot of interest; a very natural worker that needs little direction. Wiggle is a stylish, rather intense bitch breeding on very well. Hoping Mick steadies the enthusiasm a little….he is by John Halsted's good dog Wally(Karana Troy x Karmala Bonnie). Some line breeding here, Bonnie is a full sister to Gemma. The red boy is a Fizz foster.
Wiggle had a nice litter of five and looked after two of the Fizz pups as well. SOLD
JUNE MATINGS
Karmala Blye(K.Landy x K.Bimber) has been mated to McKenzie(K.Wills x K.Midnight) due Aug. 27.
Both McKenzie and Blye are working cattle up at Mt. Larcom and impressing with their ability to read stock and control them without excess force. THREE DOG PUPS AVAILABLE
Pups due Aug.27 Four pups, 1 girl.
MAY MATINGS
BOSS x MIDNIGHT   MATING 12 MAY  
Boss is Charles Williams' good dog x Avenpart Aspro(X Avenpart Wump) Still chasing a pedigree for Boss; he's not registered but has an illustrious pedigree…his mum is Sadie, by Charles's Nigel who is by Frank Finger's all time best ever dog Clan Benno. I think!
Boss has a heap of presence like his sire, whom I watched working sheep by moving his head a fraction! Midnight is Derek's best bitch, strong and reliable on cattle, steady on sheep. She has bred some exceptional pups to Wills.  I asked Em about Midnight's cast…. she said it's very good but she only bothers if the younger bitches are left at home! Pups should be smart and strong, hopefully not too smart.
Midnight whelped late, she has 3 bitches and a sirey looking dog.
Midnight pups, 4 weeks. None for sale.
APEX ACE of SPADES x KARMALA HELI  MATING MAY 12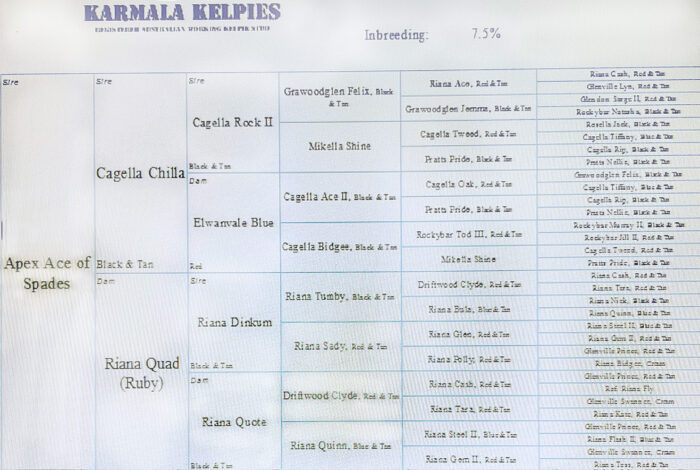 Ace is Evonne Barrett's very nice stylish dog. He was bred from Apex Quad, a daughter of Riana Glide's sister Quote, by Cagella Chilla. Heli is a daughter of Baldwins Chopper, a good old Scanlon blood all-rounder, from the stylish Karmala Lily. Ace was originally registered wrongly as a red/tan bitch…. Apex Ace of Spades WKC 61705! I took Brandy down to mate to Chilla's sire Cagella RockII some years ago. She missed to him but mated Akubra late and produced Brock. Karma again!
Heli has 4 bitches.
Pups born in July
KARMALA WILLS X ELWANVALE SUNNY
Karmala Wills x Elwanvale Sunny
4 bitch pups, 4 dogs
Sunny is a very nice bitch who was trialled by Adam Miller. She did very well at the last NKT at Allora, winning the Best Cast Lift and Draw trophy, also Best Type….although in my opinion she's a bit big…. I like feminine bitches and taller dogs. She has a lovely nature as you would expect with such a name!
I was keen to buy her when Adam decided his changed circumstances meant he had to sell some dogs. Wills has been an outstanding sire, consistently leaving impressive pups, which means the stud now has quite a lot of his blood. The long term plan is to breed some unrelated bitches and maybe retain a dog or two that can be useful in the future.
But…..!  As Wills was down here when Sunny arrived on heat it was just too tempting to mate her to him once! They are both very natural workers and despite the outcross I think the work will be in line with the usual calm, smart mustering dogs we have been consistently producing. Too often I've seen studs become too attached to their own lines to bring in fresh blood and gradually decline in quality. I tried to mate a couple of bitches to Cagella dogs in the past without success, so it was Karma when Sunny came up. She whelped on July 4, 8 lovely big strong pups. Two red/tans. 4 bitches 4 dogs. Sunny fed well for the first two weeks but the pups had a battle until they got old enough to eat. Most are now doing well.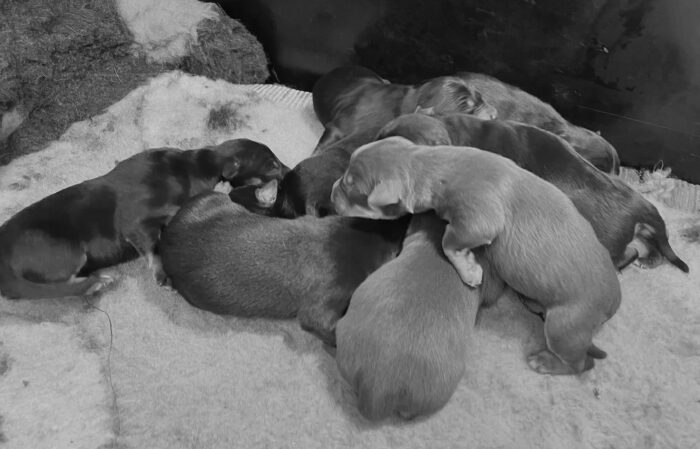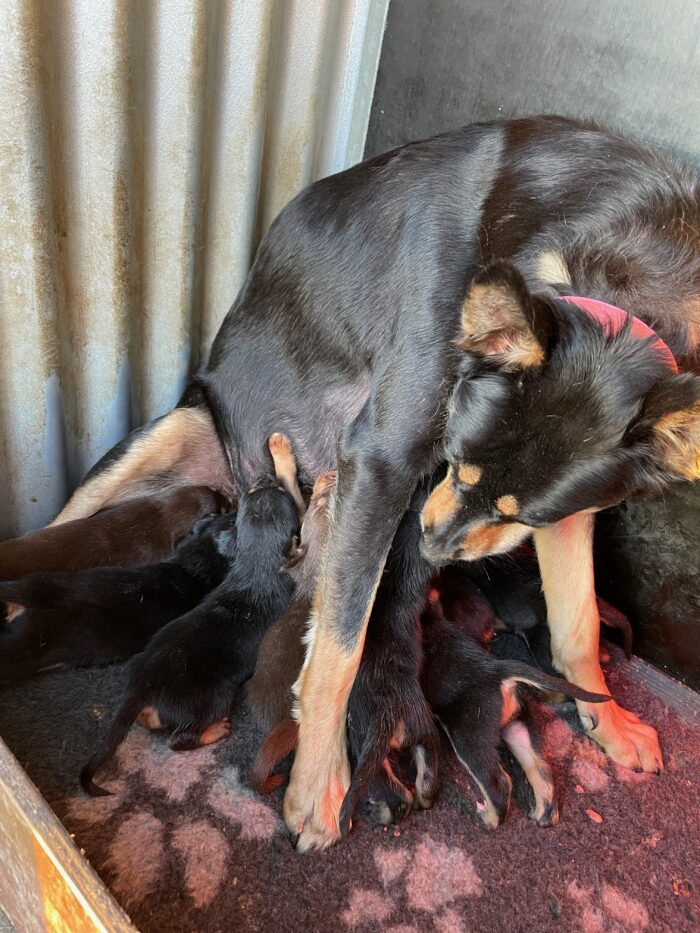 Pups born in June
KARMALA VLAD(Barney) x KARMALA LIVVY   MATING APRIL 15th, due June 17
An exciting mating. Two lovely natured dogs both showing exceptional work with a lot of good old mustering ability. Livvy had 8 pups, 2 cream boys, 2 blue/tan boys, 2 black/tan girls, 2 blue/tan girls.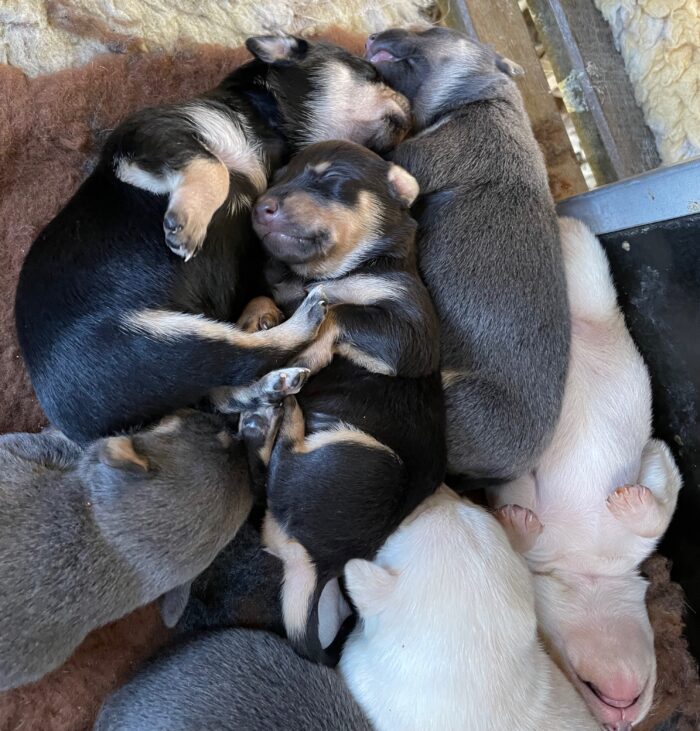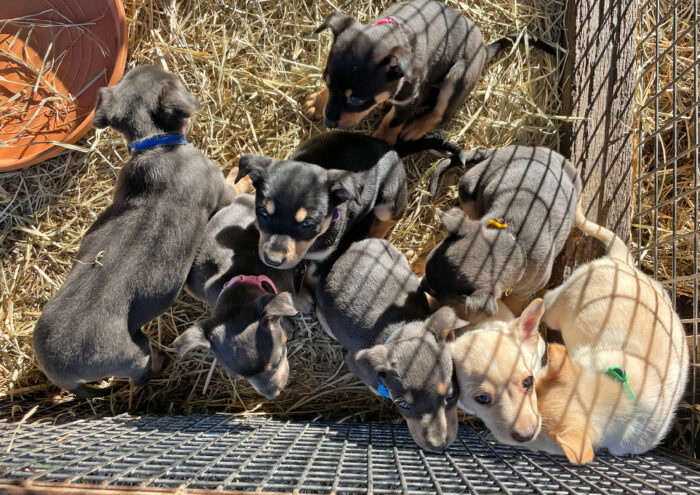 Pups born in May
APEX ACE of SPADES x Karmala Mina Wylie
Due MAY 30. Mina is probably the best bitch we've bred from the Wills x Midnight mating. Ace is a very nice stylish dog owned by Evonne Barrett. Mina spent some weeks working for Sean when she went to be mated and he was very happy with her.
Mina whelped right on time, 6 pups, 4 bitches…black/tan. 1 red/tan and 1 black/tan boy.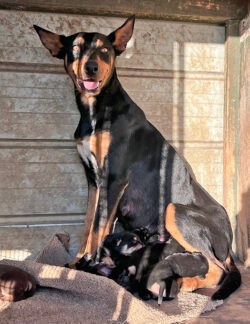 Mina looking very proud of her babies.
These pups are up at Mt Larcom.
Pups born in March…..these pups are all sold
KILLILI TAP x KOONAMARA NITRO
 Born 8/3/22, Killili Tap x Koonamara Nitro. NINE BITCH PUPS! a record at Karmala. Another bitch pup was stillborn. 
Tap is a great old dog owned by Melissa Spencer. I was very impressed when I met him recently, Mel brought a pup down (Malthoid Renfrey (Tap x Karmala Witch)) and Tap came too. This is all part of my long term plan to breed a bitch suitable to AI to Avenpart Wump. Tap is out of a Wump daughter, well known brood bitch Belrieve Meg II, and his paternal g'dam is Paddy's Pearl…another grand old bitch. Little did I know when I had that bright idea that I'd find myself with TEN bitches to choose from!
Nitro is x Wills out of Koonamara Layla. Her details are now on her page under Bitches.
Nitro has done an amazing job with her 9 girls!
Pups born in April
Claywolf Champ(Cap) x Karmala Remy due April 29.
Cap is a nice young dog I bought back from Mary Faulkner in Tas. with a vague idea of mating him to his aunt K.Tash to keep some Cash blood going. He's by a son of Landy, Karmala Lefty, out of a Riana Cash II bitch, Karmala Dash. He's a calm dog who reads his stock well. Remy is my last Brandy bitch. Sadly she got mastitis after whelping and only one bitch pup survived…what a little fighter she is.    Photo above
Claywolf Champ x Karmala Wiggle due April 27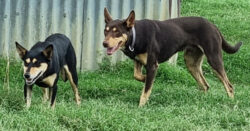 Wiggle has a rainbow litter, blues, red/tan. fawn/tan and black/tans! 7 pups born April 23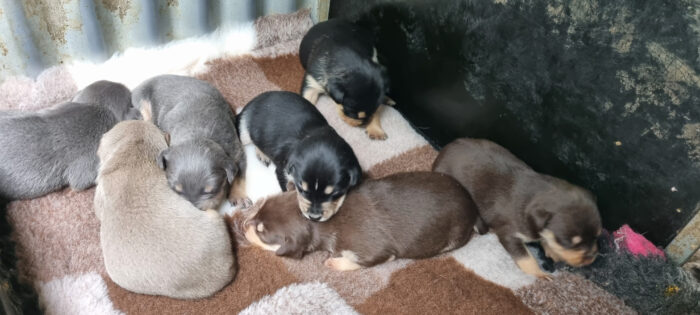 Some pups available.
Karmala Brock x Koonamara Nakara  due April 29
Karmala Brock X Koonamara Nakara   
Litter born April 29     Naka has four beautiful pups, red/tan boy, black/tan boy and two black/tan bitches.
The 2 dog pups are available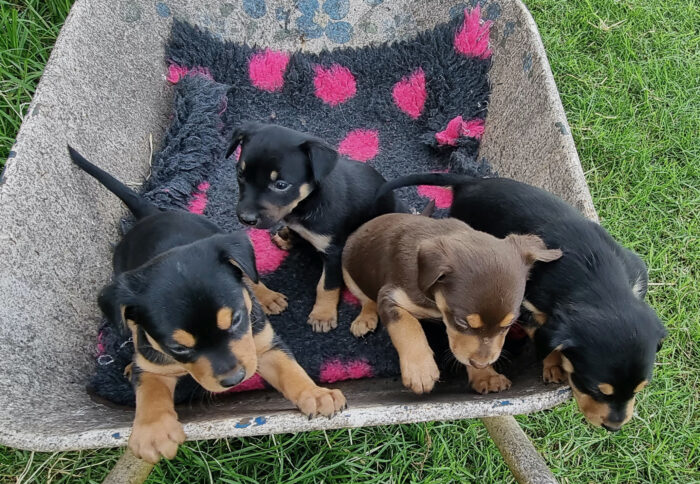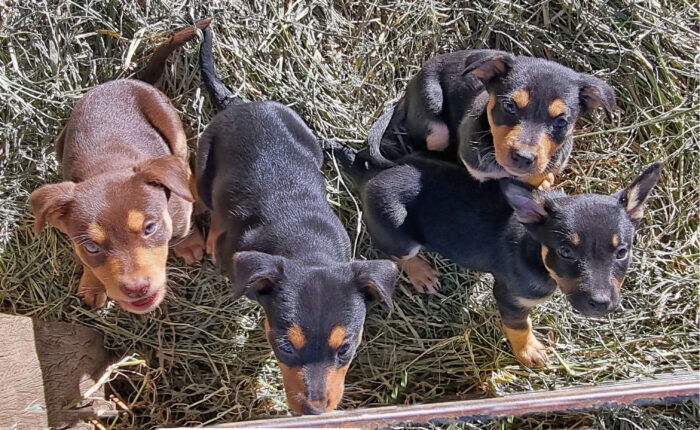 All pups below are sold
Bitches mated in October: Tim x Mustard, Barney x Heli, Tim x Sass, Tim x Bimber
##A sad update on Tim. He developed a stomach cancer and was put down this week, 20/2/22. A lovely, brave dog. Very lucky to get these pups, I need to keep a couple so might have to cancel a couple of orders. The bitches are coming on heat again so will be able to fill these at a later date. I'm sorry for the inconvenience and will know definitely in a couple of weeks after Emma and Derek have been down.
Walkabout Tim had been injured before we got him and we thought him unlikely to leave many pups or have a long life, his untimely demise is doubtless due to that. His dam, Elwanvale Sunny, won Best Cast, Lift and Draw at the NKT in Allora this year, and was also judged Best Type. Tim is a tall red/tan dog; from anecdotal info I think Wickham's Tex is his most influential ancestor. I'm told he was a big, calm, nice natured dog who won a few trials. Tim's a calm, thinking worker and has been going well on cattle; he anticipates well, keeping an eye on the big picture.
Tim goes back to a lot of Gary Milgate's Cagella dogs and I know of or have seen quite a few of the dogs in his pedigree. Rockybar Todd III was a great old dog belonging to Mark Davey, who judged the NKT this year. Pratt's Pride won the Dog of the Year for Gary Milgate, as did Cagella Slate, I think. Shine was a beautiful bitch, I saw Gary working her as a youngster. Pride's dam P.Nellie went back to Karrawarra for her last few litters. David Hart's good bitch Karra.Ruby Tuesday was out of her. G. Felix by Riana Ace, Arthur Crumblin's best dog, was a beautiful moving dog, a lovely type.  Barry Madden's Westdale dogs were of Karrawarra breeding, good handy dogs who won yard trials and also mustered difficult high country.
 Here's a little vid of Tim keeping things in order for Sass who was having her first look , sorry about the messy bit when we caught him….and turn your sound down…I added the noise to drown out the jealous dogs watching!
There's also a Youtube video 'Yarding cattle' on my Karmkelpies channel where you can see Tim.
Barney aka Karmala Vlad(Driftwood Boondy x Karmala Vonny)is one of Lynnton Martin's team, a very promising young dog with a heap of natural work and smarts. Photos taken recently by Lynnton. Pedigree below.
Lynnton does a lot of contract work out around Trangie and Barney has stepped up over the last year to become a valuable worker. I was keen to use Boondy as he goes back to a lot of old Riana dogs. and mated him to Vonny who also was  75% Riana breeding. Videos of Barney and Gilly(Wills x Gemma) can be seen on Lynnton's Tynndyl Kelpies website or Facebook page, just Google Tynndyl Kelpies.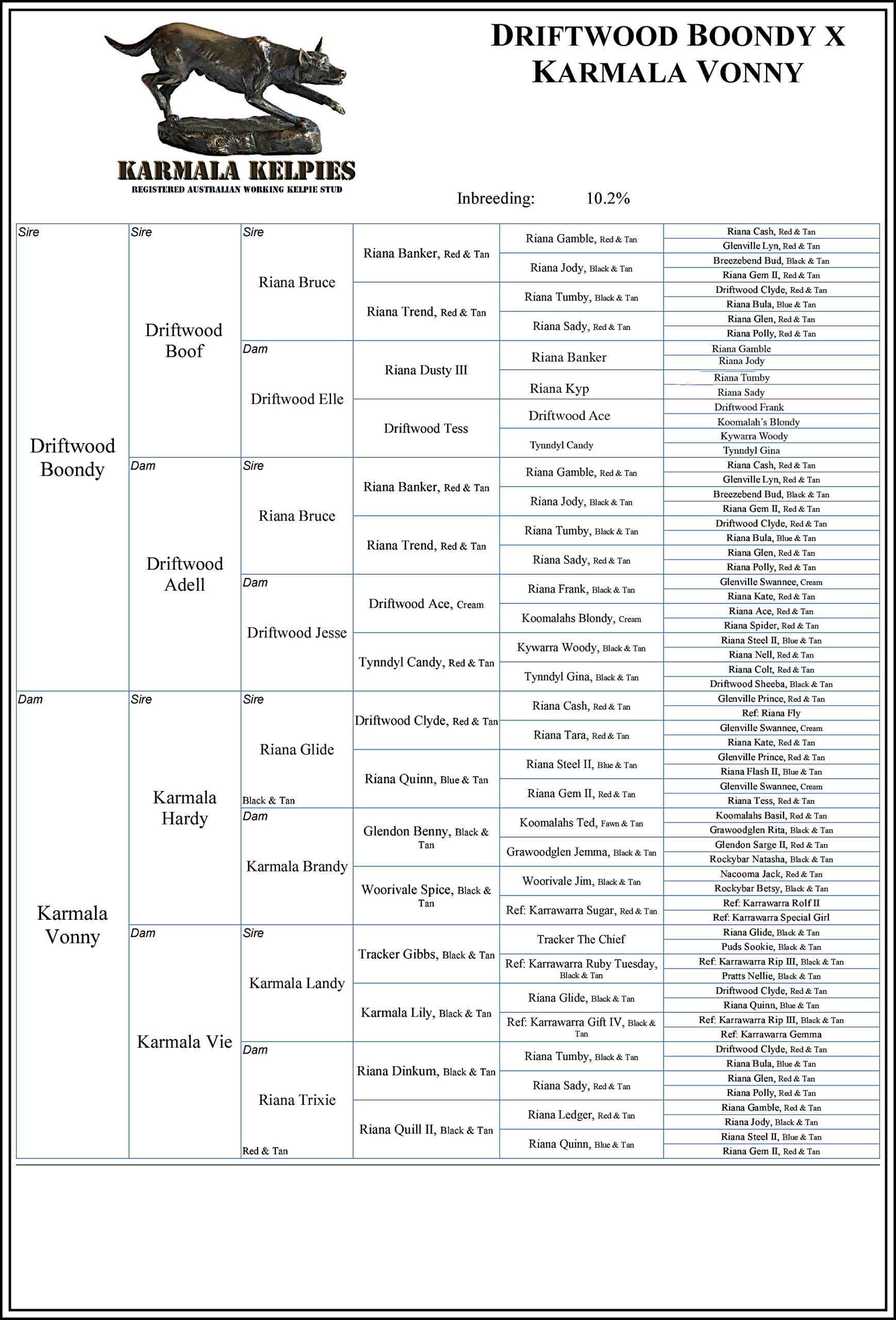 Karmala Vlad(Barney) x Karmala Heli Litter born 1/1/2022     
Heli had 2 black/tan dogs, 2 cream bitches, 1 cream dog, 1 blue/tan bitch, 1 blue/tan dog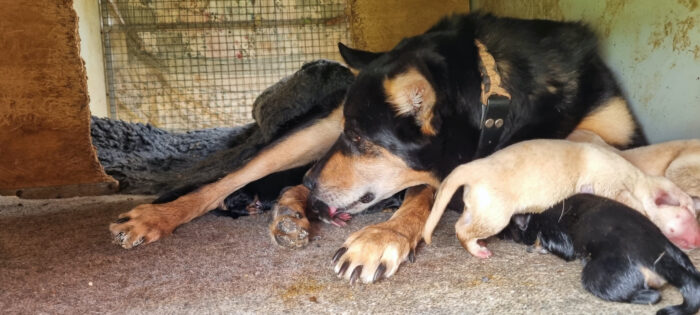 Walkabout Tim x Karmala Sass II(Karmala Wills x Karmala Gin Fizz) Litter born 2/1/2022  4 r/t f, 1 r/t m
Walkabout Tim x Karmala Bimber   litter born 5/1/22 5 r/t f, 3 r/t m
Walkabout Tim x Karmala Bimber
Walkabout Tim x Koonamara Nardia(Mustard) litter born 6/1/22   4 r/t f, 1 r/t m
A bit more about Mustard:
I don't have many photos of Mustard, she was bred by Kevin Noble in S.A. and came up here as a youngster when his work situation changed. She's a full sister to Nakara by Wills. Mustard can be a little 'sticky' but is growing out of it now. She's been working cattle up at Mt Larcom with the Zeimers and is still a work in progress but definitely a keeper. I took some film of her shortly after she came up to Qld when I showed her to Arthur Crumblin. 
---
ALL PUPS BELOW ARE SOLD
Karmala Brock x Karmala Glamour
Karmala Brock x Karmala Glamour
Glam whelped Oct. 31, another Halloween litter! She has 7 pups, 3f 4m. Dog pups available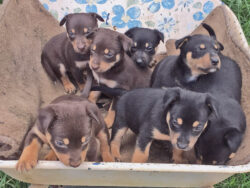 ---
Karmala Brock x Karmala Gossip
Gossip whelped Nov. 2, 8 pups 4f 4m     Dog pups available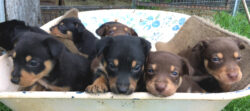 ---
Wills X Midnight 
Midnight whelped to Wills, Nov.11, 2f 3 m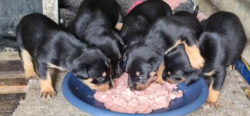 ---
I have used a very good old dog belonging to John Halsted for three of the recent litters. Wal is 10 now, and has been mustering sheep and cattle on Hampshire Station all his life, mostly from horseback. His sire is Karana Troy, also owned by John, a big casting dog by Karana Digger, and his dam is Karmala Bonny, a full sister to my stud bitches Tilly, Lily and Gemma. Looking forward to these pups by Wal, he tested free of CA.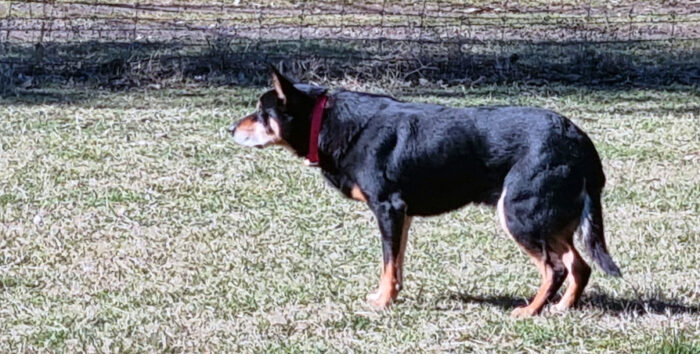 Click on lighter type for pedigrees.
Halsteds Wally x Karmala Whitney, litter born 10/9/21, 6 pups 4f 2m.
Pups below at 7 weeks. Some for sale.