Puppies for sale
Could Stewy Loughan ring me please…I lost your no.!
I'd also like readers to note the crazy prices being asked and paid for fawn/tan pups and blues to a lesser extent. They invariably have bad coats due to being dilutes and to mate fawns and blues to anything but a very good coated red/tan or black/tan is irresponsible. 
*********************************************************************************************************
---
To all people interested in buying a pup as a pet….if you have no experience of kelpies please do some research; they are wonderful dogs but don't suit some situations. There is a very good explanation in Feb. News written by a trainer who also owns kelpies, an excellent summary. Here is her intro….
𝗪𝗼𝗿𝗸𝗶𝗻𝗴 𝗞𝗲𝗹𝗽𝗶𝗲𝘀 𝗮𝘀 𝗣𝗲𝘁𝘀 ~ 𝑊ℎ𝑎𝑡 𝑦𝑜𝑢 𝑟𝑒𝑎𝑙𝑙𝑦 𝑛𝑒𝑒𝑑 𝑡𝑜 𝑘𝑛𝑜𝑤
📺 The recent release of the ABC tv series Muster Dogs, has placed a spotlight on an iconic Australian breed – the Kelpie.
🐕 If we have learnt anything from past film releases such as 101 Dalmatians, Eight Below, and Max, it is that the A list breed is about to get a real popularity boost in the eyes of the pet loving public
These shows and films utilise dogs that are either:
✅ Animated
✅ Mature aged and already very highly trained
✅ Young and under the training of a highly experienced handler
🤫 Unfortunately, clever editing, a feel good story line, and the general public's love of dogs can blind a lot of people to the actual reality of living with the breed of dog in question.
😎 There is so much to love about the Kelpie, beyond their obvious athletic good looks.
➡️ As an owner of two Kelpies, I'm here to point out what's good about them, what's bad about them, and deliver a healthy dose of reality as to why these dogs are not for everyone.
She goes on to explain that…. "Australian Kelpies(bred for showing and as pets) and Working Kelpies are different breeds."       (AND CERTAINLY BEHAVE DIFFERENTLY!)
 Litters/Matings 2021-22
JUNE MATINGS
Karmala Blye(K.Landy x K.Bimber) has been mated to two young bitches, Glam and McKenzie. Not sure if they're in pup yet. Glam missed.
MAY MATINGS
BOSS x MIDNIGHT   MATING 12 MAY  
Boss is Charles Williams' good dog x Avenpart Aspro(X Avenpart Wump) Still chasing a pedigree for Boss; he's not registered but has an illustrious pedigree…his mum is Sadie, by Charles's Nigel who is by Frank Finger's all time best ever dog Benno. Sadie's dam has a line back to Benno as well, so there's a bit of consistency involved but not a lot of detail; they don't seem to be registered. 
Boss has a heap of presence like his sire, whom I watched working sheep by moving his head a fraction! Midnight is Derek's best bitch, strong and reliable on cattle, steady on sheep. She has bred some exceptional pups to Wills.  I asked Em about Midnight's cast…. she said it's very good but she only bothers if the younger bitches are left at home! Pups should be smart and strong, hopefully not too smart.
Midnight whelped late, she has 3 bitches and a sirey looking dog.
APEX ACE of SPADES x KARMALA HELI  MATING MAY 12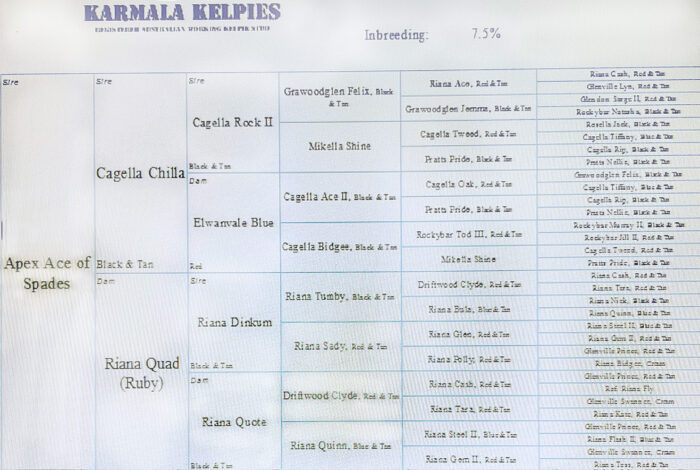 Ace is Evonne Barrett's very nice stylish dog. He was bred from Apex Quad, a daughter of Riana Glide's sister Quote, by Cagella Chilla. Heli is a daughter of Baldwins Chopper, a good old Scanlon blood all-rounder, from the stylish Karmala Lily. Ace was originally registered wrongly as a red/tan bitch…. Apex Ace of Spades WKC 61705! I took Brandy down to mate to Chilla's sire Cagella RockII some years ago. She missed to him but mated Akubra late and produced Brock. Karma again!
Heli has 3 bitches and a ? born last. The whelping kennels were full and she's in another kennel with a big dog bed. I haven't crawled in to check the last pup's sex, she's very protective and we can't both fit, but they're growing rapidly. My Breeders' Assistant programme won't download at present.
Pups born in July
KARMALA WILLS X ELWANVALE SUNNY
Karmala Wills x Elwanvale Sunny
4 bitch pups, 4 dogs
Sunny is a very nice bitch who was trialled by Adam Miller. She did very well at the last NKT at Allora, winning the Best Cast Lift and Draw trophy, also Best Type….although in my opinion she's a bit big…. I like feminine bitches and taller dogs. She has a lovely nature as you would expect with such a name!
I was keen to buy her when Adam decided his changed circumstances meant he had to sell some dogs. Wills has been an outstanding sire, consistently leaving impressive pups, which means the stud now has quite a lot of his blood. The long term plan is to breed some unrelated bitches and maybe retain a dog or two that can be useful in the future.
But…..!  As Wills was down here when Sunny arrived on heat it was just too tempting to mate her to him once! They are both very natural workers and despite the outcross I think the work will be in line with the usual calm, smart mustering dogs we have been consistently producing. Too often I've seen studs become too attached to their own lines to bring in fresh blood and gradually decline in quality. I tried to mate a couple of bitches to Cagella dogs in the past without success, so it was Karma when Sunny came up. She whelped on July 4, 8 lovely big strong pups. Two red/tans. 4 bitches 4 dogs. Sunny fed well for the first two weeks but the pups had a battle until they got old enough to eat. Most are now doing well.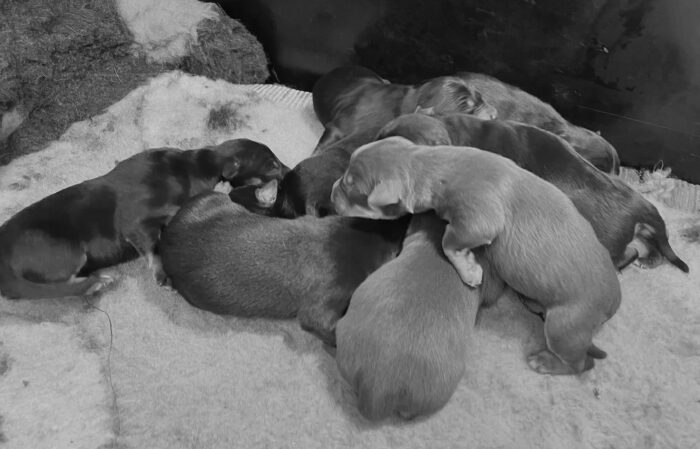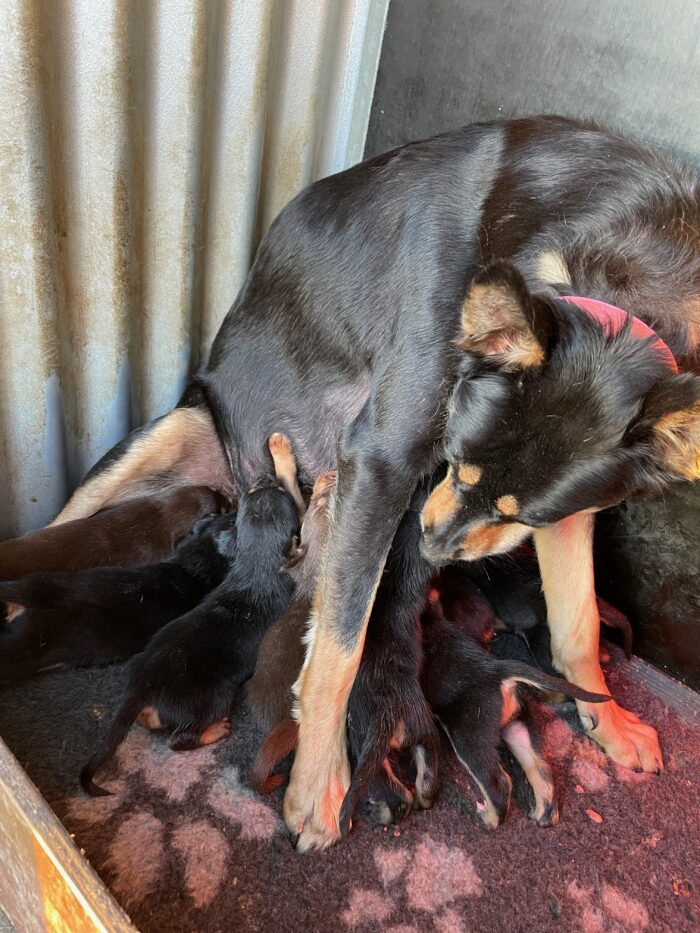 Pups born in June
KARMALA VLAD(Barney) x KARMALA LIVVY   MATING APRIL 15th, due June 17
An exciting mating. Two lovely natured dogs both showing exceptional work with a lot of good old mustering ability. Livvy had 8 pups, 2 cream boys, 2 blue/tan boys, 2 black/tan girls, 2 blue/tan girls.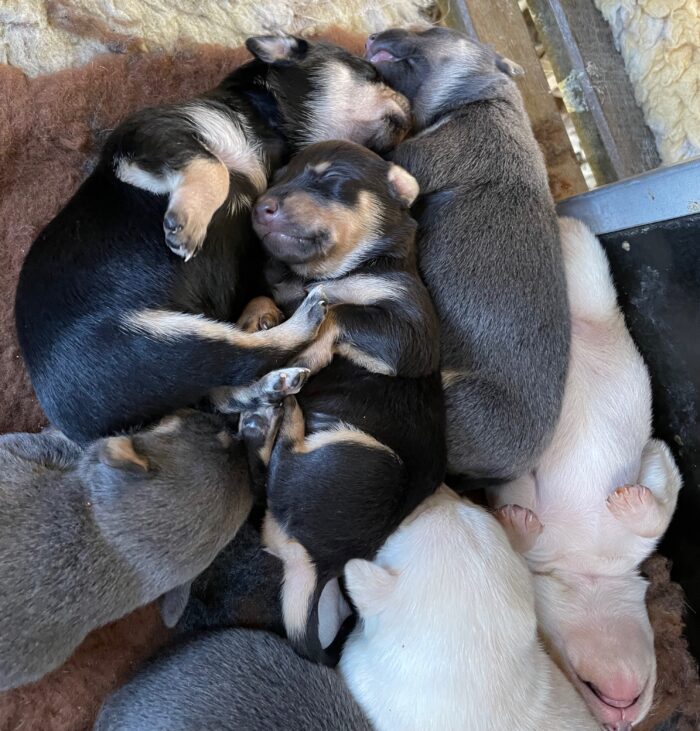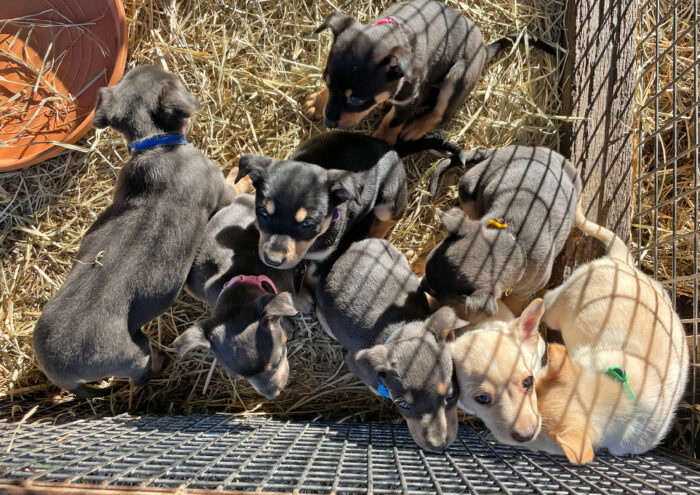 Pups born in May
APEX ACE of SPADES x Karmala Mina Wylie
Due MAY 30. Mina is probably the best bitch we've bred from the Wills x Midnight mating. Ace is a very nice stylish dog owned by Evonne Barrett. Mina spent some weeks working for Sean when she went to be mated and he was very happy with her.
Mina whelped right on time, 6 pups, 4 bitches…black/tan. 1 red/tan and 1 black/tan boy.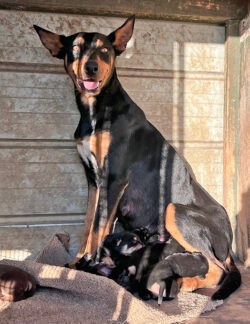 Mina looking very proud of her babies.
These pups are up at Mt Larcom.
Pups born in March…..these pups are all sold
KILLILI TAP x KOONAMARA NITRO
 Born 8/3/22, Killili Tap x Koonamara Nitro. NINE BITCH PUPS! a record at Karmala. Another bitch pup was stillborn. 
Tap is a great old dog owned by Melissa Spencer. I was very impressed when I met him recently, Mel brought a pup down (Malthoid Renfrey (Tap x Karmala Witch)) and Tap came too. This is all part of my long term plan to breed a bitch suitable to AI to Avenpart Wump. Tap is out of a Wump daughter, well known brood bitch Belrieve Meg II, and his paternal g'dam is Paddy's Pearl…another grand old bitch. Little did I know when I had that bright idea that I'd find myself with TEN bitches to choose from!
Nitro is x Wills out of Koonamara Layla. Her details are now on her page under Bitches.
Nitro has done an amazing job with her 9 girls!
Pups born in April
Claywolf Champ(Cap) x Karmala Remy due April 29.
Cap is a nice young dog I bought back from Mary Faulkner in Tas. with a vague idea of mating him to his aunt K.Tash to keep some Cash blood going. He's by a son of Landy, Karmala Lefty, out of a Riana Cash II bitch, Karmala Dash. He's a calm dog who reads his stock well. Remy is my last Brandy bitch. Sadly she got mastitis after whelping and only one bitch pup survived…what a little fighter she is.    Photo above
Claywolf Champ x Karmala Wiggle due April 27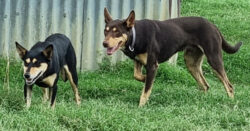 Wiggle has a rainbow litter, blues, red/tan. fawn/tan and black/tans! 7 pups born April 23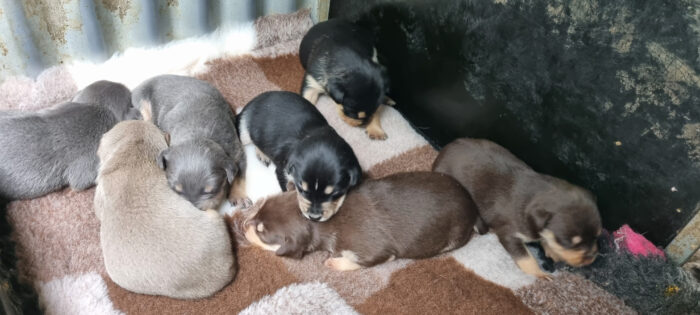 Some pups available.
Karmala Brock x Koonamara Nakara  due April 29
Karmala Brock X Koonamara Nakara   
Litter born April 29     Naka has four beautiful pups, red/tan boy, black/tan boy and two black/tan bitches.
The 2 dog pups are available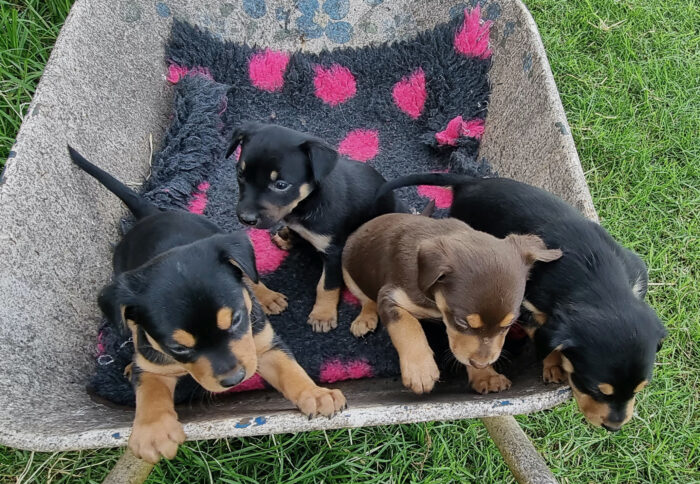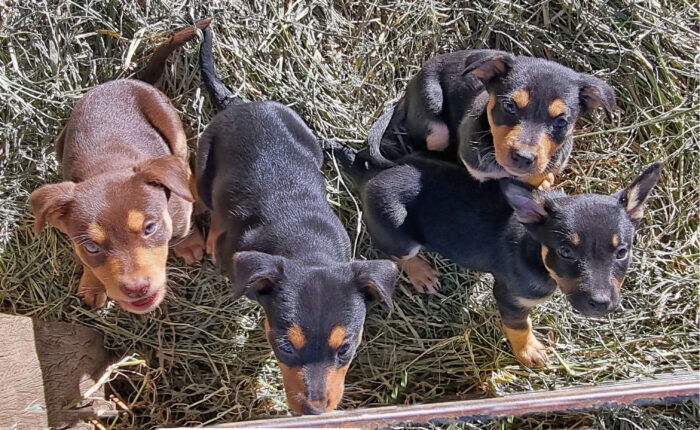 All pups below are sold
Bitches mated in October: Tim x Mustard, Barney x Heli, Tim x Sass, Tim x Bimber
##A sad update on Tim. He developed a stomach cancer and was put down this week, 20/2/22. A lovely, brave dog. Very lucky to get these pups, I need to keep a couple so might have to cancel a couple of orders. The bitches are coming on heat again so will be able to fill these at a later date. I'm sorry for the inconvenience and will know definitely in a couple of weeks after Emma and Derek have been down.
Walkabout Tim had been injured before we got him and we thought him unlikely to leave many pups or have a long life, his untimely demise is doubtless due to that. His dam, Elwanvale Sunny, won Best Cast, Lift and Draw at the NKT in Allora this year, and was also judged Best Type. Tim is a tall red/tan dog; from anecdotal info I think Wickham's Tex is his most influential ancestor. I'm told he was a big, calm, nice natured dog who won a few trials. Tim's a calm, thinking worker and has been going well on cattle; he anticipates well, keeping an eye on the big picture.
Tim goes back to a lot of Gary Milgate's Cagella dogs and I know of or have seen quite a few of the dogs in his pedigree. Rockybar Todd III was a great old dog belonging to Mark Davey, who judged the NKT this year. Pratt's Pride won the Dog of the Year for Gary Milgate, as did Cagella Slate, I think. Shine was a beautiful bitch, I saw Gary working her as a youngster. Pride's dam P.Nellie went back to Karrawarra for her last few litters. David Hart's good bitch Karra.Ruby Tuesday was out of her. G. Felix by Riana Ace, Arthur Crumblin's best dog, was a beautiful moving dog, a lovely type.  Barry Madden's Westdale dogs were of Karrawarra breeding, good handy dogs who won yard trials and also mustered difficult high country.
 Here's a little vid of Tim keeping things in order for Sass who was having her first look , sorry about the messy bit when we caught him….and turn your sound down…I added the noise to drown out the jealous dogs watching!
There's also a Youtube video 'Yarding cattle' on my Karmkelpies channel where you can see Tim.
Barney aka Karmala Vlad(Driftwood Boondy x Karmala Vonny)is one of Lynnton Martin's team, a very promising young dog with a heap of natural work and smarts. Photos taken recently by Lynnton. Pedigree below.
Lynnton does a lot of contract work out around Trangie and Barney has stepped up over the last year to become a valuable worker. I was keen to use Boondy as he goes back to a lot of old Riana dogs. and mated him to Vonny who also was  75% Riana breeding. Videos of Barney and Gilly(Wills x Gemma) can be seen on Lynnton's Tynndyl Kelpies website or Facebook page, just Google Tynndyl Kelpies.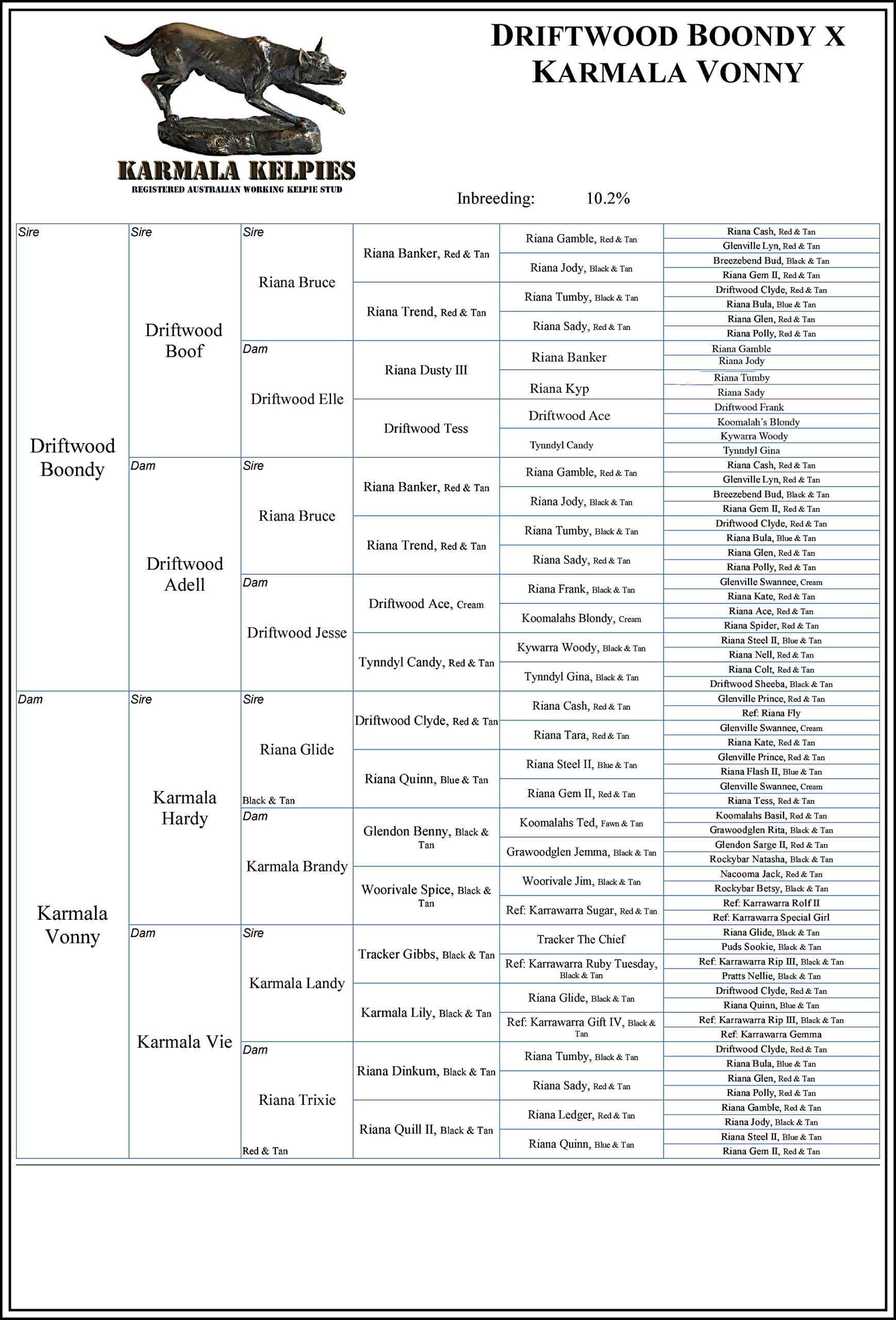 Karmala Vlad(Barney) x Karmala Heli Litter born 1/1/2022     
Heli had 2 black/tan dogs, 2 cream bitches, 1 cream dog, 1 blue/tan bitch, 1 blue/tan dog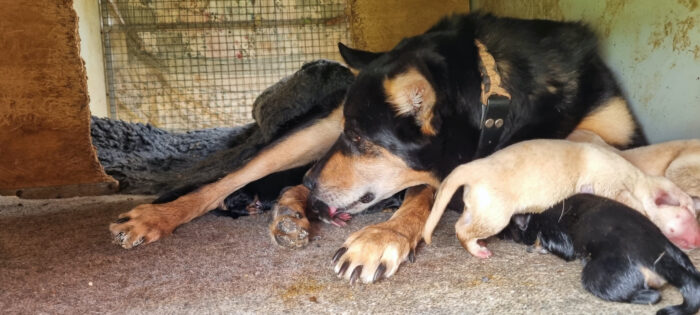 Walkabout Tim x Karmala Sass II(Karmala Wills x Karmala Gin Fizz) Litter born 2/1/2022  4 r/t f, 1 r/t m
Walkabout Tim x Karmala Bimber   litter born 5/1/22 5 r/t f, 3 r/t m
Walkabout Tim x Karmala Bimber
Walkabout Tim x Koonamara Nardia(Mustard) litter born 6/1/22   4 r/t f, 1 r/t m
A bit more about Mustard:
I don't have many photos of Mustard, she was bred by Kevin Noble in S.A. and came up here as a youngster when his work situation changed. She's a full sister to Nakara by Wills. Mustard can be a little 'sticky' but is growing out of it now. She's been working cattle up at Mt Larcom with the Zeimers and is still a work in progress but definitely a keeper. I took some film of her shortly after she came up to Qld when I showed her to Arthur Crumblin. 
---
ALL PUPS BELOW ARE SOLD
Karmala Brock x Karmala Glamour
Karmala Brock x Karmala Glamour
Glam whelped Oct. 31, another Halloween litter! She has 7 pups, 3f 4m. Dog pups available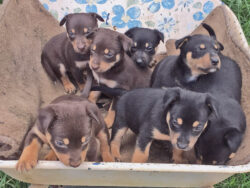 ---
Karmala Brock x Karmala Gossip
Gossip whelped Nov. 2, 8 pups 4f 4m     Dog pups available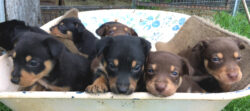 ---
Wills X Midnight 
Midnight whelped to Wills, Nov.11, 2f 3 m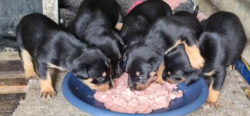 ---
I have used a very good old dog belonging to John Halsted for three of the recent litters. Wal is 10 now, and has been mustering sheep and cattle on Hampshire Station all his life, mostly from horseback. His sire is Karana Troy, also owned by John, a big casting dog by Karana Digger, and his dam is Karmala Bonny, a full sister to my stud bitches Tilly, Lily and Gemma. Looking forward to these pups by Wal, he tested free of CA.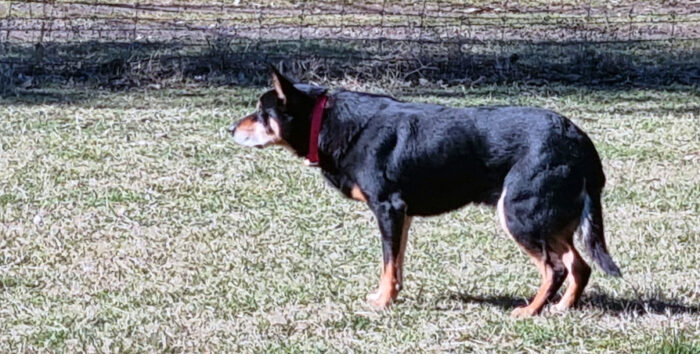 Click on lighter type for pedigrees.
Halsteds Wally x Karmala Whitney, litter born 10/9/21, 6 pups 4f 2m.
Pups below at 7 weeks. Some for sale.