About Us
Karmala Kelpies are bred from old bloodlines concentrating on clever mustering dogs. Emphasis is put on a friendly, calm temperament, natural working ability and sufficient strength. The dogs are of good type, fed a raw diet for future soundness, and bred carefully to avoid known health problems as much as possible. The stud has been based in Queensland for twenty years.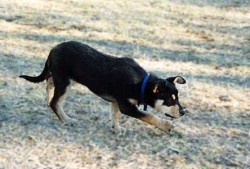 Karrawarra Gift IV
---
 My aim is to breed sensible dogs who can work naturally and cause their owners as few headaches as possible. I have no time for very excitable, stock-crazy animals. They must value their relationship with their handler and be prepared to keep him in the picture when working, even from a young age. Highly respected Kelpie breeder, John White, wrote in the WKC newsletter:
"I always select a dog that is friendly, wants to be with you, to work as a team with you. You can tell those characteristics at a fairly young age." I couldn't agree more. All that being said, it's imperative that the dogs have plenty of 'work ethic' and this can cause a bit over over keenness when young!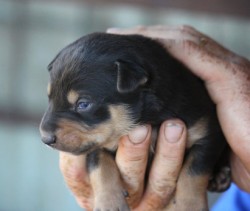 ---

I like dogs that can work with a little distance off their stock when young and keep a small mob together.They should be happy to hold when they have them balanced. My dogs should also be capable of firing up for yard work… I don't guarantee that every pup will comply exactly with this description, but some do, judging by this email received from a pup buyer some years ago entitled 'Zen and the art of sheepdog handling'…..
"The experience of working her is exactly the opposite of any other I have had with kelpies. It is veritably tranquil; I can hear the wind blowing and the birds chirping instead of myself yelling and screaming obscenities…. it is akin to zen!"
I know just how he feels. It was many years before I owned a really good, well bred dog; my father was typical of those who lived through the Great Depression and thought buying a pup when you could get freebies was a waste of money. Well, looking back, I can guarantee that attitude caused a huge waste of time and patience!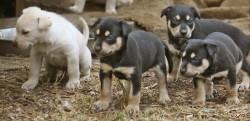 ---

Once your stock work becomes a pleasure and you start looking forward to taking your dogs out, you'll never settle for second best again.
With the cooperation of other Kelpie breeders I hope to preserve those traits that originally made the breed such an invaluable asset and leave behind some good Karmala dogs that pop up in pedigrees for many years to come!
---
2022    A potted history of the stud.
I was asked to write a history of the stud for an online kelpie magazine and thought some might be interested if I also posted it here….
The KARMALA WORKING KELPIE STUD
I was the unfortunate victim of my father's Scots blood….and his experience of the Depression… so had to make do with a series of 'give away' pups and hopeless dogs until I was old enough to take matters into my own hands! My first experience with kelpies was seeing a nice big red and tan dog quietly following Ted Lehmann around the shed at 'Pollville' during the S.A. Merino Field Days in the 1960s. I asked about getting a pup by him and the next year became the proud owner of "Sky". She was an exceptional bitch and my 'right hand dog' for many years, sired by a Wyreema dog out of a station bred bitch. I ordered another pup a couple of years later, but sadly she was by another sire and totally different. By this time I had my own Merino stud so it was a natural progression to take more interest in Kelpie bloodlines. Over the years I have realised the value of researching pedigrees and asking a lot of questions about the dogs therein; it's amazing what you can learn if you're prepared to listen.
My next pup, Grace, was by a Scoriochre dog from a local bitch and through her I became friends with John and Loy Gedye. They had 'retired' to a property near Skipton at that time(where John continued with the stud) and I bought a lovely little bitch pup from him, she was a beautiful paddock dog and John helped me in his quiet, understated way to become totally converted to the breed and its many virtues. I thank him for his endless patience with a total novice, and for all I learned from him at that time when I was regularly visiting my mother in the Skipton Hospital and often calling in. Sheepwork had become a pleasure for me by this time with clever dogs and no stress!
The next step in my Kelpie journey came when I was invited to judge Merinos at the State Sheep Show at Longreach in the late 1990s. John asked me if I was going to visit Tony Parsons and the well known Karrawarra Stud? My ignorant answer was "Who?" He lent me a couple of Tony's early books and I read them on the long bus trip north. By the time I arrived out at Longreach I was determined to try and meet the author and his dogs. So, skipping a few more years and eventually achieving this goal, I became the proud owner of Karrawarra Gift IV. By now I had registered my own stud under 'Karmala' and moved to Queensland to be closer to my daughter and first grandchild. I brought a small number of stud ewes to the 80 ac. property near Toowoomba, and my focus was on showing my Merinos and sorting out the old dairy farm for the first few years.
I was able to continue my association with Karrawarra, and through Tony I was very lucky to meet David Hart, who had been hunting for clever dogs that could muster deer in very mountainous country near Kandanga. He eventually found the Riana and Karrawarra dogs were the answer, and had  Riana Glide and Karrawarra Ruby Tuesday. When I moved north I brought with me a nice little bitch pup, Woorivale Spice, bought on Tony's advice as she was out of Karrawarra Rip III's litter sister. Eventually I met the Hazletts at Riana near Barraba, and mated Spice to several Riana sires over the next few years. These included Driftwood Clyde, Riana Cap, Riana Raddle and Riana Finch. The Cap mating produced Karmala Akubra. Mating Spice to Glendon Benny resulted in Brandy, one of my most influential bitches.
  It was my good fortune to able to tap into these two old studs' genetics; Riana had been founded on Karrawarra and the type of dogs favoured by both stud masters was similar…clever mustering dogs that could work out of sight without command. I also bought Riana Delta Dawn as a foundation bitch; she bred me a couple of outstanding dogs who came to grief before I could use them; a hard lesson that most Kelpie breeders have faced is the self destructiveness of their best young dogs. If all that potential had survived over the years the Working Kelpie would be an even more outstanding breed.
My association with David and his Tracker kelpies was hugely influential at Karmala, with matings of Gift and Glide producing some of my second generation stud bitches, Tilly, Lily and Gemma. Another sister Bonny went to John Halsted and a son of hers, H.Wally is with me at present to mate a couple of bitches. The stock on Oakwood changed from deer to cattle in the early 2000s and David mated Glide to Pud's Sookie, a lovely bitch by the legendary Pud's Signature whom I'd seen working in Victoria. Tracker the Chief came from this mating and was a very big influence at Karmala in building more strength for cattle work. I will always be indebted to David for his generosity and help over the years.
More recently two old dogs of Scanlon breeding were lent to me by Matt Larkings, another very generous action motivated by his wish that their bloodlines would not be lost. The dogs were his 'bread and butter' as a young stockman, a reliable team still remembered many years later by those who saw them working. Bred by Robert Baldwin, grandson of Frank Scanlon, Chopper was a great character and typical 'go to' station type dog who could do any job. His 'nephew' Wilson, by Scanlon's Dom, was a classic wide casting mustering dog and when mated to my Brandy produced Wills, who is breeding on very well.
I became aware early on that some lines carried the recessive gene for Cerebellar Atrophy, and after seeing affected pups I was determined to avoid it if possible. This might have cost me over the years, but when a test finally became available it was a great relief that all my dogs tested negative. The Scanlon lines were some of the last possibly 'clear' ones. Hopefully the test will make it possible for stud breeders to weed out this horrible disease which has spread through much of the relatively small genetic pool.
In summing up my experience in breeding a line of Working Kelpies I'd like to stress two things that have helped most. Firstly, decide on the type of dog you prefer and stick to your ideal; this applies to stud breeding of any animal. Secondly, it is very hard to achieve your goal without the cooperation and generosity of other like-minded breeders, and to those who have helped me so much I am eternally grateful. I have had a lot of fun, met a lot of lovely people, and hopefully helped improve the bloodlines of those studs in the ten overseas countries who have bought pups from me.
 I would like to mention Emma and Derek Zeimer who will eventually take over the Karmala stud and who are already so helpful in sharing the workload and assessing the youngsters who are prospective "keepers". It's so nice to know the stud will outlive me!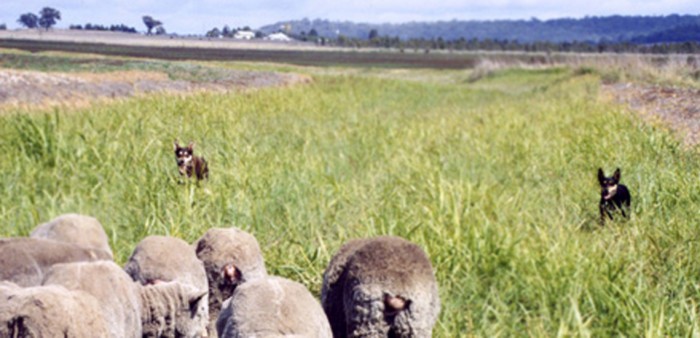 Spice and her son Karmala Clyde, by Driftwood Clyde, nearly 20 years ago. Another Driftwood dog has more lately been an 'influencer' at Karmala, Boondy sired Karmala Vlad(Barney) from Karmala Vonny. Barney is a lovely dog and has been used over Heli(Chopper x Lily), and Livvy (Landy x Whitney) in 2022 .