Influential Dogs
The dogs who are leaving and have left a great legacy in this stud. Woorivale Spice was my foundation bitch, out of a litter sister to Karrwarra Rip III. She produced many useful pups particularly to Riana sires eg. Karmala Akubra and Karmala Clyde, and also Karmala Brandy to Glendon Benny. All Spice's pups were useful workers. Karrawarra Gift IV was by Karrawarra Rip III and gave me three lovely bitches by Riana Glide to carry on her great nature and work ethic: Tilly, Lily and Gemma. Riana Delta Dawn's daughters Karmala Peggysue and Karmala Cadelle will continue the influence of Driftwood Clyde who is also the sire of Riana Glide. Shown here at 12 years of age.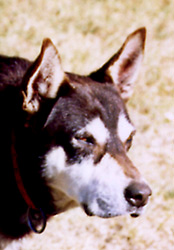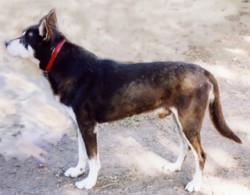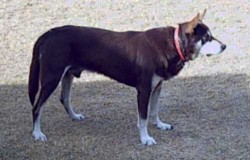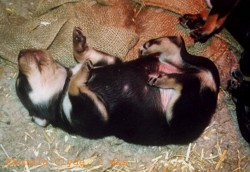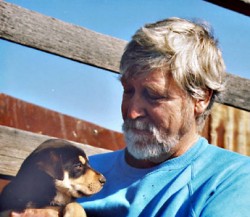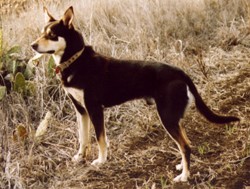 Karmala Clyde as a pup at 2 weeks: centre, with my good friend the late David Myers; above, at 2 years. Riana Glide owned by David Hart has had a big part in establishing this stud through his Gift daughters, Tilly, Lily and Gemma. I have also used descendants of Glide as sires, eg Tracker the Chief, Tracker Gibbs, Tracker WRX. I am not forgetting the influence of Woorivale Jim, Spice's sire, and Pud's Sooki, dam of T.Chief; both these dogs contributed strength to the stylish Karrawarra dogs.
UPDATE 2019 What I love about breeding dogs is the reasonably quick turn over of the generations.  I have been using a couple of old Scanlon blood sires and they have given me an outstanding young sire, Wills, and some nice bitches….Poppy, Heli, Wiggle and Whitney.  Akubra left a very nice son, Brock who is out of Brandy, as is Wills. Landy is a proven sire xTracker Gibbs and the image of his sire, he is an invaluable asset to mate Wills bitches to as Brandy is not involved…. 2020 I am just getting where I want to be, breeding a nice line of consistent type and work style…. a pity it takes so long! Nearly two decades living up here in Queensland and I'm not getting any younger; it does become easier though, as the dogs are starting to ride on their reputation as useful workers. A big bonus has been the test for CA being available at last. My dogs have tested all clear so far (and the test is not perfected at this stage, of course) and it gives some comfort that an outcross sire can now be checked out, opening up the possibility of using a very desirable dog. I think the biggest single thing holding back the improvement of the Working Kelpie as a breed is the mistaken belief of many breeders that their lines are the only ones worth having. I've always thought the opposite, that it would be a strange fluke if there weren't better dogs than mine out there somewhere. They just need tracking down!

---
2023
I'm a bit surprised to find I've been travelling in a circle, and have recently used two dogs by Blackdog Thunder, (Karrawarra Robbie x Karrawarra Cloe) Sheps Joaker and Eventine Comet. Both Thunder's parents are by Karra.Rip III and Cloe is out of Karra.Gemma dam of my Gift.  It will be interesting to see if the breeding done in the intervening 20 years, and the dams of these 2 dogs, will be strong enough to counter the reasons I went  looking for calmer, stronger work. I seem to be contradicting my statement about looking outwards for better sires….!
---