Health info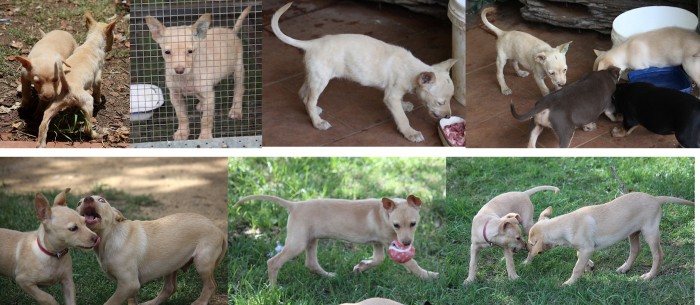 What a difference a month makes!
This little pup came to me at 5 1/2 wks in lieu of a service fee. She very nearly died…insufficient milk from the bitch, chemical wormer, canned puppy food….She developed an allergy to grass, got a huge rash and lost most of her hair.
Shown in the first photo with a half brother the same age from my Quizz litter, and again below (with pink collar) with the same pup. I gave her pet mince and some freeze dried tripe to get her going.
I am mixing my own raw diet and it's so easy to start the pups on solids, they just get a bit of the adults' mix: a  mince of chicken frames from Angliss with DE (diatomaceous earth is fresh water fossil powder) and Big Dog Boost (for preference) or Pets' Natural Health Booster( helps replace vits and mins that have been depleted from our soils). Adult dogs get a soup spoon of DE as a periodic treatment for about a week twice a year, pups a teaspoon daily….I mix the two powders with warm water and add to the mince. It's a bit approximate because the amount of mince fed varies according to the weight of the adults, but to establish a ratio of DE to mince: work out how many dogs a kilo of mince usually feeds and then measure the appropriate amount of DE into a jam tin, mark the tin with a waterproof texta  and keep it permanently in the DE container….then you can easily make up multiple amounts. I add a good handful of the Health Booster to 4 kg of pet mince but it probably should be more.The dogs also get lamb bones every day, the pups bits of lamb flaps or boned out chicken frames.
Everyone who has seen my dogs here asks what I feed them, so I'll share a few things I've learned through referring all my questions on nutrition to Marina Angel Smith who has studied canine nutrition in depth. Vet students study animal nutrition but it isn't broken up into herbivores, carnivores and omnivores but treated as one subject; there is a huge difference in the digestion and diet of these groups of animals. Of course most vets are promoting dry foods in their practices(to their financial benefit, treating the resultant health problems!). Pet food companies have so infiltrated the vet scene that in the States a text book on nutrition used by Vet. science courses is printed by one of them.
I know feeding raw food on farm can be time consuming and sometimes impossible, and that working dogs are considered ' better' fed these days because of the convenience of dry food….BUT…..the working lifetime of dogs has been considerably reduced by grain based diets which cause arthritis etc from about 8 years. Marina's dogs that have been on raw all their lives have consistently lived to 20 and she has an 18 year old bitch today who is still working well. Try to give your dogs at least a few raw feeds a week and use a good quality dry food if you have to, most are bulked out with grains and use processed offal for protein. The high heat in processing destroys much of the good.
Many 'old timers' remember dogs who regularly lived to 15 and over, fed mainly on rabbits, 'killer sheep' and roos. These dogs often looked pretty lean but lived long and useful lives. The calcium in dry foods can't be absorbed by dogs and their body puts out its own stores until it runs out. The only calcium with correct magnesium and potassium balance so dogs can absorb it is in BONES…not surprising really! And yet I've had people tell me their vet told them not to feed bones…hard to believe, but the same vet recommended an expensive  dry food which has been proven to contain euthanised animals!
Be careful feeding roo meat and dry food, it's not a good mix. Roo meat is OK for fat dogs, or with fat mixed, but takes a lot of digesting because of the high nitrogen fixation, and takes as much energy to digest as it contains…in pregnant/whelping bitches this can result in milk fever and fitting, because of calcium being leached from their systems. The only way to remedy this is with bone meal or bones, not calcium syrup which can't be absorbed by dogs. Often people add the syrup to pup food but they should be feeding them bones; small pups can eat chicken frames from about 6 weeks.
I am also vaccinating with nosodes available from HAMPL online. This homeopathic procedure gives immunity equal to vaccines with no side effects; tests overseas have proven more young pups die of parvo when vaccinated, than the unvaccinated ones.  My puppy buyers are offered the choice of continuing with nosodes or having a C3 at 14 weeks then a booster, which should be good for some years. Vaccinating early is often negated by the immunity the bitch passes on to her pups, and figures in some studies have shown more pups vaccinated early die of parvo than unvaccinated pups.  
A better option than having frequent boosters is to get a blood test done to check titers as often the cost is comparable. In any case, a pup/dog fed a raw diet develops a strong immune system and is better placed to fight infection.  HAMPL sells an excellent herbal antibiotic called Infection Fighter which can be used internally and externally on wounds or for internal problems, I use it myself!
Fleas are always a problem when rearing pups in grassed yards. I am trying Neem granules at present to reduce them. I try to avoid chemical treatments such as backliners if I possibly can and use a herbal powdered mix with added DE on pups. The following information backs up my decision….copied from the Dogs Naturally website:
Typical Frontline Plus Cases And The Impacts
A five-year old Golden Retriever is brought to the veterinarian with ear and eye discharge three weeks after receiving a dose of Frontline Plus. The symptoms go away within a month.
When the dose of Frontline is repeated, the dog develops an ear infection that improves after about six months, but never goes away. The dog dies from liver cancer two years later.
This is a typical story about Frontline Plus that led Dr Jennifer Ramelmeier to change the way she looked at the treatment. Ramelmeier stopped using it after seeing a connection between its use and cases like this.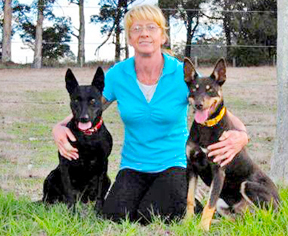 Many thanks to Marina for all her help and advice, here with Jesse and Cash.
HERE IS SOME INFO POSTED BY DOGS NATURALLY MAGAZINE THAT'S INTERESTING READING:
Phosphorus
Meat is very high in phosphorus and low in calcium. The main function of phosphorus is in forming bones and teeth.
It plays an important role in the body's use of carbohydrates and fat as well as in synthesizing protein for the growth, maintenance and repair of cells and tissues.
Phosphorus is also crucial for the production of ATP, a molecule the body uses to store energy.
Phosphorus works with the B vitamins. It also helps with muscle contraction, kidney function, heartbeat regularity and nerve conduction.
Calcium
Bone is high in calcium and in phosporus.
According to Dr Ian Billinghurst (author of Give Your Dog a Bone and other well known books on canine nutrition), calcium's role goes far beyond bone mineralization.
Calcium is essential for neuromuscular, cardiovascular, immune and endocrine function. It's vital for blood clotting.  Calcium forms the skeletal structure or cytoskeleton within each cell, and every cell in the body depends on calcium to support enzyme functions, bodily signalling and to maintain cell membrane stability.
Dogs need a balance between the amount of phosphorus and calcium they get in their daily diets.
The ratio of calcium to phosphorus should be about 1:1, but preferably with slightly more calcium than phosphorus.
This is especially important in young, growing dogs, who need an adequate supply of raw meaty bones in their diet to provide a good balance of calcium and phosphorus (we'll talk more about this later).
Feeding all-meat diets (which are are high in phosphorus and low in calcium) to young pups can cause skeletal problems.
According to the Merck Veterinary Manual, insufficient calcium or excess phosphorus can lower calcium absorption and result in irritability, hyperesthesia (oversensitivity to sensory stimuli), and loss of muscle tone.
Calcium deficiency can also cause skeletal demineralization, particularly of the pelvis and vertebrae.
Excess calcium can also interfere with normal healthy bone mineralization and growth, especially in young (under 1 year old) large and giant breed dogs. Large breeds fed excess calcium are more likely to suffer from developmental bone disease such as osteochondrosis (abnormal bone growth).
(NOTE: Still not sure about raw? Click Here to see what 5 dangerous ingredients are in your dog's food — that AREN'T on the label!)
Balancing The Calcium:Phosphorus Ratio
It might seem daunting to calculate the calcium:phosphorus ratio in a home prepared raw diet for your dog  … but it's really not that complicated.
Bones are a safe source of dietary calcium and if dogs eat enough of them, the diet will be balanced without a lot of difficult calculations.
Dr Billinghurst explains:
Approximate biological balance is achieved so long as meat alone is not the principal dietary component. That job must be left to the raw meaty bones (RMBs). When a young and growing dog eats RMBs, if the bone to meat ratio of those RMBs is around 1:1, then the balance of calcium to phosphorus is appropriate for bone mineralization and formation.
Dr Billinghurst also says that adult dogs need less calcium and, as long as you're feeding a raw diet with raw meaty bones, the adult dog's body will absorb the calcium it needs and leave what it doesn't in the intestines.
Overall, balancing calcium and phosphorus isn't all that difficult, as long as dogs receive plenty of bone. In general, any bone content over 10% is plenty although you shouldn't exceed 25% because dogs need other nutrients too.