Health info…vaccinations, fleas, worms…..etc!
CA (Cerebellar Abiotrophy) is a nasty genetic fault in many breeds of dogs but is a big problem in Working Kelpies because of their relatively small genetic base and the impossibility of introducing clear bloodlines. I wrote about this in my May 2020 blog which can be accessed in Archives. Testing has at last become available with Dog Breeding Science, and although not 100% at this time, because of the complicated nature of the problem, the accuracy will improve as more dogs are tested and more information gained. I am testing my sires and all are clear. All bitches have tested clear. Any outside sire used will also be tested before use.
---
This info on heart worm treatment became available recently when Proheart launched a 12 month treatment; the 6 month one that came out in 2000 was recalled after deaths and other problems. Below is some info from Dogs Naturally Magazine.
*****This drug is a stronger version of ProHeart 6. That's a drug that came out in 2000, offering 6 months' heartworm prevention. 
But it was taken off the market in 2004 after many reports of adverse events (including deaths). 
RELATED: The Risks Of Heartworm Drugs
Since ProHeart 12 is new, there's not much information about its specific side effects yet. 
But it uses moxidectin … the same active ingredient as ProHeart 6 … and in a higher dose. 
So let's look at the history of that drug.  
ProHeart 6 Adverse Reactions
It's no wonder they had to withdraw ProHeart 6 from the market. 
The FDA received more than 5,500 reports of severe adverse reactions in a 4-year period. These included more than 600 deaths. ***
I'd suggest not using heart worm prevention unless you have very severe mosquito problems.
---
The article below contains much to digest; of course vets do a great job in emergency situations, but if we can reduce the number of expensive bills we have, why not?!
Vet fees seem to have risen greatly of recent times…..pet insurance is one reason, note the blowout on the NDIS! A friend has had a quote for a simple neuter op. go up almost $100 over a few months, now well over $300. Hard to justify.
I hear this question all the time, and the answer is quite simple…..
Meet Duke.  Duke is 5 months old, and is at VERY low risk for any kind of disease with just a few simple adjustments.
If he were a puppy in the average home today, he would have had and or be getting the following toxins:
*3 SETS of vaccinations
*2 or 3 baths with a chemical shampoo
*3 applications of toxic flea treatment
*2 applications of toxic treatment for mites
*4 applications of toxic heartworm treatment
*5 to 6 applications of toxic parasite treatments
*eating toxic laden dead dry kibble
*drinking water loaded with chemicals
*playing with toxic toys
*chewing on toxic dental sticks
*eating chemical laden 'treats'
walking on grass treated with chemicals
He also may have been sterilized by now which would mean medications that are very hard on the organs and antibiotics which destroy the gut (some say the gut can never fully recover from antibiotic use). The body would have been traumatized by cutting it open, and the mind traumatized by the whole experience. The combination of the bacterial die off from the stress and the antibiotics combined with the loss of hormone activity and build up of toxins leave a body prime for disease. ?
Many Say…. Why do all these dogs have cancer?? ?
I say…. Why are you taking your dog to the vet?
What are you feeding your dog?? How clean is your water? Do you know there are effective nontoxic alternatives for vaccinations?? Do you know leaving a dog intact is MUCH better for his or her health and there are healthy alternatives if you must sterilize?? Do you know that all your conventional vet can offer you is medications and surgery which are very hard on the body and its auto response systems?? Do you know that the auto response system is EXTREMELY powerful and designed to protect your dog from disease??
---
---
The best way to keep your dog healthy over a long lifetime is to look after its immune system(auto response system) so it can manage any health problems it might face. This also applies to us, we also should eat less refined sugar and grains and less salt! Dry foods made by the big corporations, ie Mars, Purina and Nestle, are full of carbohydrates which dogs weren't designed to eat.
---
VACCINATION
This is an article by Dr. Deb Maxwell.
A vet's summary:
Deb Maxwell "A live parvo vaccine – (available only through vet) should give a minimum of 3 years protection, and possibly a lifetime protection. I say should instead of will because:
1. No matter what you do, some animals are non-responders to vaccines.
2. You may not have taken care of the vaccine (e.g. poor transit or storage) and so it loses it potency or effect.
3. All animals are individuals, there is variation. However, research many years ago demonstrated that the C3 live vaccines – distemper, hepatitis and parvo, are very solid effective vaccines conferring very strong and long lived immunity and they found that the dogs in the trials had a minimum of 7 years effectiveness and some it lasted their lifetime. (they were progressively titre tested (check for antibodies) over years and I believe some were subject to real disease challenge).
Also the puppy shots are not boosters. Why are 2 or 3 given then as puppies? If you didn't vaccinate your puppy until after 16 weeks, it would only need one shot. Now again, conservative vet associations, because the research is a bit lacking, say, give one after 16 weeks, and then one at about 12 months and then each 3 years. So why the earlier ones?? Well if you only vacc at 16 weeks and pup is exposed before then it may become infected.
Firstly, if the mother is vaccinated she will confer immunity to the pups for a while, but this is considered to wear off between about 6 weeks and 16 weeks. Give a vaccine while the mother's passive immunity is in play and there's a good chance the vaccine won't "take". Now almost every pup would have no more passive immunity at 16 weeks, so give vaccine after and the vaccine works."
( If you wait for 6 weeks a titre test can be done to check if the vaccine has 'worked' and you won't need to vaccinate again for up to 8 years…Jan)
 "Parvo is worse than COVID-19! Aside from direct contact with infected dogs and then handling your dogs, parvo lasts in the environment for many months to years, it can be walked in from somewhere else on shoes.
The other benefit of the live vaccine when done through your vet in a normal consultation is the vets check for other problems, such as picking up things like heart murmurs etc., which generally are less common in working dogs compared to other breeds, but still do occur."
---
********************************
To cover that early risk of puppies getting parvo I give nosodes, available from HAMPL online. This homeopathic procedure gives immunity equal to vaccines with no side effects by boosting their immune system.  My puppy buyers are offered the choice of continuing with nosodes or having a C3 at 14-16 weeks. Vaccinating early is often negated by the immunity the bitch passes on to her pups, and figures in some studies have shown more pups vaccinated early die of parvo than unvaccinated pups.
It's a fact that about 2000 dogs in WA who only received nosodes didn't get parvo…..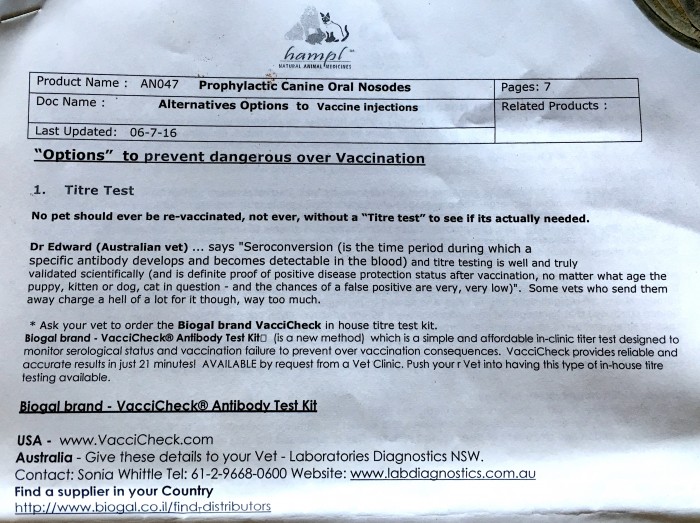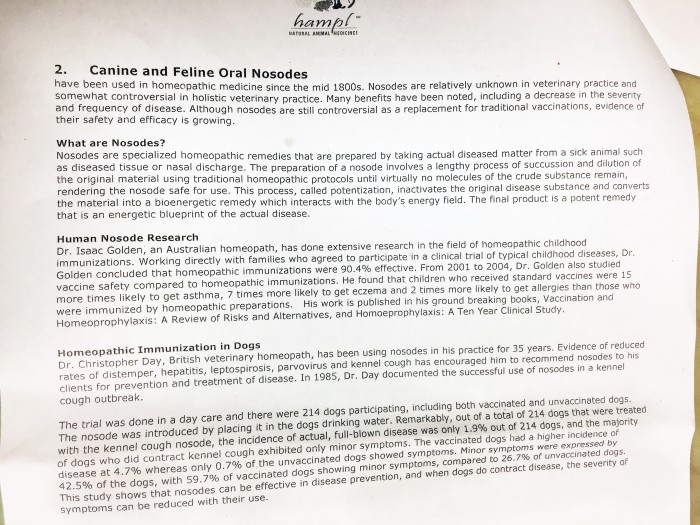 I thoroughly recommend natural therapies from HAMPL in Perth, I always have their Infection Fighter on hand for all illnesses, mine included. Their nosodes to protect against parvo, etc, are also great, and that's just for starters. I've been using a nosode against Covid, a much safer option than the alternative. At least my immune system is still working!  Now known as NATURAL PET THERAPIES due to Big Pharma getting upset at the above.
Here is some info not commonly known: All 27 veterinary schools in North America have changed their protocols for vaccinating dogs and cats, however vets in practice are reluctant to listen to these changed protocols and official veterinary bodies in the UK and other countries are ignoring the following facts.
Dogs' and cats' immune systems mature fully at six months. If modified live-virus vaccine is giver after six months of age, it produces immunity, which is good for the life of the pet. If another MLV vaccine is given a year later, the antibodies from the first vaccine neutralise the antigens of the second vaccine and there is little or no effect. Not only are annual boosters unnecessary, but they subject the pet to potential risks such as allergic reactions and immune-mediated haemolytic anaemia. It has been proven that distemper vaccine is particularly bad and induces early arthritis.
This is what vaccine manufacturers want you to do….
Featured snippet from the web
Puppies from 6 weeks of age
**Vaccinate at 6, 8 and 10 weeks with Protech C3 + C2i. This protects against Distemper, Hepatitis, Parvovirus, Corona virus and Leptospirosis. Then vaccinate annually. In some circumstances – depending on geographic location and breed – we may recommend a 4th vaccination at 12 weeks.**
It's also well recognised that the fewer diseases covered by a vaccine, the more effectively it works.
If you need to vaccinate against the varieties of kennel cough, use the nasal ones for effectiveness.
McDowell's Herbs are also very good. You can phone and chat about your problem. I've found herbs can fix most things, are cheaper and what nature gave us.
Further info about adverse reactions to vaccines was published recently by Dogs Naturally. I urge you to read it, I learned heaps!….. lots of useful info on their website, this bit below explains a lot. 
"Most viruses (like distemper and parvovirus) need to be first grown and harvested to make the vaccine. This process begins with a small amount of virus, which needs to be grown in cells. Various types of cells can be used, including chicken embryos, calf serum, or other cell lines that reproduce quickly and repeatedly.
Once the antigen is grown, vaccine manufacturers try to isolate it from the cells. But proteins and other food particles can still be present in the vaccine.
Then an adjuvant to stimulate an exaggerated immune response may be added, along with stabilizers or preservatives. Many vaccine adjuvants are made from vegetable oils, such as soybean, corn and peanut … so these plant-based oils can also cause food allergies. (It's no wonder so many children have peanut allergies.)"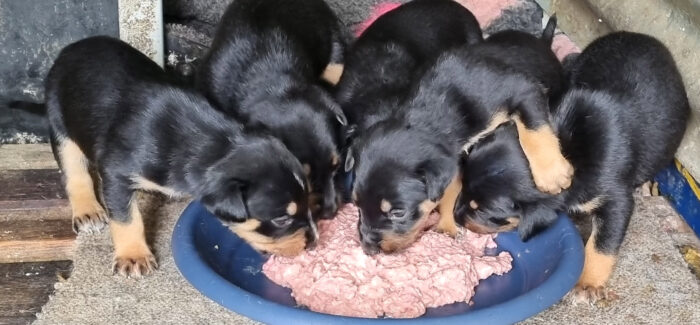 My pups are seldom wormed with a proprietary brand wormer because the DE worms them naturally. It will always be the smallest pup in a litter that gets sick, gets fleas, or anything else! Keep a good eye on it, if not eating as much as the other pups it might need worming with Milbemax because it isn't getting enough DE.
---
FLEAS
I try to keep fleas at bay with natural products,  if there's an outbreak I spread the puppy pens with Neem crystals, ag. lime, sulphur and DE, then give the shed a good soak with a sprinkler. This usually keeps them in check for a few months. The summer of 22-23 was much cooler than usual and the fleas loved it.
A reasonable, low cost answer to fleas was suggested to me recently by a sheep farmer who sprays his dogs with Extinosad jetting fluid, at that strength. He said he hasn't had fleas for five years.
 The active agent in Extinosad is spinosad which acts on the nervous system of the flea. It's the ingredient used in Sentinel flea treatments as chews. I used this product on a pregnant bitch a long time ago and most of her pups died after birth, one bitch survived. The instructions said "ask your vet". As if they'd be likely to know more than the manufacturer. Spraying dogs externally with a diluted amount would be a safer option.
Advantage for fleas is also NOT RECOMMENDED for pregnant bitches….by ME! Again,  Elanco says "Ask your vet" which is a totally gutless cop out. I thoughtlessly used an Advantage backliner on a pregnant bitch this summer because the fleas were so bad and I stupidly thought such an old product would've been well tested and a warning issued if any harm was likely(and it was a different chemical to the previous disaster).  The same result. All dog pups died very soon after birth, one bitch lived.
I think I read that Nexgard has been approved for pregnant and nursing bitches. Safer not to put anything on them until after whelping at least.
Cool cloudy weather will encourage a build up of fleas because adults are killed by hot weather, but it takes 5-6 days of over 30'C temperatures in a month. This 2022-23 summer in SE Qld has been exceptionally cool and cloudy and the first time they've been a real problem here.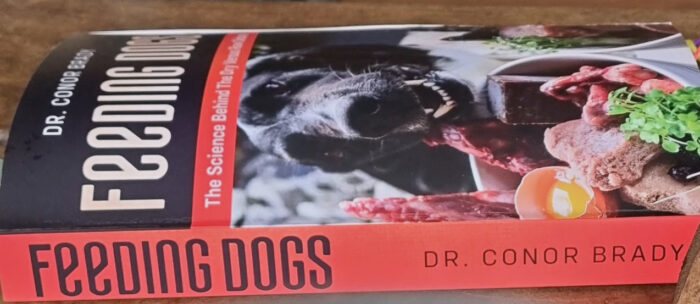 In my opinion anyone with a dog should read this book. Next best thing, check out his Dogs First Facebook page. 
I try to avoid chemical treatments such as backliners if I possibly can and use a herbal powdered mix with added DE on pups. The following information backs up my decision….copied from the Dogs Naturally website:
Typical Frontline Plus Cases And The Impacts
A five-year old Golden Retriever is brought to the veterinarian with ear and eye discharge three weeks after receiving a dose of Frontline Plus. The symptoms go away within a month.
When the dose of Frontline is repeated, the dog develops an ear infection that improves after about six months, but never goes away. The dog dies from liver cancer two years later.
This is a typical story about Frontline Plus that led Dr Jennifer Ramelmeier to change the way she looked at the treatment. Ramelmeier stopped using it after seeing a connection between its use and cases like this.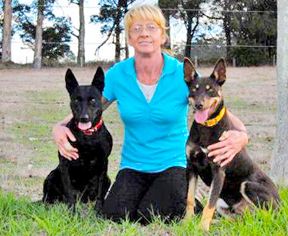 Many thanks to Marina for all her help and advice, here with Jesse and Cash.
HERE IS SOME INFO POSTED BY DOGS NATURALLY MAGAZINE THAT'S INTERESTING READING:
Phosphorus
Meat is very high in phosphorus and low in calcium. The main function of phosphorus is in forming bones and teeth.
It plays an important role in the body's use of carbohydrates and fat as well as in synthesizing protein for the growth, maintenance and repair of cells and tissues.
Phosphorus is also crucial for the production of ATP, a molecule the body uses to store energy.
Phosphorus works with the B vitamins. It also helps with muscle contraction, kidney function, heartbeat regularity and nerve conduction.
Calcium
Bone is high in calcium and in phosporus.
According to Dr Ian Billinghurst (author of Give Your Dog a Bone and other well known books on canine nutrition), calcium's role goes far beyond bone mineralization.
Calcium is essential for neuromuscular, cardiovascular, immune and endocrine function. It's vital for blood clotting.  Calcium forms the skeletal structure or cytoskeleton within each cell, and every cell in the body depends on calcium to support enzyme functions, bodily signalling and to maintain cell membrane stability.
Dogs need a balance between the amount of phosphorus and calcium they get in their daily diets.
The ratio of calcium to phosphorus should be about 1:1, but preferably with slightly more calcium than phosphorus.
This is especially important in young, growing dogs, who need an adequate supply of raw meaty bones in their diet to provide a good balance of calcium and phosphorus (we'll talk more about this later).
Feeding all-meat diets (which are are high in phosphorus and low in calcium) to young pups can cause skeletal problems.
According to the Merck Veterinary Manual, insufficient calcium or excess phosphorus can lower calcium absorption and result in irritability, hyperesthesia (oversensitivity to sensory stimuli), and loss of muscle tone.
Calcium deficiency can also cause skeletal demineralization, particularly of the pelvis and vertebrae.
Excess calcium can also interfere with normal healthy bone mineralization and growth, especially in young (under 1 year old) large and giant breed dogs. Large breeds fed excess calcium are more likely to suffer from developmental bone disease such as osteochondrosis (abnormal bone growth).
(NOTE: Still not sure about raw? Click Here to see what 5 dangerous ingredients are in your dog's food — that AREN'T on the label!)
Balancing The Calcium:Phosphorus Ratio
It might seem daunting to calculate the calcium:phosphorus ratio in a home prepared raw diet for your dog  … but it's really not that complicated.
Bones are a safe source of dietary calcium and if dogs eat enough of them, the diet will be balanced without a lot of difficult calculations.
Dr Billinghurst explains:
Approximate biological balance is achieved so long as meat alone is not the principal dietary component. That job must be left to the raw meaty bones (RMBs). When a young and growing dog eats RMBs, if the bone to meat ratio of those RMBs is around 1:1, then the balance of calcium to phosphorus is appropriate for bone mineralization and formation.
Dr Billinghurst also says that adult dogs need less calcium and, as long as you're feeding a raw diet with raw meaty bones, the adult dog's body will absorb the calcium it needs and leave what it doesn't in the intestines.
Overall, balancing calcium and phosphorus isn't all that difficult, as long as dogs receive plenty of bone. In general, any bone content over 10% is plenty although you shouldn't exceed 25% because dogs need other nutrients too.
HEARTWORM TREATMENT  Info from Dogs Naturally Magazine
This is a long article, the most interesting part? Very few of the medications kill heart worm larvae!
I have never treated my dogs for heart worm and haven't had any problems. The dogs with the Zeimer's in NQ are not treated either. In exceptionally bad  years perhaps action should be taken to protect pups, especially, but read this anyway. 
Is Heartworm Medication Harmful To Dogs?
You can decide this after you read the lists of side effects of heartworm medications. The reports filed with the FDA contain many pages for each drug … but we've just listed the top few adverse effects in each case.
Note that the first items on many of the lists are thousands of reports of ineffectiveness of the drugs in killing heartworm larvae or other parasites like hookworms … in other words, besides being risky, the drugs don't always work.
Here are just a few of the top adverse effects reported.
Heartgard Plus, Iverhart Plus and TriHeart Plus
These medications all have the same active ingredients – ivermectin and pyrantel pamoate. Ivermectin is for heartworms, and pyrantel is to treat roundworms and hookworms. Iverhart Plus and Tri-Heart Plus are generic versions of Heartgard Plus.
Drug: Ivermectin, Pyrantel
Ineffective – heartworm larvae, hookworms, ascarids.
Vomiting
Diarrhea
Depression/lethargy
Anorexia
Convulsions
Ataxia
Death
Sentinel
The active ingredients in Sentinel are milbemycin oxime plus lufenuron, for heartworms, hookworms and roundworms.The side effects shown below are for the combination of milbemycin and lufenuron. Again, note that several of the problems reported are ineffectiveness of the drugs.
Drug: Milbemycin, Lufenuron
Ineffective – heartworm larvae, hookworms, ascarids
Vomiting
Depression/lethargy
Diarrhea
Pruritis
Anorexia
Convulsions
Ataxia
Trembling
Interceptor
Interceptor contains milbemycin oxime and is sold for heartworms, roundworms and whipworms. Again, ineffectiveness of the drug is high on the list.
Drug: Milbemycin oxime
Ineffective – heartworm larvae, ascarids, hookworms, whipworms
Vomiting
Diarrhea
Depression/lethargy
Anorexia
Convulsions
Ataxia
Trembling
Diarrhea, bloody
Death
Iverhart Max
This drug is a different combination of some already familiar ingredients … ivermectin for heartworms, pyrantel for hookworms and roundworms, and praziquantel for tapeworms.
Drug: Ivermectin, Praziquantel, Pyrantel
Vomiting
Ineffective – heartworm larvae, hookworms, tapeworms, ascarids
Depression/lethargy
Diarrhea
Anorexia
Trembling
Convulsions
Ataxia
Polypnea
Trifexis
This drug's achieved quite a bit of notoriety so you may have read or seen TV reports about it.  There's even a Facebook page about it, called Does Trifexis Kill Dogs?
The active ingredients are milbemycin oxime plus spinosad, and it's supposed to stop heartworms, hookworms, roundworms, whipworms and fleas. You've seen the side effects for milbemycin oxime above. Here are the problems listed for spinosad.
Drug: Spinosad
Vomiting
Depresson/Lethargy
Ineffective – fleas
Anorexia
Puriritis
Diarrhea
Convulsions
Trembling
Ataxia
Unpalatable, won't eat
Revolution
Revolution is a topical drug containing the active ingredient selamectin. It claims to stop heartworms, roundworms and hookworms as well as fleas, American dog ticks, ear mites and sarcoptic mange mites.
Drug: Selamectin
Ineffective – heartworm larvae
Vomiting
Depression/lethargy
Ineffective – fleas, ticks
Diarrhea
Pruritis
Anorexia
Convulsions
Trembling
Alopecia, application site
Ataxia
Advantage Multi
Another topical option, Advantage contains imidacloprid, which is said to paralyze fleas, plus moxidectin against heartworms and intestinal worms.
The list of adverse effects shows a lot of skin issues associated with this drug.
Drug: Imidacloprid, Moxidectin
Depression/lethargy
Vomiting
Anorexia
Pruritis
Hyperactivity
Diarrhea
Ineffective – heartworm larvae
Behavior disorder
Trembliln
Ataxia
Anaphylaxis
Hypersalivation
Urticaria
Convulsions
ProHeart 6 And ProHeart 12
ProHeart 6 has a controversial history.  The active ingredient is moxidectin, delivered via injection. It's said to protect against heartworms and hookworms for six months.
First introduced in 2001, it was recalled in 2004 after over 5,500 adverse event reports, including about 500 deaths. It's back on the market now … and there's now a second, longer term formula, ProHeart 12, that lasts 12 months. If you're considering using these drugs, read about some of the side effects first.
The manufacturer's prescribing information for ProHeart 12 reports the following Post Approval Experience for ProHeart 6.  It's a long and troubling list that we've included in full.
"Post-Approval Experience (2018): The following adverse events are based on post-approval adverse drug experience reporting for ProHeart 6. ProHeart 12 and ProHeart 6 are the same formulation, but ProHeart 12 is three times the concentration of ProHeart 6. Not all adverse reactions are reported to FDA/CVM. It is not always possible to reliably estimate the adverse event frequency or establish a causal relationship to product exposure using these data. The following adverse events are listed in decreasing order of frequency by body system.
Immune: anaphylaxis and/or anaphylactoid reactions, urticaria, head/facial edema, pruritus, pale mucous membranes, collapse, cardiovascular shock, erythema, immune-mediated hemolytic anemia, immune-mediated thrombocytopenia (signs reflected in other system categories could be related to allergic reactions, i.e., gastrointestinal, dermatologic, and hematologic)

Gastrointestinal: vomiting (with or without blood), diarrhea with or without blood, hypersalivation

General: depression, lethargy, anorexia, fever, weight loss, weakness

Dermatological: injection site pruritus/swelling, erythema multiforme

Neurological: seizures, ataxia, trembling, hind limb paresis

Hematological: leukocytosis, anemia, thrombocytopenia

Respiratory: dyspnea, tachypnea, coughing

Hepatic: elevated liver enzymes, hypoproteinemia, hyperbilirubinemia, hepatopathy

Urinary: elevated BUN, elevated creatinine, hematuria, polydipsia, polyuria
Cardiopulmonary signs such as coughing and dyspnea may occur in heartworm positive dogs.
In some cases, death has been reported as an outcome of the adverse events listed above."

ProHeart® 12(moxidectin)
For Extended-Release Injectable Suspension for Dogs
Keep in mind that with a long term injectable drug like this, if your dog has a bad reaction, you can't just stop using it. It's in your dog's system for 6 or 12 months.