The Stud
Karmala Kelpies are bred from old bloodlines concentrating on clever mustering dogs, and I have gone to considerable effort to source sires who have worked in difficult country where brains and stamina are essential. This would have been so much harder without the unfailing generosity of David Hart, who has been kind enough to make his sires available. His dogs have worked some of the most difficult country in Australia and any who live up to his high standards are certainly worth consideration; I have benefited greatly from his experience with various lines of dogs. We both, coincidentally, began breeding along much the same lines over a decade ago. I have also benefited from the generosity of Matt Larkings, who lent me his two old Scanlon bred dogs Chopper and Wilson; their legacy has been valuable and only improved my old lines. 
 Emphasis is put on a friendly, calm temperament, natural working ability and sufficient strength. The dogs are of good type, fed a raw diet for future soundness, and bred carefully to avoid known health problems as much as possible. The stud has been based in Queensland for twenty years.
With the cooperation of other Kelpie breeders I hope to preserve those traits that originally made the breed such an invaluable asset and leave behind some good Karmala dogs that pop up in pedigrees for many years to come!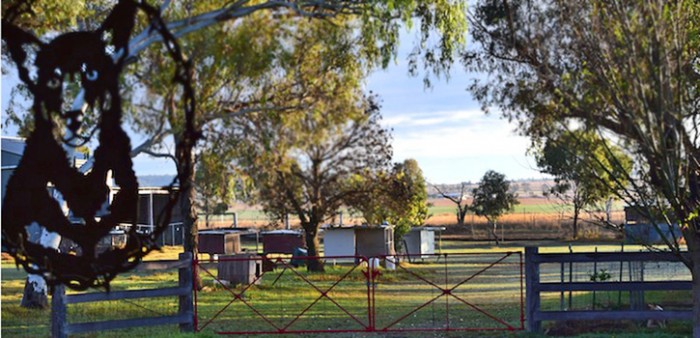 The raised kennels are moved around to catch morning sun in winter, and summer shade. A big treed run where the dogs spend their days is below the kennels. Pups are raised in grassed yards. Photo taken from my deck.