The Scanlon story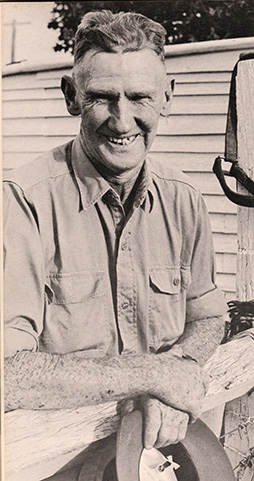 Frank Scanlon as photographed by David Cumming in 1967.
I was most fortunate to find Mat Larkings' two good old dogs bred along Scanlon lines in 2015, I was under the impression that "Scanlon" dogs were all but history. "Baldwin's Chopper" is a most impressive old dog, now twelve years old, but he certainly doesn't look it. He's worked all his life and can do any job asked of him, one of those old fashioned, practical dogs with no hang ups, a cool head and a great attitude to life in general. He was bred by Frank Scanlon's grandson Robert Baldwin who has been very helpful filling me in on the dog's breeding.
The second of Mat's dogs Wilson, "Larkings' Wilson" is a lovely paddock dog with a huge cast. He's out of a full sister to Chopper, Baldwin's Polly, by Scanlon's Dom. Cast is probably the Kelpie trait that is disappearing over the last few decades.
Coincidentally, John Gedye(founder of the Scoriochre Kelpie Stud) wrote of the late Frank Scanlon in the Nov. WKC Newsletter and I'm sure he won't mind if I quote him. Frank would have liked Chopper. John said he'd only like him if he was black and dark tan!
……
The late Frank Scanlon was well known throughout the kelpie world. A Scanlon dog was a class dog, a keen dog, a tough dog. Whilst visiting Frank I asked him a similar question, "What do you look for in a dog Frank?" Frank at this stage had long since given up trialling dogs, but his horses, dogs and stock in general were still very much his life, he was at this stage still actively involved in helping run the family 8,000 acre property in the New England Ranges near Quirindi. Frank thought for a little while and said, "A dog has got to be keen John. He's got to be keen and they have to be correct. A man-made dog is no good to anyone." One of Frank's favourite sayings was: "Don't worry about the pedigree — what's the good of a dog with a pedigree as long as a mile if he's sitting under the shade while you're out there chasing the woollies".
I've been in touch with Bill Scott recently and he said: "I remember Frank telling me he got his first King & Macleod Kelpie when he was 9 and took it with him cutting Kurrajong for sheep in a big drought, his first job after leaving school."
I asked Tony Parsons how long ago Frank would have started breeding Kelpies, he thought for a few minutes and came up with the 1920s. He also said Scanlon pedigrees were famous for the many blanks, and that Frank told him he was more interested in what was between the dog's ears! I've tracked down pedigrees for Chopper and Wilson, mainly because the owners of some of the dogs and bitches thought enough of them to go to the trouble of registering them.
Since 'finding' Chopper and Wilson I have realised that many of the younger generation of Kelpie owners have little idea of just what an outstanding stockman and breeder Frank Scanlon was. I thought it might be a good idea to select some information about him from Tony Parsons' ' The Kelpie' as it is a huge tome and many will not have seen it. Tony met Frank a very long time ago and over the many years of their friendship his regard and admiration for Frank grew until he wrote in his final Kelpie book, published in 2010: "I learned more from Frank Scanlon than from all the others put together…..he remains the the best dog and horseman I've met in my lifetime. Frank was the most knowledgeable and the most helpful."
Here are a few more snippets about him, quoted from 'The Kelpie' with the kind permission of Tony Parsons.
(…….denotes editing)
Frank was a very practical bloke and also had a great memory for dogs of the past. He was also a great dog educator……you could get a dog from him one day and take it out the next knowing it would do the job.
The dogs Scanlon considered his best trial candidates were used for all classes of utility work, both paddock and yard, and were not kept solely for show work.
The strongest concentration of Kelpies tracing back to Quinn, King and Macleod dogs the late 40s-50s was in Northern NSW, and Frank Scanlon was one of these breeders. He was without doubt one of the very best handlers of the Working Kelpie in the breed's history, and he bred some outstanding dogs…especially in the 30's and 40's. This was probably his best and most prolific period in a Kelpie career extending over 70 years.
Frank Scanlon first competed in trials in 1933. From that time until World War II he competed with outstanding success; in one season he won all the major trials in northern NSW and also came second in all but one. This was against strong competition in an area noted for good dogs, many of which came from Scanlon's own stud.
During my association with him he went through hundreds of dogs, only very few being retained for any period. He was never niggardly in making even his best dogs available to stud breeders and sheep people.
Frank was also an outstanding horseman and regarded by many as one of the best camp drafters in the country. In fact I would say Frank Scanlon was probably the best horse and dogman of his time.
There was no weakness in the Scanlon dogs. In a paddock situation Scanlon told me he'd prefer that a dog tipped sheep over rather than turn tail.
There was not a lazy bone in Frank's body….we used to go out to his Gaspard property rising at 5 am……I never knew Frank to be in bed when the sun came up, winter or summer….I doubt we will ever see another Frank Scanlon. He was the product of an ancestry and an era the like of which we will never see again. The hard times and struggle he went through to get where he did helped to make him the man and stockman he was.
Frank Scanlon was endowed with many gifts. He had the inborn instinct, patience, attention to detail and determination to succeed that made him a master horseman, stockman and handler of sheepdogs. If we had a few Frank Scanlons living today the Working Kelpie would be in very good hands……..no current Kelpie person has owned dogs of the calibre of some of those past great dogs. The magic simply isn't there.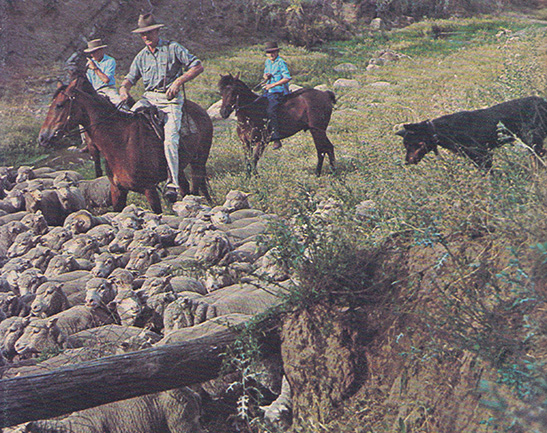 These photos taken by David Cumming in 1967 for a book by Monty Hamilton-Wilkes called "Kelpie and Cattle Dog".