October 2018
Still dry here so I was surprised to see this next door. Somebody's optimistic …or probably, desperate. Needless to say, it didn't rain.
BUT!! It did 2 weeks later!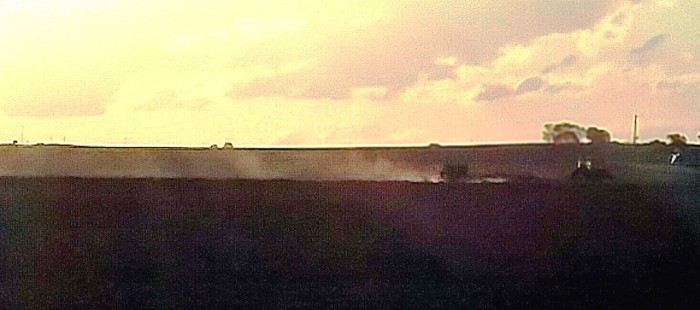 I have my grandson staying for the holidays and the pups are getting lots of attention. Here the Wings pups investigate their visitor for the first time. Wings has been a really good mum.
OCT 18: I sold two pups today to Chester Scriven who bred Pana, dam of Scanlon's Dom who is Wills' grandsire. Good to talk to him again and be instrumental in providing a bitch pup not too far away in breeding from his old favourite. Here is a note he had from John Scanlon and the pup's pedigree( named Pana of course).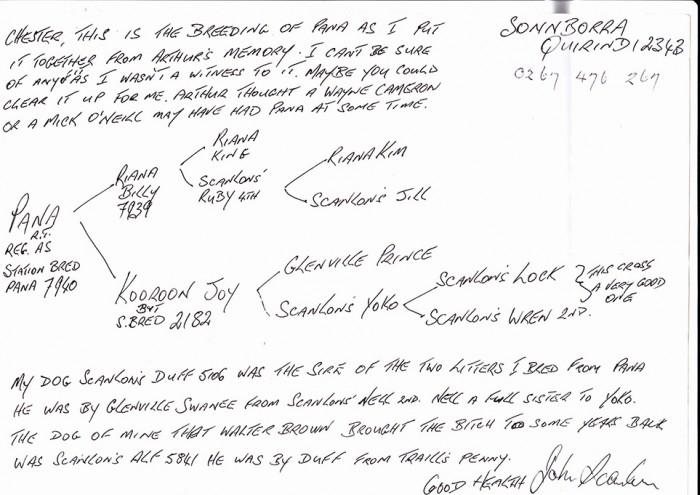 The four WillsxPoppy pups have moved over to the old stockyard, one dog pup still unsold. On moving day I did the usual Bella test….she is very grumpy with pups at first until they learn some respect, then she tolerates them. The bravest pups, who are likely to persist best on cattle, are quite evident. This usually only confirms my opinion of their confidence, but sometimes I get a surprise. This little bitch was the standout pup; she's going out near Roma next week. (The pup above her in the photo is for sale and is also a confident boy).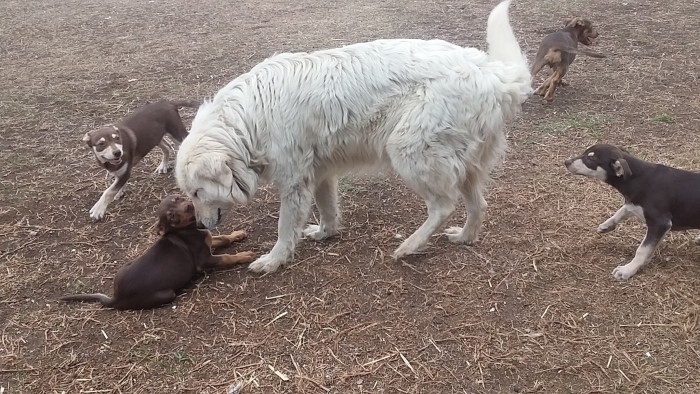 This little lighter tan dog pup is quite an unusual colour, he has a lot of cream hairs mixed through the red. He was also bought by Chester Scriven.
Wills has been home for a few weeks for various matings…Remy, Bimber, Midnight, Eventine Lolly, Tynndyl Minnie(xK.Landy) and hopefully Lily…before he goes up to Riverside with Rodney Garrett for some real work again. He and Bim have been enjoying their holiday as you can see below!
Wiggle (Wills x Gemma) has been away with Arthur Crumblin for a couple of weeks. As usual, he has worked his magic on her and she came home yesterday a potential stud bitch in lieu of being a pup with some potential.
I value Arthur's assessment of a pup very much. He's seen a lot of good kelpies and can judge accurately  how much pressure  pups can cope with. I've a better understanding of how easy it is to blow their minds after the experiences I've had this year. If Wiggle had been screwed down in a round yard she would have freaked out, but with room to kick her out wider and just let her work off some energy, she's settled down and started to think more. She'll get a rest now, then another week or so with Arthur before going out to do some real work.
It was refreshing to visit the Carnival of Flowers in Toowoomba with some recent visitors after all the dust at Nobby.