SEPTEMBER NEWS 2021

Spring at last! Yes, I'm really on the ball this month! Beautiful weather here in sunny Queensland, shirtsleeves and no singlet at last…who knows what's coming though. Thinking of those of you in NSW and Victoria where life is not so easy and praying you all stay safe and well.I have two bitches for regretful sale at present, Witch and Givt, both working well. Just need to make room for a couple of others, numbers are getting a bit high! 
August was a very busy month at Karmala with four litters of pups born, the two old girls Gemma and Remy having small litters and the two young ones eight pups apiece.
Photos below in order of arrival, Brock x Gemma, Wally x Remy, Wally x Livvy and Wills x Mindy. All doing well. Mindy has proved herself a very good first time mum which was a relief with a big litter. A few of the pups have a some white bits which surprised me until I ran the mating through the computer and found Glenville Swannee had snuck up to the top of the homozygosity table again!  This time on his own…usually Glenville Prince is keeping him company. Only about 1/3 bitch pups overall.
Gemma is just loving her pups….probably her last ones, although I seem to remember saying that before!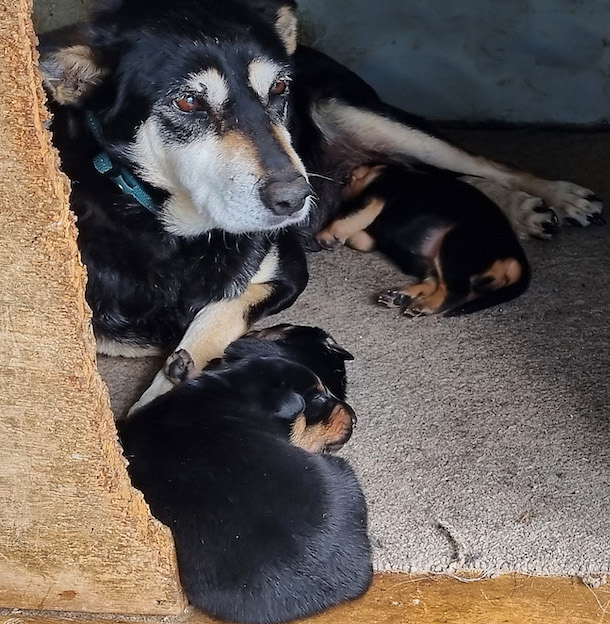 Whitney is still to whelp to Wally on about Sept.10. (Whit has 6, 4 bitches)  Bitches are cycling up at Mt Larcom and Brock is having a good time having mated Glam and Gossip. Midnight is deliberating how she can confuse everyone and avoid more pups!! She's been a very tricky one to get in pup.  UPDATE: Wills has mated Midnight, Sept.10!!
I finally got the two Landy x Bim pups off to WA on a Virgin flight, the little cream girl has gone to Kukerin, where I lived happily for a few years in the 1960s. The blue boy out to Collie…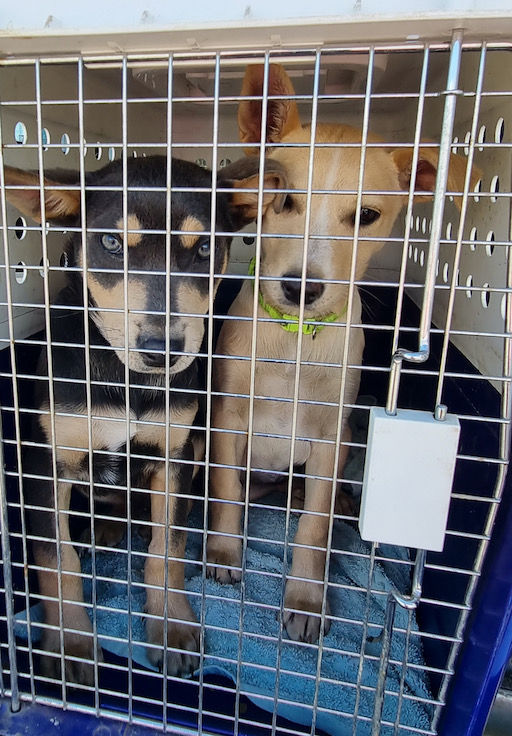 I am really grateful that Dogmovers are giving preference to old customers. They have been able to continue despite border closures, although Pete had a long wait at Goondiwindi last time we met up. It must be so stressful for all transport people having to have so many tests and then risk their health on every trip, we should all be very grateful.
The pup I kept from the Wills x True litter is a real character, fond of having a chat with you like her dad at tea time! Blue is showing a bit of eye which I was hoping for….just working Siggy at present!
The next week Blue "switched on". Two videos are on youtube, my channel is Karmkelpies. This is the shorter one.
https://youtu.be/ep_bncqxLMI
The most entertaining pups at present are the Wills x Fizz litter, little devils. Caught here in a state of exhaustion!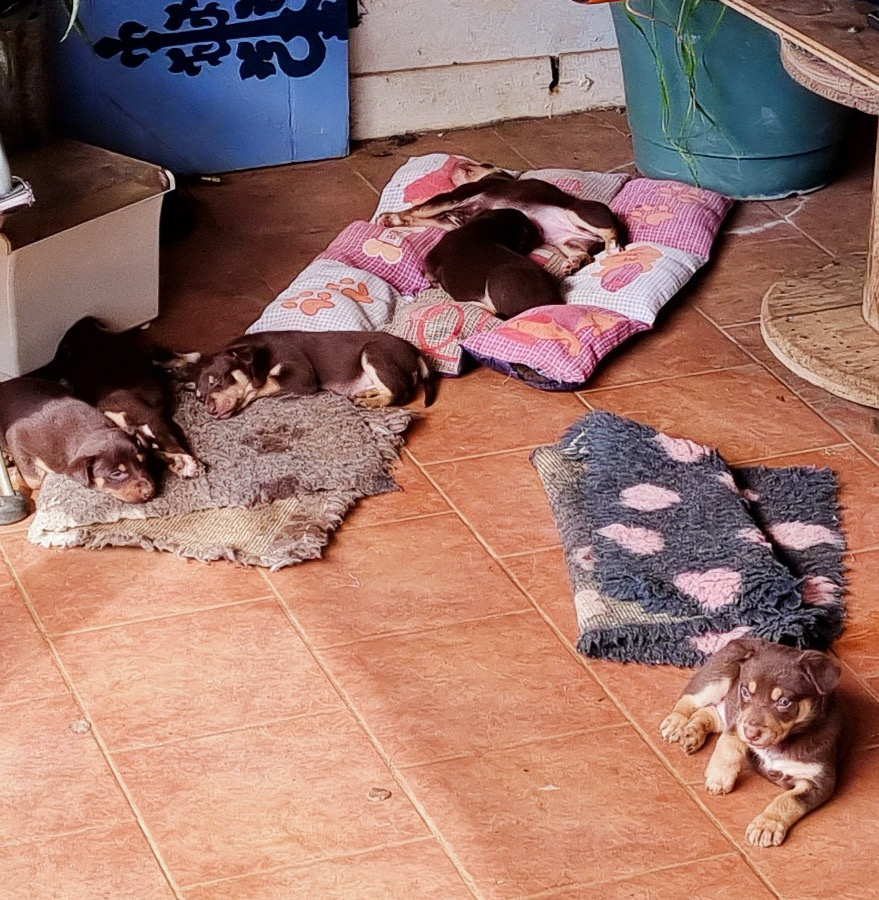 As most of you who read this regularly would know, my young dogs go up to the Zeimers at Mt. Larcom for work and assessment, a great arrangement which I really value. There was a new addition to their family in August as well, little Rose Karen making an early appearance….many congratulations and may she have a happy life. I'm looking forward to meeting her soon when we do a dog swap; Frank has been wanting to visit for quite a while! 
Here's little Karmala Bligh up at Em and Derek's…..
A little video of Livvy's litter: 
An email from the buyer of Grit(BrockxMotley's Girl):
Just a  bit of an update on the pup I got off you in November 2020. Grit( K. Brock x Motleys Girl) She had work 6 days a week from when I got her until April 2021. Once she had confidence in me there was no holding her back.She has a tremendous work ethic and is a tuff little nut. She has a good head and structurally is holding up to the work. We have been handling up to 4000 sheep per day.
She is backing a considerable distance (60-70 meters in some cases) has plenty of force when needed and barks freely when asked. Just lately has developed a good 'top knot" which is quite a handy tool for her.She has not done much paddock work yet, but when clearing a holding paddock (3-4- acres) she is going to the side directed and although a bit direct I am confident that she will develop a wider break out as she gets more opportunity.
She is very low maintenance and easy to have around the house, and has slotted in well with the other dogs.She has started to learn to turn off and have a rest when the opportunity arises. A sign of maturity and brains I believe. You were correct in her leaving stock behind, which she was doing at the beginning. She is loosing that trait and it only seems to happen now when she is tired. Bit of a sign for me to watch for.
She is developing a bit of eye, and I think that will develop as she gets more outside work.All up she is a pleasant little dog that I am happy to have and I am confident that at a later time she will be worth breeding out of.
I have attached a photo of her.
I really enjoy hearing about dogs out working, this was a surprise as Brock has never backed at all…nor had the opportunity! 
Another catch up was with two bitches I sold to Alumny Creek Angus Stud at Tenterfield a few years ago.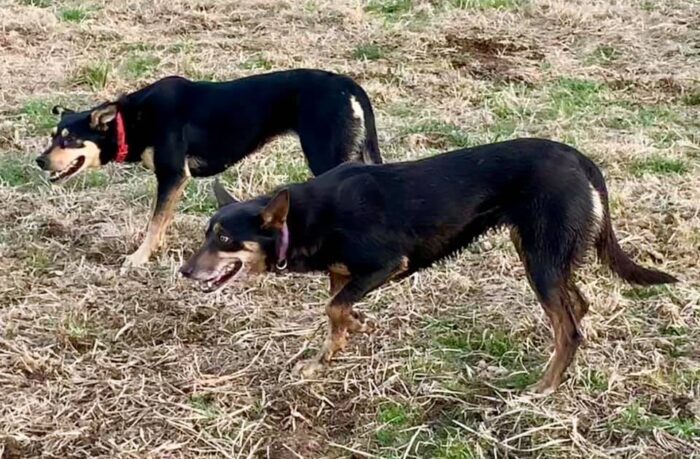 Karmala Elli (Karmala Wills x Karmala Heli) & Karmala Meg (Riana Cash II x Karmala Gemma). In the video they are moving on a heifer with twins!