Karmala Kahlua
WKC Reg. 56878 DOB 1/12/2011
Glide X Brandy – Pedigree – 4 G Reg DOB Colour Karmala
Kahlua went out as a pup with the intention of being trained in multi disciplines, but was found to be easily distracted by movement (as is often the case when kelpies are used for obedience and agility). She then went for experience on sheep to Matt Bignell.
'Lu' is a lovely type of bitch, leggy and light running. She doesn't have much eye, moves freely, and is very responsive. She worked cattle for Emma Costigan and has been a reliable helper for her.
Like most of Brandy's pups Lu is very intelligent and this can cause problems at times, but no doubt preferable to the alternative.
Her first litter to Riana Glide was followed with interest and the mating was repeated in 2014; Glide is an outstandingly clever dog on cattle and his homozygosity index for this mating is 6.3% One of the pups, Karmala Martini is pictured below.Emma and Derek kept another bitch from this mating, K.Gin Fizz, she is working very well and will be mated later. Her sister K.Lucy, has gone to Fiona and John Henchman in New Zealand and is a very handy dog on their Jersey dairy farm. The country is very steep and careful work is required; it took Lucy time to settle down enough to be trusted.
Lu was mated to Tracker the Chief in 2015 and whelped early August, 6 bitch pups, one dog….Midnight has been retained from this litter.  She has since gone down to Sydney and was mated to Karmala Glen(Riana Glide x Karrawarra Gift IV) in May, 2016 but I'd left it a bit late to use Glen again.. Lu was then spayed and retired to a good home. Her two daughters Fizz and Midnight are breeding on well.
2022 Kahlua's had a big influence on the stud through Fizz and Midnight, who is breeding exceptionally well to Wills.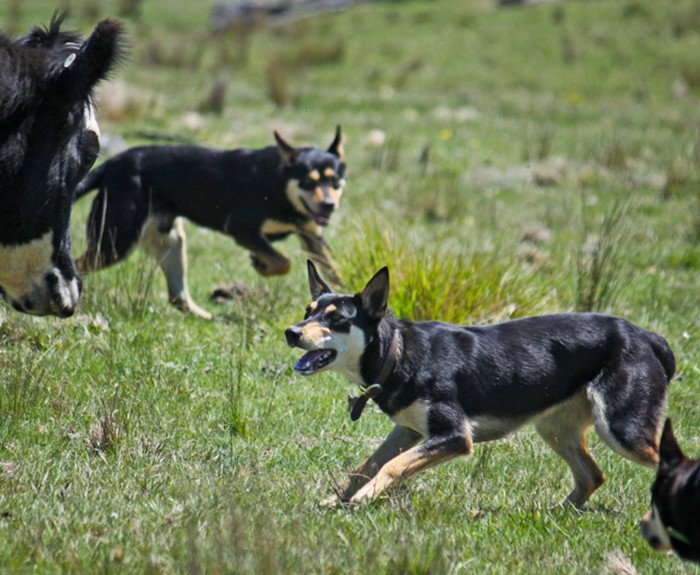 Karmala Martini working with Karmala Neon.