Karmala Cherry
KARMALA CHERRY  Reg. WKC A4F27703-15
(Benelee Chance x Karmala Brandy)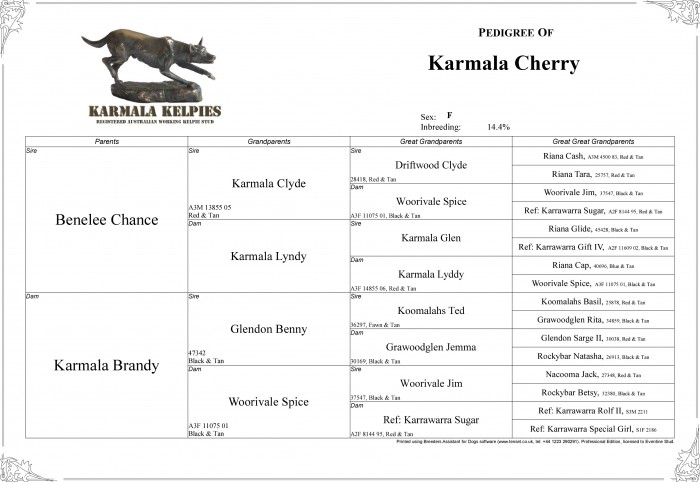 Cherry is a beautiful young bitch who is full of work; I thought she might be a bit too 'full on' when she started working (like quite a lot of Chance's pups) but she is capable of very classy work when she settles down. I was convinced by a couple of experienced dogmen  that this type of worker usually proves to be of great value in the long term, and that a stud needs to keep a few bitches like Cherry.
Arthur Crumblin started her on sheep and then John Clothier gave her some cattle work; she is certainly not the type to settle down in an environment where she doesn't get much work. When she came back to me she worked the other dogs in the run too hard, so I asked Andrew Ardis to take her. He is working on Deepwater Station where she will get all the work she can handle! 
This was the second mating of Brandy to Chance, the blind son of Karmala Clyde. Some of the pups have really taken to yard work.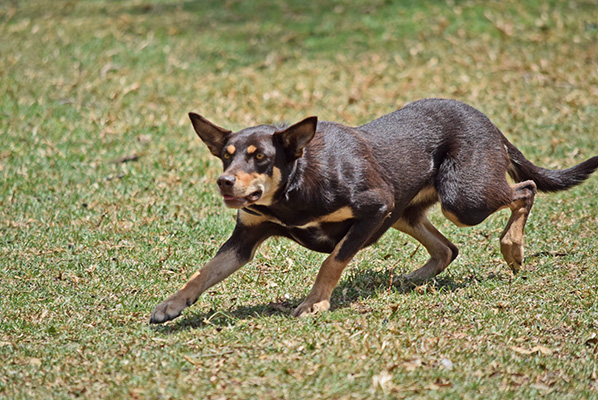 Cherry aged 14 mths showing her intensity.