Karmala Heli
KARMALA HELI  WKC Reg.A3F28135-15
DOB 27/12/14 Baldwin's ChopperX Karmala Lily
Heli6gen
 pedigree Heli was born in the first litter sired by Chopper. He left only two bitch pups here from all matings but seems to have made up for quantity by the outstanding quality of Heli and Poppy(xPeggysue). My regular trainer, Arthur Crumblin, was recovering from a kidney transplant when Heli was old enough for some work, and I would like to thank John Clothier for handling her for me and settling her down. John trades quite a few young cattle, so Heli went without the benefit of sheep to start on. She took to cattle work like a duck to water and is hard to fault…to my inexperienced eye anyway! Here she is at 10 months working with Brock, who is letting her do the hard yards. Since coming home Heli has had the opportunity to work sheep more often. I was thrilled to see her on ewes with young lambs for the first time, working like an old dog with a nice soft touch. She has since  worked out at Gerar Station near Nyngan for Ron Robb who found her one of the better bitches he's seen and invaluable on light stock in the drought. (Ron has since promoted Heli to being the best of my bitches that he's worked until he got Livvy, her daughter!) Heli was mated to Larkings' Wilson in May 2016. She has since had litters to Wills(which gave us Whitney, dam of Livvy), Brock, Changi and Karmala Vlad aka Barney, Lynnton Martin's team member, in 2022. She's a great mum. In 2023 she went to Ashley Whitehead with a bitch pup by his dog Barwai Wisconsin Badger.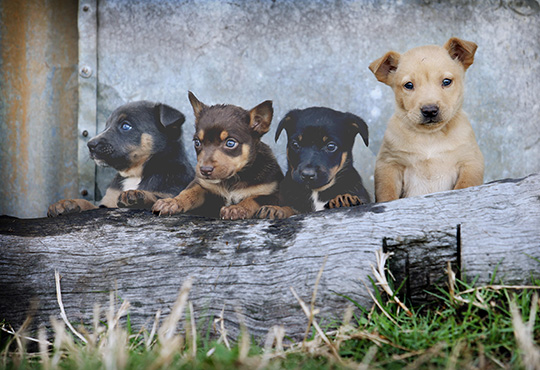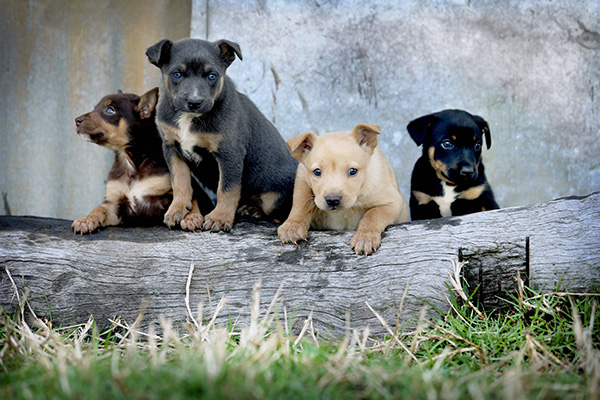 These two photos taken by Tara Croser for the Brisbane Courier Mail show four of Heli's Wilson litter of six, Lil, Sweeney, Don and Maggie. Another pic of Maggie by Tara(below) and a few weeks later. Nice calm, smart pup. Sadly she died while away being trained. The red/tan bitch pup is now with Matilda Woodward and doing very well as a good casting mustering bitch. The cream dog Don died cause unknown with John Clothier. Sweeney is working in SA.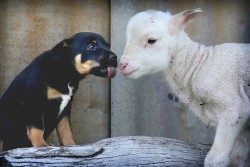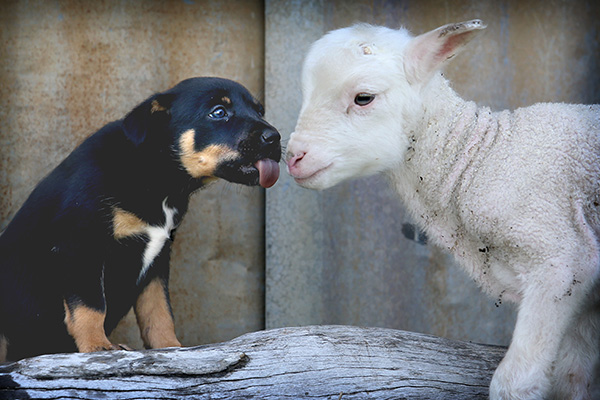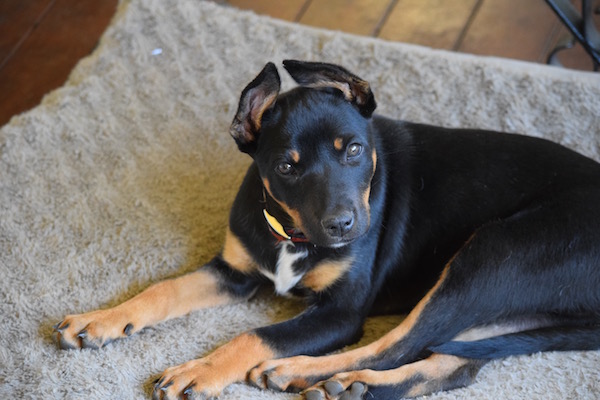 Heli's been mated to Wills(twice), in 2019 when working at Nyngan she was mated to K.Changi. Some of her Wills pups are a bit direct, probably because Wilson, sire of Wills, was out of Chopper's full sister and it's a bit close, however the mating of Whitney(WillsxHeli) to Landy has been great and Livvy was retained. .