Karmala Heli
KARMALA HELI  WKC Reg.A3F28135-15
DOB 27/12/14
 Baldwin's ChopperX Karmala Lily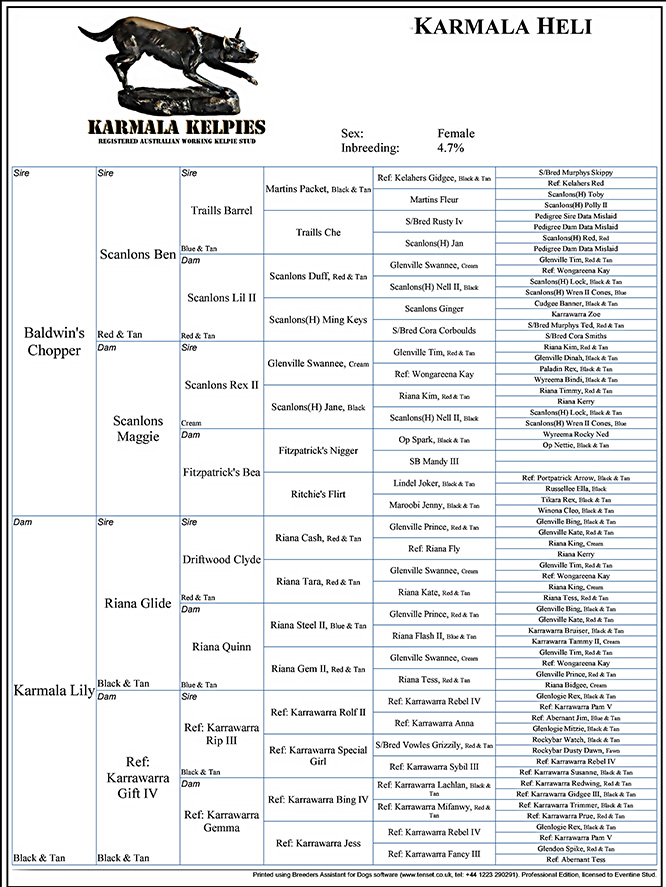 Heli was born in the first litter sired by Chopper. He left only two bitch pups here from all matings but seems to have made up for quantity by the outstanding quality of Heli and Poppy(xPeggysue). My regular trainer, Arthur Crumblin, was recovering from a kidney transplant when Heli was old enough for some work, and I would like to thank John Clothier for handling her for me and settling her down. John trades quite a few young cattle, so Heli went without the benefit of sheep to start on. She took to cattle work like a duck to water and is hard to fault…to my inexperienced eye anyway! Here she is at 10 months working with Brock, who is letting her do the hard yards. 
Since coming home Heli has had the opportunity to work sheep more often. I was thrilled to see her on ewes with young lambs for the first time, working like an old dog with a nice soft touch.
Heli was mated to Larkings' Wilson in May 2016.  This is potentially the most exciting mating ever at Karmala
These two photos taken by Tara Croser for the Brisbane Courier Mail show four of Heli's Wilson litter of six, Lil, Sweeney, Don and Maggie. Another pic of Maggie by Tara(below) and a few weeks later. Nice calm, smart pup.