Karmala MinMin( K.Wills x K.Mindy)
WKC reg. 68168     DOB 22/8/21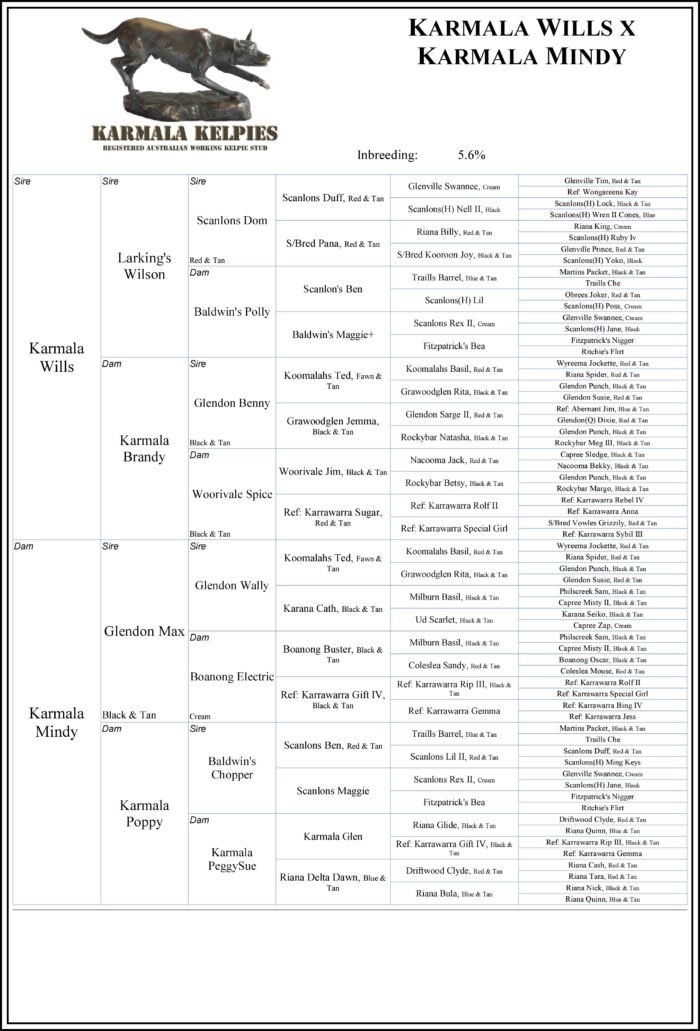 Min is a beautiful little bitch and very lucky to be here. She had a dislocated hind leg at about 2 weeks from mum standing on her; I decided to wait and see if it would correct itself, which it did.
I had a few tries at getting a litter from Glendon Ricky/Max, a very good dog working for Chris Rickert, but Mindy was the only bitch pup. After I weaned Min's litter I asked Chris if he'd like to take her and give her some work when he came to get his service fee pups. Only a month or two later he rang to say Mindy had been electrocuted during a storm…. the lightning struck her chain and fused the clip to her collar ring. Chris was watching from the house, she seemed to leap up and fell down dead. None of the other dogs tied near by were affected.
So …. I was determined to keep Min and see how she matured, as the aim of the operation was to get a Max bitch to mate to Wills!
Luckily Min has turned out to be all I could have hoped for(I'm too realistic to expect perfection!). I asked Marina Angel Smith if she would like her to help with her goats with the idea of having her handy to mate to Landy when she was old enough. Marina says she gets a bit worried about some of the cranky nannies but she's growing in confidence. Min's first litter to Landy is due 26/6/23.
Update 11/23: The bitch pup we kept from her mating to Landy, Mystic, is a bit of a media star after I posted the video of her first look at sheep on Facebook….a week after posting, 67.5 views, 1.7k likes, 61 shares!