Karmala Poppy (Baldwin's Chopper x Karmala Peggysue) WKC Reg. A2F29233
DOB 1/10/2015   RETIRED FROM STUD…grand dam of Mystic.
Chopper x Lilyp'gree
      click for pedigree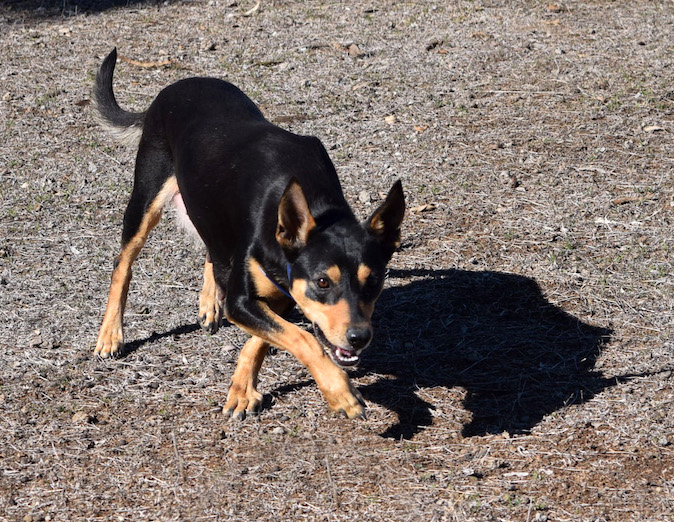 Poppy aged 3 after whelping her first litter. Pops is one of the two bitches in the stud by old Baldwin's Chopper. She started working with a lot of promise but was injured in the run by Wills running into her and it was some time before she got to see my favourite chiropractor, Heide, who practised first as a vet. It took several treatments to get Poppy sorted out but the change in her action and attitude was obvious. She worked as part of Emma and Derek Zeimar's team up at Calliope and only came back recently to whelp to Wills. Poppy's a delightful character, strong minded yet not causing any trouble in the camp. She works with calmness and determination. She should breed some nice pups. Her first litter by Wills brings together the two old Scanlon blood dogs as Wills is by Larkings' Wilson. A few of these are a bit direct and don't have the nice distance I'm used to, but nevertheless are very useful workers. K.Perks has been mated toK.Harvey, 12/2019 Poppy was retired in 2021 and is now supervising the operations on a small hobby farm, the incubator is a special favourite when chickens are hatching! I often retire a bitch when I have a daughter I consider better. This has also been done with Whitney who has been replaced by Livvy.