Karmala Sass II WKC reg. 67231
DOB 25/7/2020
Sass is a bit of a favourite so it's surprising we haven't got more good photos of her. She's spent most of her life up at Bracewell and it's just happened that she hasn't usually been in the team the day Derek had the camera out. These were taken at Karmala when she came back in pup to Blye to have her second litter here. Sass has a great attitude to life, she's full of 'joie de vivre', a French term that describes her perfectly! She's quite a lot like her dam Gossip(Wills x Fizz), I guess, both lovely bitches to have in a team.
Sass has been working cattle and only had one very brief look at sheep, she's one of the few bitches that didn't go over to Arthur (because he wasn't well). We've had plenty of good young bitches to choose from so it's to Sass's credit that she's held her spot. She seems to have a tendency to mate very early in her heat. First time around she wasn't meant to be mated but Tim caught up with her and she reared five nice pups. Mel Spencer has Sascha, she reported last Sept. that she was working well at 8 months, nice calm work but would force when it was needed…and grown into a nice big pup. 
We gave her a holiday next time, but she got herself into pup to Blye early again this heat(2/23), before the older dogs were at all interested! Blye(Landy x Bimber) is a very nice young dog and working well, so it should be a good litter.
Em describes Sass as working a lot like Naka but can blind cast and search for stock. These two I'd describe as second row attack! You can see what I mean in the second photo where Mina and Fizz are in closer and Naka and Sass waiting to back up…which Sass does pretty hard! Of course they work the whole mob as well.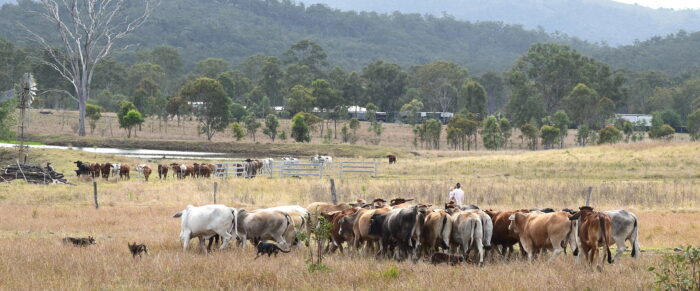 From left Fizz, Naka, Mina, Sass

Sass and Naka on left, then Fizz and Mina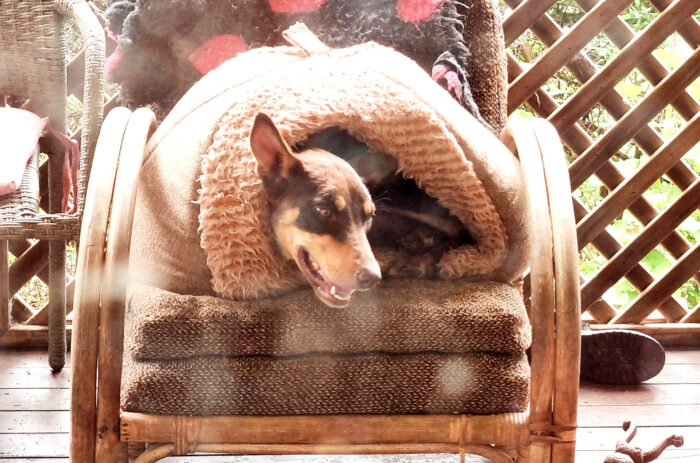 Sass just before whelping her first litter decided the daxies' bed was just the thing!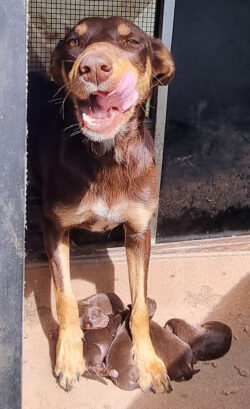 And looking very pleased with herself next morning.
A photographer from the Courier Mail took these photos of Sass's first litter.