KARMALA TASH (Riana Cash II x Karmala Brandy) WKC Reg. 62935 DOB 11/5/16 Retired from stud.
Cash x Brandy
Tash is a lovely bitch and I have high hopes for her progeny. She spent some months with Emma Zeimer and started working cattle, the first sheep she saw were the ones in the video below. She quickly adjusted her work to suit.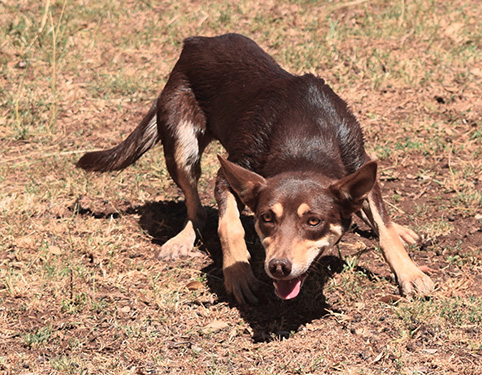 I asked Ron Robb to take her for some sheep work on big mobs in Winter 2017 and Ron really liked her. When she came on heat we decided to mate her to Ron's good young dog Karmala Skip (Motley's Russell x Karmala Remy). Nyngan is a long way from Nobby, so it seemed a pity to miss the opportunity. I usually leave bitches until their second heat, but Tash was well grown. Tash already shows nice strength, and this mating should add a little more in the pups.
Update Dec.2019:
Tash's litter to Skip is working well. She was mated to K.Harvey last year and there are some very good dogs in that lot too. Her last litter was by Anntre Ray, a very interesting young dog who made the finals in the NKT at his first attempt(aged2). I'm running on a bitch pup, Raegan, and Ron has Raddle at Nyngan. One of my favourite photos of Tash, working sheep to little James Martin when she was being tried as a 3 sheeper!

Riana Cash II sadly died in August 2017, so Tash was a genetically valuable bitch. After her sister Dash was spayed after whelping via a CS in Tassie (and leaving only one bitch pup out of seven born) I decided to get back a dog pup and later mate it to Tash to try and keep some of the Cash blood. The first pup didn't work out and I bought Cap from Peter Allen …. He got a leg broken working cattle and was recovering when Tash was mated to him. She whelped early and lost some of the pups, we finished up with three dog pups which were sold. So that project was a fizzer! Tash is a very highly motivated worker and wasn't suited to motherhood….. I finally had her spayed and she's now working cattle for Jack Kings and much happier. Sometimes our plans just don't work out; very disappointing as she's a very stylish bitch. Her niece Abby, the daughter of Dash by Lefty(LandyxWhitney, is doing well with Mary Faulkner in Tassie. Who knows, one day I might get a nice bitch pup from her!