KARMALA TASH (Riana Cash II x Karmala Brandy) WKC Reg. 62935 DOB 11/5/16
Tash is a lovely bitch and I have high hopes for her progeny. She spent some months with Emma Zeimer and started working cattle, the first sheep she saw were the ones in the video below. She quickly adjusted her work to suit. She returned to cattle work with Em who later thought she was a bit immature and was undecided about her future.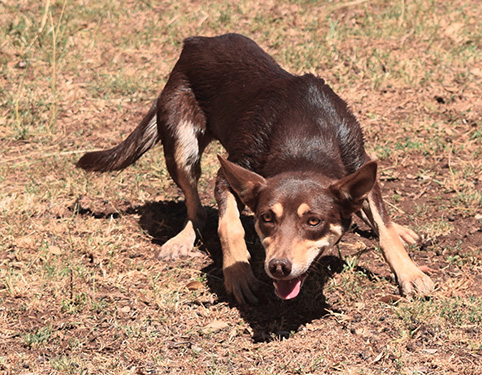 I asked Ron Robb to take her for some sheep work on big mobs in Winter 2017 and Ron really liked her. When she came on heat we decided to mate her to Ron's good young dog Karmala Skip (Motley's Russell x Karmala Remy). Nyngan is a long way from Nobby, so it seemed a pity to miss the opportunity. I usually leave bitches until their second heat, but Tash was well grown. Tash already shows nice strength, and this mating should add a little more in the pups.
Update Dec.2019: Tash's litter to Skip is working well. She was mated to K.Harvey last year and there are some very good dogs in that lot too. Her last litter was by Anntre Ray, a very interesting young dog who made the finals in the NKT at his first attempt(aged2). I'm running on a bitch pup, Raegan, and Ron has Raddle at Nyngan.  At the moment I'm thinking of mating her to Ray's litter brother Sam next. I'm really interested in the sire of Ray and Sam having seen another of his pups from a different bitch. Ray x Tash
One of my favourite photos of Tash, working sheep to little James Martin!

Riana Cash II sadly died in August 2017, so Tash is a genetically valuable bitch.