KARMALA VIE (Karmala Landy x Riana Trixie) WKC Reg. 59298 DOB 30/5/13
Vie was bought by Derek Zeimer, and was lent to his neighbour for a couple of years. She has since come back home as she's a bit annoying in a pack causing some of the other bitches to get upset with her….and Vie-ce versa! Vie had a litter to Karmala Hardy in 2015 and K.Vonny has been retained in the stud; the dog pups in the litter are working well.
I have persevered with Vie because I was so upset at losing her grandmother, Riana Quill II. I bought Trix from Josh Behn and had bad luck with Vie's litter when I treated her with Comfortis before whelping and she lost all the pups except Vie, the surVIver! Landy has been a very good sire and a previous litter he had with Trix were very good workers. I am in the process of getting Karmala True back from Peter Rogers in Victoria, she has too much eye for him, something unusual in Trixie pups.
Vie was retired to a working home in 2018 and replaced by Vonny.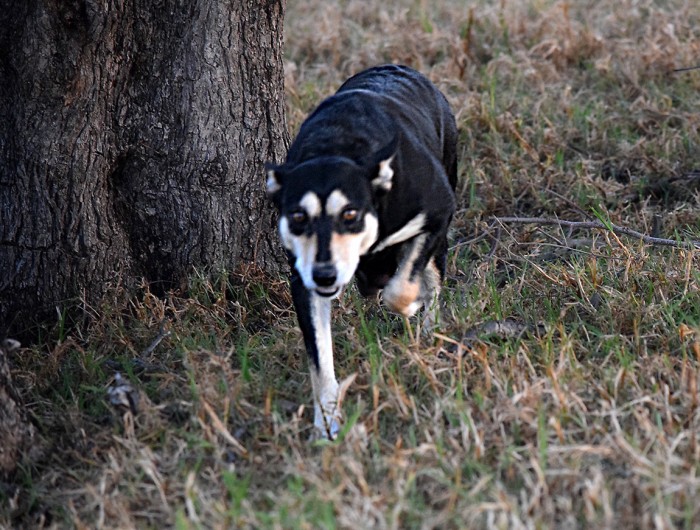 Vie in 2017
Vonny and Brock pup        click here
This is a video of Vonny(Landy x Vie) the blue bitch, working with a pup by K.Brock for John Clothier. John is very happy with Vonny's work on cattle, here she is letting the pup do the work while covering any mistakes.