Karmala Wiggle WKC Reg. 65208 DOB 24/3/18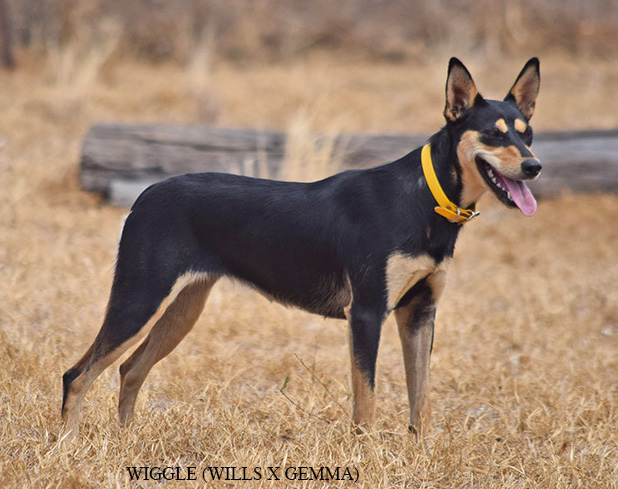 Wills x gemma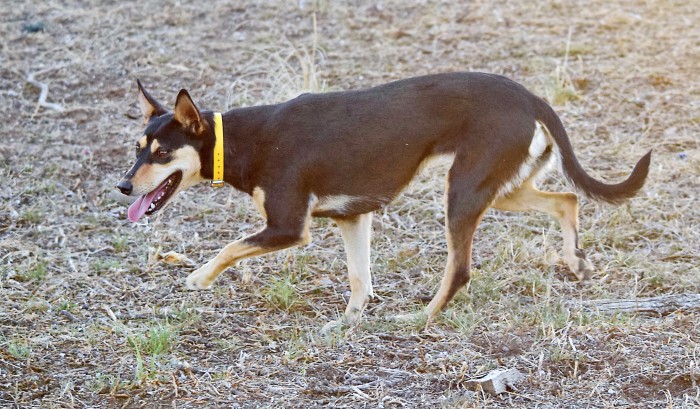 Wiggle is a lovely young bitch, a bit on the smaller/lightly built side taking after her mother. It has been a long wait to get a nice bitch pup from Gemma as she has had mainly dog pups.
Wiggle went to Arthur Crumblin for training and assessment and passed his very critical eye! I was very keen to get her away for some hard work before mating her, but due to the drought this proved impossible. Gemma was also very reluctant to cycle again after having a spell, so I mated Wiggle to Landy on her first heat…something I seldom do. This has been a huge success with a litter of five lovely pups and a more mature bitch. She is now out at Nyngan with Ron Robb. Not much work there with the bad drought but more life experience is valuable anyway. She's too young to just live here forever and it will rain again one day….hopefully.
Wiggle is a tough bitch who lives to work, if there's no stock work on she's happy to work the other dogs….only real, hard work will teach her to pace herself. I am keeping Biggles, a dog pup by Landy from her first litter; he's a typical Landy boy very cool! A very nice cream bitch pups Karmala Google, was exported to Germany.