Karmala Remy WKC Reg. 58025 DOB 15/07/12
KARMALA REMY Riana Glide X Karmala Brandy
Glide X Brandy – Pedigree – 4 G Reg DOB Colour Karmala
Remy was a very intelligent young bitch with a great desire to work. She was started by Arthur Crumblin who suggested I breed a litter from her because of her great keenness/work ethic; as a pup, she climbed over his 6' dog run fence and fetched a mob of sheep back to where he was shoeing his horse. Arthur places a lot of importance on this 'will to work' which makes a pup so much easier to train; it accepts correction and doesn't take offence. Remy has incredible footwork and lightning fast cover/anticipation.
Remy went out to work with Matt Bignell, who thought she was more of a paddock bitch; she has since been down to Tenterfield to be mated to Karmala Neon, Grant Hutchings good young dog out of K.Lily, and Grant thought she was very handy on his cattle. After she weaned a litter to K.Neon  I let Rem go out to Walter Brown at Dirranbandi to work on a litter share basis. She was injured there and has returned home. This is the problem with dogs who are very keen to work, especially the youngsters I keep here. They really need work and often don't come home again. Ron Robb now has her at Gerar Station, Nyngan where she had two pups to Dave Motley's Russell, 2014. She was mated to K.Harvey twice with good results but sadly, I lost my "keeper" Rev. She was a great climber like her mother, but clever enough to keep out of trouble, it was a snake that got her. Nice bitch.
Remy had a litter to Rodney Garrett's god dog Tracker Spy in 2018. Ron mated Rem to Russell again, 2019. She had a litter of six, keen to work but a bit of bite coming through. Her next litter was to Karmala Harvey, all keen as mustard as you'd expect!
 Remy had four nice dog pups to Halsteds Wally in 2021, a big bitch pup was born dead. I am keen to get a bitch from Remy to run on so will mate her again.
Remy  is aged 7 months here, being worked here by Arthur Crumblin. https://youtu.be/Br79MD-dXng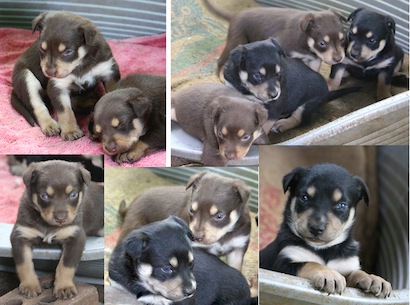 Remy's litter by Karmala Neon at 3 weeks