Baldwin's Chopper WKC Reg. A3M 4817 deceased
Scanlon's Ben x Baldwin's Maggie

*Written in 2013*
Chopper has been working since he was six months old and has had a pretty hard life. He belongs to Mat Larkings who purchased him from Bob Baldwin (who is Frank Scanlon's grandson,) and is capable of any job asked of him. Chopper started work for Mat on Kurrajong Park, then spent some years up north weaner breaking cattle. Chopper has also done a lot of sheep work, from mustering to filling races and loading and unloading trucks with back and bark. He will also nose bite cattle when required. Chopper and Matt's other Scanlon blood dog Wilson make a good team, as Wilson has a better cast and cover but is not as immediately effective.
Mat emailed recently:
"…. we knocked the wool of my few sheep today and I was going to get you a few photos of the old boy working but I ended up shearing myself so I didn't get on the camera. But he did all the yard work even backed them into the shed. Then slept in a wool bin all day."
Not bad for a twelve year old, but he's probably still so fit because he takes things so much in his stride and knows when to 'knock off'! I am very happy to have the chance of breeding a litter by him, I have been hearing great things about Scanlon dogs for decades, mainly from John Gedye who used Scanlon's Fred and Scanlon's Red to great effect at Scoriochre.
Apparently Frank Scanlon considered a pedigree did nothing at all to improve the worth of a dog, which is perfectly true, but he was quite casual about them and I was pleased to find so many dogs in Chopper and Wilson's past had been registered.
Lily reared three pups by Chopper in 2014, Timber, Mack and Heli. All look very promising. Josh Lines has Mack and I am hoping to get a pup back by him later on, at present he's shaping as sire material. Timber went to Emma and Derek Zeimer near Gladstone and came back as a big dog late 2015. He's a tough, useful dog but lacking quality as a sire. He was sold on and his new owner is delighted with him.
John Clothier had Heli and she  started with promise on cattle; he says she's a very smart pup. Here she is at 10 mths working with Brock, who is letting her do most of the work.
2019: Heli is now one of my best brood bitches. My other stud bitch by Chops is Poppy; Bimber is by his son Polo.

Chopper in 2015, he'll be 13 this year.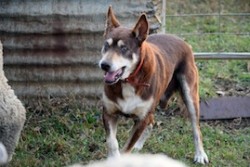 But his eyes still light up when there's work to do!
2016 update: It seems unlikely Chopper will sire any more pups, so Heli and Poppy will be the only bitches I have by him.
Heli(Chopper x Lily) at 14 mths .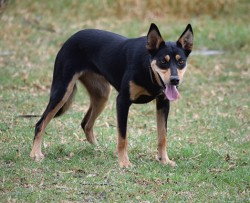 Karmala Poppy (Chopper x K.Peggysue) 5mths.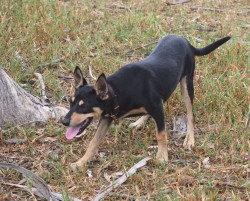 Poppy and Chopper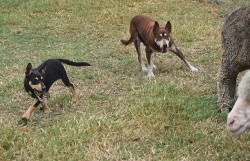 Karmala Polo(B.ChopperxK.Peggysue) 10 mths, with Arthur Crumblin who says he's a "lovely dog"!