Karmala Akubra deceased
Kuba died peacefully last winter. He went to sleep in the sun and didn't wake up. He was bright and happy until the last, a lovely dog. He was the first dog I bred that I used as a sire. His main legacy to the stud is his son Brock who is almost identical to his dad but a bit stronger. Both calm dogs with great temperaments, although Kuba wasn't too keen on thunderstorms!
A3M 13071 04 JK DOB 21-6-2004
The photo below appeared in Tony Parsons' definitive work, 'Kelpie'.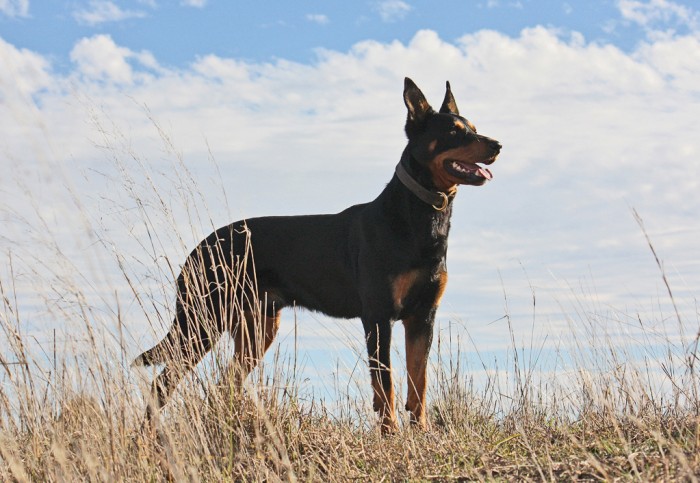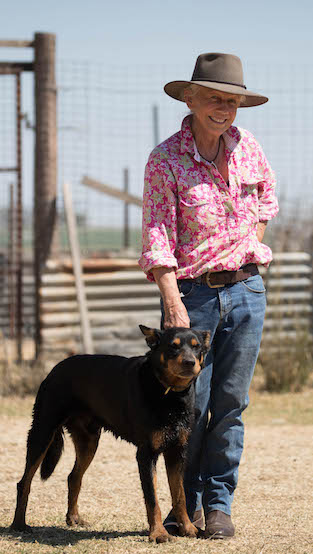 'Kuba' is a beautiful Kelpie type with a great temperament. He has nice distance off his stock and is calm and willing to please. Spent some months at Milburn Creek in 2007 where he did some real work, helping muster difficult hill country. He has also worked with Matt Bignell near Goondiwindi where he developed a huge cast.
Akubra has been used at Karrawarra and Karrwarra Coster was retained. Coster has been used a sire at Karrawarra and has left some very promising progeny including Karrawarra Lisa, now at Barru Stud. Pat Murphy and Tony Parsons consider him an outstanding dog and a son, Karrawarra Roo, was exported to Kirsten Woznitsa in Germany. Kirsten also has a bitch from Karmala Quizz who has raised a litter by Karra.Roo.
Riana Delta Dawn has had a litter to Akubra with good results workwise, but unfortunately half the litter had longer coats. Breeding Kelpies from old bloodlines is full of surprises due to the collie origins.
Peggysue had her first litter of 7 dog pups to Kuba, lovely calm, sensible pups. Josh Behn now has pups by his purchase, K.Monte, and Simon Hartwich mated his K.Gem(Riana GlidexKarra.Gift) to K.Rebel from Peg's litter. Two promising big pups came to grief from the same litter.
Simon's Rebel looks and works SO like his dad Akubra, and Darkie(RebelxGem) is the image of grandma Gift at that age.
Peg's second litter to Akubra produced more handy workers, Karmala Cozzie has been retained. Another litter from K.Tilly is also working well. Akubra could be a little stronger, and for this reason his son K.Brock, from K.Brandy, will be taking his place as a sire. Brock has gained the admiration of all who have seen him work for his calm, no nonsense approach to stock.
Sculptor Bodo Muche chose Akubra as the model for the Kelpie bronze he was commissioned to make for the Stockman's Hall of Fame, unveiled in October 2013. Bodo was impressed by the general type and style of the Karmala Kelpies and picked Akubra from my website.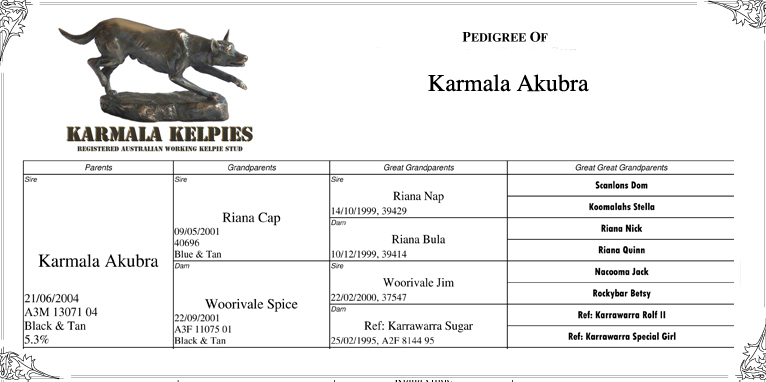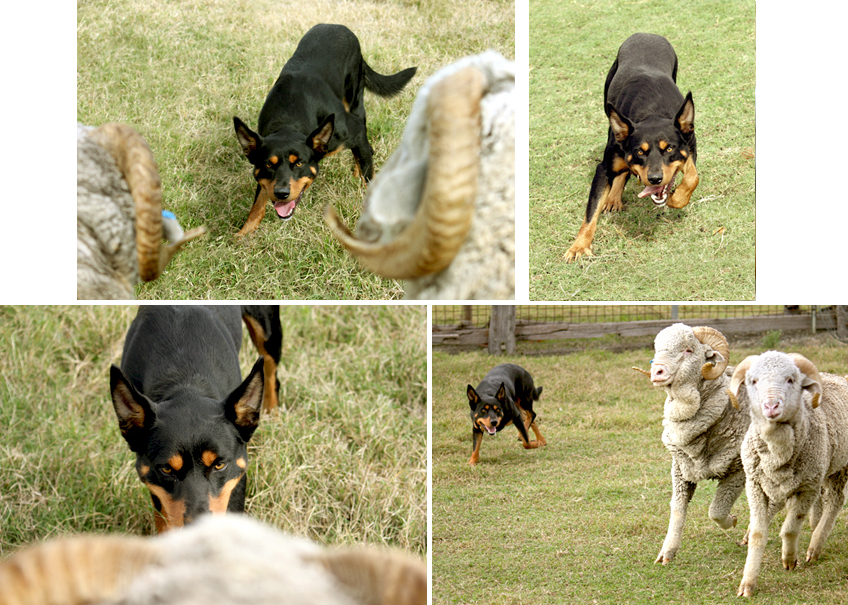 Akubra in a series of photos taken for the Australian Sheep and Wool Show Comp. for the 'Best Working Dog/Dog Working Photo'.
The top RH photo was the winner.