Karmala Brock WKC Reg. 60079 D.O.B. 21/10/13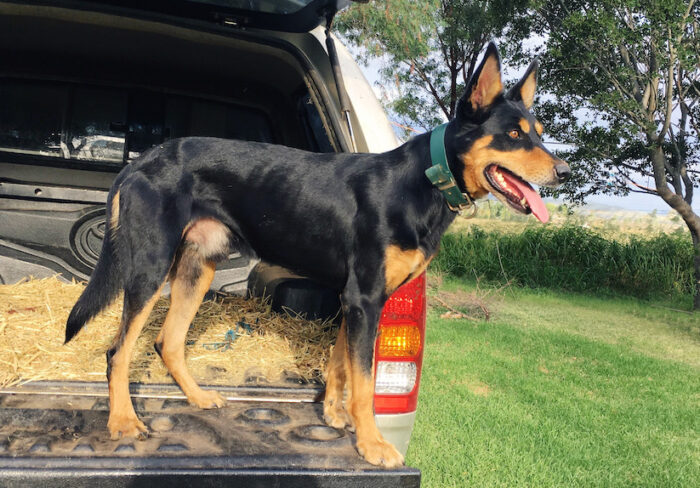 Brock was an accident, but a fortunate one! Brandy had been mated to Cagella Rock but it was obvious that she'd missed. About ten days after she was due I heard a squeak in the back of her kennel and discovered Brock! She'd whelped a week late and I'd been letting her out into the dog run each day!!As the pup grew up he became a mirror image of Akubra. A DNA test confirmed my suspicions. I had tried a double cross of Spice previously and less successfully.
At this stage, two years later, Brock is growing into probably the best young dog I'v bred. He has always been calm and sensible on stock, has a great work ethic, is a lovely type and is very good natured. Arthur Crumblin took him to start for a few weeks and found him hard to fault.
Brock did very little work as a youngster. I was reluctant to let him go away to work until I had some pups by him, having been caught out before…especially over summer when snakes are out. He is growing in confidence and recently impressed when he worked cattle for the first time. He was mated to Karmala Chanel(Whitehead's TrackerxKarmala Lily) and she had a good litter of 10( one of these pups is now in Ireland!) Brock was mated to Lily before going to John Clothier in July 2015 for experience on cattle. 
I took a daughter of Brock, Benalee Mocha(Brock x Karmala Lyndy) to Jeff Ritchie for some training in Jan. '16, and Jeff rated her and Karmala Wings as  the best kelpies he'd seen in 15 years!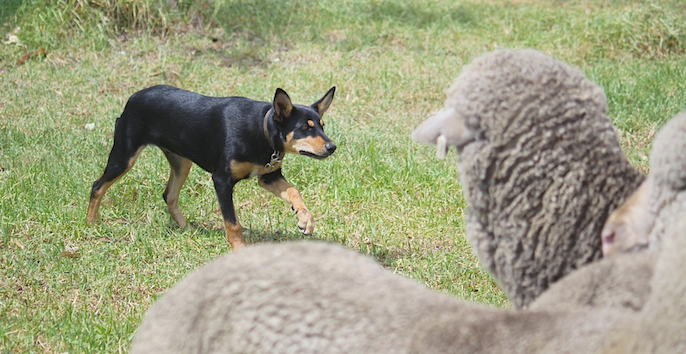 Karmala Brock(K.Akubra x K.Brandy) has his sire's looks and his g'dam's lovely calm work. He has a hom.% of 12.5 to Spice. Here at 5mths.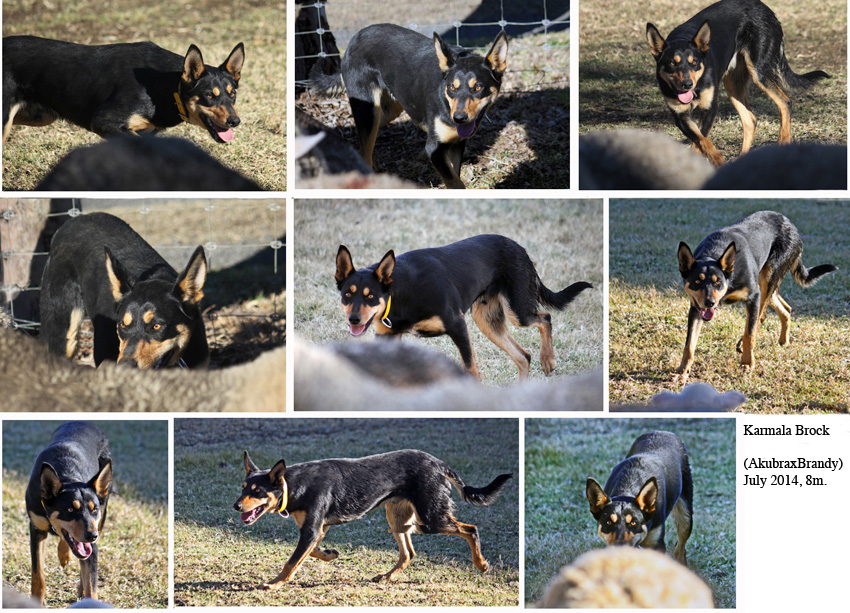 Oct. 2017 Brock has been away working for Ben Curver for a few months, here he's working with Karrawarra Jim(on fence)
2019 Like all my young dogs Brock gets pretty tired of life without any work. I let Ron Robb take him last year and Ronnie says I'll have to go and get him if I want him back! Brock has been a great asset during the ongoing drought with his sensible, steady work and refusal to leave a sheep behind.
Update March 2023. Brock has had more adventures since I wrote the above. Ron went to work up at Moranbah in 2019 and took Brock with him to work cattle there. He had a spell with Emma and Derek too, then went to Brooke Parker who was working on Moranbah, then out near St George. Em saw him working for Brooke out there and couldn't believe he was the same dog! Lots more strength and push for Brooke that he hadn't shown Em! This went some way to us understanding why a lot of his pups seem to be a click up in quality. 
Brock turns 10 this year. He's been mostly used as a 'corrective' sire and I decided it was about time he got a really good bitch. Livvy was mated to him and whelped a lovely litter of nine 14/2/2023. He left a litter of ten when mated to Gossip last year for Ron, so his fertility is still right up there.