Karmala Polo deceased
KARMALA POLO  WKC Reg. A3M 29238 DOB 1/10/2015   d.Feb.2017
Chopper x Peg  Pedigree. Click to  open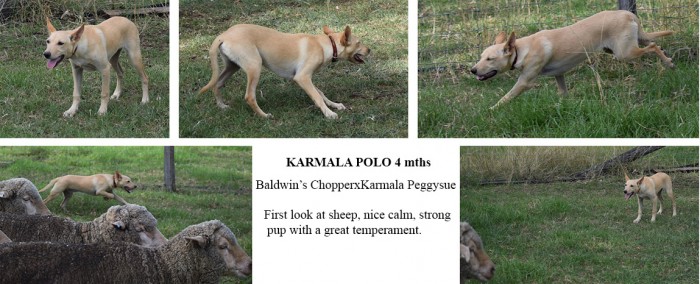 Polo impressed from an early age and is the nicest natured pup bred here to date, a very easy character to have anything to do with. There were two nice black and tan boys in his litter, but Polo stood out temperament-wise and I kept him rather against my better judgement as I'm not keen on breeding creams. I now have two litters by him and not one cream pup. While agreeing that there's no such thing as a bad colour(if it's a good dog!) I've seen creams that aren't quite strong enough leading pretty miserable lives, with stock continually coming onto them. And of course there's another valid prejudice in Queensland against them, they look like dingoes and are liable to get shot more easily.
I'm always a bit sceptical when breeders describe their dogs as "compliant", but Polo qualifies for the description!
Polo went to Arthur Crumblin for a few weeks and Arthur loved him. He's a friendlier dog than Wills, who had been number one favourite to that point! I must say I was most impressed when I went over to collect him and Arthur showed me how he was going(vid. below); first of my pups he's trained that he took out without his trusty bit of poly pipe, and the first one he felt happy to do some driving with out in the paddock. At that age most are too keen to head. I feel I have plenty of heading ability in my bitches, too much, maybe, in a few, and that there's a place for Polo here as a sire.
Sadly Polo died early 2017. When he came back from Leyburn he immediately started telling the other dogs he was boss, just like his mum Peg did. He became quite aggressive towards Wills and was killed in a scrap in the run. Bella the Maremma was involved. He was unlucky to have been bitten in the wrong spot, I think, as he didn't seem to have a mark on him when I found him. First and last time that's happened here.
I'm very glad I mated him early and have 2 nice bitch pups to go on with, Bimber(xFizz) and Nessie(xMocha). Ness was later sold as she didn't cope well with humidity.