Karmala Wills  WKC Reg. A3M29204    DOB 12/8/2015
KARMALA WILLS    
Larkings' Wilson x Karmala Brandy
Wills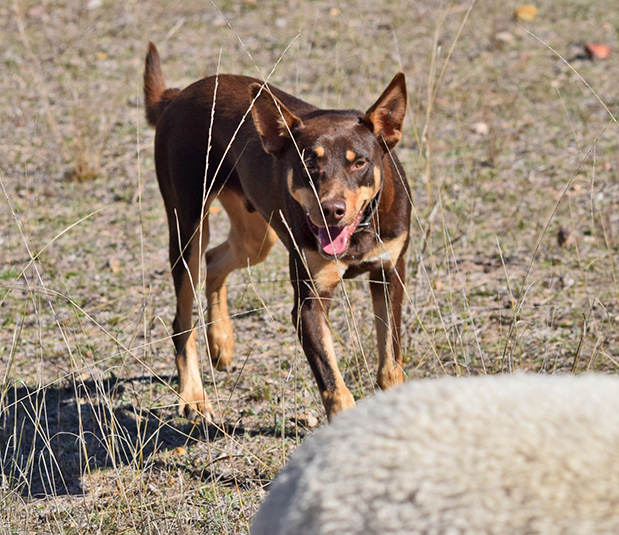 Wills is probably the best dog I've bred to date and is shaping up to be one of the most influential. He has tremendous natural ability and innate stock sense, as can be seen in these videos of him working with Arthur Crumblin. Arthur rates him right up there with the best Kelpies he's worked with over the last fifty years or so. Bred from an outcross mating of two dogs of very similar working styles. Wills and his half sister Wings(WilsonxPeggysue) both drop into a lovely relaxed trot when working, a great energy saver and an indication of a cool head….a trait they've inherited from their sire. The only negative I've found when breeding with Wills are the white markings on some pups. After some trial and error it's pretty clear that this happens when Glenville Prince and Glenville Swannee lead the Homozygosity table, so easy to avoid if I remember to check up! They both go back to Shanahan's Loo through Karrawarra Sergeant and because she was such a great casting bitch Tony Parsons kept going back to her line. This Suffolk ram had arrived the day before and gave Wills something to think about. Arthur remarked on how he stretches his head and shoulders up to look taller when the ram confronts him…it works! The day before an old X bred ewe had bashed Wills against a tree, but he ignored her and didn't take his eyes off the mob…
---
I'm very reluctant to let dogs go out working in summer so have kept Wills here and mated him to Quiz and Win as insurance(late 2016). Quiz reared one pup, Mundine, who's shaping up to be one to watch. Win missed, but Heli has a nice litter of 5 by Wills(b.4/17). In May 2017 I sent Wills up to Emma and Derek Zeimer for some cattle work, also to mate Fizz and Gemma. These pups should be very interesting. Wills has adapted quickly to cattle work and is impressing with his ability.
---
Although totally absorbed by sheep and work after he 'switched on', Wills has matured into a friendly, loyal dog and good mate. He has an amazingly good temperament, allowing little Frank(8mths) to do what he likes with him.
---
UPDATE 2019
 Wills is at present down in SA with Kevin Noble who had been asking me about selling him a bitch for years. I finally realised that he has a number of good bitches and really needed an outcross sire. The two litters he has now should keep him happy for a few years! Hopefully Wills will come home to mate Gemma for the last time. He's a dog who needs to work, and will probably go out again next year. I know Charles Williams is keen to see how he copes on big mobs and huge acres up at Moranbah. I have Whitney, Wiggle, Glamour and Perks(who really belongs to John Clothier!), four nice bitches by Wills. The cross to Landy seems to be very successful. Jim Morris mated Yarrabindi Bella to Wills and is very happy with the pups, he's keeping a bitch. For a dog who is only 4 years old, Wills is having quite an influence in the Kelpie world. He has an enormous cast.
---
UPDATE 2023: Wills nearly died after working at Riverside. We thought he'd hurt his back and I sent him to a specialist physio near Brisbane, wasn't impressed, had second thoughts and had him xrayed. The vet couldn't believe what he found and said he should have been dead! Both lungs were full of gunk. We had a chat and as it was Friday and all the specialist vets were off for the weekend decided to put him on two very strong ABs. I'd asked Mary from All Animal Transport if she'd look after Wills while he was going to the physio as it was too far for me to transport him for treatments. It was largely due to her TLC that he survived; he was a very sick boy. Mary even bought chicken breasts for him to tempt him to eat. Well the vet was amazed that he came good.
---
Next step, I asked Marina about future treatment and put him on McDowell's Herbal  Infecta Clear for 12 weeks in the hope that if a grass seed was involved it would become 'sealed' by the natural  action of the body's immune system. It takes 12 weeks for the body's blood supply to be totally replaced by a fresh supply.
---
These days Wills is managed carefully by Em. She keeps his weight down  to make work a bit easier and is careful he doesn't get too hot, but I notice he's often taken when cattle are very hard to find and a big cast needed! The mating of Wills to Midnight has produced some exceptional workers; Mina is the best bitch so far, and Creed from a later litter  looks promising. McKenzie is also a good young bitch.
---
Livvy is a g'daughter and Wiggle is proving a very good brood bitch. The pup Kevin Noble sent up, Koonamara Nakara, is a lovely bitch.
---
Wills has had a huge and ongoing influence in the stud. His son from Fizz (Gibson) is just beautiful. We will start mating him this year, 2023. His first litter will be from Elwanvale Sunny.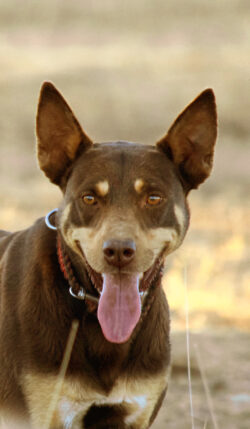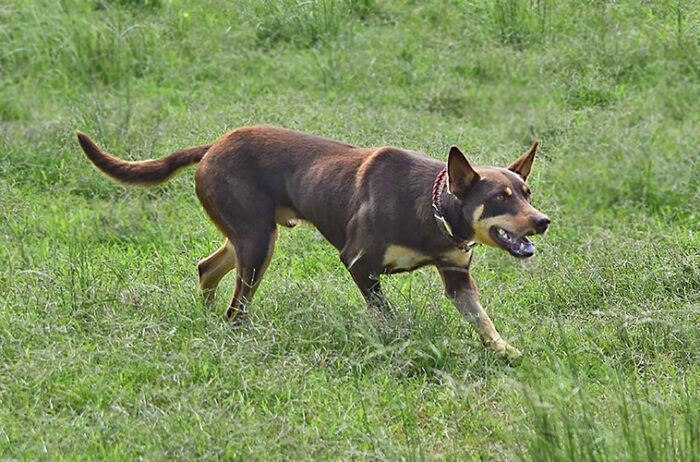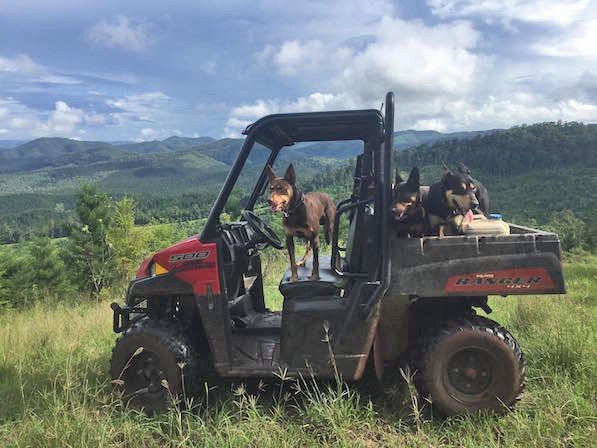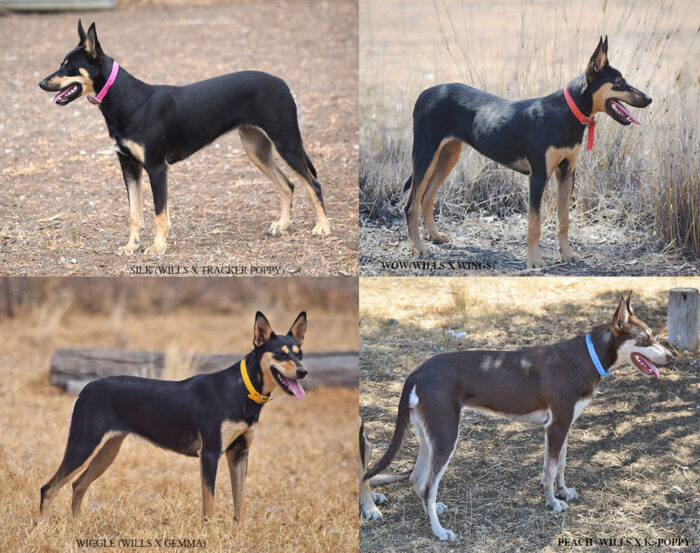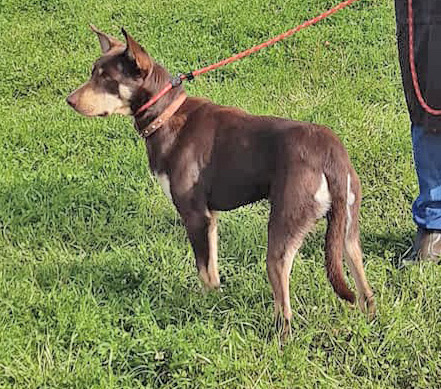 Bourne (Wills xK.Cherry) won an ISDS trial in Sth Africa before he was 18mths.