Larkings' Wilson WKC Reg. S3M 4816 deceased
Scanlon's Dom x Baldwin's Polly
Red/tan dog born in 2004
Wilson is a tough, high quality, big casting dog who has done a power of work on sheep and cattle usually working in conjunction with his 'Uncle' Chopper. They gave Mat Larkings an excellent team for many years, the wider cover of Wilson complementing Chopper's more practical approach.
Wilson is by the legendary Scanlon's Dom. I used a son of his, Riana Nap over Delta many years ago. I sold a pup to Phil Roche who named him Pup and sent me this report, below…… it's how I imagined Dom worked from descriptions given me by David Hart. David said Dom was a very clever dog who showed eye on a few and worked with a lot of common sense. Nap worked in a similar way.
Yesterday we moved a big mob of weaners, straight off the board, back to their paddock thru 3 other paddocks with sheep in them. And it was foggy, so a bit tricky. The front of the mob were mad and just kept heading, the back of the mob were crook and couldn't keep up. So 2 of us on bikes worked either side of the front of the mob and just steered them in the right direction, and cleared a path thru foreign sheep. The old Pup worked at the back, on his own, in the fog. When I could see him he would be 50 or 60 meters off the sheep just watching, and if one slowed he would move up and tickle it along. We only left one sheep behind (out of 900) and that was my decision, at the first gate we went thru. And he is only just over 2 years old, a real credit to you Jan, and it would be a tragedy if his specific bloodline isn't continued on.
Phil will be thrilled to hear I've got pups by Wilson.
Wilson's dam Polly was bred by Robert Baldwin(Frank Scanlon's grandson) and was a litter sister to a very good dog called Timmy who built quite a reputation for himself in the district. 
Chopper and Polly are both by Scanlon's Ben out of Baldwin's Maggie, a daughter of Scanlon's RexII. Maggie's dam, Fitzpatrick's Bea, was out of Ritchie's Flirt whose litter sister Coin won 10 Open trials and was a legendary mustering bitch.
Frank Scanlon is an iconic figure in the Kelpie world and consumate stockman; his dogs became well known throughout the Quirindi area and are still spoken of with admiration. The excellent results I am getting from using Wilson and Chopper are no doubt due to his uncompromising attitude to breeding good kelpies; any pup that wasn't up to scratch didn't make it as a breeder, and he had very high standards. I have never introduced a new sire before this, who didn't leave a few un-needed traits!
Mat Larkings was good enough to let me take Wilson and Chopper in 2015 so they could be given the opportunity to pass on their valuable genetic legacy; all kelpie men who have seen them express a wish to mate a bitch to them.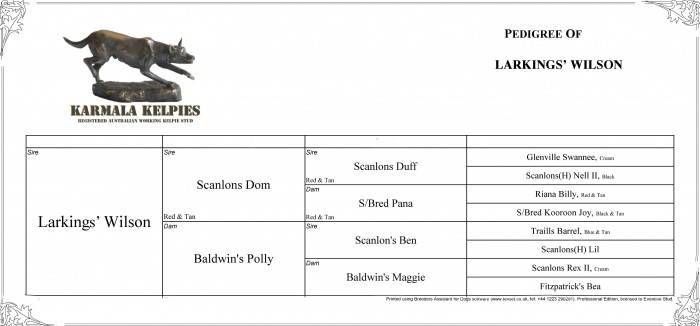 Two very promising bitches by Wilson: Winnie, left, ex K.Brandy and Wings ex Peggysue.
Here is a vid of a  WilsonXBrandy pup Wills. He has also inherited his mother's smarts at opening kennel doors!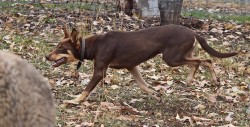 Karmala Wills, 7 mths
https://youtu.be/xhvK_wXqMzQ