Riana Cash II deceased
Sire: Riana Banker
Dam: Riana Spin
Riana Cash II was a very classy dog belonging to Marina Angel Smith who was near Manjimup in WA, but she and her husband Bob moved to Queensland in 2015. Cash worked her Dorpers and cattle with calm strength, a responsive, obedient dog. This is how she described Cash:
"My best worker here is Riana Cash II (Banker x Spin) He's a real character, is as loyal as they come, and quite calm, he is so easy to handle and learns so fast that now as a two year old there's very little he cannot do."
Karmala Lyddy whelped five pups to Cash in WA and they are now working well.
Karmala Lara(Tracker GibbsxKarmala Lily) reared a nice litter to Cash in 2013 and their owners are very happy with them. I am fortunate to have a bitch from her second litter to Cash, Jessarene Cara, who is at Texas with Marina working goats and cattle.

Jessarene Cara as a young bitch and after rearing a litter to Beez in Aug.'15. Vids of Cara on Youtube.
Karmala Brandy had a litter of five bitch pups to Cash in 2015 and Tash has been retained. She is due to whelp to Karmala Skip(Motley's RussellxKarmala Remy) Sept.'17. 
Cash can be evaluated better on the youtube videos Marina has posted:      
 https://youtu.be/zRYtr5WNL00        https://youtu.be/0kNI_brljHg
Sadly Cash died in August 2017. It's hoped Karmala Landy will eventually be able to replace his clever work, Marina has high hopes.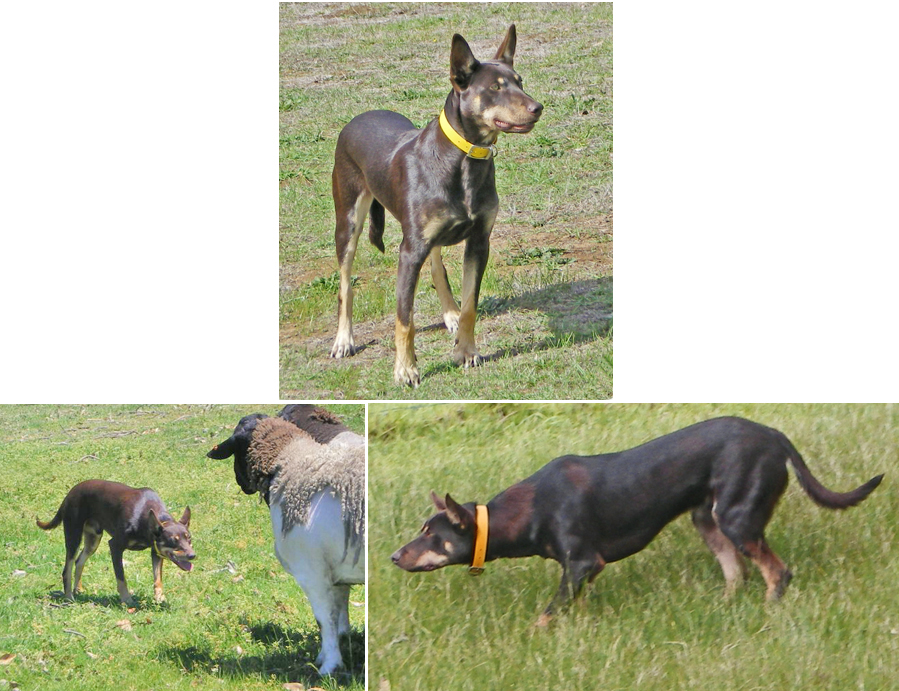 Riana Cash II.