Riana Glide deceased
Driftwood Clyde X Riana Quinn   Deceased
Glide is a versatile dog who worked cattle (and previously deer) for his owner David Hart, 'Oakwood', Gympie, who described him in 2006:
'Glide has a clever natural common sense cast, a calm strong presence on stock and true heading ability. He can vary his work rate to easily lift stock, and then gently guide them.
Glide has an effective search in wild country and assists thoughtfully in the yards. Glide's temperament is as good as they come – he is a real mate in the camp. He is breeding on well with both linebred and outcross bitches.'
Glide is proving himself a sire of useful, versatile dogs. David is very pleased with a son of Glide's, Tracker The Chief, who has proved himself a good sire and an excellent dog mustering and working cattle.
Glide's litter to Karra. Gift in 2007 was outstanding, and the mating was repeated in 2008 with more very nice pups including K. Glen, K.Win, K.Tilly, K.Gem and K.Gleam. K.Lily was the only pup resulting from the next mating. Gift had been injured weaner breaking and her final litter to Glide was delivered by CS; Gemma, K.Gift and Glow survived.
Tilly, Lily and Gemma have been retained in the stud and Glen is the sire of Peggysue and Lyndy. In 2016 another GlidexGift bitch, Karmala Win, returned home in pup to Karmala Clyde. She had been working for Brad Cavanagh.
Glide died in 2016 but his name will be seen in my Karmala pedigrees for many years to come.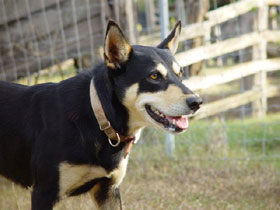 Riana Glide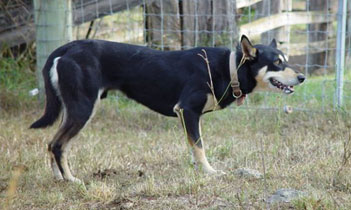 Riana Glide

Riana Glide shows power without the need to bite.