April 2018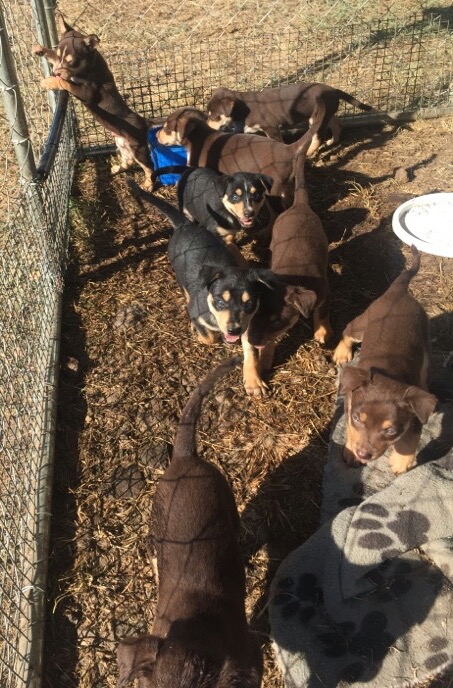 Karmala Neon x Karmala Gin Fizz pups
Karmala Brock x Karmala Bimber pups
A bit of extra news for April: The Fizz, Bimber and Poppy(Tracker the Chief x Tracker Clancy) litter are growing quickly up near Calliope, NQ. It might suit some of you to get a pup before they come down to me for sale. These pups will be in excellent condition as Em's mum Bev is part owner of Calliope Meats!! Photos and details on Puppies for Sale page.
I wonder how often Easter Sunday and April Fools' Day coincide? I have a lot of updates for my website so am starting with this post. Still no rain. It's only a small area around me that's missed out, Toowoomba's quite green and so is Allora, 20 k's south. The dry weather has been nice for the new pups, I went to Victoria for a few days and Vie and Gemma whelped while I was away. Fifteen new babies and FOUR girls. If anyone has a secret for getting more females please tell me!
 Gemma pups, all neat and tidy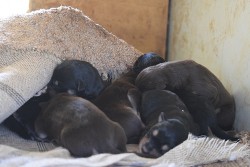 Vie pups…all wrapped up
I am so lucky to have some reliable friends who managed the dogs beautifully in my absence. My son and god daughter both turned fifty(born only a few hours apart either side of midnight on March 26th) so I thought I should be there to help them celebrate; it was lovely to catch up with family and stay with my oldest friend in town for a couple of nights. The weather at Buninyong was at its usual worst, howling gales and only 7'C on Monday morning, so glad I threw in a woollen vest just in case.
Ely Wallis, previously mentioned, works at Museum Victoria and travels widely all over the world lecturing in her special field. Anyone interested can Google her! A very talented young lady. I really enjoyed the hours I spent at the Museum looking at the Indigenous exhibition which included Bush Mechanics, one of my favourite TV shows. I left my phone on the charger in Vic. so some more photos when I get it back!
Better start talking about dogs! The Mocha and Remy pups have started  going to their new homes and the mums are going back onto a get-fit diet! These two bitches and Tash are compulsive workers and are inclined to annoy the others, so I've been giving them a run together which is working beautifully. They can't decide which one to work and stand eyeing each other in an effort to get their breath back, a three point stand off.
The SpyxRemy pups remaining. Watch, the pup on the right, is going to Coonamble to Matt McKenzie who bought Flood nearly 7 years ago, aptly named for the Toowoomba floods.Key went to Ron Robb yesterday, here with Brock, and little Quinn(BobbyxQuiz), Remy's foster girl is on the RHS.
Ron has taken two for some work besides Brock, K.Mundine(Wills x Quiz) and Ness. It will do Mundy the world of good to get some miles around big mobs. He's grown into a powerful big boy and looks promising. He was with John Clothier for a few months on cattle, and then had a few weeks with Andrew Martin
UPDATE: Ron was a bit worried about Mundy's rather Gung Ho approach to sheep but loves his work on cattle. Brock has lost quite a few kilos, is working well, and he likes Nessie a lot but she has sore feet!
He rang to see if I had any more dogs wanting work, so must be happy.
Prior to going away I finally got a hot wire around the big dog run and it works really well. Much safer to stop the climbers, especially when I'm not here to retrieve them from rounding up my weaners. I spent Good Friday puppy proofing another yard for the BobbyxCara pups which I picked up from Marina yesterday. They were tattooed and had their toenails clipped today. As usual with any pup Marina has, they look wonderfully healthy. In fact all my dogs looked a bit fatter and shinier when I got home, maybe adding the eggs to their mince helped there. By Tuesday night there will only be 3 left.
Cherry and Delta are still feeding their pups but are noticeably drying off. I like to get the bitch out of the pup yard for the day when they get to about 4 weeks. The pups are eating a lot of chicken mince mixed with DE for worming, an oil mix, and a Vit./min. supplement Big Dog Boost…plus kefir and eggs when available. From 6 weeks they also get chopped up chicken frames and lamb flaps.
I wondered why the black/tan pup was a bit smaller….centre pic! Cherry pups
The LandyxDelta(Charm) pups.
It was lovely to see Emma and Derek Zeimer on Good Friday with Frank. Grant Hutchings wanted to mate his good NeonxGillette bitch Honey to Hardy, and we all had a meal at Rudd's Pub that evening. Great to get to talk dogs with like minded people! Frank is amazing with pups, he never gets scratched and when I looked at some photos I could see why. Body language is everything.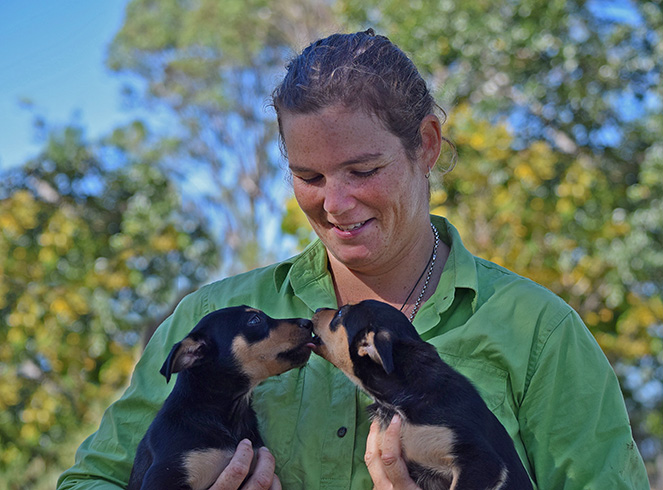 Emma Zeimer with Delta pups
Early last month I managed to catch up with Evonne and Sean Barrett near Woolooga. It's been ages since I last saw their dogs and was really impressed by their very nice team. Good to see their two very classy pure Karrawarras, Thunder and Matilda, and the progeny they've left. I love old Hammer, who has done a heap of work with Jack Briscoe. My old bitch Spice had a common  g.grandsire, Capree Sledge.
Blackdog Matilda                                    Blackdog Thunder                                    Blackdog Hammer
Whitney whelped to Landy on April 7th, 3F 3M, a balance at last. All black/tan except for a blue/tan dog.
She has been a good mum for a first timer.