APRIL 2019
Wonderful rain over the second half of March, I finished up with about 180 mls and a full dam. It will be a battle to get the sheep through winter but nowhere near as bad as it would have been without the rain. Both my hay suppliers have had good rain, so hopefully will be able to sell me some. The late rain last autumn came at almost the same time but the paddocks were in better shape and growth was quicker.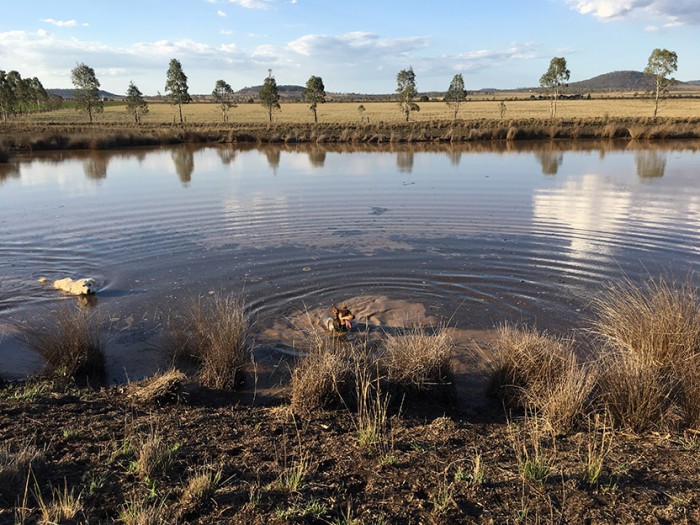 Wills and Bella enjoying a swim while mustering the ewes for crutching.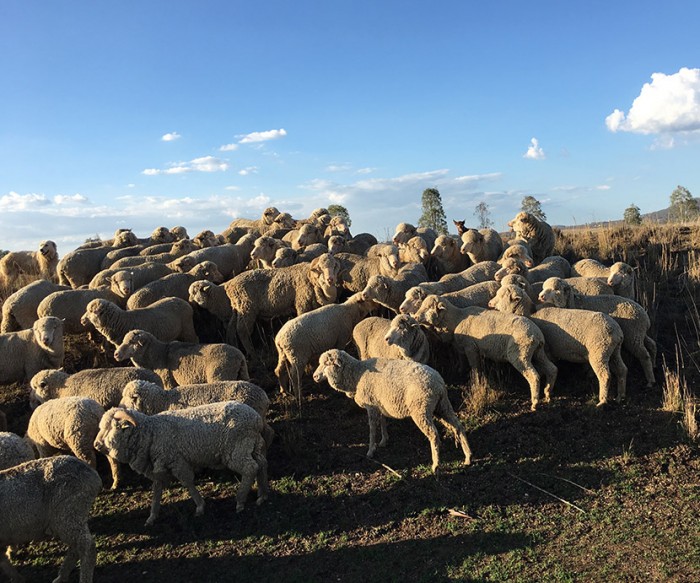 I took Vonny(Hardy x Vie) down to Trangie in early March to mate to Driftwood Boondy, a young dog being worked by Lynnton Martin and owned and bred by Clayton Hegarty. I was keen to get another mating back to that old Riana blood that has served me so well in the past. Also along for the ride were Brock, Bimber and Heli going out to Ron Robb for a bit of work, and Wills…because Ron wanted to see him! I thought Lynnton would too. Lynnton described Boondy as a very handy station dog who can think a bit and has eye on a few. Pics below.
It was a hot trip and the country was looking very dry except for the Macquarie flats irrigation.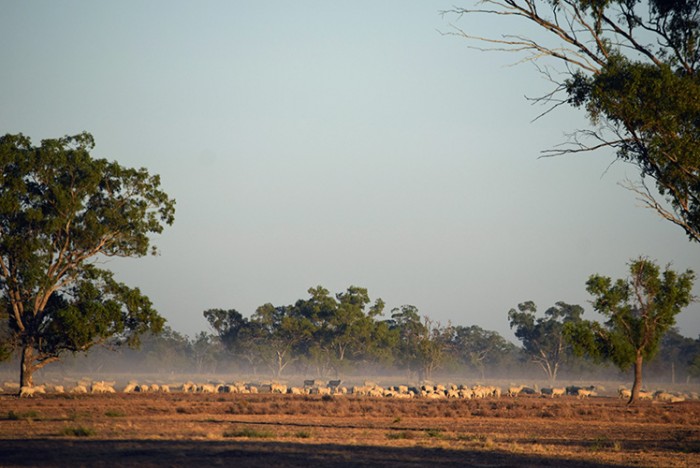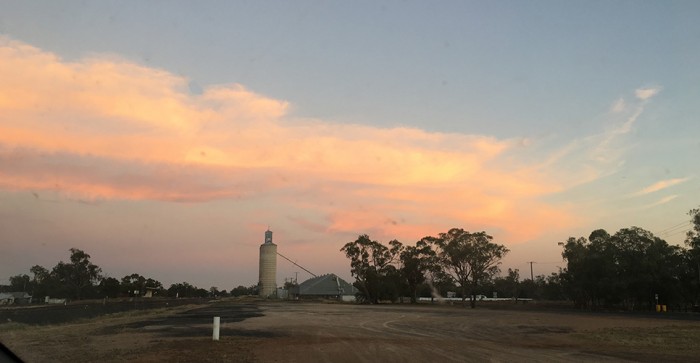 Trangie at dawn.
Tash appeared to be coming on heat when I got home and I arranged to send her down to a nice dog of Chris Egan's Anntre Ray. She didn't keep progressing but Chris kindly said to send her anyway. Ray's dam had visited Wills and I was impressed enough to ask for a pup in lieu of a fee, her name is Bamba Ginny owned by Annette and Trevor Paige. Coincidentally, I had seen another dog by the same sire as Ray owned by Jim Morris( a big cream dog called Turbo) and was struck by the seemingly strong influence of Hull's Mick, their sire. Both Turbo and Ray are outstanding workers. Many pups by Mick are straight colours, cream, red, blue and black which has obviously come through Leatham's Nel, but why she is still influencing the colours so strongly is a mystery to me as  Turbo is doing exactly the same thing another generation on. Karmala Brigit was mated to Turbo and produced reds, blacks and blues. Corey Leatham bred Nel, it was good to talk to Bill Scott about his old neighbour! The best thing about hunting back into Kelpie history is the little personal bits you dig up. Chris Leatham, who has had pups from me, is a nephew of Corey and said he always had big dogs and got a number from Frank Scanlon.
Turbo(Riverdale Bullet)'s dam is R.Tess (Glendon FrankxChapman's Lizzie). Frank is by  Arthur Crumblin's great old dog Riana Ace.  Dick Chapman breeds good cattle dogs and trials. Lizzie is by Futura Spud who is Mick's sire….which in some strange way probably explains the colour conundrum!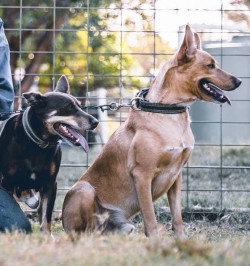 Karmala Brigit and Riverdale Turbo.
Poppy had two pups to Glendon Max, a bitch and a dog, lovely pups (above). Next to whelp is Whitney who looks as though she'll have a few more than two to Landy.
Wings is in pup to Wills again. Two repeat matings there.
True(Landy x Riana Trixie) has 5 pups to Wills. 2 black/tan dogs, 2 black/tan bitches and a red/tan bitch.
Whitney has also whelped, to Landy. 5 pups, disappointingly all boys! Her last litter to Landy were special.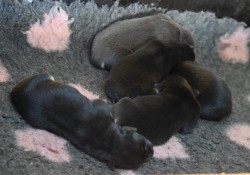 Remy should be coming on heat soon, also Gemma who is up north, and then there are some youngsters around a year old who should be starting to cycle.
Karmala Livvy, a young bitch from Whitney's last litter to Wills, has been down to Arthur Crumblin for some training. She is certainly a keeper, a lovely young bitch.
I recently bought back another Landy bitch, Karmala Classic(Summer) who is out of Jessarene Cara(Riana Cash II x Karmala Lara). Ben Kurver owned her and due to change of employment she became available and I'm keen to try Wills over another Landy bitch. Summer's a big strong bitch and did a great job rearing a large litter for Ben last year.
She's just been on heat so will likely go out for some sheep work for a few months.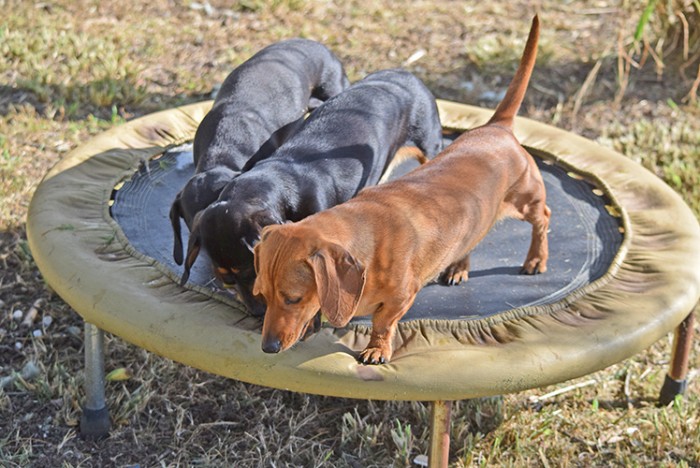 Meanwhile  the 'alternative stud' news is exciting, both Maggie and Daisy are in pup to Siggy. Maggie(tan) is going down to my family near Ballarat to whelp.
I went for a drive after collecting Livvy and saw this very old entrance along the Condamine River… built to last!