April 2020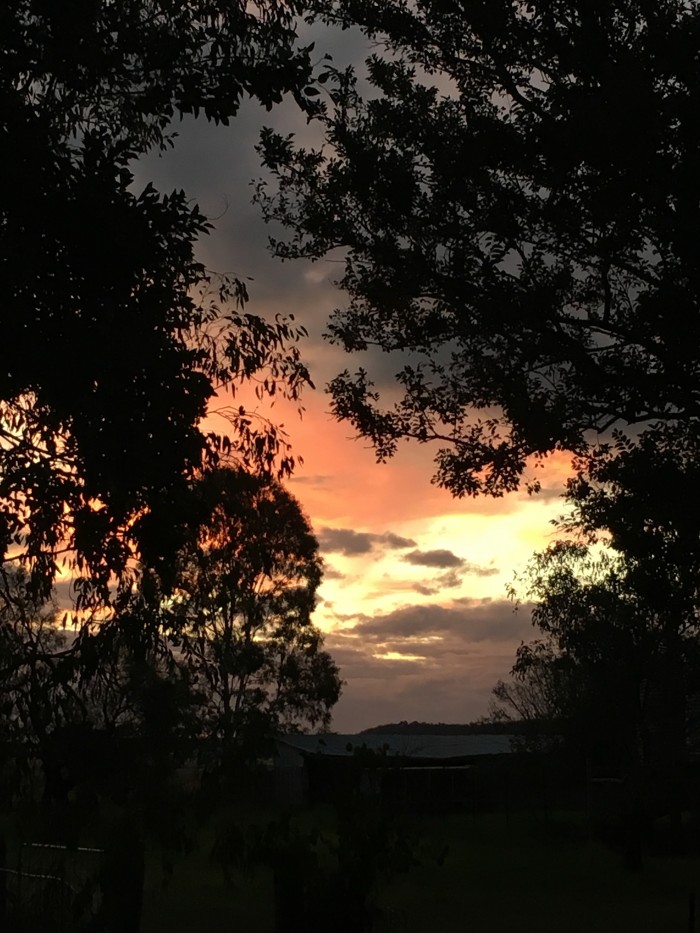 A couple of lovely autumn sunsets.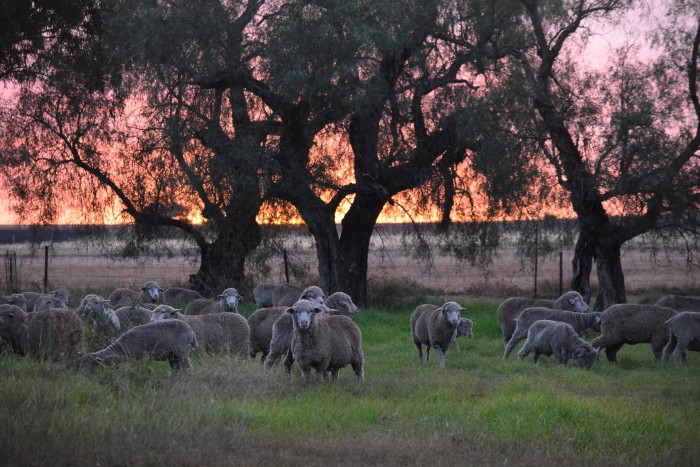 I got a shock when I just went to update my April blog and it wasn't there! I was quite sure I did it a couple of weeks ago…how time flies when we're having fun!
Of course nothing much has changed here, as with so many of you who live remotely or on acreage. A bit of a shock when you go to town, although Toowoomba has remained quite busy until Easter, at least, with food stores' car parks scaringly full. I've been eating organically for a few years now so not much difference except for a few sticky beaks poking around the shop. My dog meat is all going out to the cooler, with any extras for me, so I don't go into the shop and I pay online. I miss the weekly chats with the friendly Angliss staff, hopefully it will revert soon.
Daily routine is the same, it's good to have animals to keep us grounded. Not as many pups as usual because I decided the demand would be down this year due to drought and destocking; that was spot on, but the demand for pups for pets has been huge. I'm very glad I made the decision I did because it would have been very tempting to sell more than usual to these enthusiastic would-be kelpie owners! While well aware that many would have nice lives, there's a huge risk that some pups would create havoc if treated like a nice fluffy little Cavoodle or Labrador, etc. I received a very abusive email a couple of years ago from a Labrador breeder who accused me of selling her son "a terrible dog that was nothing like described and rounded up their chooks, cows and sheep non stop"! After explaining that it wasn't a good idea to treat a keen Working Kelpie like a fat rolly Lab, and suggesting that he contact Tully Williams(not too far away, luckily), I didn't hear from her again, but I haven't forgotten. I have a compliance list before considering a pet home:
1. they have owned a kelpie before and are keen to feed a raw diet
2. are runners, bike riders, ride horses or live near the beach
3. don't live near people who have stock grazing close by
4. certainly don't think 2 walks a day is exercise, I say they need 10km!
5. if possible, they should commit to giving the pup the opportunity to do what it was bred to do, at least a few times. The joy is always mutual.
These little Harvey x Bimber pups all have working homes!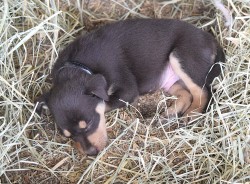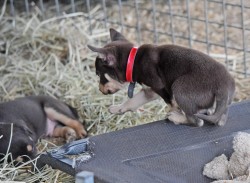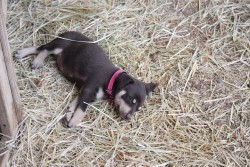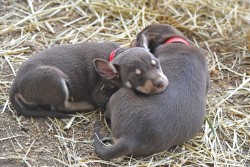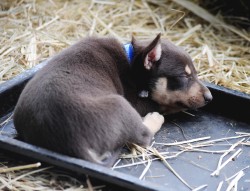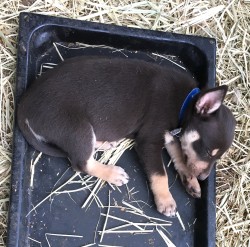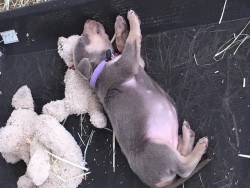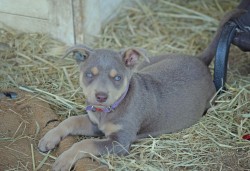 Blush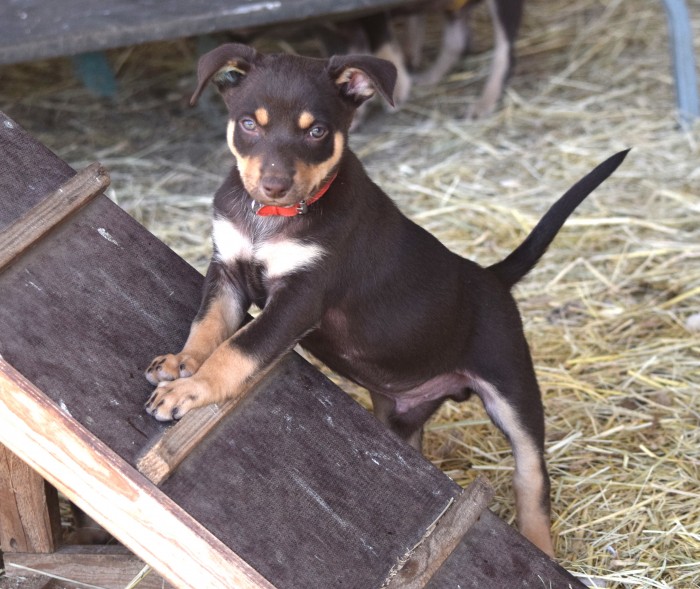 Butch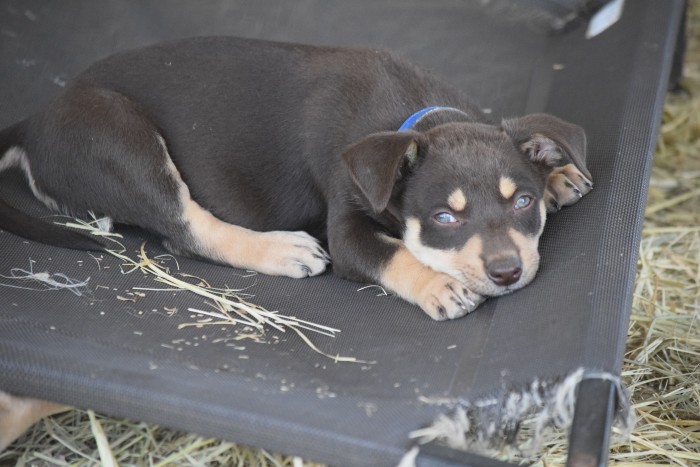 Bligh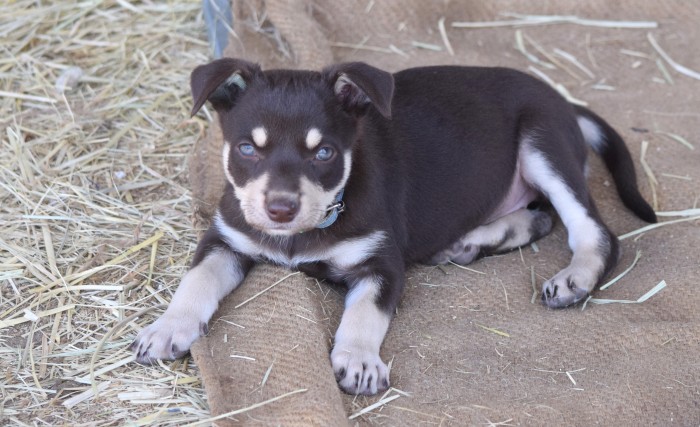 Beth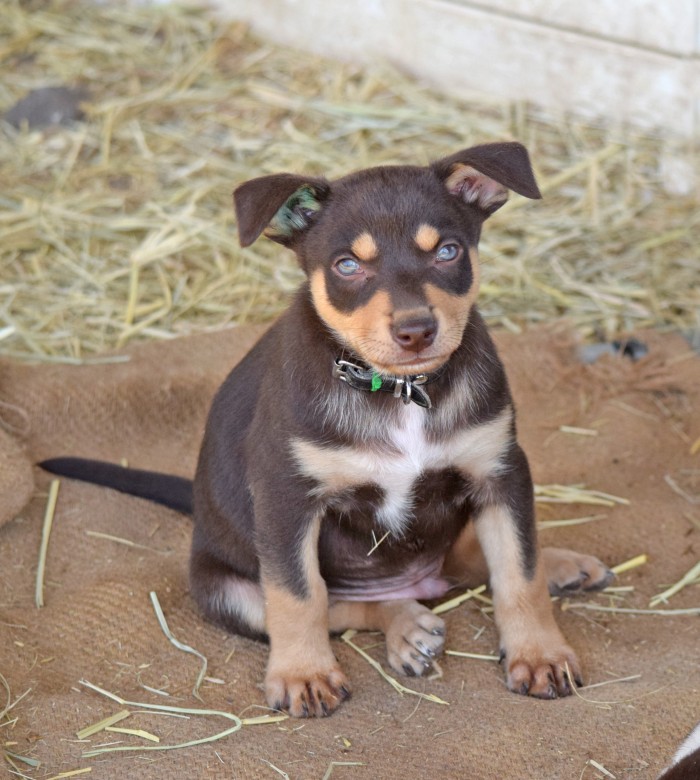 Bosch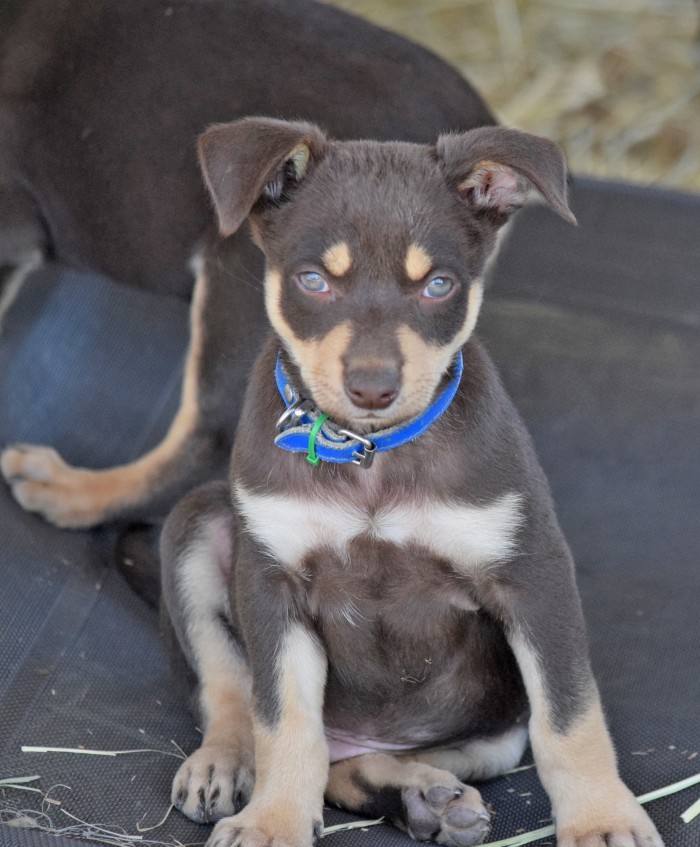 Bligh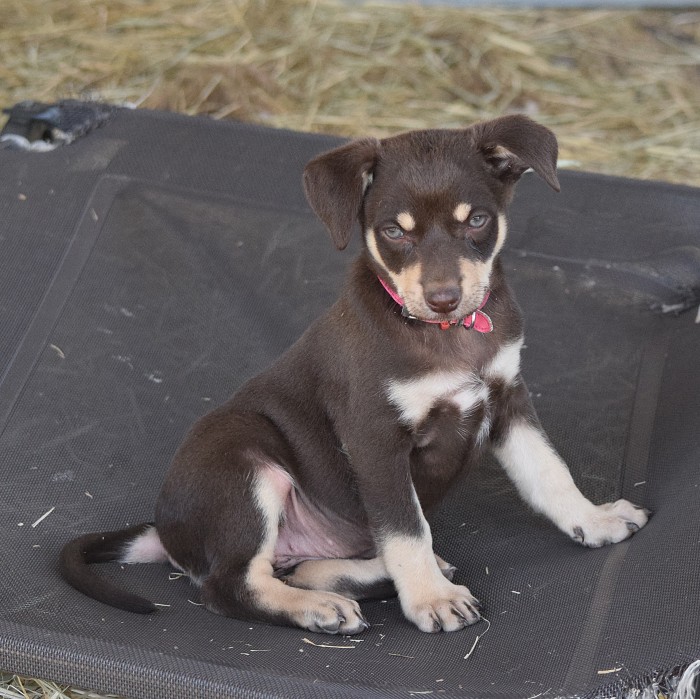 Beccah
 Burgh
I only have a couple of Turbo pups for sale at present and they're under offer.
My next litter is Brock x Poppy and not due until June 10. Gemma has three little fatties and as they are possibly her last ones I'm in no hurry to sell one.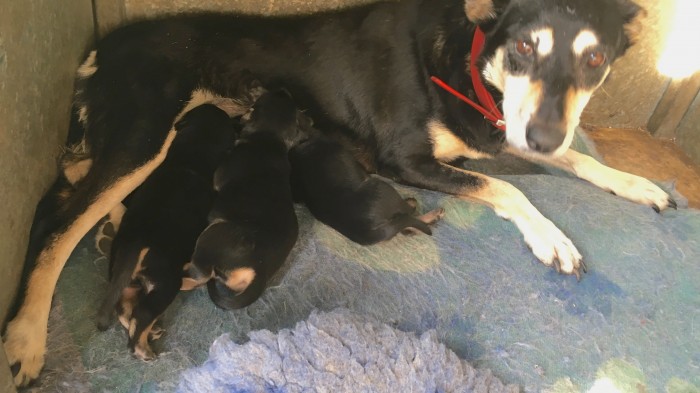 Some exciting news! John Clothier recently collected his three bitches which had been staying with me since last August. A short time later I had a phone call from him, a bit surprised that one looked in pup! Oh dear! I'd been popping his WilsonxLily bitch in with Whip to stop the girls arguing, firmly believing there was no way he could do any damage on 3 legs. Wrong! Not damage, exactly….should have worded that better, they should be very handy workers!
I got my few remaining sheep in to tidy them  up last week. The nice Wills pup I got back from Kevin Noble had a look with Harvey and was impressive. She has a fair bit of eye and we got Brock to keep these sticky old girls moving for her this week.  Calm and stylish, I like her a lot. Turn the sound down….we were chatting and I put some music on instead.
I think that's about all for now. Keep safe and well! Here are a few shots of pups I've exported and a 'local' pair.
Two little cream pups from Karmala Pavlova in Massachusetts
2 little Karmalas in WA                          VisiQ and Tom in Austria                         Mei in Japan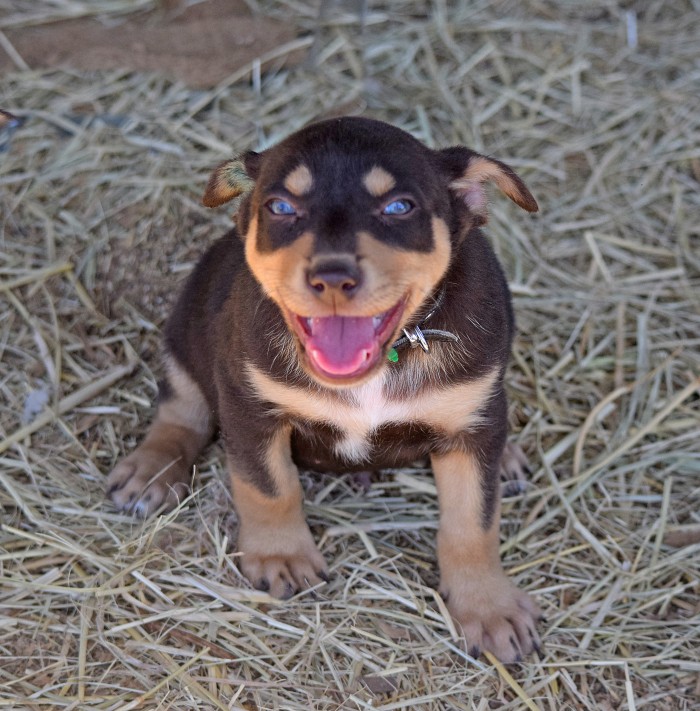 KEEP SMILING AND SAFE!
Here is an excellent summary of dog vaccination from Deb Maxwell, a very well regarded and experienced vet. Some COVID19 reading for you……she is replying to a query about the cheaper killed Parvac protection available online.
Deb Maxwell
The simple thing is to do the sums on the cost from your vet versus online killed vaccine and then look at what you are getting for that. The parvac killed vaccine (available online, since it is killed) should work fine, but will only provide up to a years immunity – killed vaccines are just not so good at developing immunity. On the other hand a live parvo vaccine – (available only through vet) should give a minimum of 3 years protection, and possibly a lifetime protection. I say should instead of will because: 1. No matter what you do, some animals are non-responders to vaccines. 2. You may not have taken care of the vaccine (e.g. poor transit or storage) and so it loses it potency or effect. 3. All animals are individuals, there is variation. However, research many years ago demonstrated that the C3 live vaccines – distemper, hepatitis and parvo, are very solid effective vaccines conferring very strong and long lived immunity and they found that the dogs in the trials had a minimum of 7 years effectiveness and some it lasted their lifetime. (they were progressively titre tested (check for antibodies) over years and I believe some were subject to real disease challenge). As that was only one study and the companies won't do studies that long, so won't guarantee their products for that long, the recommendation from American and Australian vet associations is for these vaccines to be given each 3 years. They also are NOT boosters in the sense of a 5 in 1 for sheep or cattle. 5 in 1s require 2 shots a month apart to establish effective antibody levels, and then annual to maintain them (except pulpy kidney should be given 3 monthly in high risk situations). Whereas the canine C3 works on one shot. The one at 3 years is not a booster per se.
Also the puppy shots are not boosters. Why are 2 or 3 given then as puppies? If you didn't vaccinate your puppy until after 16 weeks, it would only need one shot. Now again, conservative vet associations, because the research is a bit lacking, say, give one after 16 weeks, and then one at about 12 months and then each 3 years. So why the earlier ones?? Well if you only vacc at 16 weeks and pup is exposed before then it may become infected.
Firstly, if the mother is vaccinated she will confer immunity to the pups for a while, but this is considered to wear off between about 6 weeks and 16 weeks. Give a vaccine while the mother's passive immunity is in play and there's a good chance the vaccine won't "take". Now almost every pup would have no more passive immunity at 16 weeks, so give vaccine after and the vaccine works. But if the passive immunity runs out at 6 weeks pup not protected and pups of course are much more susceptible to diseases, especially parvo, from which it is a very very expensive exercise to save them if they can be saved. So in high parvo risk areas (e.g. where there has been an outbreak before on the property or a lot of cases locally) a parvo vaccine could be given as much as each two weeks until 16 weeks hoping to protect the pup fairly soon after the passive immunity wears off-whenever that happens to be for that pup (but still a bit of a risk if lots parvo exposure because once the vaccine "takes" it still may be up to 10 days for a protective level of immunity to develop) – that could mean up to 6 shots in that time (but likely parvo only not the C2 on all these). For where there is much less exposure/risk, the typical course is give three puppy shots about 6 weeks, say about 11 weeks and then at 16 weeks. Again pup may not be protected but the risk is lower. SO to make it clear – the initial puppy shots are given in case the maternal immunity is worn off and the pup needs protection, but since you can't count on the first vaccine working (due to maternal immunity then you just have to keep giving shots hoping eventually one takes and in the meantime the pup has not been exposed to disease).
So if you have a completely no risk environment you can avoid the puppy shots and wait till 16 weeks. But it's pretty hard to have such an environment. Parvo is worse than COVID-19! Aside from direct contact with infected dogs and then handling your dogs, parvo lasts in the environment for many months to years, it can be walked in from somewhere else on shoes.
The other benefit of the live vaccine when done through your vet in a normal consultation is the vets check for other problems, such as picking up things like heart murmurs etc., which generally are less common in working dogs compared to other breeds, but still do occur.