AUGUST 2019
A mid month update. Dear old Lily died yesterday in her sleep, a good way to go but far too soon. I'd been expecting she'd have a few more years camped on the back doormat, her favourite spot. A wonderful brood bitch, she'll be remembered in pedigrees for a long time.
Lil was a single pup, here with Gift; my grand daughters wanted to call her Lonely so I compromised….   helping David Hart demo at a stock school at Oakwood at 5 mths. A glimpse below of her lovely natural work.
Well! The puppy explosion happened last month as expected and there is a virtual smorgasbord of choice for anyone looking for a pup. There seems to be a craze for red/tan bitch pups. I have no idea why, when you could buy one of these little charmers!! I mate to produce superior workers, if I was trying to make money I'd mate red to red…. go figure! 
That said, I do have a few red/tan bitches. Mug shots of the 24 pups I have at home under Puppies for Sale.
The litters here are blooming, beautiful fat, happy little chappies all doing extra well. I don't think I've had so many pups before without a couple being a bit harder to get going, but every pup here is the picture of good health. I've been adding kefir to their mince and it seems to help them swap to solids very easily. I also made sure all the pregnant bitches got a small helping of pup mince for at least the month before whelping, and that may have helped too. I haven't lost one at birth either, as sometimes happens with older bitches. So let me introduce the litters! Pedigrees on 'Puppies for Sale' page.
First was Bimber, she had 5 bitches and 2 dogs to Karmala Skipper on June 24. Bim is a very stylish bitch with a lovely nature who has worked sheep and cattle; Skip is a very versatile dog working big mobs in station conditions, he is also a good strong dog on cattle. Two bitches have a little bit of white on the nose and will be cheaper. The sandy boy is going to Germany.
Skip's a bit camera shy so here's a video of him!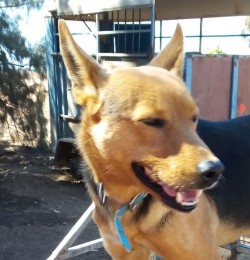 Second to whelp by a day was Wiggle, her first litter. Her pups are by Karmala Landy, and it's an outstanding litter, 2 dog pups, 3 bitches…very advanced for their age. Wiggle has done a great job as a first time mum!
She's a very correct bitch, Landy is a proven sire and versatile worker. Pups will work sheep or cattle.
I took these photos BELOW as she was giving the pups a lesson about NOT pinching her bone!
Wiggle's pups got out yesterday and staged a home invasion…HELP!! 
Tash whelped on June 30 to Anntre Ray and wrecked the ratio….5 dogs and 2 bitches! There are 2 black dog pups. This is an interesting mating; Tash is very stylish and intense, Ray is a sensible calm dog who has achieved a lot in his short life. He's an excellent mustering dog, works goats and cattle as well as backing sheep and winning a 3 sheep trial. His dam line should nick in nicely with Tash.
The last litter born here was to Gemma by Wills on July 7. She has 3 dogs and 3 bitch pups, it's the same mating that produced Wiggle and several other good pups that are working cattle. I have a couple of repeat orders and will be retaining a bitch pup. Here at EXACTLY 3 weeks and well started on mince, they're doing extra well.
Meanwhile Heli has whelped to Changi out at Nyngan. Ron kindly offered to rear this litter for me as I have the others here. The pups will come home at 6 weeks. Ron loves Heli's work and has already chosen a big red/tan dog pup that looks a lot like Changi(K.ChancexK.Brandy) who is one of his main mustering dogs. Changi's a very good dog on goats and loves tackling big billies! 2 red/tan girls and 2 black/tan dogs for sale.
Emma and Derek Zeimer have an interesting litter up at Mt Larcom by Augustcreek Marlin from Em's old favourite, Karmala Gin Fizz. 4 bitch pups, 2 dogs. Marlin is a good mustering dog by Futura ButchII from Sanbah Holly. Butch is by the well known Blackdog True Blue. Marlin's dam, Myallglen Flo is an exceptionally tough bitch with great stamina.
LAST BUT NOT LEAST!
After a very worrying time Cara got over a nasty infection and has a lovely litter to Landy, her third to him I think. Previous pups have been very good workers, a lot are working cattle. She has 6 bitch pups(none red/tan!) and a cream male. 
There's a lot of food for thought there so I'll leave you to it and go feed pups!