August 2021

Winter WAS pretty cold a week or so ago but we seem to have jumped August and arrived in September this week. I had a trip to Tenterfield to meet up with the Halsteds and return Wal, -5'C when I left and the radio reported a 'feel like' temp in Toowoomba that afternoon of -1'C! Last night I left the back door open again it was so warm. We put off shearing for a week and the old girls dodged a bullet there….it's been really good since Cameron Griffiths came last Wednesday.
As I start writing today the radio is telling everyone to stay home again; how lucky are we to be living on the land. No doubt country people will be the last to be offered Pfizer vaccinations the way things are going, but they are available if you go looking; some of my friends already have their first one. A word of warning! My son said he lost two hours after his first one…has no recollection at all! Only realised because he was in a meeting and read the transcript later which included a lot of things he said but had forgotten….hadn't heard that before!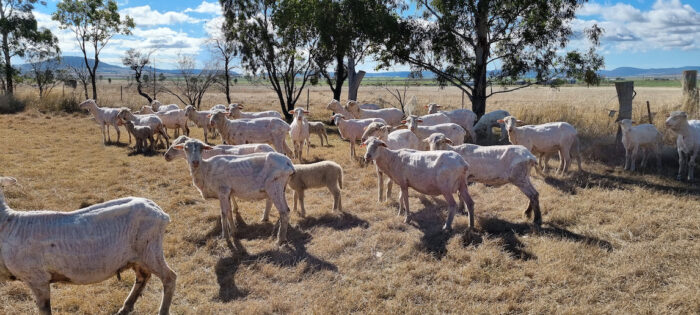 I met up with John and Jill at Grant Hutchings' near Tenterfield, they were there to collect two bitches who had been visiting for mating. Grant has three very good sires, Tracker Rock, Eventine Comet and Karmala Neon. I've been wanting a Rock pup for years but not brave enough to risk soft ears; Grant assured me that his litter from Scout's Dee looked OK, so I collected a nice dog pup since named Eventine Deek. For those of you wondering why: Robert de Costella/Olympic games and initials/letters of parents' names! Although I think Deek won his gold in a Commonwealth Games, not that many will remember.
I also collected two litter brothers destined to work up near Moranbah for Tim McKeogh and Cody Glendinning. Tim and Brooke Parker took them back after visiting to return Nitro. I asked Tim if he'd take Nitro earlier this year, he was looking for dogs for his team and she wasn't settling in here with my unruly pack! Brooke and Tim are working on Riverside, the Williams family's large property which is managed by Charles. It was really interesting to learn of some of his innovative introductions in the area of regenerative grazing systems which give superior pasture utilisation. Drones are being used to help mustering which cuts down on time and a lot of 'scrub bashing' in the buggies, saving wear and tear. The cattle respond well, they are first mustered onto water and so given relief.
Tim is a dedicated stockman and experienced dog handler, he's enjoying the challenges at Riverside and Brooke is also building a handy team of dogs. Nitro has been mated to Tim's very good young dog Pilbara Cash and came back here to whelp, just had a scan done and she missed! We watched some very nice work, the dogs enjoying some sheep for a change….although Tim did mention feeling a bit claustrophobic working Cash in such a confined area after the wide open spaces he's used to! Video of Cash working below photo.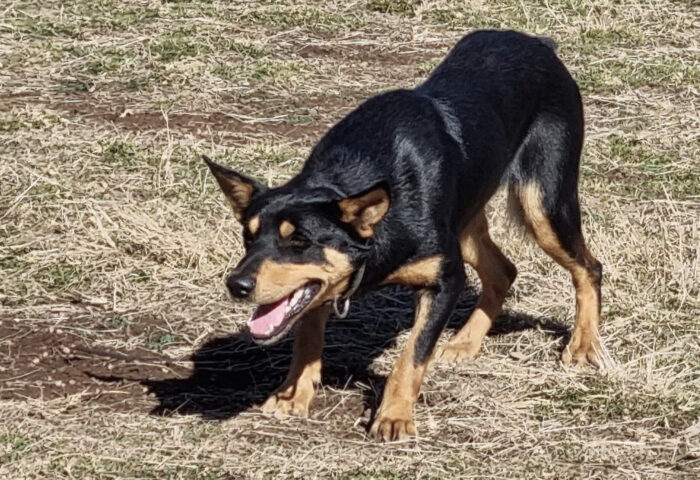 I bought Koonamara Nitro when Kevin Noble had to cut back his dog numbers late last year. She's by Karmala Wills out of Koonamara Layla(Elwanvale KidmanxBarru Fern). Fern is out of Karrawarra Lisa II, a grand daughter of Karmala Akubra. Nitro is a lovely type and light running, she's turned out a very nice bitch.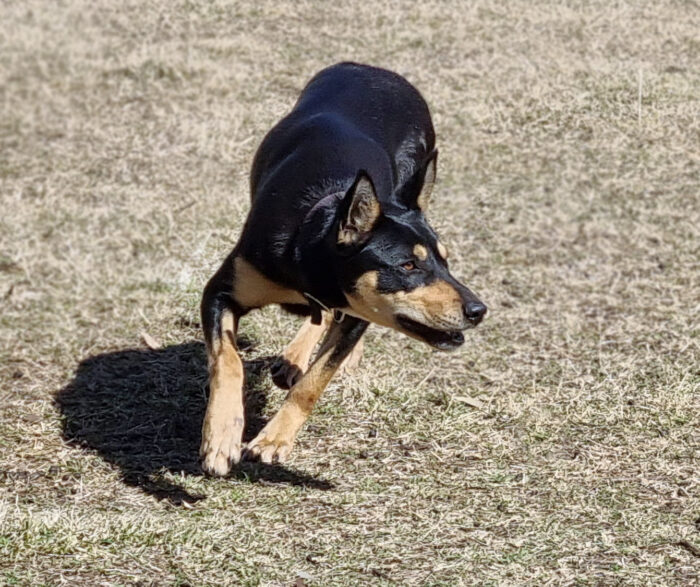 About a year ago I asked John Clothier if he'd run on a bitch pup for me; John has bought quite a few pups from me over the years, and has been good enough to take some to work on his cattle when he was at Beaudesert. Now he and Joan have retired and John has regretfully decided to sell his dogs, so he was bringing Karmala Paz, aka Jazz, back to me. She hadn't seen sheep and wasn't at all impressed at first, however Tim soon had her going nicely. A little video of her working with Cash and old Gemma.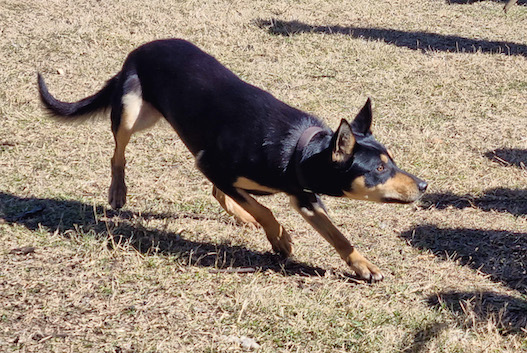 A highlight of last week was a visit from Arthur Crumblin, who miraculously survived a very scary illness early this year. His doctors were mystified by their usual treatments having no effect on the viral infection of his transplanted kidney; it was only recently, about 6 mths later, that they identified the problem as another rare virus carried by rodents! Arthur was at death's door when the panel of consulting doctors decided to play their last card, a drug that caused instant deafness but saved his life. He now has an implant which has restored his hearing but it's still distorting sound quite badly at times. Apparently it can take about a year to get all the adjustments made to suit the individual. The wonders of modern medicine. So, the very good news…. Arthur's keen to take an occasional pup again and I ran Chappy(Karmala Lefty x Karmala Dash) down yesterday. This big boy has come up from Tassie and if all goes well I'm thinking of mating him to K.Tash, Dash having been speyed, in an attempt to retain some of the Riana Cash II blood.