AUGUST 2022
 Before I start my monthly update I'd like to write a small tribute to Tony Parsons who passed away in late July.
Tony with one of his favourite dogs, Trimmer….and in more recent years with Karmala Quiz pups.
Most of you will be well aware of Tony's huge reputation regarding all things Working Kelpie, and most of you will have read some or all of his kelpie books, so I don't really need to introduce him to you. I bought a foundation bitch from him, Karrawarra Gift IV, and when mated to Riana Glide she set me up with three lovely stud bitches, Tilly, Lily and Gemma. I have huge admiration for Tony, he had a vision of his 'perfect' dog and pursued it relentlessly. This is why nearly all Kelpies in Australia have a Karrawarra in their background if you go back far enough. He did more to give the Working Kelpie recognition as a worthwhile breed than anyone else, and was able to explain in easily understandable prose what he believed. The type of dog he preferred had great mustering ability, could work out of sight and showed eye and style on a few. These days the yardier dogs are more in favour, it's to be hoped there are still Karrawarra type workers around in years to come as there are plenty of parts of Australia that need them. I've attempted to add a little more strength to the original dogs I started with, but two of my nicest stud bitches are descendants of old Tilly and every dog in the stud would have some Karra. in it somewhere. Vale Tony. A great life full of great achievements, the Kelpie community is in deep debt to you.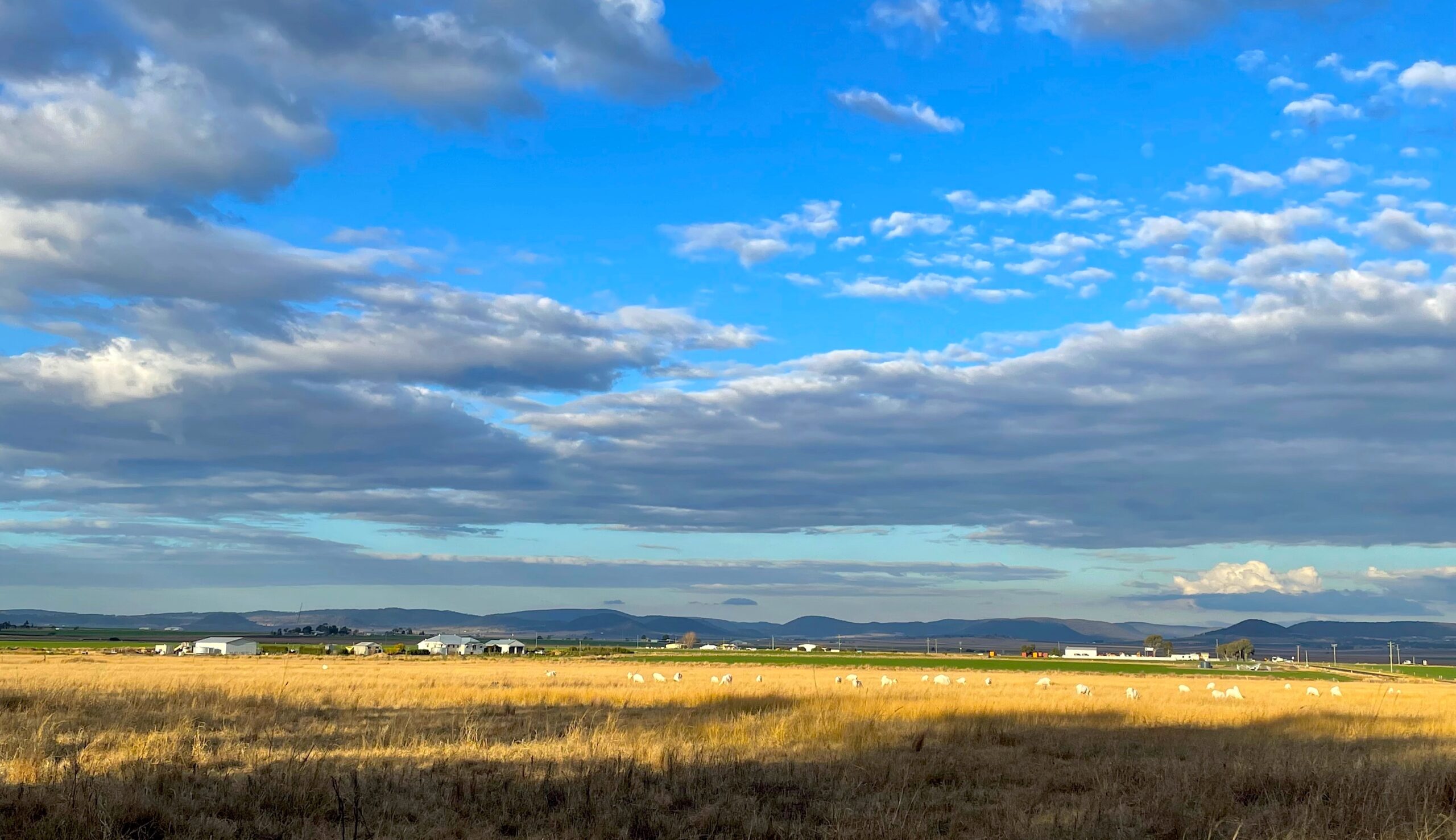 A cold, wet winter for a change, the last couple of years have been very mild here so it came as a bit of a shock. The rain held up the winter grazing crops being sown, maybe the reason for so much hay on the move at present….although that could also be because of the floods down south.
Spring is coming on anyway, new lambs and sheep shorn! Great to have Cameron Griffiths able to do my small flock; my helper remarked that he'd been to the Shearers' Hall of Fame at Hay and Cameron asked if he'd seen his name on the shield for those who have won the Diamond Shears! The wet summer had made them very hard to shear around the points…and to skirt.
The massive amount of dry feed has been degraded a bit quality wise by the rain and I was almost knocked over when I put out a Ewe and Lamb lick block this week….and almost upended when one old girl shoved her head between my legs to get in first. So they must be needing it.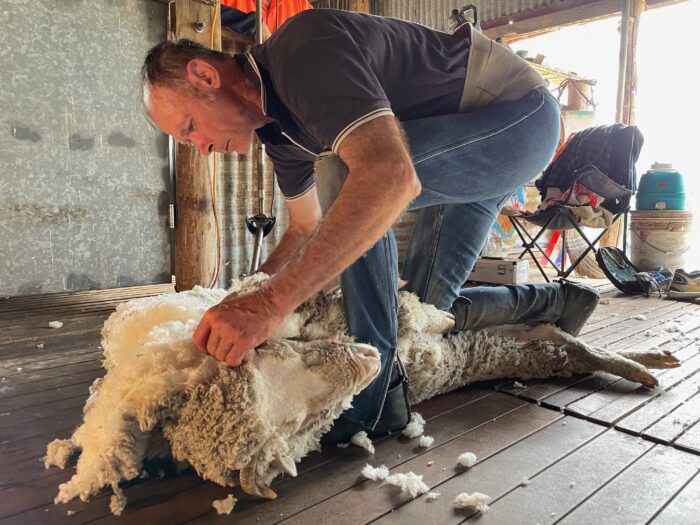 I've had quite a few pups to feed and a decidedly non-dog loving visitor asked me this week if I ever did anything other than feed animals! Well….if you breed them you feed them. End of discussion. The rewards come in the incremental daily growth and the lovely healthy, happy pups. I still have quite a few of the last couple of litters, I'd like to see some Cap pups start as these are his first; there are also a few boys as people seem to have a deep aversion to buying dog pups lately. Some of these will be started and entered in sales next year when they seem to be quite acceptable once working.
Midnight has four lovely fat pups to Boss including three girls, and Heli went one better with four girls to Ace.
Sunny has been disappointing, after the first couple of weeks she thought it was a good idea to feed them standing up, and she's a tall bitch. That didn't go so well, they were a bit too young for solids but once they got to three weeks they kicked off again and are now eating well. I snuck one over to Midnight next door and she was nice to him. It makes you appreciate the really good feeders like Livvy. She gives them a great start and weans them at about four weeks; her litter is doing really well.
There's only one more litter coming up, Blye( Landy x Bimber) x McKenzie(Wills x Midnight), who Em mated up north. Blye has been impressing with his work, he's a very nice young dog…. and McKenzie is a very useful bitch on cattle.
Sunny and pups.                                   Midnight's four                                           Heli's lot.
Livvy's litter at six weeks, below.
Middle bottom….how Livvy weans them!! Last phot, still in great shape after rearing eight. Liv will be happy to get back to some cattle work again.
I let Malthoid Renfri go to a nice young couple from Moree with sheep and cattle. Still have Swish(Tap x Nitro) who's a very likeable little demon…same sire. Trail(Cap x Bim) is a nice pup, will go to Arthur next, and Quilt is a delight. 
I'll try to show you a nice young pup working for Tom Deery, not sure if I can get the vid. up here. Brill (Brock x Glam)is Tom's second pup. Born 1/11/21

This is Bourne(Karmala Wills x Karmala Cherry) in South Africa.
We've had some great sunsets this last month.