December 2019
Still extremely dry with horrible winds. I think incessant would be the word to describe them! And of course plenty of smoke and dust around too. However I shouldn't be complaining after this terrible month of fires everywhere, at least I don't have to worry about getting burned out. Certainly a month to forget.
During November the last of the pups from the June/July litters that were for sale went off to their new homes and I have three left, Biggles, Raegan and Glamour.
Karmala GloryB, now Bindi, has gone to work for Luke who is almost local. 
Karmala Claira, full sister to Summer(who'd have guessed!) has gone to an old client, Lindsay Picker near Goulburn. He already has two Landy bitches from Lynnton Martin and finds they suit his difficult country.
The next litter(Whip x True) is due tomorrow and I've been enjoying a bit of a break from mixing up buckets of puppy mince with only Poppy's two Max boys and five little Dachsie babies to feed. Livvy is the next bitch in line and she's in pup to Harvey, a few photos of him….. He's a happy chappy!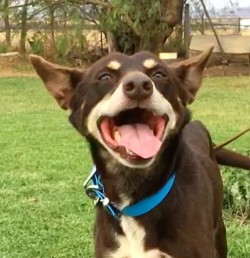 Poppy whelped two males to Glendon Max at the beginning of November, they're powering ahead! Very active pups, the cream boy has an unusual 'blaze', the cream comes through Max's dam Boanong Electric (B.BusterxKarra.Gift IV). 
I had a visit from Ron Robb and Karmala Skip(Motley's Russell x Karmala Remy), one of his main team at Gerar Station, Nyngan. I hadn't seen him working before so took some video. A very smart station dog, no oil painting but "handsome is as handsome does"! Skip just lives to work. Two of the bitch pups from his last litter to Bimber are being run on, Ron has Skittles and Marina has Birgitta.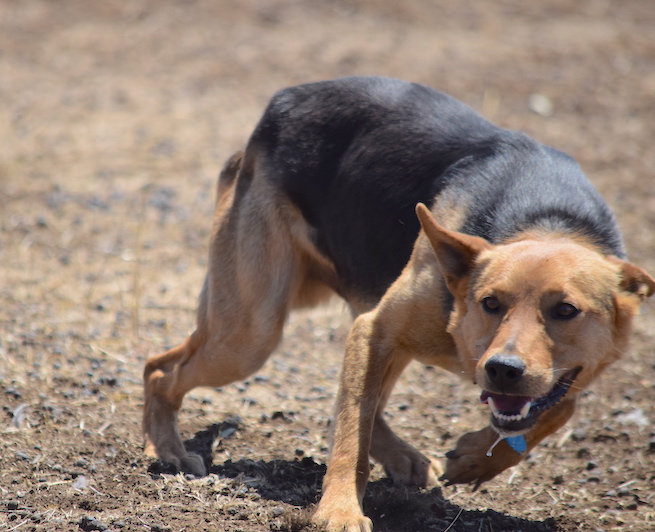 I had a trip down to Texas to pick up Karmala Lofty(Bolt), a LandyxWhitney dog that Marina wanted to move on because of the drought. He's gone up to Riverside, Moranbah, where I hope he'll settle in and work cattle. Nice dog but he's led a very sheltered , isolated life and will take time to adjust; he seemed to cope well with all the traffic and strange people and dogs OK when I took him into town to meet Dogmovers.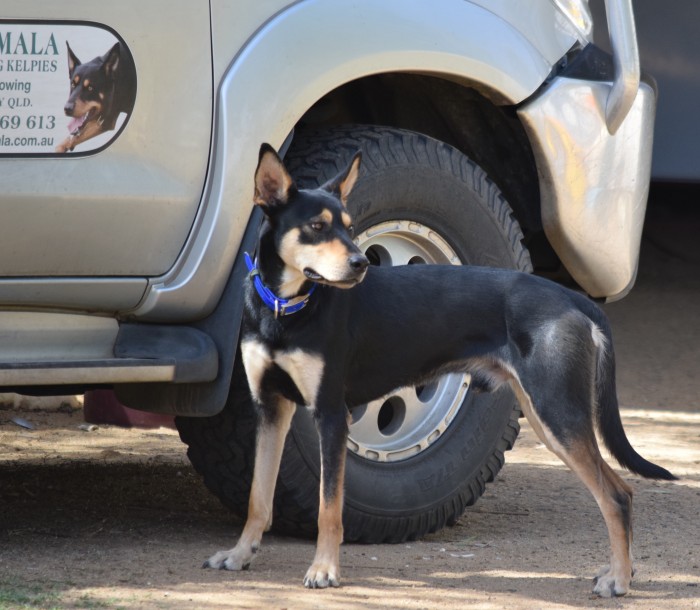 Summer(K.Classic, LandyxCara) has been away working and mustering feral goats for Jim Morris. We'd been waiting to mate her to Jim's good dog Turbo…which happened the day before she cut a hind leg open when she ran into a fence turning a beast back! A large vet bill and ten days later, I'm pleased to report the wound looks to be healing well. Nasty gash, right down into her toes that needed internal stitches. Anyway Jim mated her to Turbo again and she came back to me on Dogmovers last week. She's been a perfect patient, sleeping on the deck all day. 
I'm hoping she's in pup, Turbo's a very calm, strong dog and a half brother to Anntre Ray. 
One problem when breeding working dogs is the unknown factor of demand in hard times. Bearing this in mind I mated Karmala Perks(pics below), a delightful bitch I'm minding for John Clothier, to Harvey last week. The pups should be able to fit in anywhere and to any life style. Perks is an extremely loyal, personable young bitch and Harvey one of the friendliest possible dogs. The first time I've had to think about doing this, but of course the work is there too!
One bright spot in November was my weekly trip to Toowoomba and the wonderful jacarandas that brighten the city in spring. This is a back lane near the Angliss shop.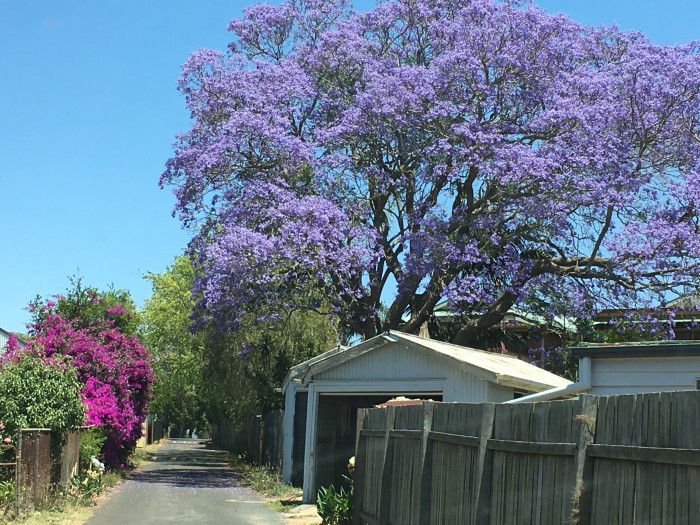 The prickly pear has been flowering, as have my ugly cactus that flower at night!
Christmas seems a way off yet but I'd like to wish you all a very happy one, and for all who need rain so desperately, a very wet one! A nostalgic 'card' with a lot of old favourites no longer around. Ten years ago.