DECEMBER 2021
 We have had huge amounts of rain in the last couple of weeks and the ground is now super saturated. I happened to check back on this blog a year ago and this is what I found….
"One of the' hottest Spring days ever' for some areas of Queensland as I sit down to write…not sure if my brain's melting but it's only 36'C in the shade on my deck, the same as yesterday. The early rain in October which we all thought was a harbinger of La Nina, has left in its wake some very thirsty crops. Not all areas are so dry, Leyburn and Allora have had storms and are noticeably greener. All we can do is hope the heat cooks up some good heavy dumps!" 
Well! Plenty at present, that's for sure, what a difference a year makes. It's been steady rain but not heavy, so not the dramas we saw when Toowoomba flooded some years ago…although all the rivers are causing a lot of concern, and many crops are doomed to a muddy end, tragically. I've had about 180 mls in two weeks, the last 100mls in 24 hours.  Photo of the overflow of Spring Creek near Clifton, which runs into the Condamine.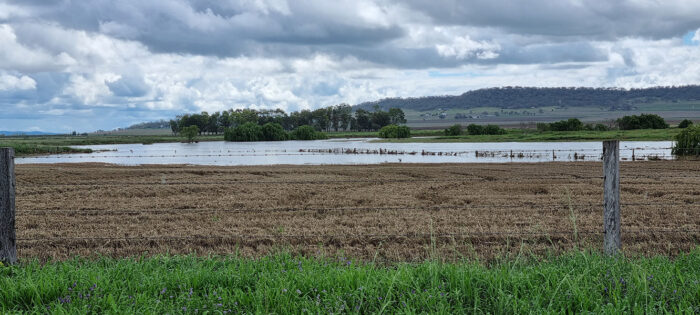 With so few sheep, I'm going to be busy slashing when it dries out. And no doubt will have to find my drenching gun again! Wet summers here usually mean barbers pole worms have a party. Despite the long dry spell and lack of worms, when my gully runs it brings in a multitude of nasties.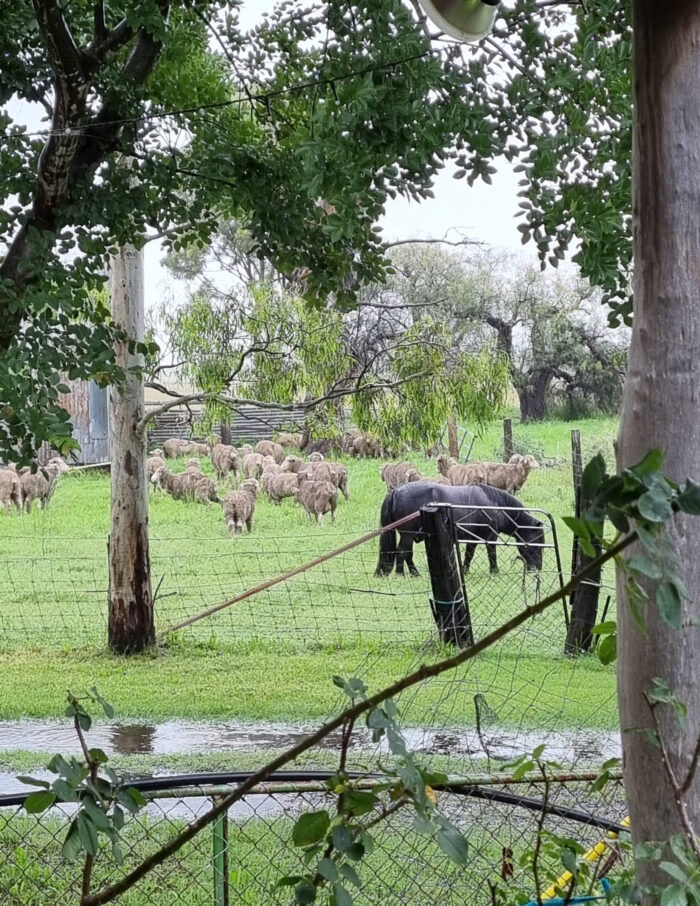 The drive was a river, the sheep super soggy, but you can't stop a Shetland eating!!
I have twenty little puppies at present, Glam has seven, Gossip eight and Midnight five. All doing well. It will be tricky dealing with fleas this year, a few have appeared and I treated the bitches this morning, hoping they'll control things.
Midnight, Gossip and Glam pups.
The last few litters of Gemma, Remy, Livvy, Mindy and Whitney have dispersed in many directions. Two of Livvy's by Halsteds Wally are in New Zealand and Lad started work on the crutching race the next week as though he'd been born to the job! As John said when he saw this….you breed paddock dogs for years and this turns up!! Wayne does contract work so he's pretty happy with him. I hope Lizzy develops into a stylish outside type, although I think most of the dogs I breed will step up with a bit of encouragement. If they'll work cattle with confidence a few woollies in a race must look like fun. If Lad had been started by Arthur he'd be working like the pups in the bottom vids, but Wayne is a very good handler, I'm looking forward to seeing the two pups later on.
One of the BrockxGemma litter went down to S.A. as a potential sire for Koonamara and started impressively on some very fresh wethers! The video was a bit blurry to post here.
It continues to be difficult to sell dog pups which makes my life harder; I think I'll have to do a course in salesmanship! Whatever happens in this crazy world, one certainty is …..more male pups being born at Karmala than females! This little bloke is an absolute delight, and I must say I didn't mind having him around for longer than usual waiting for a special home for him.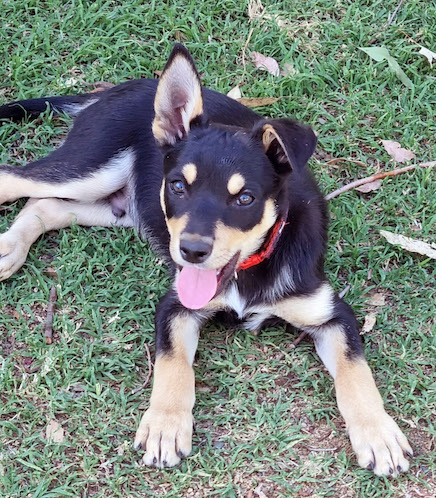 Today Heli is coming home from Trangie in pup to Karmala Vlad(Barney). She had a litter to Barney but sadly lost the pups over time and in mysterious circumstances, so fingers crossed this time. Lynnton's bitch Jarrah has since had a litter of twelve and all have survived so far. Barney is a nice natural worker and part of Lynnton's contract team; he also has a nice young dog Karmala Gilbert(K.Wills x K.Gemma aka Gilly) who is also impressing. He'll turn two next March and should really hit his straps then. Barney's by Driftwood Boondy out of Karmala Vonny; Boondy would have to have almost more Riana dogs in his pedigree than a Riana!
This pup having his first look at sheep looks to be a nice cool boy. He's about 6 months old and is out near Roma. We have his litter brother Gibson.
My Tracker Rock x Scout's Dee boy has at last started to work! Eventine Deeks shows signs of being a bit of a thinker like his dad, he spent two weeks with Arthur recently an will go back when he matures more.