February 2018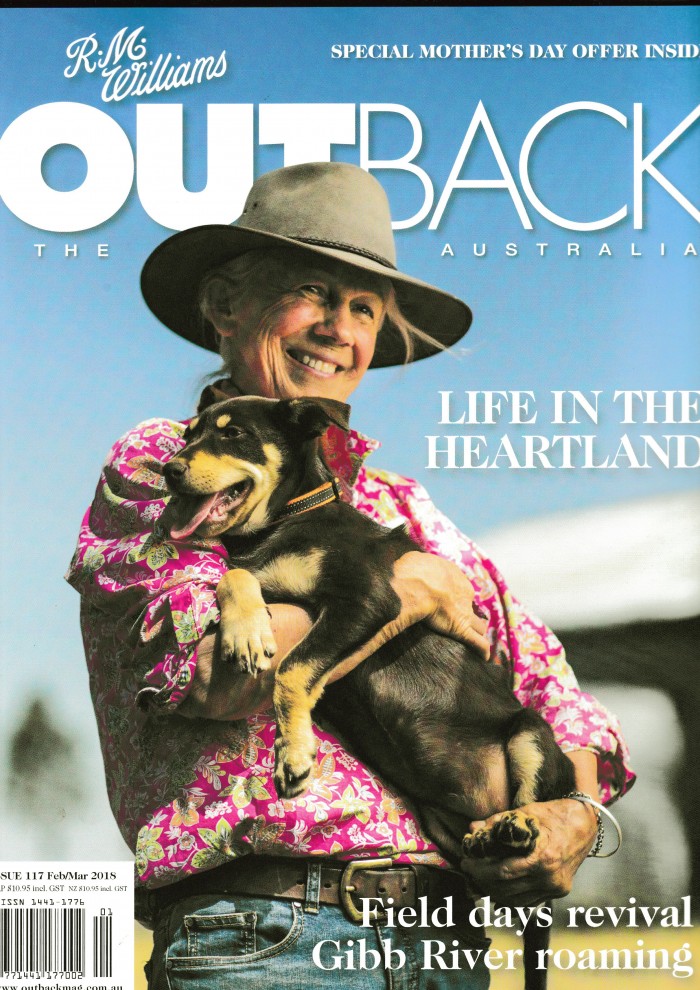 Some of you will have been unfortunate enough to come across the last issue of Outback Magazine….my apologies, I had no idea I'd end up on the cover! And pup prices are a little higher this year, they came here some moths ago…
Rain at last, thank goodness. Probably the longest dry spell over summer since I came here. It was getting quite serious and will have been too late for a lot of summer crops. Fortunately farmers up here have a second option with a winter crop…if they're game enough to gamble on it.
PS 15/2/18 We've just had a couple of weeks of the hottest, driest weather since I moved here nearly 20 years ago. Tough for little pups….and those looking after them!
---
It doesn't seem like a month since my last 'news', maybe because I've been really busy with grandsons staying for three weeks. They were happy to see Mocha's new pups but just missed out on Lily's, she had a C/S the day after they went back to Victoria. Poor Lil, two pups had died some time before and were sort of cryovac'd, while two big fat lively ones were very healthy. I guess that will be her last litter, she's been a wonderful stud bitch. All pups were males.
Mocha isn't the greatest mum and loves leaping up and barking at any dog that goes near her kennel. One of her pups wasn't coping too well so I popped him in with Lil's and he's fine now. Wants to play with the other two but they're not quite up to that yet! He goes in with his siblings for some mince twice a day and I'm not 100% sure the same one always goes back with Lil, he has a brother who looks very similar!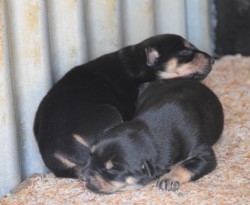 Lily's two boys
Remy's litter to Tracker Spy was next to arrive. She had six nice pups including two bitches. I'd mated Quiz at about the same time in a last ditch effort to get a bitch pup from her and got lucky…she had one very small bitch pup which I put straight onto Remy. Quiz has a history of mammary problems, and I'm so pleased my plan worked out.
Remy's pups
Meanwhile all sorts of other things were going on….Em brought Bimber(Polo x Fizz) down to mate to Landy but the hot weather hurried her up heaps and it was lucky I decided to get a blood test done or I would have had a trip to Texas for nothing. As it was, we were doubtful whether it was even worth trying but Brock thought otherwise… although it took him a few hours to convince Bim!
For those of you who have to take a bitch away for mating it's worth to note that they are ready to mate much sooner when the weather's hot. It doesn't cost much to do a blood test, I go to Ice Age Breeding near Laidley where they specialise in greyhounds and a test to get a progesterone level is $60. I think I've always been worried about missing out, so have mated bitches too early….although they usually get in pup once they're standing well.
The heat continued and when Whitney(Wills x Heli) came on I left her a week before I collected her from Jess and Andrew Martin and had a test done the next day only to find she was almost ready too. Then we got a big cool change and that's slowed her down. Anyway she's having a nice holiday with Landy and Marina!
Gemma has been mated to Wills up at Bracewell but Poppy(ChopperxPeggysue) is still to cycle. She's now known as Karma since Derek also has a Poppy(T.ChiefxT.Clancy). 
I need to get a couple more pup runs up to cope with this year's litters!
Last week I visited Joan and John Clothier when I picked Whitney up. It was great to reacquaint myself with their dogs and I'm looking forward to getting a bitch pup by K.Don(Wilson x Heli) and one from K.Vonny by John's old Kirkcaldy bred sire. John's had a few bitches from me and also has Mundine(Wills x Quiz).
I was offered Karmala Hardy by Jodi O'Connor, who had decided to sell him, and he will be returning here shortly. He's Remy's litter brother and has been a very good dog for Jodi. It will give me a few more mating options that I don't have with Remy. Brandy has had a very big influence here…. Wills, Brock, Remy, Tash, Hardy….the Wills pups are proving to be mostly just what I'm after. His litter to Fizz produced two outstanding pups, Gossip and Buzz II. I haven't heard from Lindsay Picker yet about his boy who had the white nose.
I think that's about all the news. Cherry looks as though she's in pup despite David's decision not to mate her….apparently she had other ideas so that will be an interesting DNA puzzle.