JANUARY 2017
Well, a new year and already I'm running a week behind despite all good intentions. It's so dry here that I'll blame a dehydrated brain! By far the worst summer in the fifteen years I've been in Queensland but it's been very patchy and other areas, including only 20 km south, have had better falls. Hopefully we get a good dump while it's still warm enough for some growth for winter feed. No need for teeth trimming the sheep here!
I love seeing photos of the Kelpies over in Europe on Facebook and this one of Karmala Mulga(Birk) owned by Ewa Jacobsson in Sweden came up recently. I also received a wonderful surprise in the mail this week, a Calendar with photos of Karmala Luna(VisiQ) in Austria sent by her owner Tom Baumgartner and his partner, also a lovely felted pure wool mat with sheep embroidered on it! How very thoughtful. VisiQ is doing well at agility, she's extremely fast and probably gets ahead of her brain at times! This should sort as she matures.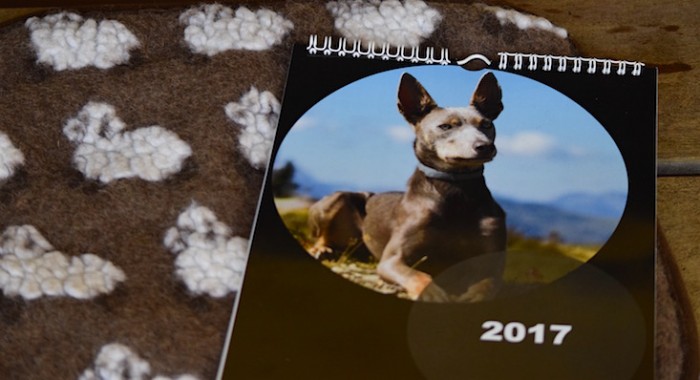 The Mocha litter to Polo is growing well, a lovely lot of friendly pups. Apart from their first night, I have never seen her stretched out feeding them…she's always out to greet me first, but judging by the pups she's done a good job with them. (5 of the 6 below) The dog pups are for sale.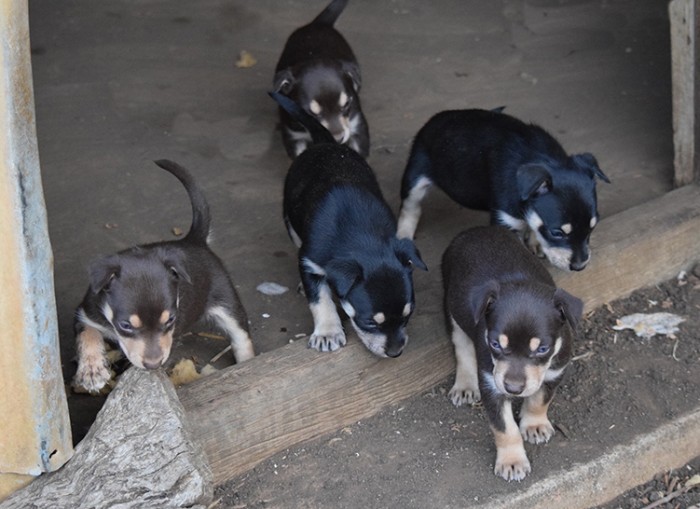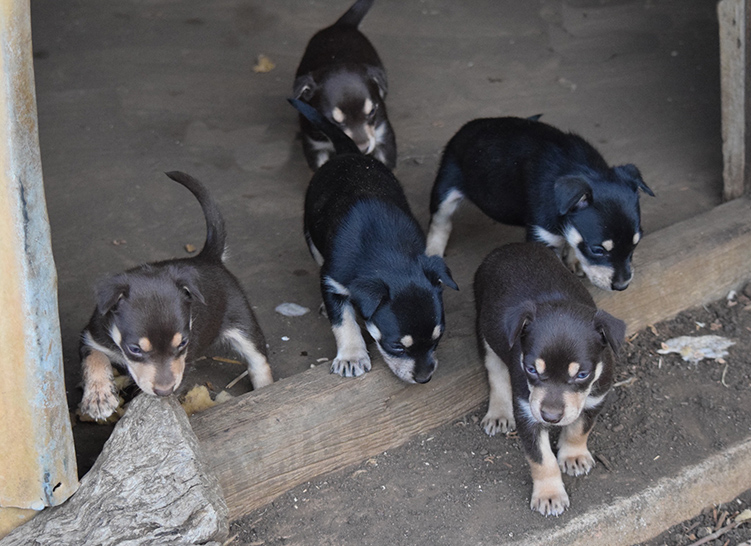 The other litter, Wilson x Cherry, is also thriving and Cherry is a better brood bitch type I think. Possibly Mocha would have settled better in a more confined area too, but the heat was so bad I had to move her into the old dairy/creamery where I could run a fan and she had a big yard…not ideal for such an active young bitch. However both litters look great. Cherry pups below.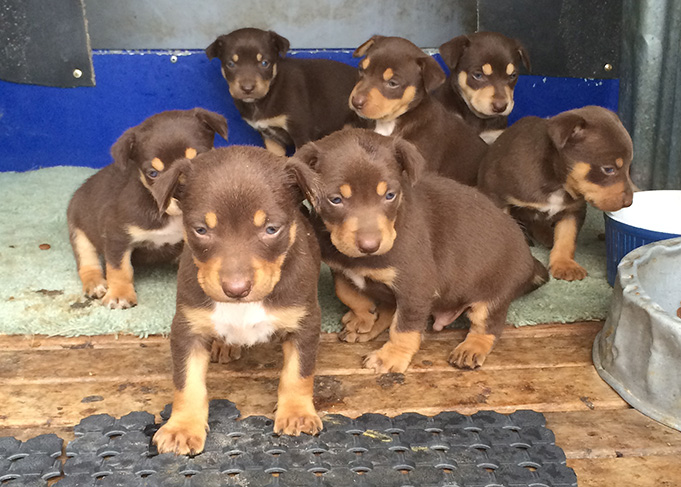 The dog pups are for sale.
Karmala Vie(K.Landy x Riana Trixie) has come down south to be mated next time she comes on. She's quite a character, and I was surprised at the way the older bitches accepted her without even sniffing. It's a bit confusing as Lily, Vie and Win look so alike…maybe they get mixed up too. Her first litter to Karmala Hardy was really good and the one bitch, Vonny, was mated recently to K. 'Jag'.
Quiz eventually whelped to Wills, a week after I expected her to, and has managed to keep only one pup alive, all were males except for a small bitch. very disappointing but not unexpected. She's had mastitis at some stage and her two back teats don't work, the front ones are too big…which only leaves a couple on each side. She was obese for a number of years which is the main problem. A shame, as she's a very good bitch and not old. The one surviving pup looks like mum and is a great fighter, probably named Mundine if he lives! To watch him pummelling her for a drink and pushing and pulling on the teat…for minutes before the milk comes…is unreal. I've spent quite a bit of time trying to get the other pups going and have watched him in action; survival of the fittest took on a whole new meaning!
Polo and I wish you all a very happy and healthy 2017, may you get all the rain you want at just the right time!