January 2019
The first day of the new year! May it be a good one for all…health, happiness and lots of rain. Maybe the first two are often dependent on the last. 
I keep adding bits to these posts as the month progresses, as many of you will know!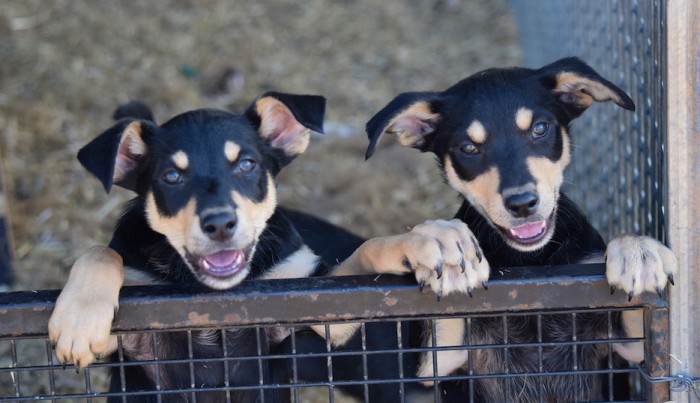 Hard to believe it's a month since I did the December post but this time of year isn't called the Silly Season for no good reason! This area continues to miss the good falls while districts all around have full dams and good crops; I drove to Leyburn last week to pick up Bliss and a couple of killers from Arthur, and the Condamine is running a banker. Good that it's not wide spread dry anyway.
It was great to see photos of Karmala Luna(VisiQ) trekking through a metre of fresh snow in Austria; a change from the dry heat here! The dogs have their own sleeping bags and wear boots when in the snow.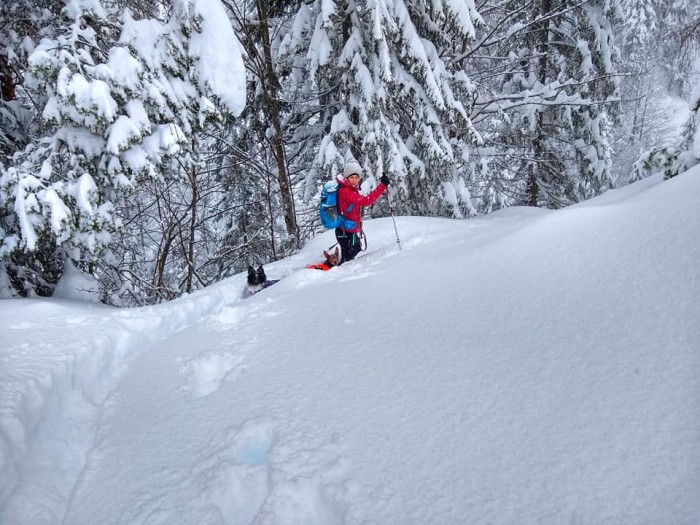 Bim's big litter to Wills is thriving and keeping me amused. Funny pups, very lively and competitive; at this age all very friendly and self confident.
Lily has two pups by Wills including a bitch…the reason for the mating! So pleased, as this will definitely be her last litter, unless she takes things into her own…paws?! She had a CS last time so when she wanted to go digging I left her alone, hoping she knew more than me about having pups! Next morning she had these two, and I did intervene at that stage with a small shot of oxytocin which later produced a dead male. I lost a lovely old bitch years ago with a retained pup and have never forgotten.
Sadly the little dog pup died yesterday, Jan 19th. He was way behind the bitch from birth but battled on gamely for 3 weeks and was in good condition when he died. This is LiLa….Lily's Last.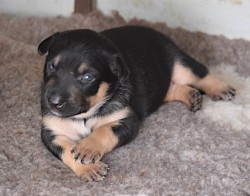 Bliss has just come back from Arthur, she took a week to settle down with him being a bit older than the usual age they go to him as Arthur's had a few health problems. Pups don't see many males here, and certainly none that try to teach them! You can see from the video how far Bliss has come; I'll send her away for some real work next winter and then decide if she's a keeper. She loves yard work.
I'm in awe of Arthur's understanding of kelpies and the inventive ways he finds to overcome their funny quirks….instead of insisting on 'obeying orders' which simply doesn't work with these intelligent pups. I've had two nice pups totally stuffed up by people who are used to Collies; I had to give one away as a pet because it was going to take forever to sort her out. She will have the best life being a beach bum…and speyed! Just a waste of a nice bitch.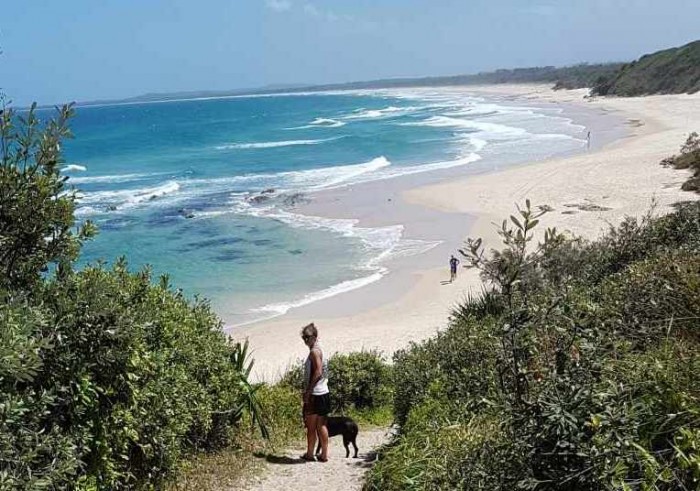 Heli is in pup to Brock and due in a week or so. I'm still not sure about Tash, but if she's in pup it certainly isn't slowing her down; she won't stay in the run despite the hot wire (which we left off the fence furthest from the house because they usually climb over near the gate). But being a super smart cookie Tash has worked that out….
I've been getting some good reports about her litter to Karmala Skip, the saddle marked ones. I must try and use Skip again, he's an interesting dog by Motley's Russell out of K.Remy. One of the pups, now 18mths called 'Boss' is working for Jarrod Alcorn down in S.Vic. and showing exceptional 'nous' for his age and experience. I'm looking forward to getting a  pup by him from Jarrod's good paddock bitch. Mick Reid has a nice bitch too that he calls Sophie down near Sydney. Ron Robb who owns Skip is happy with his bitch from the litter….at last report Dave was keen to take her over. There's a bit of bite in them which apparently comes from a dog behind Russell, but it seems controllable and probably good to have on cattle.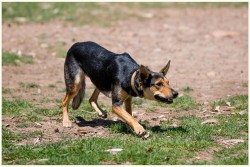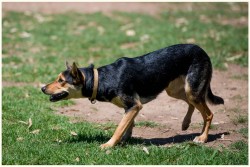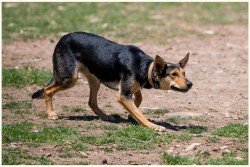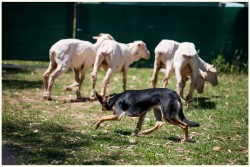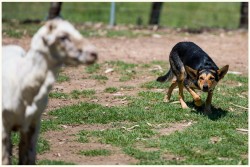 This is Mick Reid's bitch Sophie. Lovely.
Finally, a very happy new year to everyone! May it bring everything you wish for.
This Wills x Cherry pup in South Africa had a big New Year's Eve, I hope none of you ended up like him!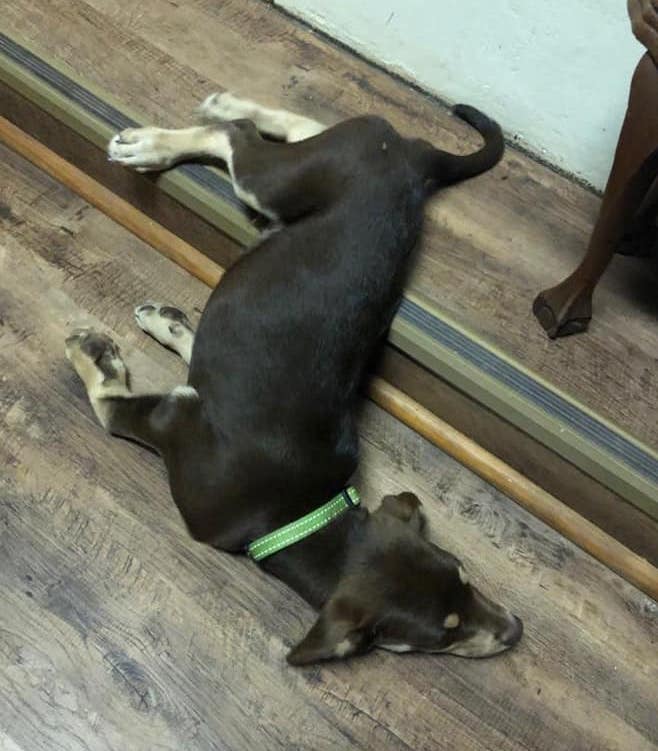 Anita has a mini obstacle course, I think the pups were about 5 weeks old when this was taken.
A friend brought his drone out this week. Only got the road end of the farm it was too windy…and too depressing! Some of you might like to get an idea of the country here. Most of the green is irrigated with the exception of a couple of sorghum crops. Amazing gadgets…despite the wind there's not a wobble. I need one for my pup videos!
STOP PRESS! Heli has 7 pups to Brock b.6/1/19 inc. 5 bitches.