JANUARY 2020
A couple of lovely photos  to start the year! Karmala Birl and Karmala Google in Germany, thanks to Diana Geier for these.
The decade starts with a very big litter born to Tynndyl Jarrah on New Year's Eve….ELEVEN pups by Riverdale Turbo III including 6 cream boys. Oh boy! Also some solid reds and blacks but only 3 girls.
Turbo is a 1/2 brother to Anntre Ray to whom I mated Tash last litter with good results. Jarrah is quite unfazed by the big number and is managing them like the pro she is. Yesterday she emptied her 2l water bucket, I'll have to get a much bigger one for her! Jim Morris does a lot of contract mustering and is often asked for pups by Turbo, he said he'll help place this lot for me….thanks very much Jim.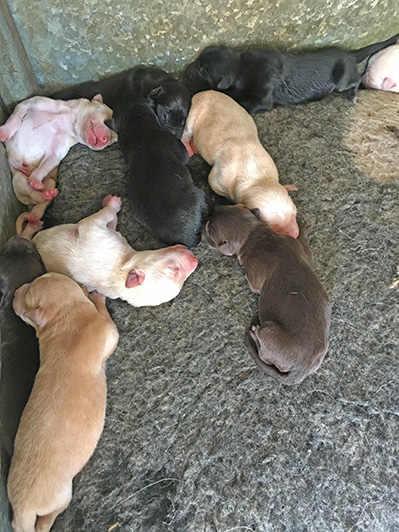 Meanwhile Livvy has done a great job with her Harvey pups and I moved them down to the hay shed yesterday. The little Wills bitch pup that came home with Harvey was keen to help. She's a g'daughter of old Karmala Tilly.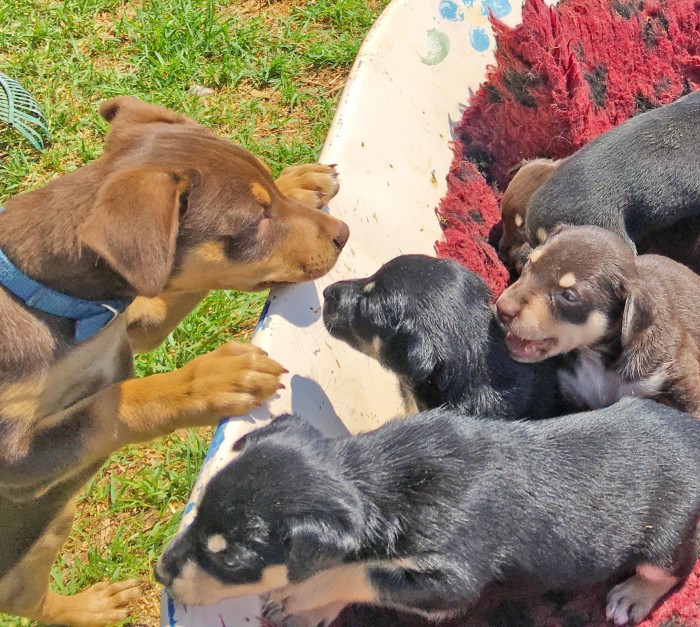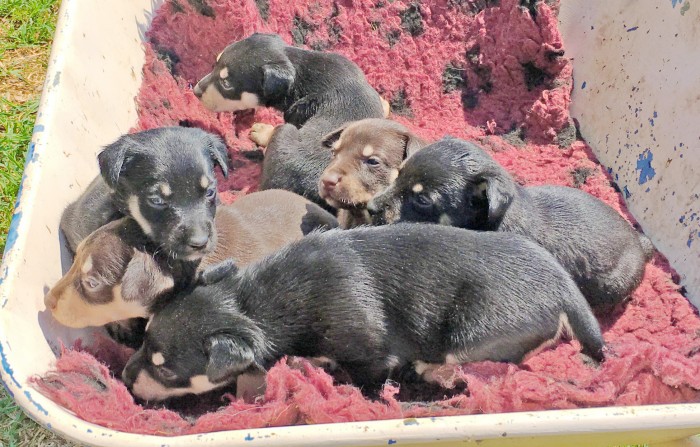 I'm trying wood shavings as an alternative to hay for bedding as it's very expensive around here. Livvy giving swimming lessons….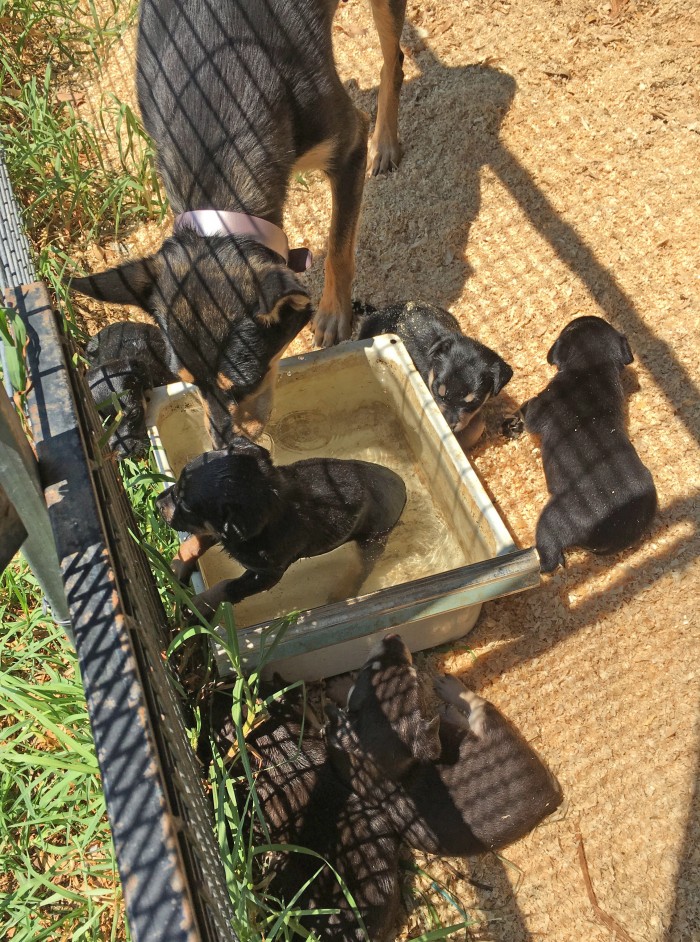 True's litter by Whip is also doing well. She was putting on a lot of weight and not converting enough feed into milk, so I gave her some fenugreek and nettle leaf for a couple of days. The pups picked up a lot but the weather also cooled down, so likely a combination.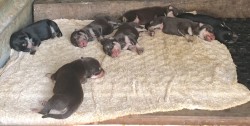 It looks like being a busy start to the year with Perks and Summer(I think) in pup and Bim recently mated to Harvey. I think I'll let Tash miss this time. Ron has mated Remy to Motley's Russell again, and Wills is up Nth visiting Midnight.
Due to the horrible drought I sold the tops of my ewes before Xmas. Very sad to see the end of my serious involvement in stud Merinos. I still have a few left with lambs.       
Wills has been down in SA with Kevin Noble for a few months. He left a couple of litters of nice pups. Keven worked him for me until recently when he came home to serve Midnight. A nice little daughter Koonamara Nakara flew back with him, lovely pup. 
Em came down to pick Wills up and swapped me a big square bale of lucerne for a daxie pup for her mum. Little Frank is 3 now and it was lovely to catch up and be asked 1001 "Why?"s!! Great to see a small boy so good at amusing himself and having fun with whatever's at hand. K.Glam has gone back with Wills for a bit of awareness training(realising she can't do her own thing!!) She was great until the last couple of weeks. Em is working at Chinchilla with gas this year after a variety of jobs as an electrician including a solar farm, Sydney tunnels and a coal plant at Muswellbrook.
All the best for a very wet and healthy 2020…..what more could we ask for….?