JULY 2017
Sorry folks! I've been too busy with pups this month to get around to my July update….
Lots of unwanted drama as well. Mocha whelped towards the end of June, six nice even pups to Changi and she's done an amazing job with them. I must admit I'm a bit surprised at how well she's looked after them, Mocha's a bit of a character and although she flew around like a crazy thing whenever I let her out, she's been an amazing milk bar!
Next in line to whelp was Lily, who has always been very easy and organised. Sadly Remy got hold of a dead rat I'd baited with Roban(supposed to be safe?!) and I was distracted racing around with her to get some VitK when I should have been taking Lil to the vet for  C section. She finished up with one big dog pup. I'm still kicking myself.
Fizz finally whelped after threatening to for a few days, had me a bit worried, and then decided to get on with it on a frosty night. I dragged out the old infra red lamp and she was nice and cosy with her four pups next morning. Only one problem, three of the four have a lot of white about the head! Wills hadn't left much white at all prior to this litter, his first to a red/tan bitch, but I'd guess that it's come through him. There's an explanation on the 'pups for sale' page. Disappointing, but that's what happens with old lines…and will no doubt continue to plague breeders while the stud book's open to station bred dogs. Personally I think it's much better to pursue working ability and put up with a few glitzes like this as the working kelpie has quite a limited gene pool. A fair bit of interest was engendered on my Facebook page and I'll do a DNA test later to satisfy some of the critics, but there's no doubt about the breeding. I chatted to Tony Parsons about it last week and he put it down to Frank Scanlon's disregard of the importance of pedigrees and his emphasis on working ability! Interesting that I could have sold them three times over, so many people have the same attitude as Frank.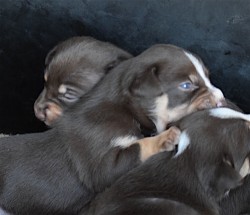 Gemma was due on 15th and whelped that night, three lovely fat shiny pups, only one bitch. Poor Gemma's been in the wars lately, she was kicked on the nose and had her head shaved to check a swelling behind her eye,  then a big grass seed came out of a swelling on her nose…the scar over her eye is from an old fight with Tally.
I had three Victorians visiting for the first week of the holidays and took them out to Texas to visit Bob and Marina; we had a look at Cara's latest litter by Landy, big fat cuddly pups, and also their very entertaining little kids. After starting with only 25 does two years ago they expect to have 350 head by the end of this year; an amazing result and a lot of it due to Marina's extremely efficient care of the does.
Candy and Cara kept a close eye on the one bitch pup, little Laney. The scenery is stunning.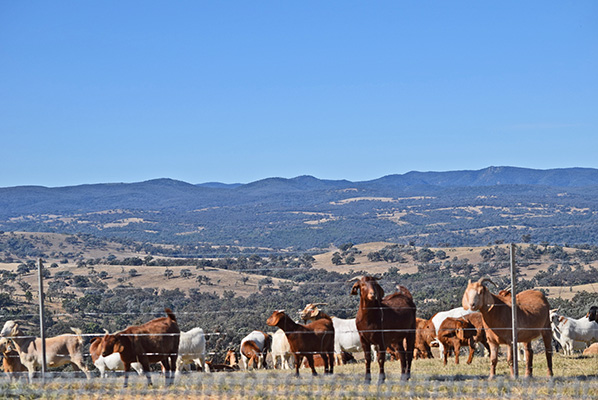 The following week I went down to Guyra to collect Bimber. Lovely drive down the New England Highway.
I called at Deepwater Station on the way home, a grand old place and good to see effort being made to look after the historic buildings. These huts were built of vertical slabs of yellow box. Good to catch up with Kirby and Andrew Ardis; Cherry's welcome was very enthusiastic! Funny how some dogs remember you so well. It's a shame she missed to R.Cash.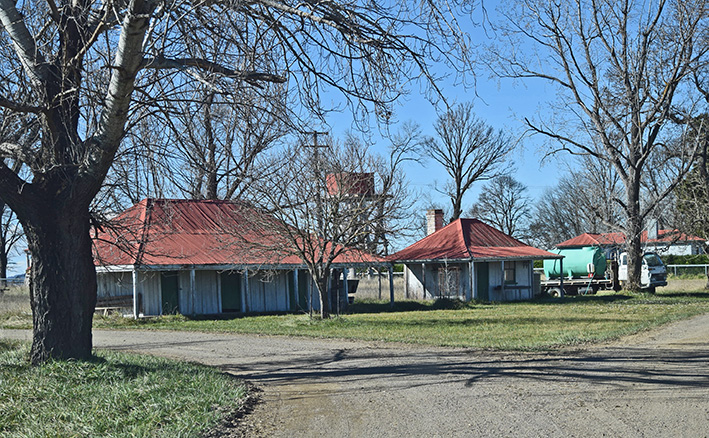 Early in July Ronnie Robb came with his mate Dave to collect his Cherry pup, Ding, and the blue/tan HarveyxRemy bitch pup Rhipple. He took Tash(R.Cash II x K. Brandy) for some work but she came on heat almost straight away; after a discussion about dogs available for mating Ron suggested Skip. Who? I asked! I'd forgotten about the sole pup from mating Remy to Motley's Russell three years ago. Ron likes him a lot, especially his strength on cattle, which I'm always chasing, so we decided on him. Good to get something back from my original reason for sending Remy out there.
Tash earlier this year and Russell at Allora in 2013. Skip is also a saddle marked dog.