JULY 2021
It's raining as I write this, the wettest winter here for many years and also a very cold one. The weather seems to be copying the unpredictability and change taking place globally at present….who knows what the next year will bring? Certainly interesting times. At the end of this post is a request ….. please help if you can.

The Wills x True litter is starting to leave for new their homes and if it weren't for the smaller amount of food being consumed I'd be sorry to lose them! Nice pups, easy to get on with, now all placed correctly I hope. I put a lot of thought into their future and the more I know about the buyer and their situation the more successful my decision is likely to be.
The next litter coming along is the Landy x Bimber mob (below). A big litter of nine, a bit noisier and more competitive as usually happens with a lot of pups. I'll be splitting them when the weather fines up. These pups settle quickly when you go into their pen, a lot of the agitation is simply because they want to be with you, a trait that should be encouraged.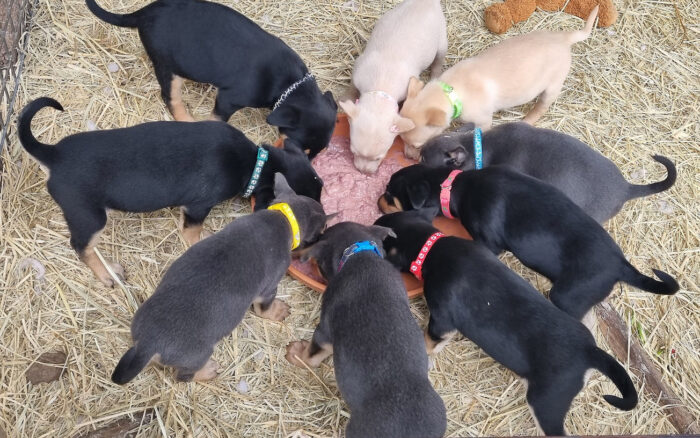 I've heard of a couple of nice pups I bred being sold on because they barked a lot(they were chained up). Strangely enough, they stopped barking as soon as they left that very frustrating situation where they could see the action but not join it. This is different altogether from the silly nonsense a 'teenage' pup will carry on with: it has been good until about 6-7 mths, (I never keep a pup to run on if it's an excitable barker), then starts carrying on in the kennel often after the evening feed. I find a cheap non bark collar will stop this after a couple of corrections. They catch on very quickly! Some will respond well just to voice correction, of course, and a few taps on their kennel. The really hard cases will experiment with the collars to see if little whines or howls can slip by….very funny. The best ones now recharge with a USB cord and I find they work just as well when flat with most pups after the initial introduction.
Some photos of the Landy X Bimber litter.
As I write this the Zeimer family is on the way home after an overnight stay with me. They have on board Tash, Livvy and Brock, who is going up to mate a couple of bitches, Gossip and Whizz(K.Neon x K.Gin Fizz). Brock hasn't had much to do here with ewes lambing, and as soon as he got out of the run this morning he took off to check them out….by the time Em and I arrived he'd done a lovely job collecting them down in the gully and had the mob walking quietly towards the laneway. Gotta love him! He leaves beautiful, good natured pups that also work nicely; Sass(BrockxGossip) is possibly one of the best pups I've bred. She'd been working cattle and was enjoying sheep again here.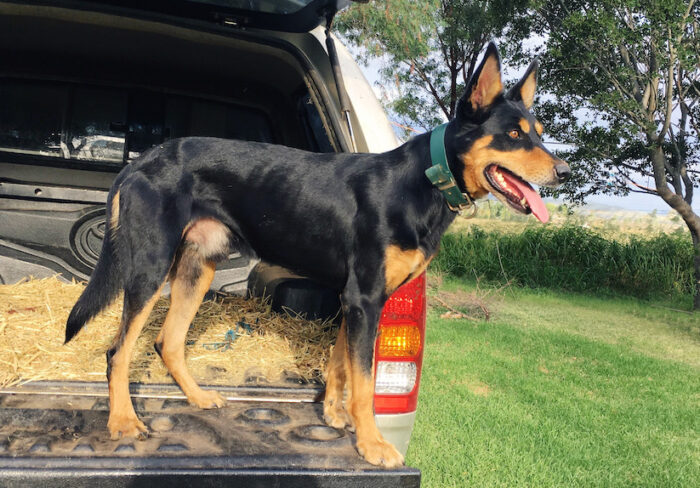 Karmala Brock(Karmala Akubra x Karmala Brandy)
I have had John Halsted's lovely old sire Wally(Karana Troy x Karmala Bonny) here for a couple of weeks to mate Remy and Livvy, and am hoping he might also catch up with Whitney before he goes home. Wal has spent his ten years on Hampshire Station near Merriwa mustering merinos and Angus cattle from horse back in some challenging country. John also owned his sire, who was a very good dog….goes without saying, as John is very fussy about his dogs! In country like that where dogs have to be totally trustworthy, only the best make the grade. Bonny was in one of the first litters I bred from Karrawarra Gift IV by Riana Glide. I'm looking forward to Wal's pups very much. I love this photo I took of him waiting for some of the puppy mince I'd just mixed. I'm sure he'll be glad to get back to his evening tipple next to the fire pit at home!
Earlier in June I received these excellent photos taken by Jesse Hayman who apologised…."I was in a rush trying to get all the cattle fed in the snow across 3 different blocks of land here in jindy and moonbah .. wish I could of got you some good ones … we get snow usually 5-6 times per year we are 1300mts above sea level so it's not uncommon but this was a big fall with up to 30cm on the ground … .. my other dogs all had bleeding legs on the inside of feet after this day I'm sure it was ice burn (abrasion from the snow) except for your bitch Bobby " eWell they look great to me and I'm sure he had freezing fingers! Jesse bought Bobby, aka Karmala Sweetlips, a couple of years ago and is pretty happy with her. The remark that her feet stood up very well to the snow is interesting, as I had the same comment about my dogs working in the stony Traprock country. I don't like heavy running dogs, which could have something to do with it. Dogs with a bit of eye and class tend as a rule to be lighter on their feet, in my experience.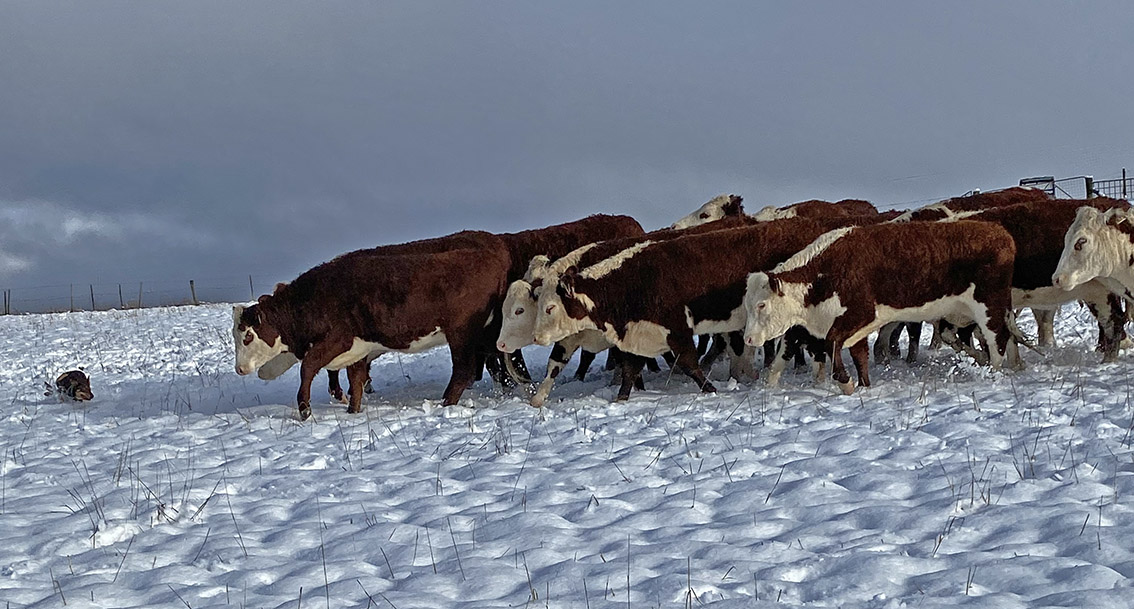 Next week Fizz is due to Wills, and we have all fingers and toes crossed that we'll dodge some of the white markings that mating produced last time. It also gave us Gossip, Sassy's dam, so well worth a try. Probably Fizz's last litter.
Keep safe and warm, everyone! One of the good things about winter here? Stunning sunsets at about 5pm, these all of the same evening!
My son Richard sent this email in an effort to help a work colleague who has been frustrated by COVID regulations and unable to collect information he needs. Explanation included!
On 5/7/21 10:58 am, Richard Archer wrote:
Hi Mum,
One of the researchers at my workplace is looking into whether better access to data is having any effect on resilience and/or production in Australian farms. He has a particular interest in resilience – being able to ride through droughts, floods, accidents and other events out of the farmers' control. 
He hasn't had been able to contact many farmers because the pandemic has kiboshed his plans to make in-person contact with farmers at workshops and expos.
I wonder whether you could post a link to this survey on your web site, and maybe forward this email to any farmers you know, especially anyone making use of data to assist in management of their enterprise.
This researcher is trying to work out what data farmers currently use, what benefits they are seeing from it and where there are improvements to be made. So this research will identify particular needs of Australian farmers.
He's wanting to get at least a couple of dozen complete responses from farmers, but the more the better!
Thanks Mum,
Richard.

From: Basharat Ali <basharatali@students.federation.edu.au>
Sent: Monday, 5 July 2021 10:14 AM
To: Richard Archer <r.archer@federation.edu.au>
Subject: PhD study survey – being undertaken @ CeRDI, Federation University, Ballarat, Victoria
Good morning, 
Dear Richard Archer,  
Thank you for your help in collecting data for my Ph.D. 'Investigating the roles of data, digital agriculture and resilience in agricultural performance' study survey, being undertaken at the Centre for eResearch and Digital Innovation (CeRDI), Federation University Australia, and funded by Food Agility and Precision Agriculture, Australia.   
As someone who understands the importance of digital agriculture, FAIR data, and resilience in agricultural performance, we invite you to please participate in our online survey, to provide us your valuable insights. Your input will help us to understand how different approaches may or may not be useful to improve agricultural performance in Australia. Please be informed that this project has received approval from the Federation University Australia Human Research Ethics Committee (project number: A20-130). The survey will take about 10-15 minutes to complete. 
We are seeking responses from all stakeholders in the Australian agricultural industry, including farmers, farm managers, agronomists, academics, Agri. service providers, agribusiness participants, industry representatives, and researchers etc. Due to the pandemic, we are approaching our potential respondents via 'online' only; I will be highly grateful if you could share the survey link within your network.  
The link to the survey is here:  https://survey.cerdi.edu.au/178876   
Best regards, 
Basharat Ali 
Centre for eResearch and Digital Innovation 
Federation University, Ballarat, Victoria 
Mobile: 0405 565 880