July 2022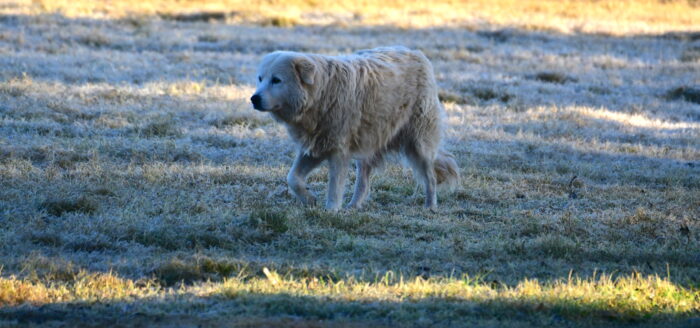 We're back to a real winter this year with several frosts already, but now more rain. I am sitting on top of the heater doing this, glad of an excuse to stay inside! Record low temps this week, it was 2'C in Toowoomba on Monday during the day… and of course I have new lambs and new pups born. Livvy's litter had been cosy under the heat lamp and I had to move it for Sunny to whelp, the poor little things were complaining loudly about that. I had three of them but a couple of silly bitches wrecked them last year trying to get out to chase passing sheep; new ones on the way, I have three girls due together in a couple of weeks….Midnight, Glam and Heli.
                                                                Sunny pups nice and cosy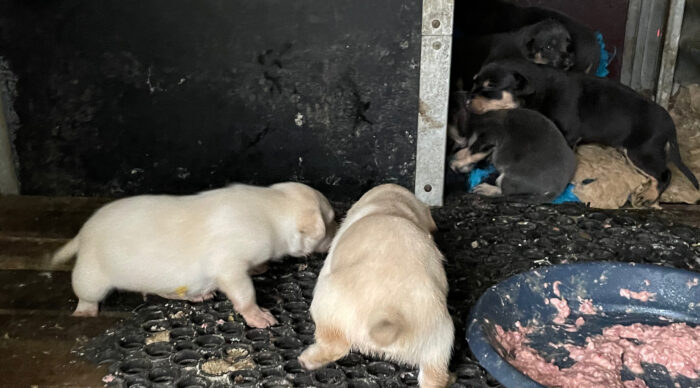 The Livvy pups missing their heat lamp!
During June the Naka and Wiggle pups have been entertaining me with their antics; they're now old enough to begin leaving for their new homes. This little Wiggle girl is flying to Tassie today. I'm expecting transport costs will be on the rise with fuel getting so dear; totally avoidable, the big multi nationals have the Govt. under their collective thumbs because the higher the price the more excise the Govt. collects. The price of a barrel of crude that Ampol refines hasn't risen for years, according to inside info! Disgraceful.
She has a warm coat I bought, will need it in Tas.  
Wiggle has been a great mum and really enjoyed her pups, click below….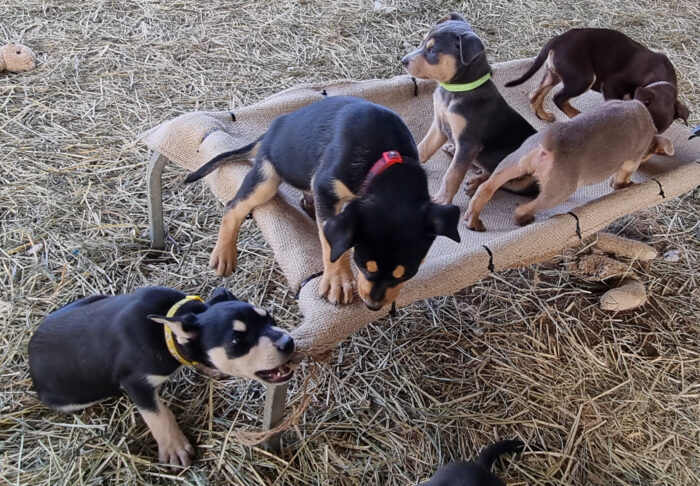 Naka's first litter of four is beautiful. A little bitch has gone out to Cunnamulla to work sheep, there's a boy to sell,  and I can't decide which of two to keep, so will run them on until they start to work.
Nap and Nanno (Brock x Naka) and RHS Nabba for sale.
The little single survivor of Remy's(xCap) is a real character….a few photos of her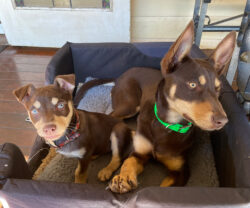 and with Trail(TimxBim)
Quilt went down to Arthur for a few weeks and will return later on for some fine tuning. He likes her very much. She's by a son of my old GlidexGift bitch Tilly. I love the first pic where she has her eyes shut hard!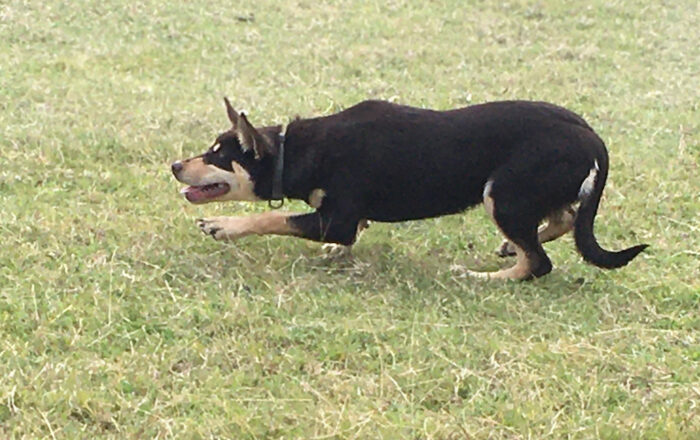 I took Trail down with me for a quick look; she's a nice calm pup, different type, more like her sire.
Last week Em and Derek went out to visit Tim and Brooke near Cunnamulla. The timing was perfect but unintentional! They took Nitro back to Tim to work, met Ron at Goondi to mate Brock to Gossip, and delivered a Naka pup to a buyer near Cunna.
They also took a swag of young dogs to try on goats and were blown away by how well they performed. It's very rewarding to get youngsters coming through of this quality and consistency; takes a long time! There are three very interesting young sires and a couple of lovely bitches. My favourite would have to be Gibson, but due to the success of Wills it will be a hunt to find bitches to mate him to.
Thanks to Sandie Read for the last two photos.
Blye(Landy x Bimber) is an important dog and can be mated to Wills bitches. He's a clever boy, reads his stock very well.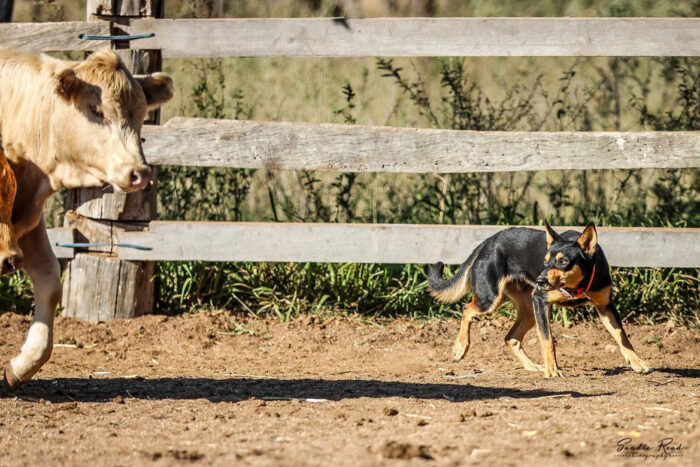 Third boy is Creed from Midnight's last litter to Wills. He's showing a lot of promise but his opportunities will be limited by the number of Wills bitches in the stud….a reason I bought Elwanvale Sunny.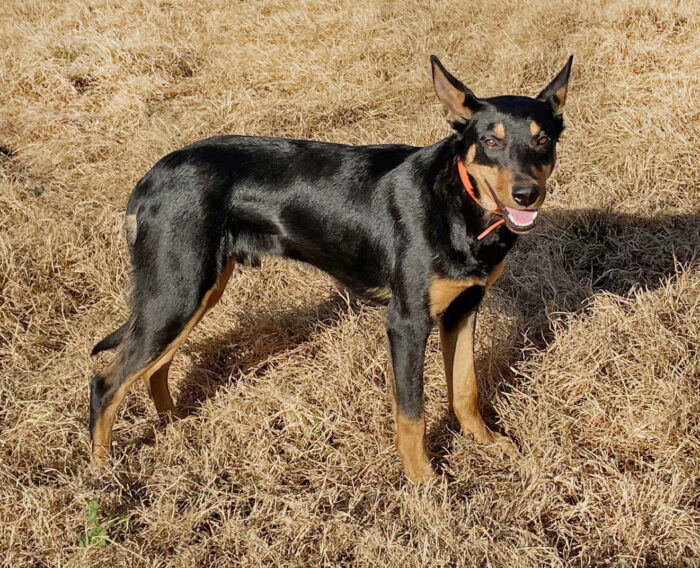 This is Creed's sister Maddie, a lovely type.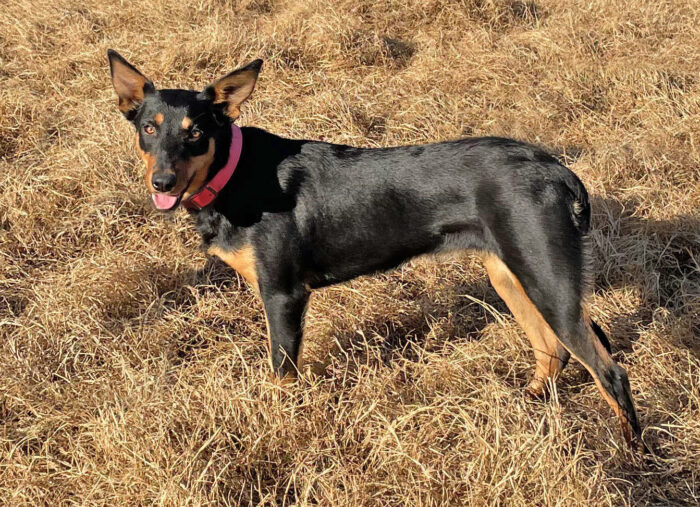 And lastly Charisma (Brock x Glam), a strong, correct girl. Em has tried Blye to Glam this heat but she might be seeing Brock again next time. Brock worked for Brooke on Riverside last year and Em was very impressed by the partnership they built; he's a lot braver when Brooke's around when on cattle!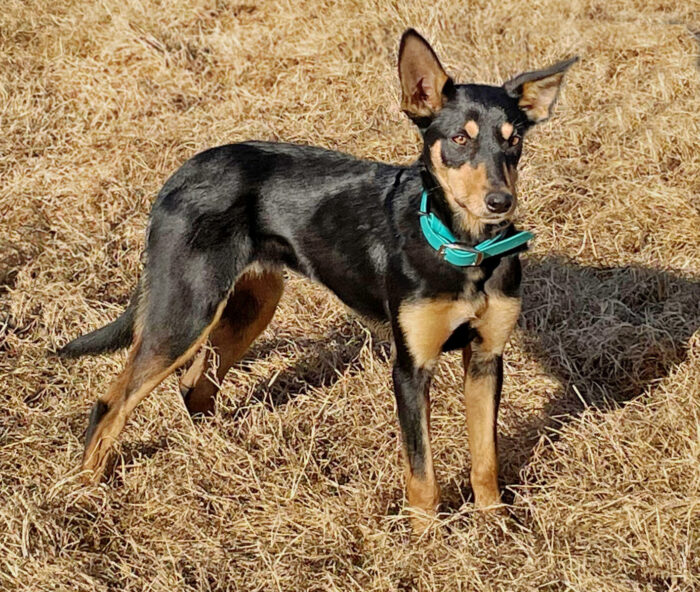 Em's been busy with young Rose this year but is looking forward to doing more with the dogs now Rose is loving stock work!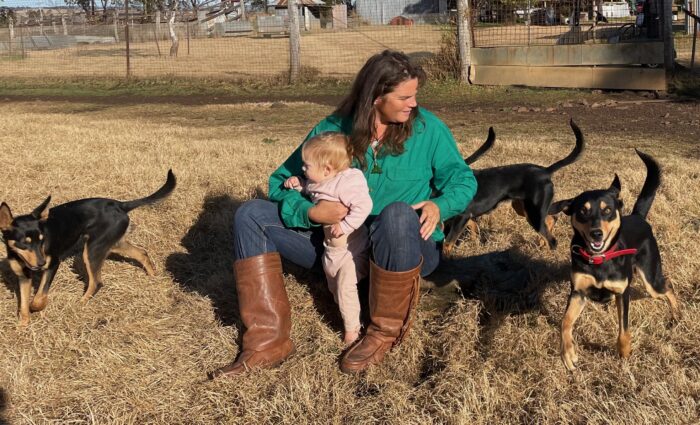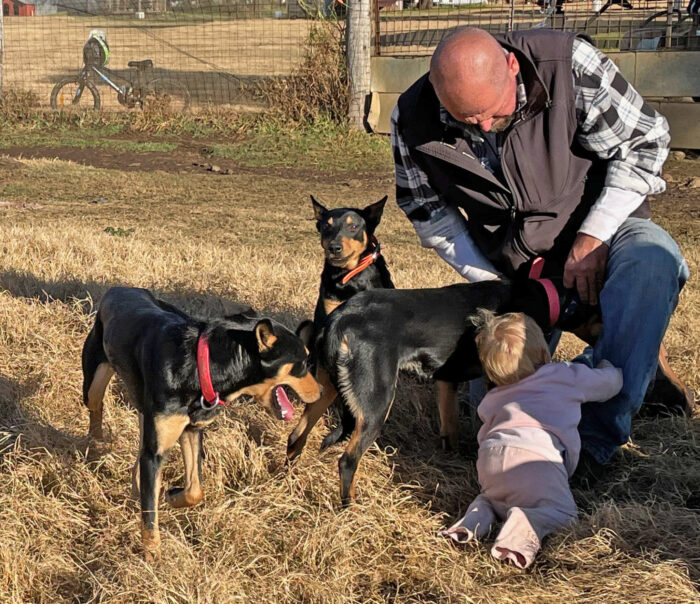 The dogs getting new collars made by Em as a reward for their 'rite of passage' on the goats!
The litters due this month….Midnight to Boss, Heli to Ace and maybe Blye and Glam.
My sheep are coming up into the back yard every night, there's a fox around and a lamb missing but they also think they're due some hay in July! It's the first year the feed has been so good but the rain will spoil it.