July 2023
If you're feeling a bit chilly lately, this photo of Karmala Laddy heading out to find some sheep in deeper snow in New Zealand might warm you up! Wayne Miller sent me the photo.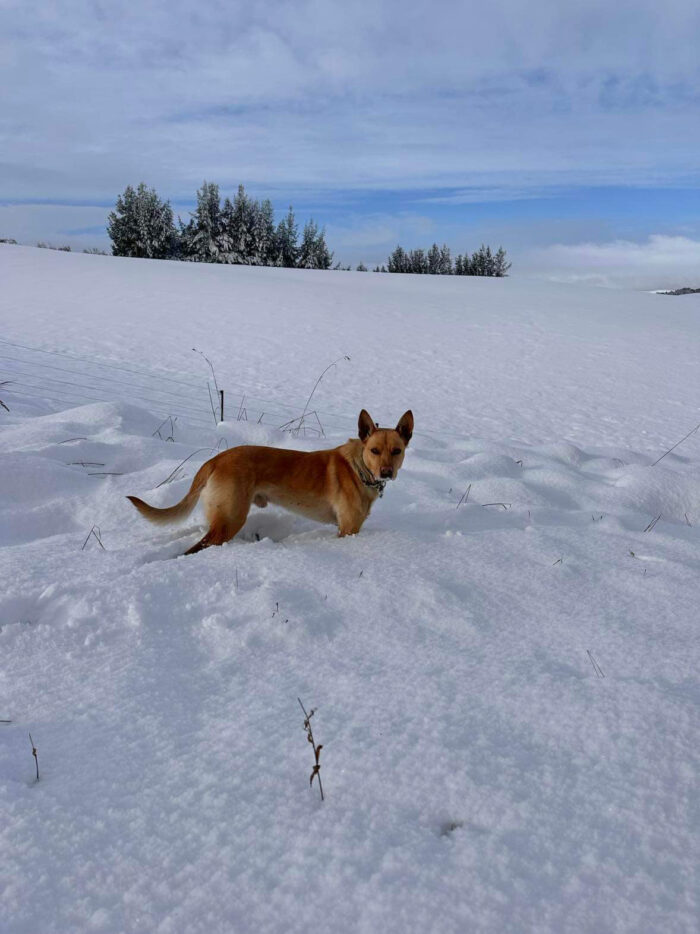 It only seems a couple of weeks since I did the last News update! Time flies when you're having fun, the saying goes. Doesn't apply here lately, the other saying about "trouble comes in 3s" has been more like it! First one was finding Sunny has a large tumour. Second, my old Maremma had died waiting for me to come home last Saturday….she was halfway up the drive. So I wasn't at all surprised when Min had to have a C.Section last Wednesday. No wonder she decided early weaning was the best option!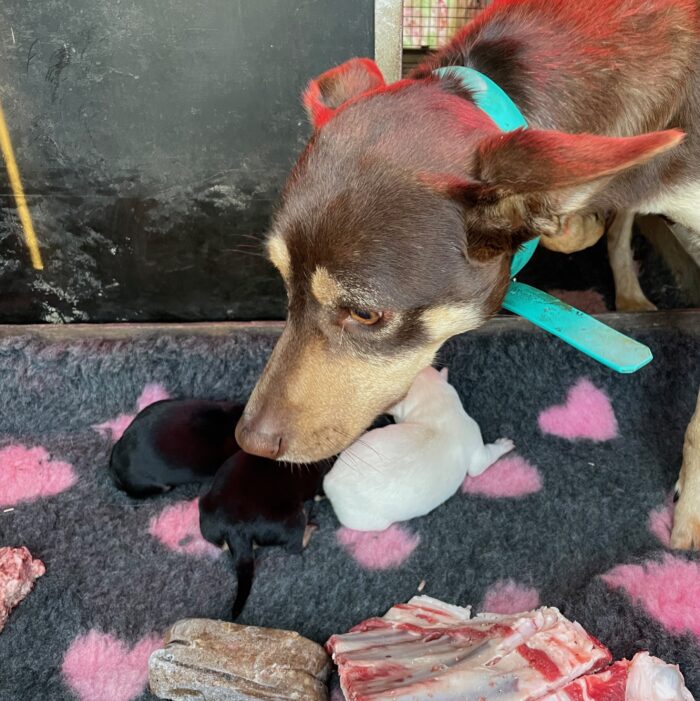 So to the positives, or another saying "every cloud has a silver lining". My neighbour heard about an older Maremma that needed rehoming and was bonded to sheep. I was keen to get him because they can be very tricky dogs to move to new homes and I thought it would be a lot easier if he liked sheep. Well, he isn't much interested in my sheep but has settled in perfectly, I can't believe how lucky I am! 
Next positive….I was waiting for a new Debit card, my old one had been blocked because of a scam, and it arrived in time to pay Min's vet bill! And her four pups are doing very well. Of course it was the two big creams who didn't want to leave their nice warm womb!
Third plus….Wiggle whelped on the coldest night of the year and has six nice pups, hopefully she'll start eating well soon. So 14 pups born in 3 litters and only 4 girls. I hope the boys find homes, most people seem to want bitches.
That's just life, isn't it. You have to take the good with the bad. Sadly no good news about Sunny.
Well I had a great day on Saturday(until I arrived home…). Drove up to Evonne and Sean Barrett's place "Konjuli" near Woolooga and met up with Emma and Derek for a dog swap and to watch some dogs working the Barrett's lovely Droughtmaster weaners. I don't often see the dogs working cattle, so it was quite a treat! As an added bonus, Sandie Read and Trevor Paige also had dogs there and it was great to meet Sandie for the first time….and see Karmala Suite again… and her sire Apex Ace working who belongs to Evonne. I'll find some photos and videos I took to add here.
Above are Sandie's photos of Creed, Naka and Vamp, who was having her first look at cattle, and below, Derek with Jack, Gibson and Creed. Then Gibson, below them.
We are in a continuing process of selecting the 'keepers' from the pups run on from each litter, and the "A" team is in a constant state of flux with Em and Derek having the luxury of choice when going out to a job. Very seldom does the A team get to work together except on really tricky cattle/country, instead one or two usually have the job of supporting a couple of apprentices. Each dog has it's stronger points, and it's by identifying these and taking them into consideration when doing matings that improves overall performance.
The hard part comes when numbers need to be reduced. The quality of the pups coming through is impressive and a few of the older 'youngsters' get offered for sale with much heart searching! Em gets very attached to them but is also an astute judge; she and Derek have quite a few ongoing discussions on this, and mostly manage to come to a consensus….given time! It's easier when more than one pup is retained from a litter, as with some Midnight pups. We have kept three from Sunny's Gibson litter. Below are two young bitches working with Naka(Wills x Koonamara Lara II). Carrie(blue collar) is for sale, much to Em's disappointment; she has tremendous stamina and is always keen.
So to the next litters. Polly is a great mum but very protective. She's been harder to manage because she gets upset when other dogs are around her kennel. The pups are thriving, just one little bitch.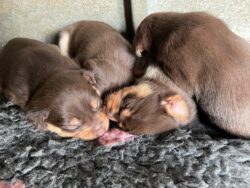 As mentioned previously, Min was late whelping and had to have a caesarean; she seems to have come through it well and her pups are putting on weight rapidly. She was pretty non plussed at first, but last night she looked a lot happier.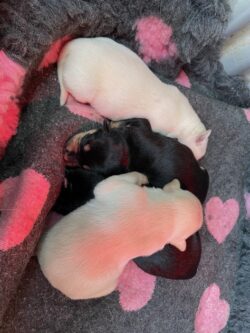 I was up early this morning to put Clover on Neil's Pet Transport; she's heading up Eumundi way for some cattle work but will later be mated to Gibson and come back to me. She wasn't too keen to leave so I hope she enjoys her working holiday. I'm finding Neil and Jodie a pleasure to deal with; there's more flexibility with deliveries and they're quite locally based. Neil brought Allterain Blue down recently, she's by Trump (Tracker Spy x Karmala True), a dog Rodney Garrett had a very high opinion of. He sadly died from a paralysis tick before I had a bitch in pup to him, so I really appreciate getting Blue. She's a very happy girl and fits in well here; can't wait to see her on cattle after being very impressed by a litter sister's work  at Konjuli recently.
Next Monday I have a third year vet student from Adelaide Uni coming for the week on "work experience". I've been a bit critical of vets at times, mainly regarding feeding, so I thought it an opportunity to (hopefully) influence/educate a future one. We need more holistic vets who look to natural remedies as well as the tried and true procedures. I've had a lot of success using herbal remedies, homeopathics, raw feeding etc. Recently we've had no luck with regularly vaccinated, dry fed bitches…whether for those reasons, who knows, but our own girls remain healthy to a good age.