June 2018
Well, it's a bit like a moonscape here at present! Bare as it usually is at the end of winter and deep dust in the big dog run. The pickling onions are being harvested opposite the house, so I've also had strong onion flavoured air when the wind blows from the south! All bit depressing, but I have a swag of lovely pups to cheer me up…..and neighbours have kindly offered me some grazing for my sheep which is about a kilometre up the road without water and only a cattle fence, so Hardy and I have been doing some droving.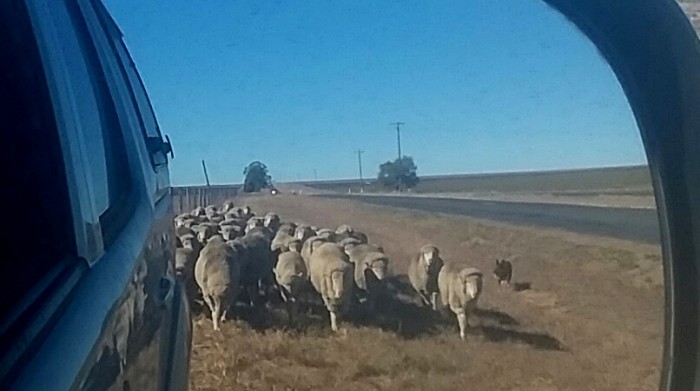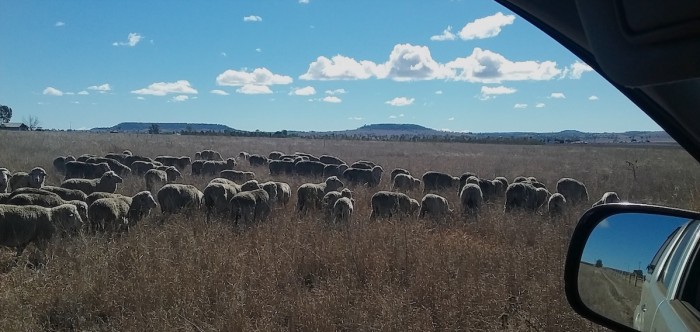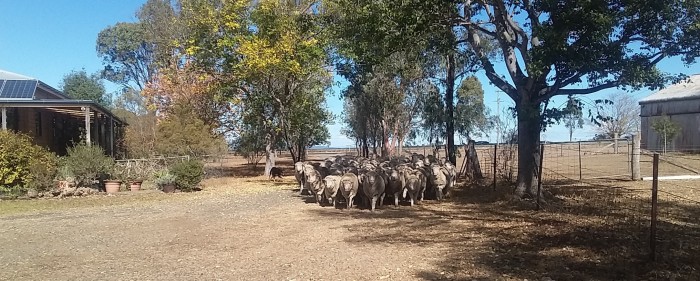 Tash(Riana CashII x Karmala Brandy) whelped a very nice litter to Hardy with FIVE bitch pups and only 2 dogs(pic. below). As an added bonus there are 3 red/tan bitches, which seem to be the flavour of the times. I find it hard to accept these 'fads' especially as I have a bunch of beautiful black/tan dog pups!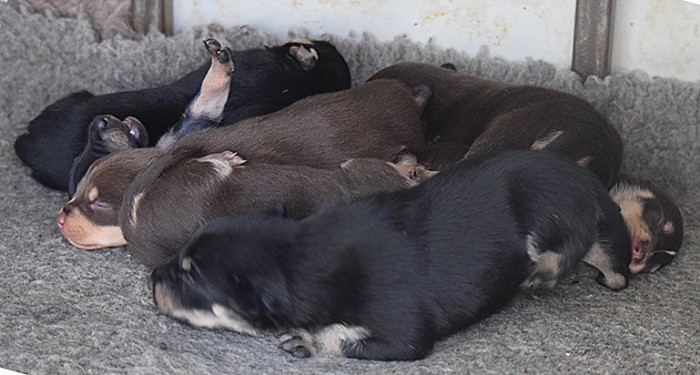 Pushemup Bing(Lindy)(Karrawarra Ben HallxRiana Rinnie) has whelped to Karmala Billy( L.Wilson x K.Lily) and  has a nice litter of three of each (pic below).  I had an order for a 'Lindy' pup from a lady who has worked dogs by her sire in the past and loved them. Ben Hall is a grandson of Karmala Reilly and out of the excellent brood bitch Paddy's Pearl….interesting info from her: I'm from Victoria , and Craig mckimme worked for my father as a drover at our abattoirs based in swan hill. I was very lucky Craig talked me into getting rid of half my dogs way back then and put some nicely bred ones in my hands instead! Ben hall was one of the best dogs he had ever had- just so so natural.
'Lindy' was owned by Vane Walker and worked cattle, she now belongs to my old friend Serafino Gallina in Sydney, who also has Billy, who he takes to herding training regularly.His 'instructor' thinks Billy is the most natural dog he's seen, and told Serafino not to bother bringing him back after his first run as he was doing everything perfectly! Probably comparing him with dogs that aren't even bred to work stock…I always take comments like that with a large dose of salt.

Meanwhile the Gemma pups by Wills are now ready to leave, a lovely litter and if anything like Gemma's other pups, great future workers. I'm keeping a nice little bitch pup.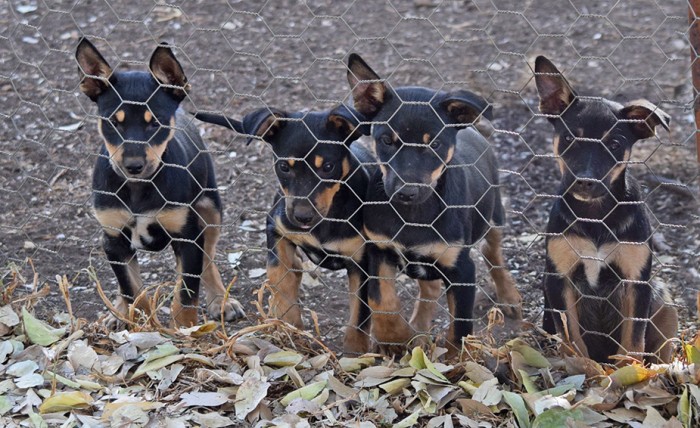 Four of the five Wills x Gemma boys, all for sale. Lovely pups.
Some of Vie's litter by Brock have already gone to new homes, one as far afield as Boulia. These are big strong pups with a huge food drive, I've never seen a dish left so shiny! There are still three males available…below.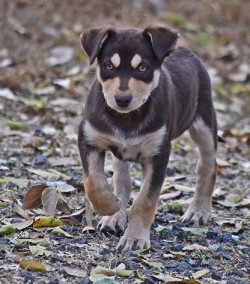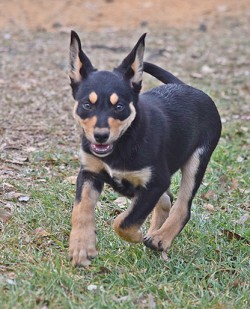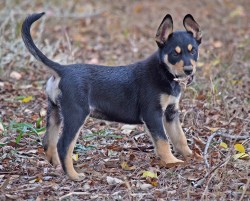 Whitney's litter by Landy are lovely pups, she did a great job with them, and when she decided it was time to wean them she started taking them her food, dropping it in their pen, and leaving! This despite being the most voracious eater herself while feeding them. Nature never ceases to amaze me. There is still a bitch pup and two dogs available (below).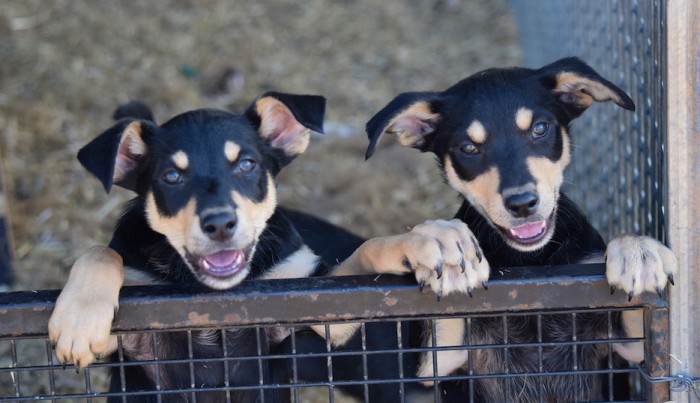 Good news of the Skip x Tash pups who are starting to work.
I also had this info from the lady who ordered the Lindy pup which I found very interesting. Lil's very lucky that she found an owner who appreciates her! A couple of well known Kelpie breeders were heard to remark recently that good casting/heading kelpies wouldn't be around in another 10 years…..no wonder, they take a bit longer to mature in their work and are often 'ditched' like this bitch.
I have a bitch you bred- Karmala Lil – about 15 months- larkings wilson x Karmala heli- I bought her from a fella that had all collies and had just started her. I could tell he had been very very heavy handed with her which had caused her to do a bad tail turn if u spoke to her or she would take off. so I left her 6 months to just be a dog and have just re-started her 2 months back. Best decision. Beautiful wide searching cast. Perfect in paddock. I will have her backing sheep by end of winter. I run a place out west of st george with 30,000 sheep and 2,000 cattle and 3,000 goats so plenty of work for dogs. I prefer to not use an aircraft mustering just to give the dogs plenty of challenges through scrub!
This what can happen when too much is asked of a pup too soon. Putting a pup that has the potential to develop a big cast into a round yard isn't a good idea, Brandy's first move when put on sheep was to pop under a gate so she could get a wider run to head the sheep. Tony Parsons was watching her and said she was one of the most promising pups he'd seen.
Arthur Crumblin has never used a round yard, and is also very aware of the stages a pup goes through. I remember him sending Wills home for a few months saying he needed time before he could do much more with him…. the difference between a good stockman and a dogman….?
All for now folks, I have to get these sheep out for a feed!