June 2019
Running a little late this month due to a week away….my annual holiday! I had a lovely week on Nth. Stradbroke Island, perfect weather and  lovely lazy time. First day back was a real freezer, reality check with a vengeance!
There were a few frosts here that week and a couple of the young dogs had lost a bit of weight which they've since regained. They certainly need extra rations when the nights get really cold. Bella, my Maremma, was pretty upset with me going away and only forgave me when I drove in with the week's bone supply next day.
All the pups grew SO much in the week, something you don't notice when you see them every day. The Vonny pups greeted me at the front of the kennel demanding Food! The little fawn bitch was first out and took no notice at all of the gaps in the slats, which some pups get stuck in and start yelling….the other three were just as bomb proof.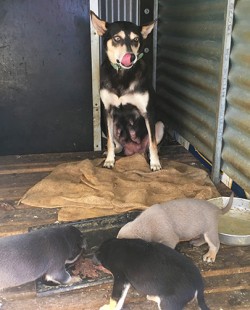 Vonny waiting patiently to clean up the dish.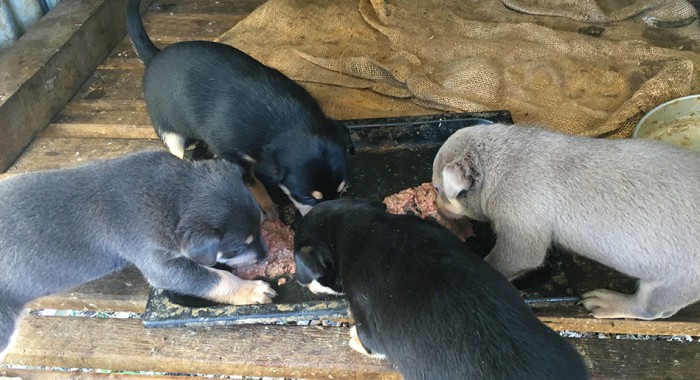 Wings' pups are just lovely, she's fed them extra well but at five weeks decided to pull the pin….so down to one feed a day this week and under protest at that! (below)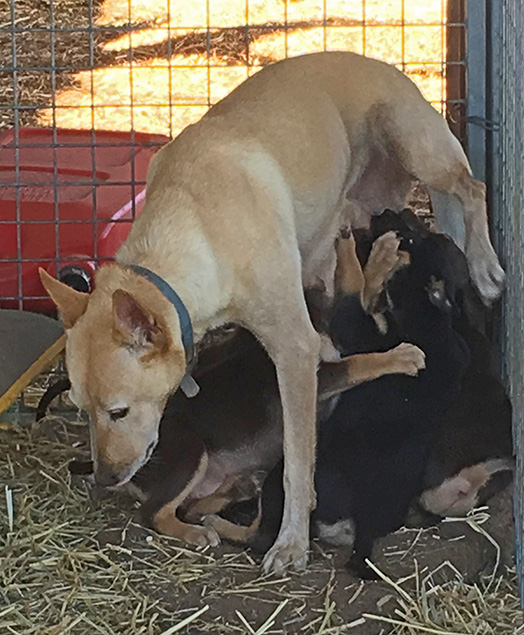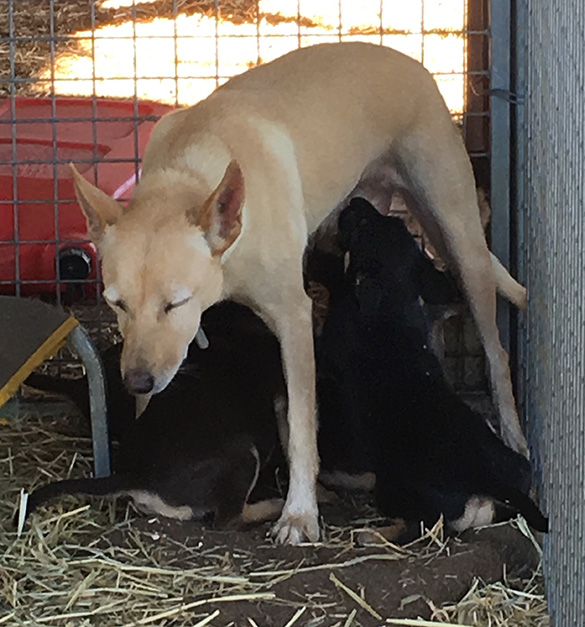 The Landy x Whitney pups will start leaving next week with two flying to Melbourne; a nice litter and hopefully as good as the last litter of the same mating. A couple were a bit upset with their collars!
Tash is back from a holiday down at Bathurst where she was mated to Chris Egan's good young dog Anntre Ray. Ray won a 3 sheep trial at Hawkesbury recently with 90 pts; not bad for a young dog who can also muster cattle and goats and is a good yard dog on sheep! Can't wait for this litter. I really like Ray's dam, Bamba Ginny, who has a litter by Karmala Wills at present. K.Sophie(K.SkipxK.Tash) whelped to Ray this week near Sydney.
Tash is in great shape(below) with K.Dallas and K.Henna.(rt)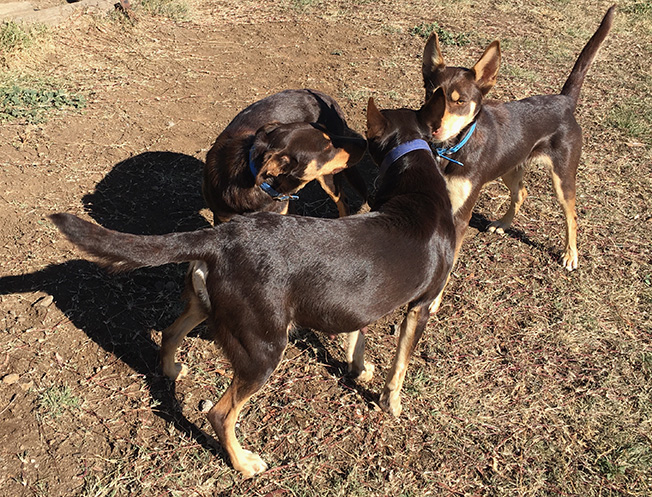 Dallas(Tracker SpyxK.Remy) came back this week because the resident Jack Russell bitch where she was living kept attacking her resulting in a large vet bill for the JR! Apparently the feisty little terrier is OK with males, so we decided to do a clean swap for Derek and Em's K.TwoUp (K.Wills x Tracker Poppy). Dallas was pleased to see me again, she's a very nice bitch and is working sheep and cattle well. 
I received the following photos last week from Donna Rankin which was a lovely surprise. Here is her Brock x Vie bitch Molly working their cattle at Boulia. Registered as Karmala Brat, Molly looks to be doing a good job!
K.Summer has been out helping Jim Morris take a big mob of weathers from Aramac to Barcaldine; she settled in quickly and Jim's very happy with her. She and his cream dog Turbo work a wing each and make a great team; she recently came to Turbo's aid when he was threatened by a station dog! They will be mated next time she comes on. Turbo is by the same dog as Anntre Ray, Hull's Mick.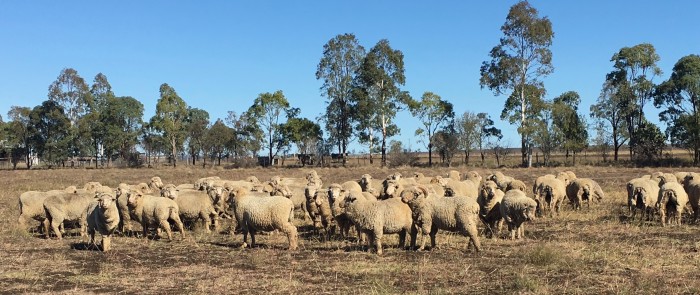 My sheep are looking well and haven't yet started running towards me for feed but it won't be long now. My young ram seems to be working so I might get some late lambs; his sire, who didn't leave any last year, is leaving him alone so I guess isn't interested! Hay is going to be a big problem.
This weekend(June 8th) True will come home with her pups by Wills together with K.Bimber who is in pup to K.Skip. Whitney, Livvy and Bliss are heading out West for a reality fix!
To close, a few photos from the many I took last week.
And if anyone is after one of these little cuties give me a yell!