JUNE 2020
First day of winter, and it looks like being another tough, dry one for the local farmers. The best thing about the weather at this time of the year? The wonderful sunrises and sunsets.
They used to grow wheat around here but dry winters and frosts put a stop to that.
I was told there had been twenty dry winters when I moved up from Victoria in 2001, and there have been very few wet ones since. I'm sure that clearing  the trees reduces rainfall, but it's obvious that not many around here agree! I do wish I could convince more that it isn't such a big deal to get trees growing; most seem to think they need watering for years. If you plant tube stock when there's a full moisture profile the roots will go down as it dries out, they only need watering at planting time in this black soil. The dust storms last summer should have every farmer thinking hard about retaining their soil.
There's always a waiting time of a couple of weeks after big rains before planting can start….an ideal window of opportunity for tree planting. The row I planted down my boundary fence has received many comments re survival over the drought years. It would be a lot cheaper to plant trees on many properties around here where they don't run stock, not like having to fence sheep out of them!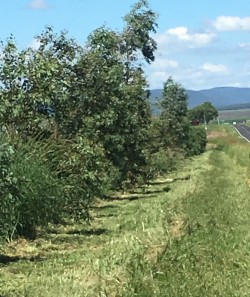 The trees below suffered from the dry, but the younger ones in the distance have done well.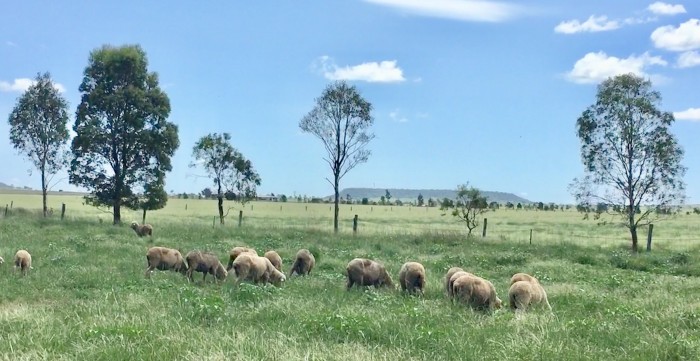 So…to dogs! About time, you say.
All the Karmala sires I am using have tested clear for CA. Top row, Brock, Landy, Wills. 

There's a lengthy CA discussion in the May post.
Most of the Bimber litter have gone to their new homes, one little fellow sadly didn't make it all the way there. I have kept two of the bitches, Beth and Blush. A bit hard to decide at the moment, Harvey's pups are all very friendly. Beth, the red/tan, is a bit smaller and Blush, the fawn/tan who was injured when tiny has grown into a very nice pup. Their ears have been up, just having a rest!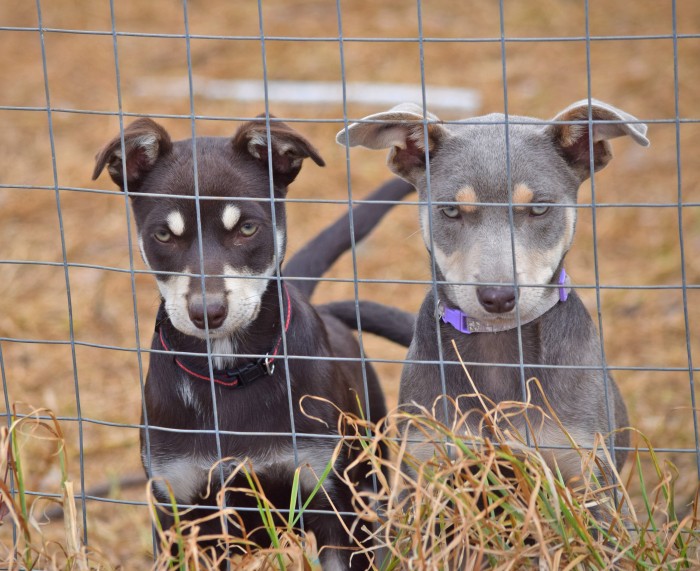 The ladies are starting to cycle, Gossip was mated to Brock last week. Shown looking pretty happy below. Gossip works cattle for the Zeimers at Mt Larcom.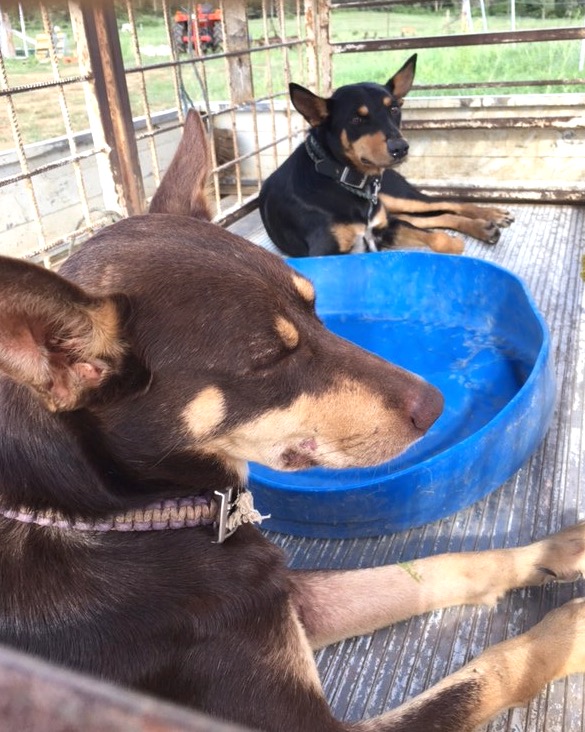 Heli was mated to Changi out at Nyngan, she'll be coming home soon to whelp. There's a new carrier, Outback Animal Transport based out at Nyngan which will make life a bit easier swapping dogs around with Ron. Prices for working dogs are very reasonable.
Other bitches who are looking very sleek and shiny at present are Tash, Jarrah and True here at Nobby. Midnight will probably be the next to be mated (to Wills) and Fizz usually comes on at the same time. K.Classic(Summer) is due too. Doing a bit of a shuffle, I have Brock back again today (June10) and also Navvy(Harvey x Livvy) and Eventine Hobbs(Tracker Rock x E.Soda) to try on sheep a few times. It's great having Em working near Dalby to do dogs swaps. Brock's a very patient boy but the Navman eventually got a nip!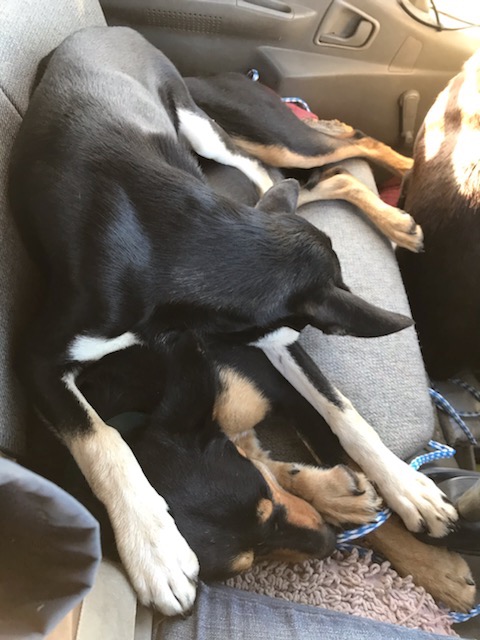 It's a whole new world when you get to Dalby, SO MANY machinery places!

There will be no more pups ready to go until October.
I have four young bitches here at present and they love hooning around the big run, Naka, Dolly, Skittles and Reagan.
Dolly's x Augustcreek Marlin, a very leggy girl.
The Wills x Gemma pups are delightful and my little M.Russell x Remy girl Rim has fitted in well with them.
Ginny and Rim
The other two youngsters who have arrived this last month are a very nice little K.Whip x K.Widgee girl called Joni, and my new Daxie, Essie.
Here's another pup by Whip from an earlier litter from True, Karmala Gip. 6 months old. Below
Mindy's home again, she got right into working and looks very promising. She's had a few issues caused, I think, by staying here too long with me. I'm hoping she'll breed some nice pups later on, she's tested clear for CA and will be mated to Wills.
Wills got a ride home and had some physio to loosen him up a bit after a few months working cattle on Riverside. I got him a coat for the winter, it's a bit colder down here! My Kiwi friend makes these, also oilskin ones which are used a lot in NZ.
That about wraps things up for now….more bits during the month!