June 2022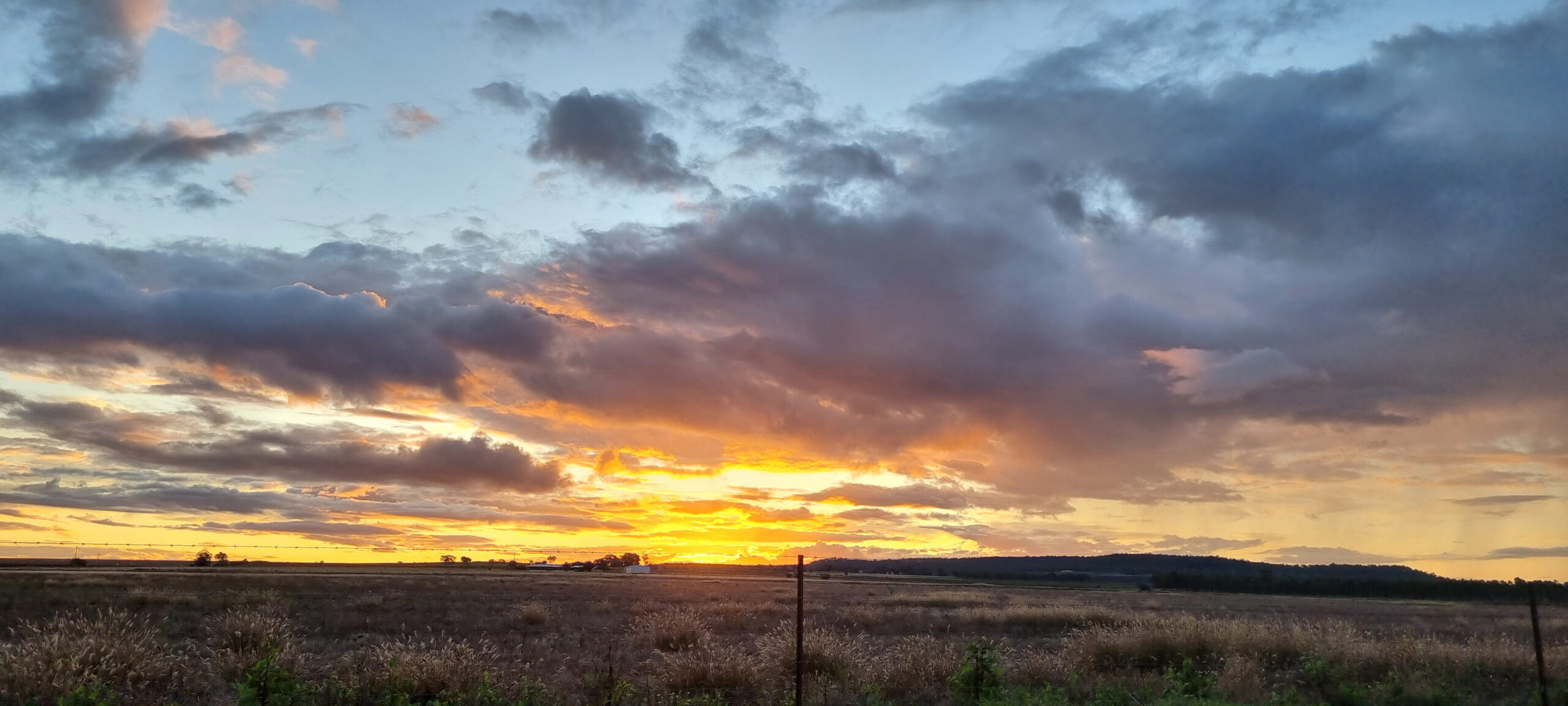 It's a very crisp morning, not quite a frost. I've just wished Derek good luck at the Milmerran Cattle Trial today and sent him off after making him a good coffee; the dogs will be a bit cool on the back of the ute this morning. He had a very damp Friday night camp and opted for a warm dry one last night! The dogs have been doing well but are a bit bemused by all the mud…a bit different from home. The two old girls Midnight and Fizz are enjoying it all the same, Sass not so much. Midnight missed the Open final by a point and she and Fizz had a really good run in the Brace.
Meanwhile, Mina whelped right on time up at Bracewell and is managing the pups in her inimitably confident style despite it being her first litter….she even got Derek out of bed during the night for a toilet break!! A nice first litter of six to Evonne Barrett's good stylish dog Apex Ace of Spades, flash name courtesy of David Hart who was keen for the mating which produced him…Ace's g'dam is Riana Glide's sister. There was a bit of confusion tracking down his rego. Turned out he was registered as a red/tan bitch and as the tattoo was invisible he's now got a SB number! Four bitches and two dog pups. Mina spent some weeks with Sean and Evonne helping out with stock work when they were short of a dog.
Just for interest….Mina was named for Wilhelmina "Mina" Wylie (27 June 1891 – 6 July 1984)who was one of Australia's first two female Olympic swimming representatives, along with friend Fanny Durack.
I've been busy feeding a voracious collection of pups that always seem to be hungry! Wiggle's litter to Cap is doing really well, I put a new cover on her bed yesterday and cut the pups' toenails. It was really funny watching her rolling around enjoying her new bed(the old one was a total wreck, the bag had a big hole in the middle) and interacting with the pups. She was very funny and seems to have a great connection with the bigger dog pup, there are a couple of little vids on my KK Facebook page. Click below…..and then on the tiny pic.
Wiggle litter.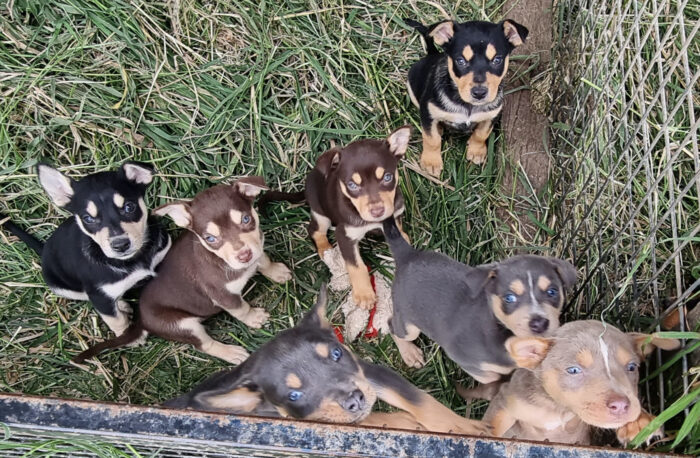 Naka has been great with her four, a nice sized litter for a first one.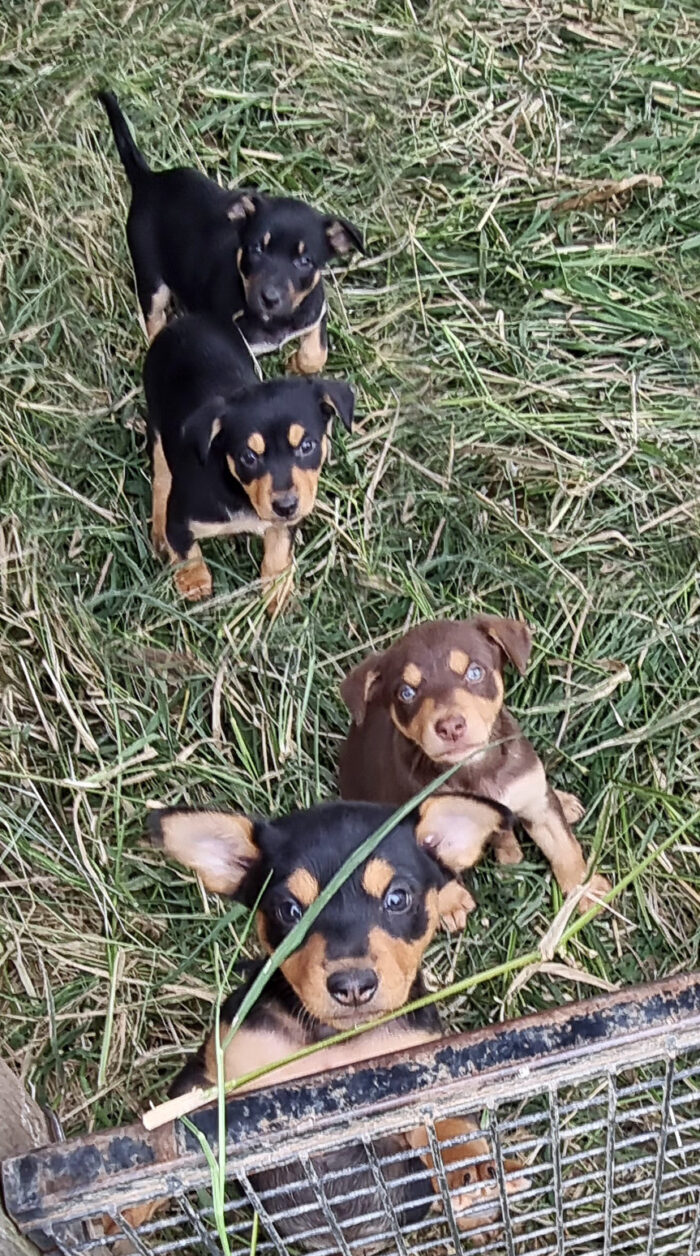 I also have four nice little pups belonging to Wayne Lucas from his bitch Polly (Karmala Pax: Brock x Poppy) Wayne got nine pups from the mating to Cap and had to go back to work near Dirranbandi so I offered to keep these until they're sold. The two bitches are expert climbers and should back sheep later on!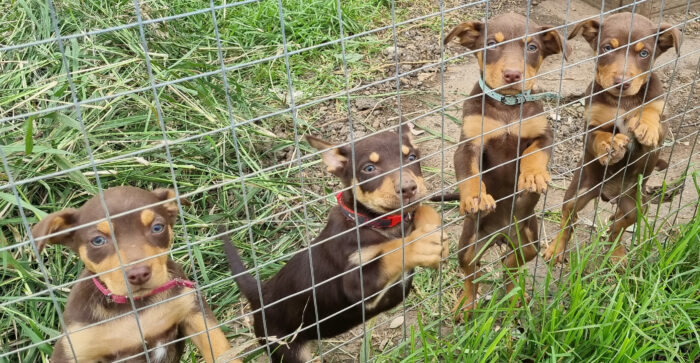 Polly is a nice stylish bitch.
It has been an incredibly wet year and I took advantage of a few dry days to do a bit of slashing and tidying up…luckily… as that night there was another 20 mls.
This is the fence where a lot of the run off tries to flow through and the silk sorghum went wild. It was tricky slashing along the outside of the fence because I was guessing where it was! I raked up this lot and used it in the puppy pens….it seems to be working well. My old Fergy tractor is a wonder. I have to back it into the shed in winter so the morning sun can warm it up or it doesn't like starting!
The Tap x Nitro pups have nearly all gone to their new homes apart from the two staying here. This little girl soon found a new best mate….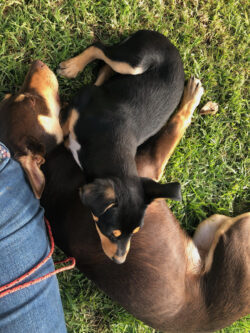 Little Squirt is waiting for a ride and looked a bit cold yesterday in the freezing wind….she climbs out of the yard so is now in a kennel.
Her sister Spray has gone up near Clermont and met some goats…click on 19 (then again)
I tried to rehome a nice old dog for friends during the month but he didn't like the change and actually pulled me over trying to head off! A big, heavy boy, not a good kelpie type at all, but bred from well known lines. I think it's a shame that not much regard is being paid to breeding to a good type any more. There's the ongoing debate about "cosmetics" of course, but it costs the same to feed one that's a pleasure to look at…? Which would you prefer? And of course stamina and ability to travel are crucial.
This month Livvy is due on June 17 to Barney, and we're hoping Tash is in pup to Cap. Pups are still available from the Wiggle and Naka litters. The demand for red/tan bitches continues unabated!!
With the days drawing in and sunset before 5.30 this is a welcoming sight when I finish up; I hardly used my new A/C over summer but confess to becoming quite addicted to it at present!